How to Start Deliveroo Plus Free Trial Risk-Free
Deliveroo offers food delivery services to around 50, 000 restaurants in over 200 cities and towns across the UK. Deliveroo Plus is Deliveroo's subscription plan, which makes it easy to access most of its services. By subscribing to Deliveroo Plus, you will enjoy multiple exclusive restaurant offers that are not accessible to other users.
You can sign up for Deliveroo Plus service online by either visiting their website or using the Deliveroo app, which is compatible with iOS and Android operating systems. You might be required to give your credit card details during registration, especially if you want to utilise . Providing your financial details is not advisable as you risk being charged once the free trial period ends.
Luckily, you can use DoNotPay's virtual credit cards to register for free trials or other subscriptions that prompt you to provide your credit card details. Through this, you will be able to bypass authentication and avoid any unwanted charges.
Does Deliveroo Plus Offer a Free Trial?
Yes. With the 7-day , you can get your hands on free delivery services. Sign up at the Deliveroo website or app, go to checkout and start your free trial. Don't forget to cancel if you don't want to continue the service so you won't be automatically enrolled and charged.
Deliveroo Plus Subscriptions and Free Deliveries
You also can get free Deliveroo deliveries for up to a year after enrolling with Deliveroo Plus three paid plans which are:
| | | |
| --- | --- | --- |
| Plan | Monthly Subscription | Inclusions |
| Gold | £7.99 | With the Gold plan, you will get free on orders of £10 and above. |
| Silver | £3.49 | With the Silver Plan, you will receive free delivery after spending £25 and more on restaurants, takeaway or groceries. |
| Amazon Prime | - | If you have subscribed to Amazon Prime, you can receive Deliveroo Plus Silver Membership for 12 months. You will also get free delivery after spending £25 on restaurants, takeaway or groceries. |
Some of the exclusive benefits you enjoy after subscribing to Deliveroo Plus include:
Special restaurant offers
An option to cancel any time
Save up to £5 on the delivery fee
A paid subscription automatically renews after each plan has ended. You are only allowed to cancel once, and only one account can be used for each subscription.
How Can I Get Deliveroo Plus Free Deliveries?

Below are the steps to follow when subscribing to Deliveroo Plus free deliveries:
Download the Deliveroo app
Sign in or sign up if you do not have a Deliveroo account by clicking on the Account icon
Click Vouchers and Credit
Click the Add Code icon in the bottom right corner if you are using Android OS or in the top right corner if using iOS.
Fill in your voucher code and click Submit. You will be provided with steps to follow to join Deliveroo Plus.
Here are the steps to follow when subscribing to Deliveroo Plus using Amazon Prime:
Visit Deliveroo Plus official website
Select Claim with Amazon Prime
Sign in or sign up to Deliveroo if you do not have an account
Enter your Amazon login details to complete the registration
How to Avoid Deliveroo Plus Automatic Renewal With DoNotPay's Virtual Credit Card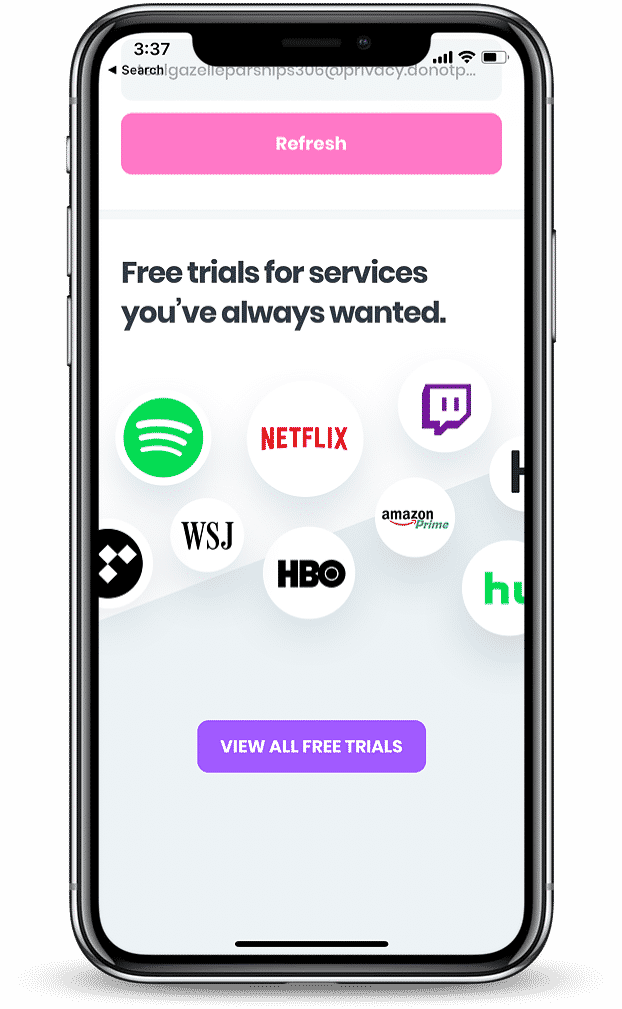 It is easy to forget to cancel Deliveroo Plus free delivery after the trial period is over. Through this, you might be enrolled on paid plans and pay unwanted charges. Due to this, DoNotPay has created virtual credit cards that allow you to sign up for Deliveroo Plus free deliveries without getting charged.
Our cards are not loaded with money, and thus they do not process any charges. The virtual credit cards have the card details required when registering for Deliveroo Plus plans. Through this, you will safeguard your real credit card data and have peace of mind as you won't be charged any hidden charges or worry about cancelling before the plan ends.
Key Things to Note About Our Free Virtual Credit Cards
Some of the unique features you should know about our virtual credit cards include:
Our virtual credit cards can only be used once as they are deactivated as soon as they are used.
You can not use our virtual cards to make real purchases. The cards are only created to bypass authentication and help you avoid unwanted charges. They do not process any payments as they do not have money.
What Else Can DoNotPay Do?

You can use our virtual card to sign up for free trials on other online platforms, including:
today and let us help you avoid losing money from unwanted charges.