Sign Up for a David Lloyd Free Trial Today Without Banking Info

Whether you want to lose weight, maintain your current weight, tone up or otherwise get active, a gym membership can be a vital part of your routine.
David Lloyd Clubs is a premier health, sport and leisure group. With 100 clubs in the UK, and more across Ireland and Europe, they consider themselves an ideal destination for individuals and families to get and stay fit. Their facilities include more than just their gyms–they also have pools, racquets facilities, spas, and group exercise studios.
If you are curious about a  to determine if this is the right club for you, DoNotPay is here to help. 
Does David Lloyd Offer Free Trials? 
Yes, you can get a . The free trial lasts for 14 consecutive days. The trial gives you access to the David Lloyd app. The app contains exclusive content such as on-demand workouts, live-streamed classes, activity plans for kids, and guidance from David Lloyd experts. They strive to keep you and your family entertained and active with fresh new content daily.
Membership to the @Home service does not grant access to clubs. Sometimes gyms offer a short-term free trial or temporary membership to entice prospective members into joining. Although David Lloyd currently has no available information that points to a free trial in a physical club location, you may enquire with local clubs about a discounted day pass or guest pass.
How to Sign Up for a Free David Lloyd Clubs @Home Trial
To sign up for the free trial of David Lloyd Clubs @Home:
Visit the @Home Membership Page
Scroll down and click the "Try it Today" button
Choose a club to register for your @Home Trial by clicking "Register for @Home"
Enter your personal details
first name
last name
phone number
email address
optional: check to receive emails and/or text messages
Choose a start date for your free trial - you will be contacted by the David Lloyd team with a unique membership number
 Download the app to get started
Will the Free Trial David Lloyd Clubs @Home Automatically Upgrade to a Paid Subscription? 

No, the David Lloyd Clubs @Home free trial does not automatically renew into a paid subscription. At the end of your 14-consecutive days, you will be given the option to upgrade to a club package.
Avoid Automatic Upgrades of Free Trials With a DoNotPay Virtual Credit Card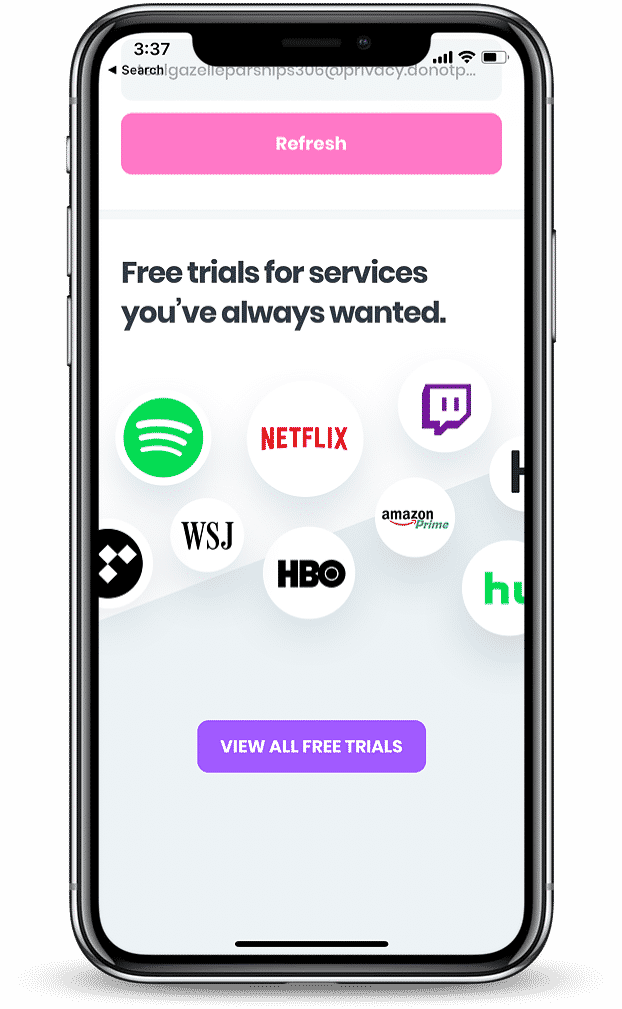 Although the David Lloyd Clubs @Home free trial does not automatically upgrade, many apps, streaming services, memberships and subscriptions that offer free trials will automatically renew into a paid membership. They will require you to input your credit card information so that if you forget to cancel within the trial period, they can automatically charge you. Every month that you forget to cancel, you will continue paying, even if you do not like or use the service.
To avoid this, DoNotPay has a simple solution with virtual credit cards! With DoNotPay, you can now sign up for a free trial with any company without fear of accidentally being charged if you forget to cancel. We can help you with any of the following companies:
Here is how easy it is to use:
Find a service you want to trial risk-free
Request a one-time use virtual credit card through DoNotPay
Input your virtual credit card information when it is time to add your payment source
Enjoy your legitimate free trial!
When you request a free virtual credit card, DoNotPay will generate a unique credit card number. You are able to use it like a traditional credit card for free trials. However, there is no spending power, as there are no funds available, which means you cannot be charged at the end of your free trial. It is not possible for the company to charge you, so they will automatically cancel your subscription without you having to worry about it again!
How Else Can DoNotPay Help You?

Not only can DoNotPay help you get legitimate free trials, we can also assist you with a variety of other issues, including:
DoNotPay offers quick and successful solutions designed to save you money, stress and time!