Here Is What the Washington State Sex Offender Laws Boil Down To
The top three sex crimes in the State of Washington are:
Unlawful imprisonment
Rape of a child
Child molestation
If you are a parent, this information must be terrifying. Learning who sex offenders are and how Washington State Sex Offender Laws treat them can help you make everyday decisions. This short and handy guide will introduce you to the basic regulations and post-release rules.
and gain access to our Sex Offender Search tool. We give you regular notifications on the new offenders in your area and help you stay safe.
The Overview of the Washington State Sex Offender Laws
The Washington State sex offender laws recognize three levels of sex offenders. This classification is based on evaluating the threat an offender can pose to the public after being released to the community.
Depending on the level they were assigned, the details of an offender will be shared with the public or kept undisclosed.
Check out the details in the table below:
Offender Level
Characteristics
Sharing Personal Details on the Public Registry
Level 1

The safest for the community
First-time convicts
No signs of predatory behavior
Unlikely to repeat their crime

No
Level 2

Moderate risk to the public
Serious and repetitive offenders with troubling habits(presence of an addiction)
Refused a treatment
Moderate likelihood of reoffending

Yes
Level 3

A high risk to the community
Offenders with several previous convictions
Predatory characteristics
The abuse of substances
Opt out of treatment programs
High likelihood of reoffending

Yes
Washington State Sex Offender Registration Laws
State-level sex offender registries are available to American citizens thanks to Megan's Law. Sex offender registration rules in Washington require all sex offenders to register with the local authority and keep their data correct.
Where their law differs from other states is in the fact that only Level 2 and Level 3 perpetrators will be included in the public sex offender registry. This way, the state has created a map of sex offenders who are more likely to pose a danger to the community.
How Long Do Offenders Need To Be Registered?
The period during which an offender's name will be displayed within the sex offender registry depends on the offender's crime. Here are the usual registry periods for different crime classes:
| | |
| --- | --- |
| Crime | How Long They Stay on the Registry |
| Class A Felony | Can stop reporting only upon the petition of the superior court |
| Class B Felony | 15 years from the first registration in case they haven't been convicted of any new offenses in the meantime |
| Class C Felony | Ten years from the date they left imprisonment (if they haven't conducted any new crimes) |
By the Petition of Court, any convicted person on the registry can file a plea to be removed from the registry.
Washington State Sex Offender Law—The Failure To Register
In case an offender remains unregistered or fails to repeat their data verification, they will be additionally punished.
If an offender hasn't been convicted of a felony and they didn't register, it's considered a gross misdemeanor—in this case, the maximum imprisonment is 364 days and/or a fine of $5,000
An unregistered first-time convict is conducting a Class C felony—the punishments go as far as five years of imprisonment and/or a fine of $10,000
Repeated crimes or failures to comply fall under Class B felonies—these crimes can result in ten years of confinement and/or a fine of $20,000
Washington State Sex Offender Registry Laws and Restrictions
Sex offender rules and regulations can be strict when granting rights to the registrants on the sex offender list. These restrictions are a way of protecting the public from repeated crimes like in Megan Kanka's case.
The State of Washington has the following rules:
Residence—The offenders cannot move until they inform the police
Using the computer—These devices need to be blocked so that the offender cannot reach pornographic content
Traveling—The felons need to report any travel arrangements with the local authority
Treatment—Many of the convicts will be assigned a Community Corrections Officer and the treatment for their deviancy
Weapons—No felon is allowed to possess any firearms or ammunition
DoNotPay Keeps You Out of Harm's Way With Effective Sex Offender Alerts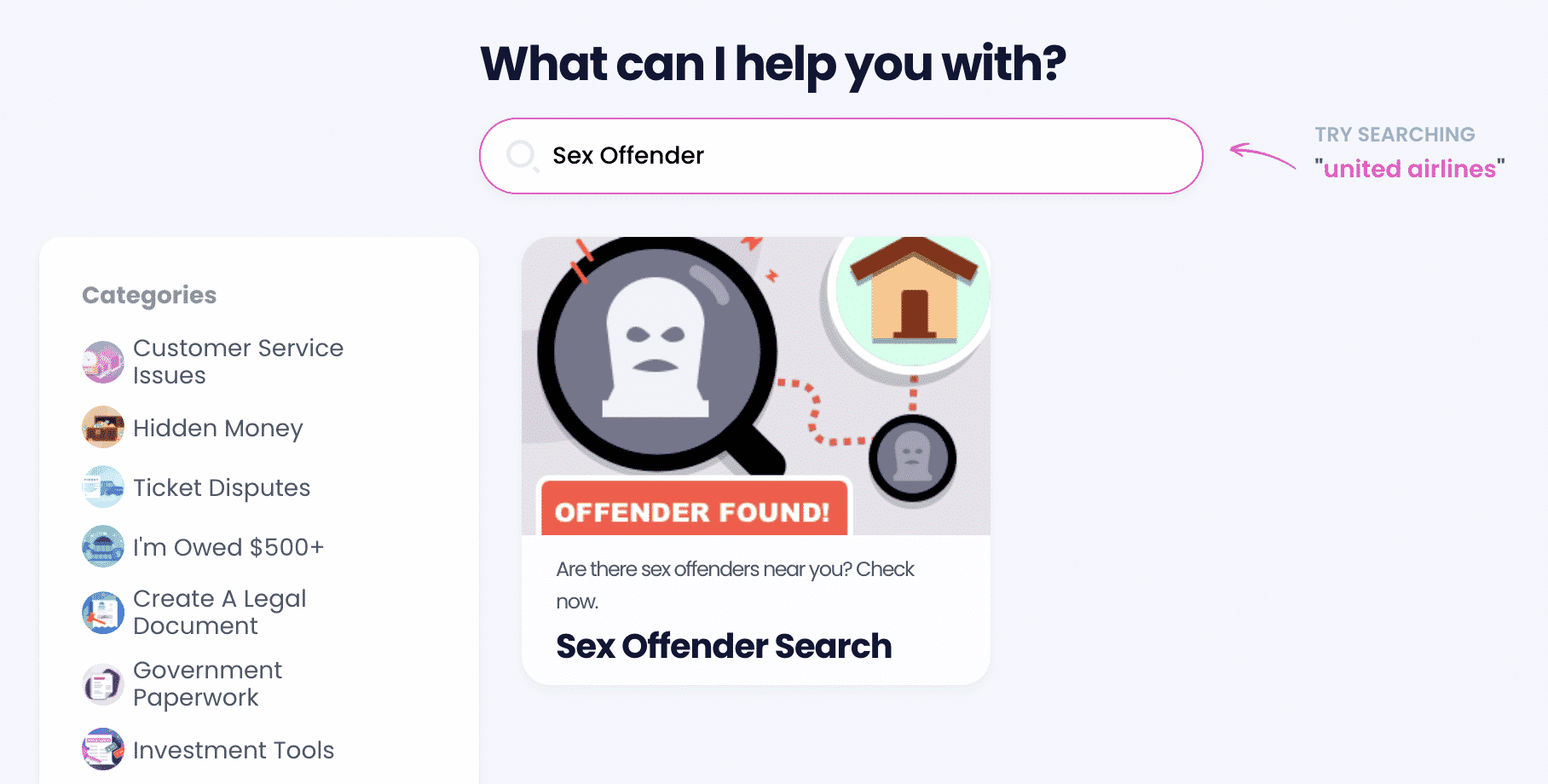 You can search the Washington State Sex Offender Registry in two ways. One of your options is the manual search depending on the parameters you want to use. The other option is signing up for email notifications that the registry's system sends out.
None of these two is as efficient as you'd wish. The first method is a waste of time, while the second offers too narrow results and can fail if the system is being updated.
DoNotPay provides a quick and simple search tool that can be completely customized.
Here are the benefits of our Sex Offender Search tool:
User-friendly interface
Offender search by name
An area search by radius in miles (one, two, and three miles)
All-inclusive weekly reports with personalized parameters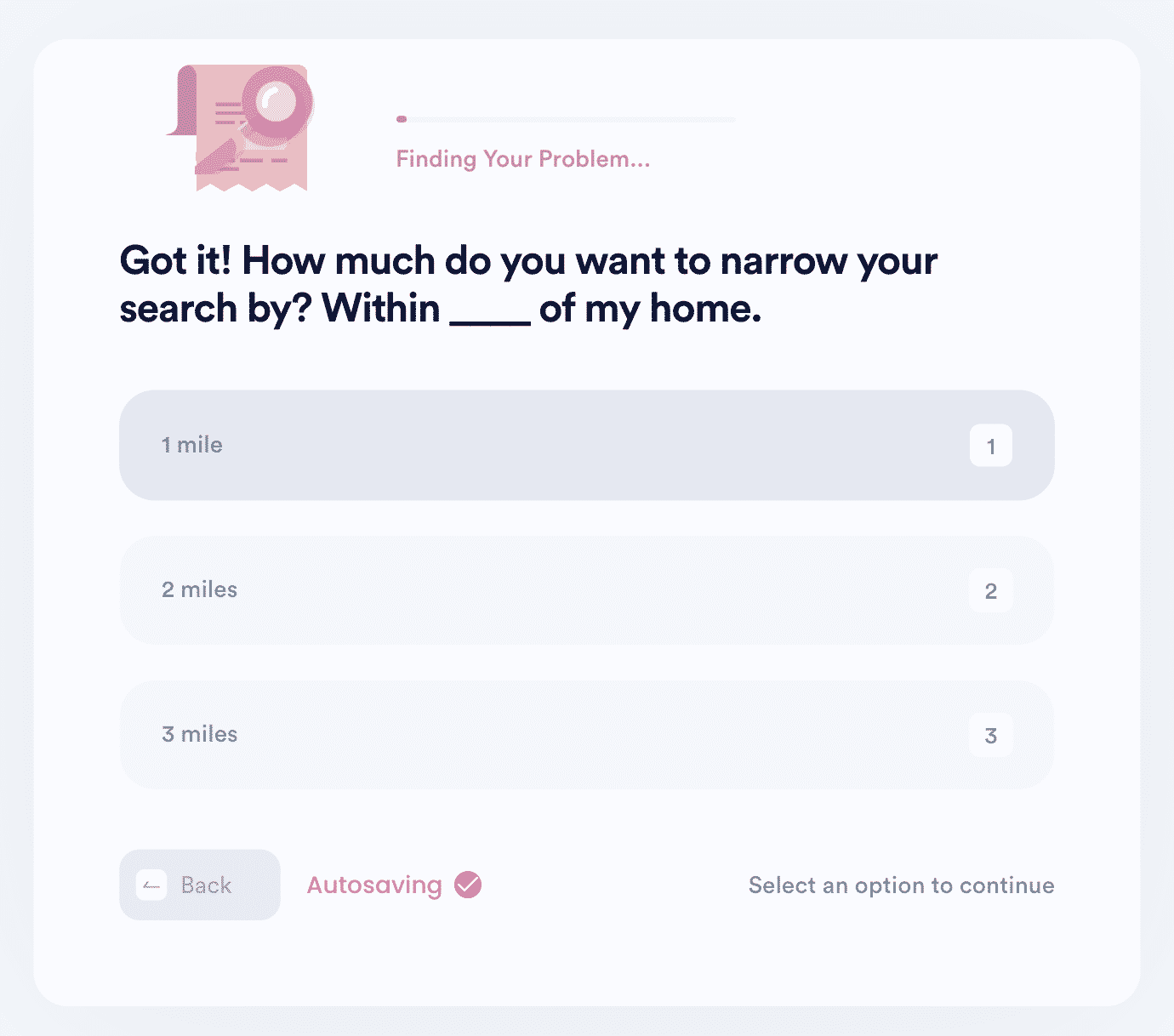 There are a few simple steps to follow to become our subscriber:
and look for Sex Offender Search
Choose the type of search—by name or by area
Pick the proximity that you want us to scan
Decide whether you wish to receive weekly updates
From here on, if you opted in, DoNotPay runs weekly searches according to your preferences and shares them with you.
Drowning in Paperwork? DoNotPay Comes to the Rescue!
Dealing with administrative procedures is never a fun experience. Not only is it time-consuming, but it's also extremely inconvenient and impractical. Luckily, we have a practical solution!
Use DoNotPay to cut through the red tape and handle any bureaucratic issue that comes your way stress-free! Check out the list below to see a fragment of tasks you can tackle with our help:
Draw up a plethora of legal documents
Explore DoNotPay's Other Services
DoNotPay provides you with a ton of other services you can find useful when completing your everyday tasks.
You can contact customer service support without waiting for hours, request refunds from various companies, file a missing package claim, and get compensation for missed or delayed flights in a few clicks!
If you want to earn some money, we can help you with: