Take the Best CDL Practice Test in WA
Getting your Commercial Driver License (CDL) in Washington State is not an easy process. There are different types of commercial vehicles and endorsements. We'll walk you through the most important details about the CDL test and practice tests so that you can pass it with flying colors and start applying for jobs!
Washington CDL Test
Explained
A CDL test consists of two parts—a knowledge test and a skill test. Check the table below for a detailed overview of what to expect from it:
Test Segment
Details

Knowledge Test

Skills Test

Pre-trip inspection

—describing and checking vehicle components

Basic controls

—backing your vehicle through a designated course

Road test

—driving safely
Why Should I Take
Washington CDL Practice Test
s?
Taking CDL practice tests is crucial if you want to become a commercial driver. The more you practice and check what you learned from the guide, the more prepared you'll be for the actual test.
Another reason why practice tests are important is safety. The CDL knowledge test widely covers Washington and federal driving regulations, and if you know them well, both you and other drivers on the road will be safer.
How you feel on the test day may also influence your results. If you prepare well, especially by taking practice tests, you'll feel calm and more confident in your knowledge.
Prepare for the
CDL Test
in
WA
with DoNotPay
Many CDL practice tests are circling the internet. While you should practice as much as possible, don't take every test at face value because it might not be up-to-date, and it may not be completely available until you pay.
DoNotPay's CDL practice tests are a reliable and efficient way to check your CDL guide knowledge. Our AI-powered app allows you to choose the length, retake the test multiple times, and redo any question you got wrong either immediately or once you finish everything.
Our CDL practice tests are also easy to access. All you have to do is:
Open DoNotPay in any

Type in

CDL Test

in the search bar

Decide on the number of questions—10, 20, or 30

Start the practice test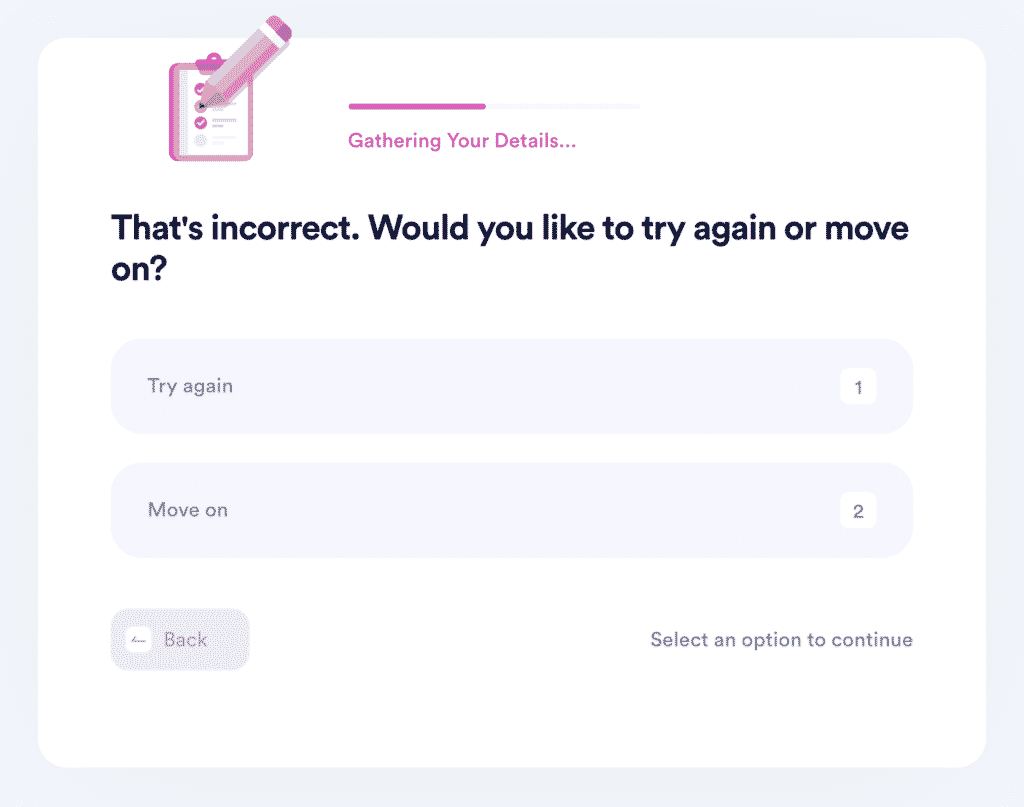 Use DoNotPay To Ace Other Government Tests
The CDL test isn't the only government test we can help you with. If you wish to add a Hazardous Materials Endorsement (HME) to your license, DoNotPay can provide the best HazMat practice tests.
Perhaps you like to keep your options open for other careers, or your loved one needs assistance in passing other government tests. Our app will be your perfect assistant! You can access DoNotPay in .
Take DoNotPay's practice tests to prepare for any of the following:
Besides practice tests, we excel at dealing with pesky DMV tasks. Count on our assistance if you need to make a driving test appointment or pass the written driving test.
The ASVAB test can be challenging, but you can check our lowdown on the ASVAB test scores and understand it better.
How Do I Take the
Washington State CDL Test
?
Once you understand what the Washington CDL test entails and have the prep part covered, you should get familiar with taking the test.
The Washington State Department of Licensing (DOL) handles CDL tests and licensing, and this is where you need to apply.
To sign up for a CDL, you need to comply with the following requirements:
Have a valid driver's license

Be 18 years old or older (21 if you need to drive interstate)

Not have a lifetime disqualification
What Does the CDL Application Process Look Like?
Before you visit any driver licensing office to take the CDL knowledge test, you should check which documents you need to bring:
Your current license

Social Security Card

Medical documents (not always required, but you should

check

)
Once you pass the knowledge test, you'll get a Commercial License Permit (CLP). After completing the training requirements, you can take the CDL skills test.
If you successfully complete the entire CDL process, the Washington State Department of Licensing (DOL) will issue your license.
How Much Is a Commercial Driver License?
CDL fees can be pricey. While it rarely happens, the cost could change, so you should check on the DOL website.
Take a look at everything you need to pay as a prospective CDL driver:
CLP—$40

CDL knowledge test—$35

CDL skills test—$250 (the fee covers two attempts)

CDL re-qualification—$35

CDL skills test for the school bus endorsement—$100 (two attempts)

Transferring an out-of-state CDL to a WA CDL—$191
Want Your Money Back? DoNotPay Is Here To Help
Are you looking for your missing money? Do you want to get a refund for a delayed or canceled flight? Are you trying to flip the script on illegal robocalls and earn money off them? DoNotPay will assist you in dealing with any of these pesky issues!
We can also help you bypass phone number verification, sign up for clinical trials stress-free, ace any government test in a jiffy, and block spam emails for good.
Tired of Companies Not Taking You Seriously? Use DoNotPay To Put a Stop to It
If you're sick of companies that violate your consumer rights, DoNotPay is here to help. If you're struggling with reporting robocalls, requesting a refund, claiming any type of warranty, scheduling a DMV appointment, reporting spam text messages, or anything else, our robot lawyer will help you sue any firm or individual in small claims court.
With DoNotPay, you can also sign up for any free trial, cancel any subscription, avoid getting charged after your free trials end, and much more!