How to Start a Checkatrade Free Trial Without Giving Your Credit Card Info

As a tradesperson, it can be tricky finding the right customers every month. Work tends to dry up sometimes, and the truth is you can't solely rely on word of mouth as much anymore. Checkatrade helps you bridge the gap between yourself and your customers to ensure your business thrives. Before signing up, you may want to determine if Checkatrade may be the right fit for you, warranting a free trial.
This is where DoNotPay comes in. With DoNotPay, you no longer have to offer your credit information to get a Checkatrade free trial. The best part about this service is that it's free and takes only a few minutes.
Does Checkatrade Offer a Free Trial?
Currently, Checkatrade offers a one-month free trial to allow its clients to get the UK's best trades. The Checkatrade free trial offer ends in July 2022 and only becomes active after approval. You can register a site with them for free, but you won't have access to premium features like receiving a regular flow of leads, regular discounts on materials or a profile page.
How Can I Get a Checkatrade Free Trial?

To be eligible for a Checkatrade free trial, you have to receive approval from the company first. You can contact the company on 02394 317529 or fill in the fields on their application windows.
To do so, you should:
Visit the 'Signup' page on Checkatrade's official website
Add your business category and click on get started
Fill in your business' details, including your company's email, name, phone and type of business
Fill in your business address. Once you fill in your postcode, you will get various addresses related to the postcode, and you can pick yours. If your address isn't on the available ones, you can add it manually.
Enter your title, name, surname and date of birth
Submit and wait for Checkatrade to call you
Once you're done with the application for a free trial, one of the company's membership advisors will call you from 07928 542184. Be on the lookout for the number to ensure you secure your chances of getting the free trial.
Does Checkatrade Free Trial Automatically Renew into A Paid Subscription
Once you're approved for a Checkatrade free trial, you will be required to provide your bank details to register as a member. Checkatrade offers a tiered type of benefits as outlined in the table below:
Membership Plan
Benefits
Approved

Endorsement by UK's trusted network
Save more than $500 on materials
Obtain marketing materials

Lite

All Approved membership benefits
Leads to fill gaps
Profile page to help customers find you

Standard

All Approved and Lite membership benefits
Regular flow of leads
Twice as many leads as Lite members

Pro

Grow your business with twice as many leads as standard members
All benefits of Approved, Lite and Standard memberships
The Standard membership is the most popular for growing businesses, while Pro is popular with huge companies such as Fortune 500s. Checkatrade allows you to switch from one plan to another depending on your business needs.
It's always advisable to cancel the free trial a week or a few days before renewal to avoid automatic membership. If you switch to a paid subscription, you won't be able to get a refund, and your membership will last until the next billable month.
Let DoNotPay Help You Avoid Automatic Renewal With Virtual Credit Cards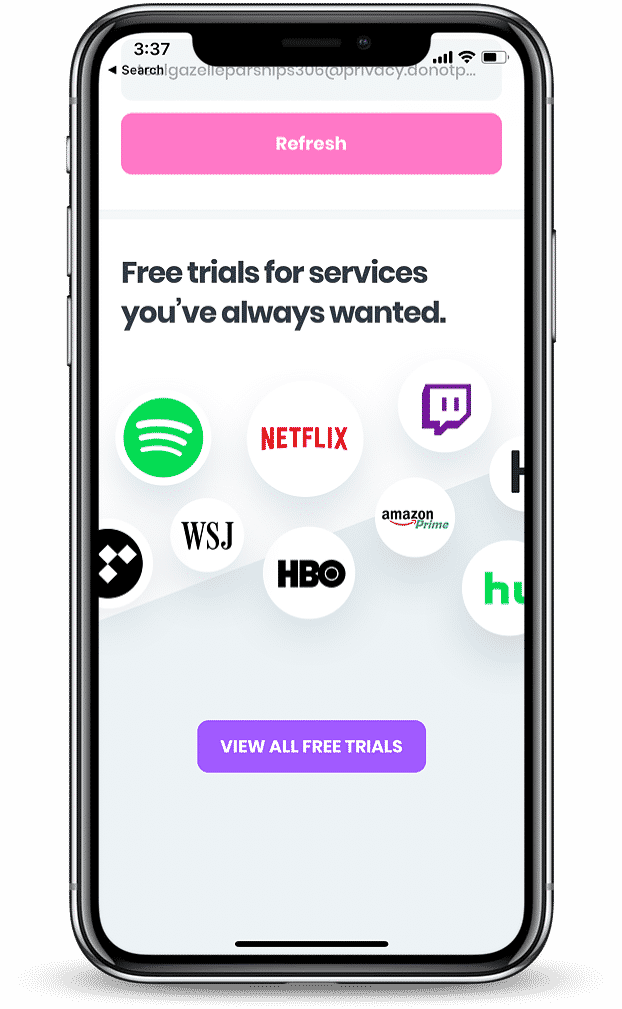 We get it. You're busy, and there's just not enough time to sit down to try to cancel a service. Furthermore, some services make it difficult for members to cancel free trials, which results in automatic renewals. The only problem is that failing to cancel your subscription results in you paying for a service you don't need, want or use, which can take a toll on your finances in the long run.
So how about we take it off your hands? DoNotPay's Virtual Credit Card feature works by generating random credit card information that enables you to subscribe to any service and get a Checkatrade free trial at any time.
Once the free trial runs out, the service won't charge you as there is no money on the card, thus unsubscribing you automatically. This way, you put the extra £100 back into your pocket and don't have to worry about dedicating time to cancelling a free trial.
Here's a quick summary of DoNotPay's Virtual Credit Cards:
They contain dummy information and numbers.
They bypass verification systems to get approval for free trials.
They prevent automatic charges once the trial period expires.
DoNotPay Works Across the Board
DoNotPay Virtual Credit Cards can help you secure free trials from several other companies outside of a Checkatrade free trial. You can now get free trials from:
What Else Can DoNotPay Do?

DoNotPay doesn't only help you with acquiring a Checkatrade free trial but also enables you to deal with other everyday situations, including:
Get started with DoNotPay today and never lose money on subscriptions again.