Can a Felon Visit an Inmate?
Wondering if a felon can visit an inmate? The answer to this question depends on the correctional facility where an inmate is held and on the specific case of the felon.
No matter who you are, you have to apply to be put on the inmate visitation list. A prison then reviews your application and decides whether to grant you permission to visit an inmate.
How Does a Prison Decide Whether To Let a Felon Visit an Inmate?
Here are the factors that prisons take into consideration when determining whether to allow a felon to visit an inmate:
Criminal record

—A prison will do a background check on a felon and review their criminal record. The severity of their crimes will influence the prison's decision. Usually, felons who committed nonviolent and less serious crimes are more likely to get approved for a visitation

Time since conviction

—When a felon committed a crime is also an important factor. Some prisons have a policy allowing them visitation if they were released from prison no later than two years ago

Prison location

—If a felon was located in the same prison an inmate is now, it may be hard to get visitation approval. This may vary depending on their behavior and relationship with the prison staff and other inmates. If a felon was in any way disruptive during their time in prison, they may be considered a safety risk by coming back to visit

Probation

—Felons on probation are usually not allowed to be around other convicts. If this is the case, they'll have to get written permission from their probation or parole officer before they apply to be on an inmate visitation list

Relationship with the inmate

—This factor is crucial to getting the visitation request granted. Close family members have more chances of getting approved even if the other factors are questionable
The best thing to do is to check with the correctional facility you would like to visit. You can visit their website or contact them over the phone. If you have a parole officer, talk to them about your rights.
Types of Inmate Visits
If you are granted permission to visit a loved one in jail, there are a few ways you can do it:
Types of Visits
Brief Explanation

Contact Visitation

The most personal type of visitation

You can usually sit at a table with an inmate

Prisons typically allow a hug or handshake at the beginning and the end of the visit

Hand-holding during the visit is not permitted in most jails

Non-Contact Visitation

You can see the inmate through a glass partition

You communicate over the phones placed next to you

Video Visitation

More and more prisons allow video visitations

Prisons may use

Jpay

or

GTL's VisitMe

system to organize video visitations

They can be scheduled in the same way as the other two types
What To Bear In Mind Before Visiting an Inmate
Before visiting someone, you should be familiar with the process visitors go through. There are certain rules to remember so that you are not turned away when you get there:
Dress code

—A prison may have a specific set of dress code rules. Usually, visitors cannot wear revealing, see-through, or tight clothes, uniforms, or jewelry

Behavior

—You should follow the instructions of the prison staff, such as to wait, keep quiet, and not touch or argue

Personal documents

—When you visit someone in jail, you need to have your personal ID, passport, or driver's license with you

Search

—The prison staff will search you when you arrive, so make sure to follow the rules. Don't bring any weapons, drugs, cigarettes, and other items that are forbidden. You can contact the facility beforehand to check which items are not allowed

Minors

—If a minor wants to visit someone in prison, they can only do so with a parent or guardian. Other requirements may include bringing a school-issued photo ID or a birth certificate

Schedule

—You cannot come to prison unannounced. The prison needs to receive a visitation request from you, typically one to two days before the visit. Check on the prison's website how to place a request
Other Ways To Be in Contact With an Incarcerated Loved One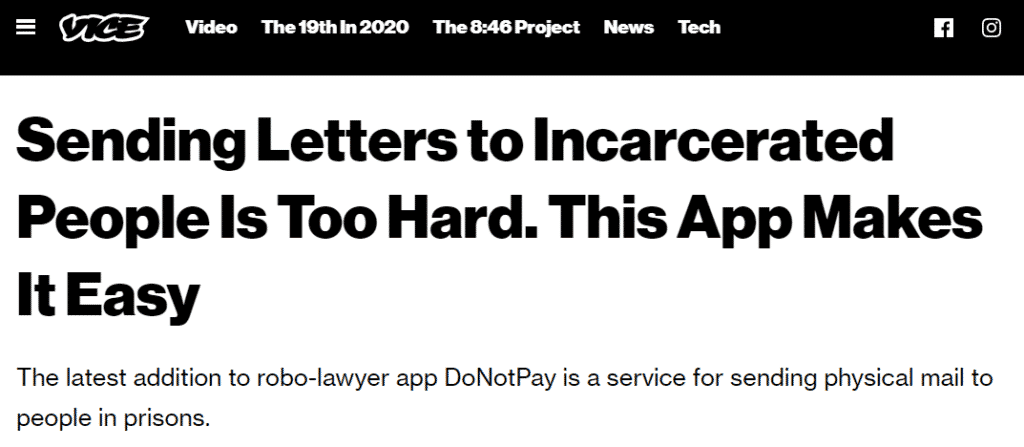 Keeping in touch with people on the outside is vital to the well-being of prisoners. They can go through this difficult time more easily when they have support from their friends and family.
Visitations are not the only way to maintain contact with a prisoner. You can try other methods, such as:
Stay in Touch With a Loved One in Jail Using DoNotPay
When visits are not possible, DoNotPay is a great way to keep in touch with an inmate. There's something special about the written word, the anticipation of a letter arriving soon, and being creative in your letters. Our website offers you three features to make your inmate correspondence as personal as possible:
Virtual Mailbox

Locating an Inmate

Sending a Personalized Letter
Locate an Inmate With the Help of DoNotPay

When it comes to sending letters or packages to prison, addressing them is the most important part. A prison can return your letter if you forget to include a facility unit or an inmate's booking number.
If you want to make sure your letter gets to your loved one in jail, you need to know their full address. DoNotPay can find any inmate in no time and provide you with their address!
Here's how it works:
Open DoNotPay in a

Select the

Connect With an Inmate

feature

Click on

Locate Someone

Enter the prisoner's name

Answer a few more questions

Tap on

Submit
DoNotPay Helps You Send a Letter to a Prisoner

While writing a letter with DoNotPay is easy, we still focus on little details so that your letter gets a personal touch and brightens up an inmate's day.
We will make sure you include all the necessary details, such as the facility and the inmate's information so that you can focus on the letter's content.
You can add a photo, choose a template for special occasions or holidays, and check our creative mail ideas, inmate love letters, or sample letters of encouragement to inmates.
All you need to do is:
Visit DoNotPay in your

Tap on

Connect With an Inmate

Select

Send a Personalized Letter

Enter the inmate's details

Answer a few questions

Write your letter
Sending a Package to an Inmate
Sending a package is another way to show an inmate you are thinking of them. Be aware that the prison staff inspects all mail. If you don't abide by the rules, a prison will not accept your package. Check out what is allowed inside an inmate package:
Items You Can Send
Items You Cannot Send

Paperback Books

Photos up to 4x6 inches

Postcards and greeting cards

Clothes for court appearances

Newspaper and magazine snippets

Pens

Drugs

Money

Weapons

Cigarettes

Hardback books

Anything with explicit content
DoNotPay Answers Your Other Questions and More!

If you have any more inmate-related questions, we've got them covered! Find out more about prison marriage, iCare packages for inmates, or inmate mail rules and regulations.
Visit DoNotPay in your so that we could assist you with more issues, such as:
Appealing your speeding tickets

Fighting your traffic tickets