All You Need To Know About the California "Pedophile Bill"
If you've heard about the new California "Pedophile Bill" and you're worried that pedophilia has been legalized in the Golden State, don't fret! We're here to provide you with all the facts!
Other than presenting you with useful information about the CA pedophile laws, we'll also show you how to search the sex offender registry and map the whereabouts of registered sex offenders near you with ease!
, and learn how to steer clear of pedophiles and sex offenders at all times.
What Is the California "Pedophile Bill"?
California SB-145, popularly referred to as "Pedophile Bill," was presented in May of 2019 by Senator Scott Wiener.
Before this bill, sex offenders were getting convicted depending on whether there was intercourse during the offense and whether the offense involved a minor. For sexual offenses not involving intercourse, offenders had to register regardless of the judge's opinion. For sexual offenses that did involve intercourse, the judge could decide if the offender had to register or not.
Wiener believed that was unfair to the LGBTQ+ population since there was usually no intercourse involved in such offenses.
The main goal Wiener had with SB-145 was for everyone to get equal consequences when it comes to sexual crimes. This bill states that judges should handle all sex offense cases based solely on the factors involved. It also states that judges should always have the authority to decide the adequate punishment for the offenders.
Does SB-145 Legalize Pedophilia?
The common misconception about SB-145 is that it legalizes pedophilia. This bill has nothing to do with allowing sex offenders to engage in sexual activities with minors—it is aiming to protect the rights of both the sex offender and the victim, and it won't apply when:
A minor is under 14
The age gap between a victim and offender is larger than ten years
Either party confirms the sex wasn't consensual
California still has adequate punishments for pedophiles.
How Harsh Are Pedophiles Punished According to the California Pedophile Law?
SB-145 didn't change the way pedophiles get punished in the Golden State. By California law, crimes like statutory rape remain punishable by up to four years in state prison and up to $25,000 in fines.
Besides spending ages in prison, every person who commits a sexual offense also needs to register with the CA authorities right after they finish serving their sentence.
California Pedophile Law—Sex Offender Restrictions
All sex offenders (tier 1, tier2, and tier 3 offenders included) face certain restrictions after registering. The table below provides all the details:
Restrictions
Explanation
Residential
Pedophiles are usually prohibited from living within 500 to 2,500 feet from places where children gather, including:

Playgrounds
Daycare centers

Travel
There is no law that prohibits pedophiles from traveling to another state. They have to register with the destination state upon arrival, though
Although registration is required by law, these restrictions are the reason some offenders try to avoid registering. Unregistered sex offenders in CA face certain penalties, such as one year in jail for a misdemeanor failure to register conviction or up to three years in prison if their sex offense was a felony.
How To Search for Pedophiles and Other Sex Offenders
Megan's Law made the information about registered sex offenders accessible to everyone. You can search for sex offenders by visiting different online registries.
The National Sex Offender Public Website (NSOPW) is commonly used to conduct the sex offender search, and here's how it works:
Go to the NSOPW website
Choose whether you want to search by name or location
Enter the required info
Click on Name Search/Location Search
Note that you won't receive regular updates when using this website. If you want to stay in the loop and know when a newly registered offender moves to your area, DoNotPay is your best option.
Search the Sex Offender Registry With DoNotPay and Get Weekly Updates!
DoNotPay makes searching the California sex offender registry super easy and convenient! Why struggle to find useful info when you can have our app provide you with a full sex offender report in a snap? All you should do is follow these instructions:
and select the Sex Offender Search tool
Pick whether you want to locate a specific sex offender or get a list of all the registered ones in your proximity
Set the search proximity radius (one, two, or three miles) and say if you would like to get weekly reports from us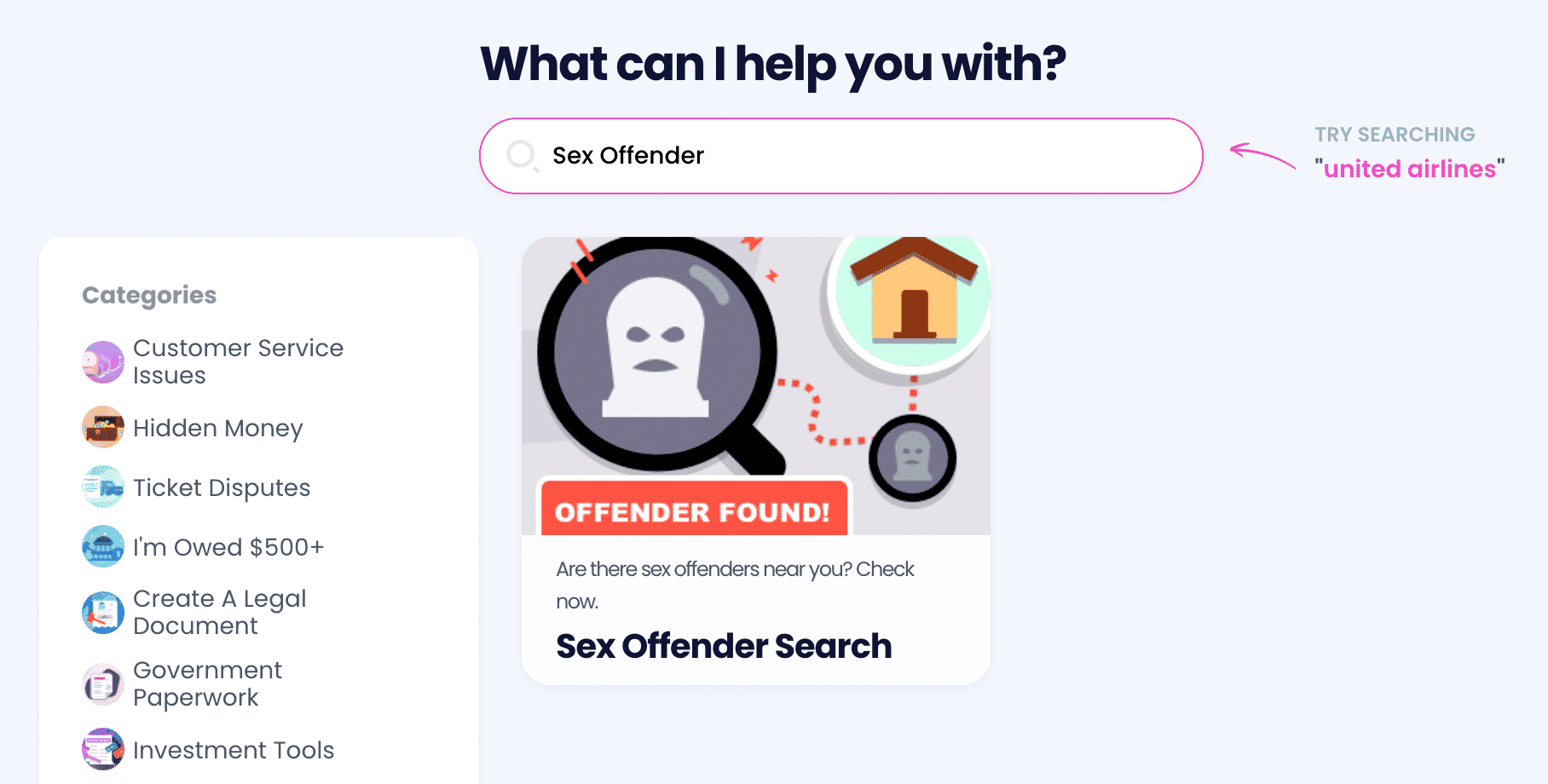 Our Al-powered app will get to work and conduct the search right away! We'll provide you with a list of registered sex offenders near you in no time!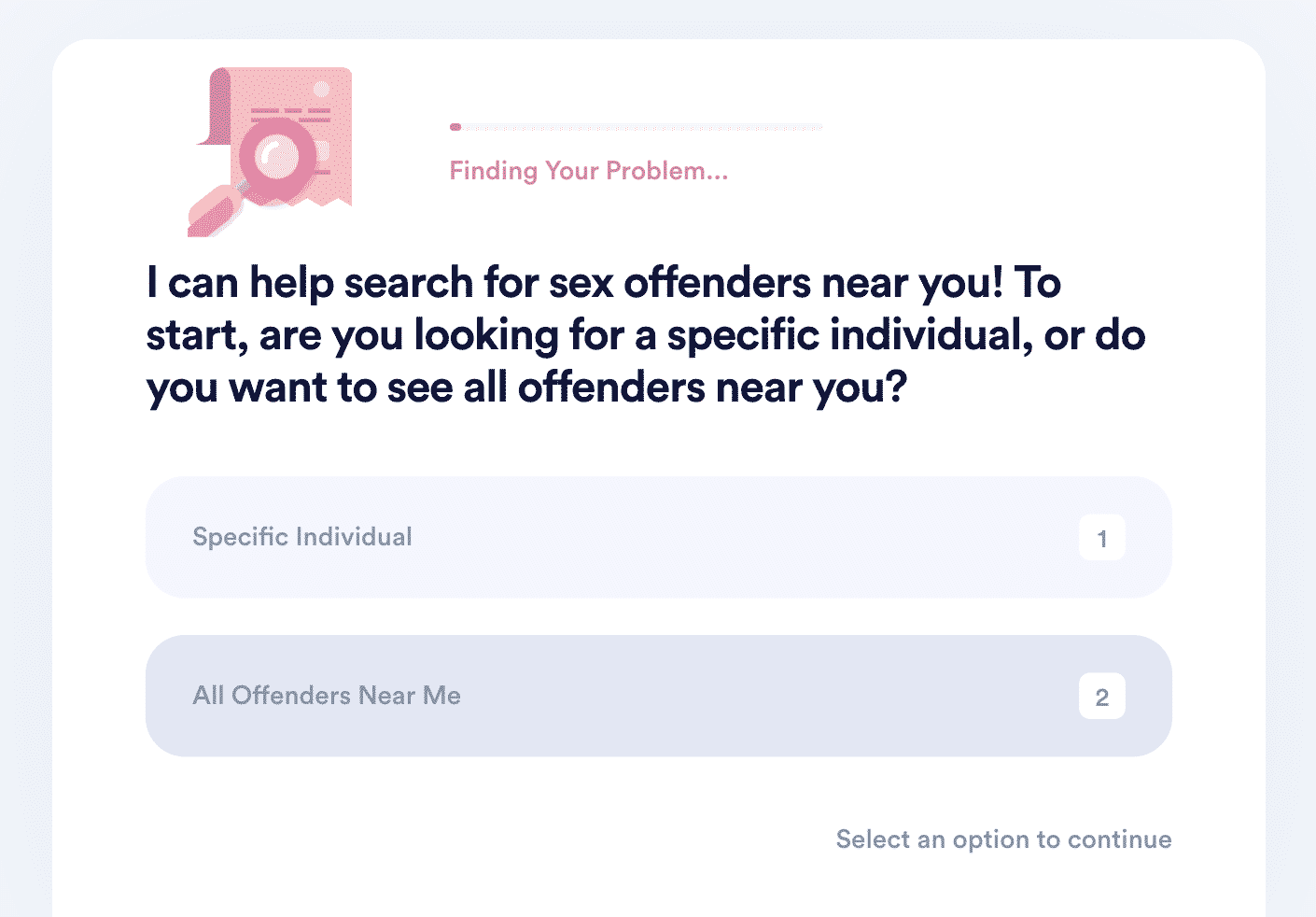 Can I Share the Info About California Sex Offenders?
If you want to share the info you found about registered sex offenders, you can, but the way in which you share it is what's important.
Make sure not to harass and discriminate against the offenders, or you can face legal repercussions. Use the info to inform your loved ones about the offenders and the possible danger they pose.
Subscribe to Various Services Hassle-Free With DoNotPay
Did you ever get charged by a subscription service after using their free trial? DoNotPay can put a stop to that once and for all! We can get you a virtual credit card or a burner phone number, which you can then use to subscribe to any service stress-free! When you want to cancel a subscription, turn to your virtual assistant for help, and we'll do it for you in seconds!
If the company is giving you a headache, we'll hook you up with their customer support or even sue them in small claims court. Possibilities with DoNotPay are endless!
DoNotPay can also turn mailing into a piece of cake and save your inbox from email and text spam!
Solve All of Your Bureaucratic Issues With DoNotPay
Do you need to file an insurance or warranty claim? Need help with setting up DMV appointments or appealing parking tickets around the U.S.? Don't worry because your AI-based helper can step in!
We can help you get professional powers of attorney and divorce agreements, so you don't have to waste money on expensive lawyers! Once we draw up these documents for you, we'll set you up with an online notary, and you can get them notarized in no time!