Hit the Road With a CA DMV Motorcycle Practice Test 
If you would like to ride a motorcycle on California roads, you have to get a license first. To pass the test without breaking a sweat, check your knowledge of the rules and regulations by taking a CA DMV motorcycle practice test.
DoNotPay helps you pass DMV driving tests without a headache by offering adequate practice material and information on how to schedule a driving test and ace the written test. 
We also provide a DMV practice test.   
Do You Need a Motorcycle License in California? 
To ride a motorcycle in California, you need a motorcycle license for the appropriate class.
Class M1 driving licenses authorizes you to ride:
A two-wheeled motorcycle

Motor-driven cycle

Motorized scooter

A vehicle under Class M2
Class M2 driving license allows you to operate:
Moped

A motorized bicycle

A bicycle with an attached motor
To receive an M1 or M2 driving license, you will have to meet the following criteria:
Requirements
Age 15–17
Age 18–20
Age 21+

Certificates of completion of:

Driver education

Behind-the-wheel driver training

✔

∕
∕

Motorcycle training certificate of completion

✔

✔

∕

Completed one of the following applications: 

Driver License

Identification Card

✔

✔

✔

Parent/guardian signature 

✔

∕
∕

A vision test

✔

✔

✔

Fingerprinting

✔

✔

✔

Fees

✔

✔

✔

Have your photograph

taken

✔

✔

✔

The knowledge and skills tests

✔

✔

✔

Possess an instruction permit

for at least six months

✔

✔

∕
The required tests cover the following:
The driver knowledge

Motorcycle knowledge

Motorcycle skills

Observation road test, if you do not have a motor vehicle license
With an instruction permit, you cannot:
Ride on a freeway

Carry passengers

Drive at nighttime
When visiting California, you can operate a motorcycle with a valid motorcycle license from your country or state only if you are 18 or older. To ride a motorcycle when you move to California, you must get a CA motorcycle driving license within ten days.
To get ready and nail the test on the first try, resort to DoNotPay. Take our California motorcycle practice test and pass the real exam with flying colors!
What To Expect on the CA DMV Motorcycle Test
The questions on the California motorcycle test are from the Motorcycle handbook. The handbook covers traffic and safety rules and laws you need to know to operate a motorcycle safely. 
Here is what you will need to do to get a motorcycle driving license in California:
Make an appointment at a

DMV office

Provide the required documentation

Pass the knowledge tests

Pass the skills test
The following table shows what the required tests include:
Knowledge Tests
Skills Test

Motorcycle knowledge test

Driver knowledge test

Pre-trip inspection

Riding in various paths

Slow riding

Gear shifting
The test consists of 25 multiple-choice questions. To pass, you will need to answer at least 20 (80%) correctly.
You will take the skills test in a real-life traffic environment or a controlled area. The California motorcycle driving test is a fail or pass type of test. 
Do I Need To Complete the California Motorcyclist Training Course?
If you are not 21 yet, you have to complete the California motorcyclist training course. Applicants who are 21 or older can also take this course.
The California Motorcycle Safety Program (CMSP) provides, and the California Highway Patrol (CHP) administers this obligatory course. 
You can take the course at a local training center. For any inquiries, call 1-877-743-3411. 
Once you successfully pass the course and get a Certificate of Completion of Motorcycle Training, you can waive your motorcycle skills test for a year.
Here are the steps you will need to take:
Complete the course

Schedule the knowledge tests

Pass the knowledge tests
You can schedule the knowledge test at any DMV office. Don't forget to take your Certificate of Completion with you when you show up for the scheduled test. 
How To Prepare for the Motorcycle Tests 
The first thing is to cover all the regulations from the handbook. Memorizing the information can be overwhelming, so you need to find out how much you have grasped. 
Using California DMV motorcycle practice tests is one of the most efficient ways to get a clear picture of your newly acquired knowledge. 
DoNotPay is here to provide relevant material for you to gain the confidence to ace your upcoming test. 
Take a CA DMV Motorcycle Practice Test With DoNotPay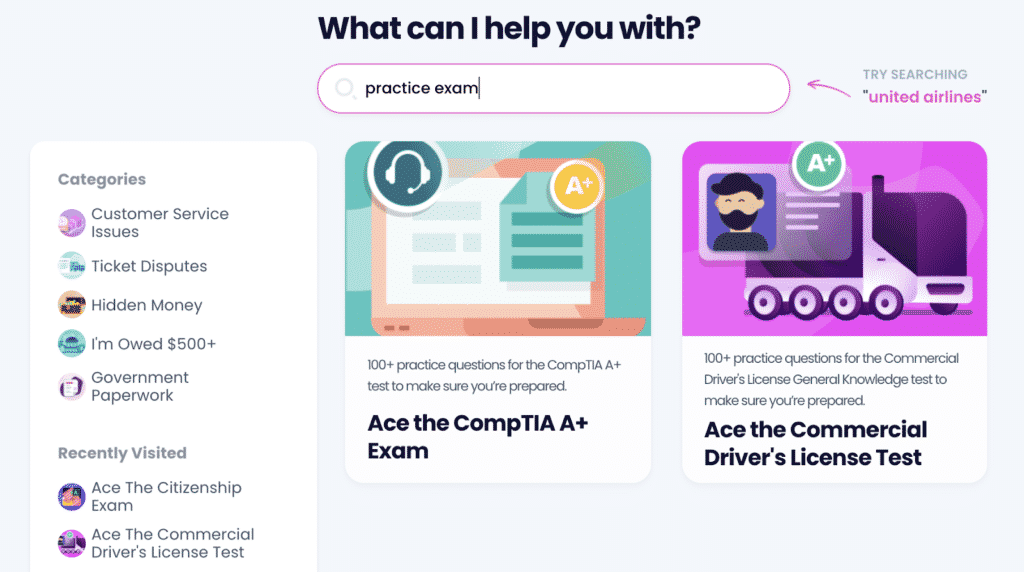 To perfect your knowledge of traffic and safety laws and rules, take our California motorcycle practice test. The test will show you when you are ready to schedule the appointment and take the real one.  
Here is how you can practice:
Visit DoNotPay from a

web browser

Opt for the practice test 

Select

CA DMV motorcycle practice test

Choose the number of questions you would like to cover—10, 20, or 30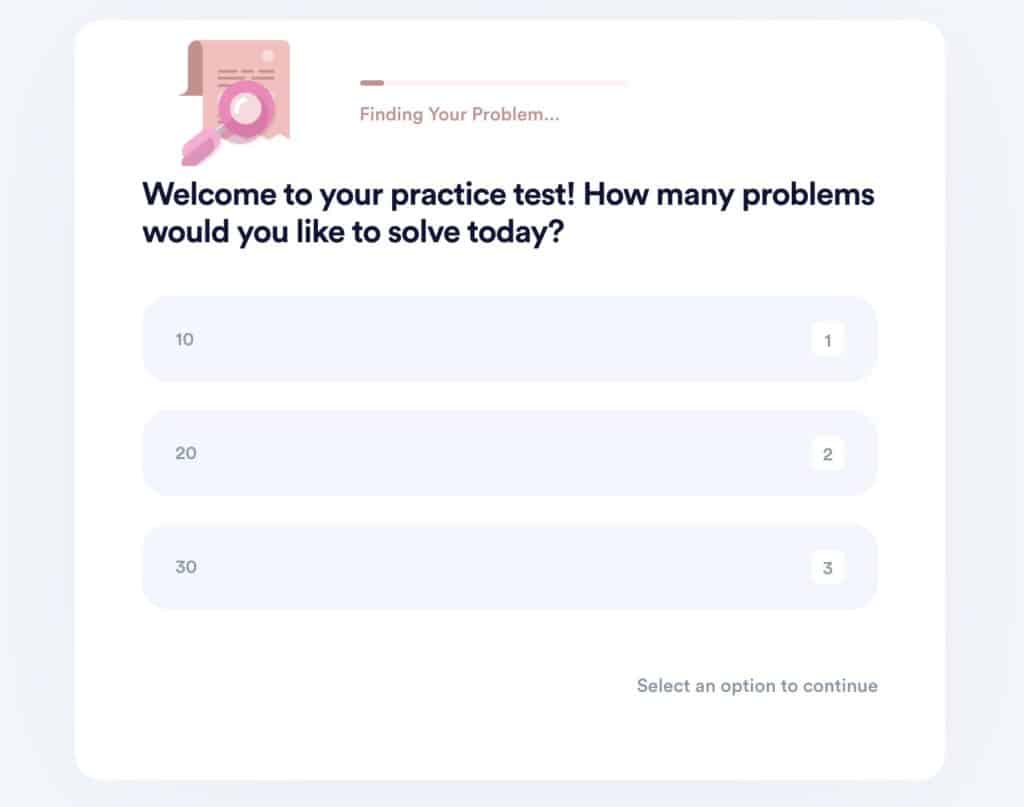 You are all set to go! Place the handbook nearby and start checking how much you have digested. When you make a mistake, check the relevant section in the California Motorcycle handbook and retake the question or the whole test.
DoNotPay assists with various government exams, such as the U.S. Citizenship, Notary, Postal, CompTIA, CDL, HAZMAT, CCAT, or ASVAB (including ASVAB test scores).
Clear Out Your Daily Tasks Fast With DoNotPay
Are your parking tickets piling up, but the process of appealing them is way too complicated? Do you struggle to pay your bills but are not sure how to get an extension? Is it time to extend your driver's license, but reaching DMV is a nightmare?
DoNotPay will turn all of these dreadful tasks into easy-to-do items you can check off your agenda quickly!
Get rid of spam emails, texts, and calls quickly using our AI-powered app!
Learn how to secure compensation from airlines, get your college fees waived, claim your lost funds, or reduce your property tax—all with a few clicks!
Subscription Issues? DoNotPay Can Help!
If you are looking to test out a service, think twice before disclosing your payment info. Companies will often ask you for your credit card details even when signing up for a free trial—they charge you once the trial expires. 
Use our virtual credit card, and don't worry about unwanted charges! 
Our credit card gets automatically approved for any free trial, but it rejects any real charges since there is no money on it.
DoNotPay will locate and cancel all your unwanted subscriptions without you having to deal with customer service reps.
We can also help you request refunds from companies or take them to small claims court if they refuse to cooperate.