Start Your Buster Box Free Trial With a Virtual Credit Card

BusterBox is a great alternative for people who are looking for fun ways to entertain their pets and give them healthy treats. However in which you can try out their toy/treat boxes for a month. Instead, BusterBox does often have special offers, such as the current one in which you get a free camera with which you can keep an eye on what your dog is up to in your absence.
There are many subscription-based services that offer free trials, but only if you enter a credit card number. And if you forget to cancel your free trial within the requisite time period, you end up getting charged for the next month. This is why it makes sense to use DoNotPay's virtual credit card.
This is a product that generates a credit card number that the service will allow you to sign up with. If you forget to cancel the free trial, you will not get charged because the virtual credit card doesn't have a line of credit to back it up.
Subscription Options for BusterBox
While there are no available , BusterBox gives you three different subscription options.
| | | |
| --- | --- | --- |
| Option | Fee | Details |
| Monthly | €37.99 /£31.99 | You are not committing to a certain number of months in this option. So you can cancel it at any time. |
| 6 Months | €29.99 / £24.99 | This option is cheaper than the monthly option. However, you will have to commit to six months of BusterBox and won't be able to cancel in the middle of that time. |
| 12 Months | €26.99 / £22.99 per month | This is the cheapest BusterBox option. However, it involves a commitment of 12 months. |
Keep in mind that no matter which BusterBox option you opt for, you will be enrolled in auto-renew. So if you sign up for 12 months, you have to go to the website once that time is up and cancel the auto-renew if you don't want to be charged for BusterBox anymore.
What Do BusterBoxes Contain?
BusterBox sends you a different box full of toys and treats for your pet every month. Each box has a different theme such as the following:
Surf Box: This contains a sea animal stuffed toy, a surfer pup toy, True Instinct turkey treats, Dental Sea Jerky fish squares and Apple fish wraps.
Egg-Citing Easter Box: This contains a Pugs Bunny toy, the Eggcellent Companion chew toy and three gourmet treats.
Christmas Box: This contains a toy called Snowpup the rescue dog, a Snowman the defender toy, a Snow Elf the entertainer toy, Yummy Bones treats, Tribal Rewards treats, True Instinct turkey treats, Chicken fillet strips, Pooch and Mutt treats and Duck a L'Orange treats.
Fruits and Veggies Box: This contains a Ba-na-na-na toy, a Carrot toy, a Strawberry toy, an Avocado toy, a Pear-fectly cute pear toy, an Eggy-P toy, Yummy Bones treats, Meaty Bites treats, Duck a L'Orange treats, apple and green tea-flavoured dental treats, duck and venison sausage treats, Tapas Gourmet duck snacks and Pooch and Mutt treats.
Why Use DoNotPay to Get Free Trials

When it comes to BusterBox, there are no free trials that you can sign up for. But you do have the option of signing up for their monthly subscription. If you're not happy with BusterBox after a month, you can always cancel. If you are happy, then you can opt for the 6 or 12 month subscription which costs less per box.
On the other hand, there are a number of other free trials out there that you can sign up for, using your credit card. This gives you the option of trying out those services without paying anything. However, if you forget to cancel your subscription during the free trial period, you will get charged for the next billing period.
DoNotPay has a virtual credit card option which will prevent your real credit card from getting charged. You can generate a virtual credit card number using DoNotPay and use it to sign up for a free trial. A virtual credit card:
Contains a random number and credit card information.
Can bypass verification systems so you can be approved for free trials.
Saves you money by preventing you from getting charged at the beginning of the next billing period.
What Free Trials Can You Sign Up for With DoNotPay?
If it is possible to try out something for free, then it makes sense to do so, before getting a paid subscription. And using DoNotPay's virtual credit card for the following services will ensure that you don't get charged when the free trial is over.
What Else Can You Do With DoNotPay?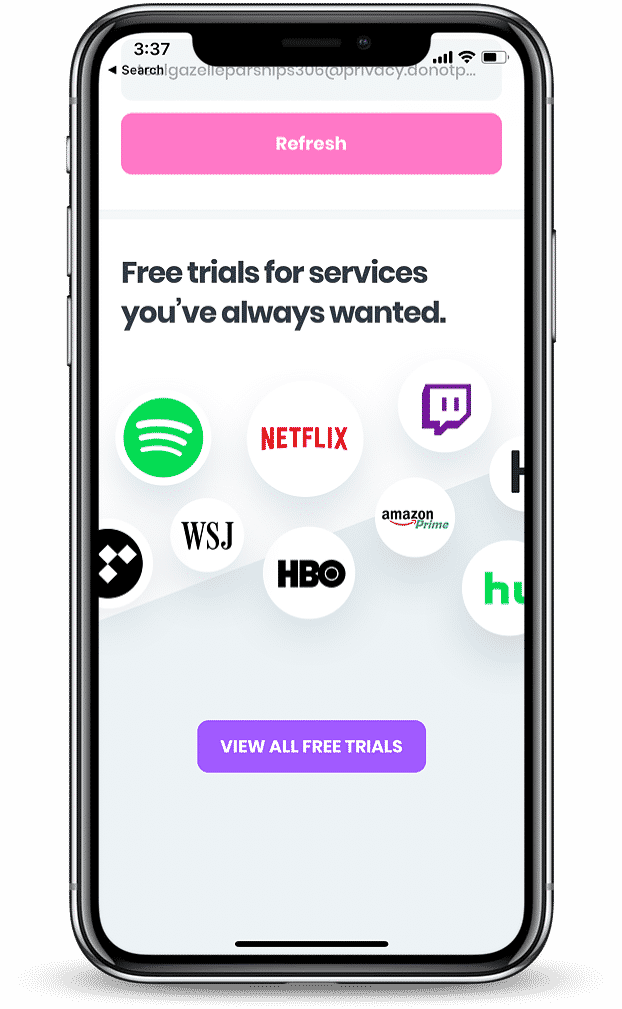 DoNotPay is the world's first robot lawyer and, as such, it can help you with a number of legal issues.
BusterBox is a subscription service that will appeal to dog lovers everywhere. Unfortunately, there is no free trial period for this service; you just have to sign up for the monthly box if you want to give BusterBox a try.
However, when it comes to other services that offer free trials, be sure to use DoNotPay's virtual credit card which will prevent you from losing money, in case you forget to cancel your free trial in time.