Get BT BritBox Free Trial Without Giving Your Credit Card Info

BritBox is a well known streaming service for watching beloved British movies and the latest television shows. Currently, the telecommunication service provider, BT, is offering a free trial of BritBox. When you sign up for either a BT Broadband or a BT TV subscription, you can get a free six-month trial of BritBox. Just as with free trials from other companies, such as Sky Cinema, Shein, and even Beer 52, this BT BritBox free trial is only available for a limited time. How long is the free trial, and how can you get this BT BritBox offer? This is guide on getting the BT BritBox free trial!
How Does the BritBox Free Trial From BT Work?
BT Group (also known as BT and British Telecom) is a company that offers telecommunication services in over 180 countries worldwide. To entice potential and existing customers to try their services, BT is offering a six-month free trial of BritBox. To receive this special offer, a customer must purchase one of the following subscriptions:
| | |
| --- | --- |
| Subscription | Description |
| BT Broadband | If you purchase a BT Broadband plan, you qualify to receive the free six-month trial of BritBox. This is also available if you are an existing BT Broadband customer. BT will notify you when your free trial subscription is close to expiring. |
| BT TV | If you purchased or are planning to purchase a BT TV plan, then you will be able to get the BritBox six-month free trial as well. Additionally, you will be able to stream BritBox on your BT TV set-up box; however, it is not available on older H3 TV boxes. BT will also send you a notice when your BritBox free trial is about to expire. |
The free trial offer is only available for the two subscription plans above. The Britbox free trial does not come with their other subscription plans. However, BT does offer other paid television subscriptions, such as Now and Disney Plus.
Will I Be Charged Automatically After the BT BritBox Free Trial Ends?

Yes, if you do not cancel the subscription before the end of your free trial, you will be automatically charged the BritBox monthly subscription price of £5.99, which will be added to your BT Broadband or BT TV bill. To possibly get a refund for not cancelling on time, you will need to contact customer service. To cancel your BT BritBox subscription, you have three ways to do so, and they are as follows
"My BT" Account: When you log in to your "My BT" account, you can go to the "Your Products" section and follow the steps accordingly to cancel your free trial.
Online Customer Service Portal: BT has a customer service help section where you can get assistance in closing your BT BritBox account and more.
Email: You also have the option to email them for assistance in closing your BT BritBox subscription. To do so, you will need to log in to your account and click the "Email" tab on their home page.
Phone: To cancel a subscription by phone, you can call their customer service number at 0800 783 1401.
The office hours for BT are as follows
Monday - Friday: 8:00 a.m. to 9:00 p.m.
Saturday: 8:00 a.m. to 8:00 p.m.
Sunday: 9:00 a.m. to 6:00 p.m.
How to Get a BT BritBox Free Trial on Your Own
To get a free BT Britbox trial, you will first need to sign up for one of their Broadband or TV plans. To sign up for a BT Britbox six-month free trial, follow the steps below
Go to BT's official website.
Next, log in to your My BT account.
From there, you can add BritBox to your subscription. The free trial will automatically be set in place.
When your BritBox free trial is near the expiration date, you can either cancel the BritBox subscription, or you can let it continue to the paid subscription. Again, if you let it continue, £5.99 will be added to your monthly BT Broadband or BT TV subscription bill.
Getting free trials can seem frustrating. From looking up how long a free trial lasts to having to remember to cancel free trial subscriptions before they expire, it can seem both time-consuming and overwhelming in figuring out just what to do. What if there was a way in which getting free trials was more simple and stress-free? DoNotPay has the answer for you!
Easily Get a Free BT BritBox Trial With the Help of DoNotPay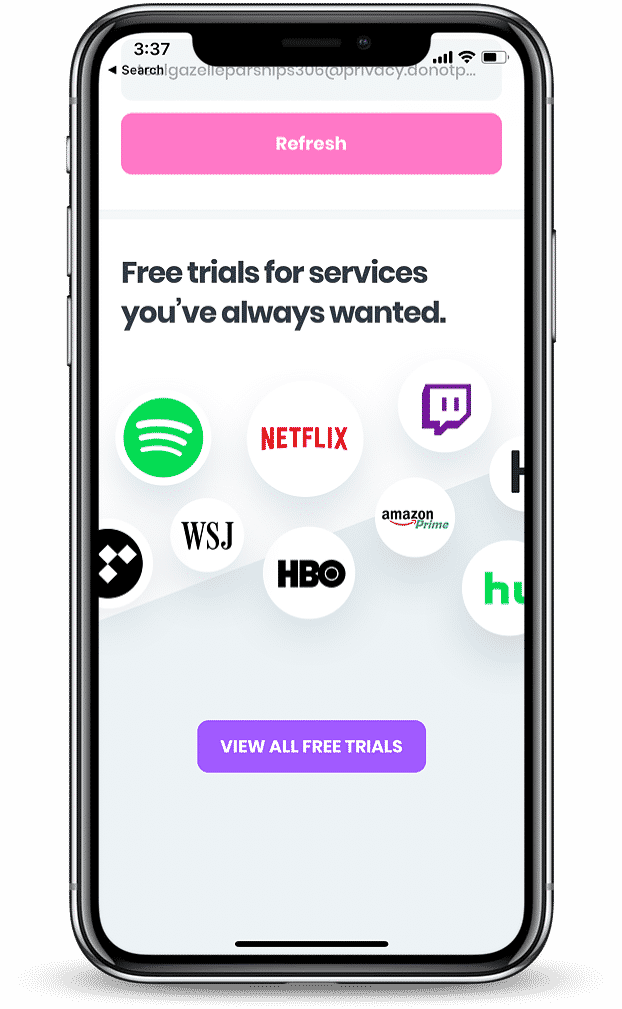 When it comes to getting a free trial subscription for the BT BritBox and more, DoNotPay offers a virtual trial card that can help you get free trials in a fast, easy, and successful way! DoNotPay's virtual trial card acts similar to a virtual credit card in that a credit card number and pin are generated specifically for free trials that need credit card information. You can also use this product to get free trials from other companies, such as Office and Slimming World Online! The following is how the process works:
Choose a company from which you would like to have a free trial. Then search for the free trial card on DoNotPay.
After typing in the company you would like a free trial from, you will be given an automatically generated virtual credit card number. Print out or write down the card information.
Use the free trial card to sign up for a free trial from that specific company, and that's it!
Each card is only good for one free trial. To get more free trial cards for other companies, repeat the steps above. You can rest assured that your information will be kept safe while you enjoy your free trials!

When it comes to getting free trials for services you want to try, DoNotPay offers the perfect solution! You can also use to help you in areas, such as follows:
Get help with all this and more when you sign up for DoNotPay today!