Get a Boardmaker Studio Free Trial Without the Risk of Auto-Renewal Charges

In this age of technology, it's impossible to ignore the convenience that comes with apps. Whatever issue you might be having, there will likely be an app for it. And you'd be hard-pressed if you haven't signed up for a free trial at one point or another.
A free trial is basically when you try out the application for free to see whether it has what you are looking for before committing to the paid subscription or purchase. If you don't like it, you don't have to buy it in the end.
Now, it all might seem like a win-win, but there is a catch. While subscribing for a free trial is easy and straightforward, app developers purposefully make it hard for you to unsubscribe before the trial period ends. Without knowing, most people end up forgetting and ultimately incur extra charges on their credit cards. If you don't know how to make it stop, this can go on indefinitely.
If you are looking to get or cancel a Boardmaker Studio free trial subscription, DoNotPay can help. We will come through and help you get the trial the right way, so you don't get ripped off. Here is all you need to know about the Boardmaker studio free trial and why you should use virtual credit cards.
Does Boardmaker Studio Offer Free Trial?
The Boardmaker Studio is a special educational platform made to support communication, education and the emotional and social needs of students with disabilities. It is, more so, meant to make the creation of interactive activities faster and easier.
The app boasts an easy to use interface consisting of familiar menus, toolbars, templates and project management tools, which make it all simple and easy to learn.
So, onto the question you are wondering, does Boardmaker studio offer a free trial?
Yes, Boardmaker does offer a free trial. They offer both a 30-day free trial and a 60-day free trial. During the period, you get to enjoy access to all their available tools, which allow for creating, printing, assigning and playing.
How Can I Get a Boardmaker Studio Free Trial?
As we've seen, the Boardmaker Online trial subscription gives you complete permission to create, allocate, print, and play activities available on the internet. On top of that, you will have direct exposure to Boardmaker Training Tools.
If you want to register for a free 30-day trial yourself, you should follow the steps below:
Visit the Boardmaker website
Choose your plan of choice, and at the "get started" button, choose "start trial."
Ensure that you fill out the form and proceed to create an account. Once this is complete, you will receive a prompt to verify your account through your email
You will receive an email from Tobii Dynavox. You should select verify your email
This will then direct you back to the Boardmaker page, where you will select Log in
Once you get to the registration page, select "trial account". Create a username and make sure to read the terms and conditions.
Select continue
Select a professional plan
Check the box with "add this solution" which will add expedition and bookbridge to your trial.
Read through the terms and conditions
Select continue
Choose the type of your organisation
Select continue
Select the standards of your state and with this you can get started
How Much Does a Boardmaker Studio Subscription Cost After the Free Trial?
If you wish to go on using the software after your free trial, there are several payment plans that you could subscribe to.
Here are the most popular the payment plans:
Plan
Cost
Benefits
Personal
$99/yr

Edit, play and print your work – Ideal for a parent or caregiver with a single child who wants to design, edit, play, and print activities
Boardmaker 7 is included with every account and can be installed on up to two Windows machines.

Professional
$199/yr

Student supervision – For instructors who want to provide tasks and track student data to 1 to 50 students.
Personalised settings
Individualised access controls for students

Organisational
Contact Bordermaker for a quote

Support from a multidisciplinary team – Numerous individuals can allocate to the same pupils, and the organisation maintains the information.
This comes in 1-5 year terms depending on your organisational needs.
Avoid Involuntary Automatic Renewal With the Help of DoNotPay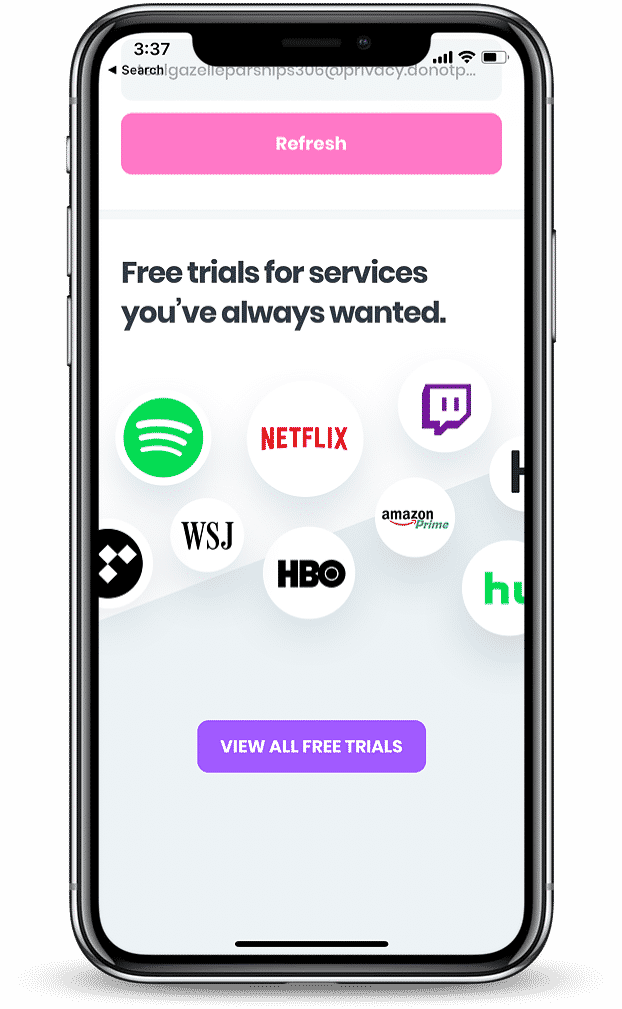 As we mentioned, most software and apps out there make cancelling free trials difficult. Often, when your free trial ends, payments automatically start being charged on your credit card. If you don't cancel your subscription, you'll be buying a product you don't need, desire, or even use, which can be costly in the long run.
If you don't have the time or know how to cancel, DoNotPay is here for you. Our Virtual Credit Card feature generates random credit card information that will allow you to sign up for any service (including a Boardmaker subscription).
Since there are no funds on the card after the free trial ends, the service will not charge you, and you will be automatically unsubscribed. This way, you save your money and avoid the hassle of terminating a free trial.
What Is the Most Popular Alternative to Boardmaker?
Other than Boardmaker, there are other software that perform pretty much the same function. A good example is LessonPix. This is an online tool for creating bespoke learning, communication, and behaviour resources.
Because the Boardmaker programme handles the same issue, most users wonder how well the two compare.
Benefits of LessonPix
LessonPix is reasonably priced (a full year of access costs only $36.00 per user)
Group Licences are eligible for discounts.
Simple to use (simply select your images, select a material template, and print)
Has a Cloud Delivery model meaning each user can access their account from any PC, Mac, iPad or other device
You don't need a CD to use LessonPix
Its software can be accessed online from any computer without having to install it.
LesonPix might not be ideal for everyone, but if you're trying to cut expenses and save hours of time creating content, it's worth a try.
Comparison of Features
| | | |
| --- | --- | --- |
| Features | LessonPix | Boardmaker Studio |
| Price | $36/yr | $399-$799/yr |
| Access | Can be accessed online on any computer | Downloaded to one computer |
| Platforms | Has no platform | All |
| Can be used on Ipad/tablet/phone | Yes | No |
| No. of Images | 45,000+ | 4,500 |
| Sharing centre | Yes | Yes |
| No. of templates | 500+ | 150 |
| Upgrades | Come with yearly subscription | Includes additional cost |
DoNotPay Works Across All Companies With the Click of a Button
Outside the Boardmaker studio free trial, DoNotPay can assist you in obtaining free trials from a variety of different software and apps. You can access free trials from:
What Else Can DoNotPay Do?
DoNotPay does more than just help people obtain free trials. We also help dealing with all kinds of other everyday problems, such as:
All you have to do is visit our website and get yourself a Boardmaker studio free trial without worrying about any charges coming back at you. DoNotPay will also assist with a lot more of other everyday applications you don't want to make yourself.