Get Band In a Box Free Trial With a Virtual Credit Card

Have you ever wanted to make music like your favorite artists, but you don't have years of guitar, piano, or drum lessons to get started? Fortunately, you can still make great music by using music software packages like Band in a Box. Before investing in software or services like this, many people wonder if there is a that would allow them to try it out and compare it to other services.
DoNotPay can help you find free trials, and even avoid putting in your own credit card information when you find a service you want to try! This can help you save hundreds of dollars, as you can get the trials without accidentally missing a cancellation before automatic payments kick in. Read on to learn more about DoNotPay's Virtual Credit Card.
How Much Does Band in a Box Cost?
was developed all the way back in 1988, and it allows aspiring musicians to generate backing tracks and enhance audio for various projects like podcasts and videos. It is available on both Windows and Mac, and you can download the software or purchase it on a USB hard or flash drive.
There are several package offerings on the Band in a Box website for first-time purchasers using Windows computers, including:
| | |
| --- | --- |
| Package | Price |
| Pro | $129 |
| MegaPAK | $269 |
| UltraPAK | $469 |
| UltraPAK+ | $569 |
| Audiophile Edition | $669 |
Additionally, if you already have an older version of Band in a Box, you can get the latest version for a discounted price. If you use a Mac computer instead, you can get the same packages for the same prices. The lower tiers of Band in a Box get you fewer studio recording hours, tracks to choose from, and MIDI SuperTracks, while higher tiers give you several more customization options.
Does Band in a Box Offer a Free Trial?
While Band in a Box used to offer a free trial, the site no longer allows prospective users to try the software before buying. If you want to get a better idea of what Band in a Box can do, you can watch various videos online that show users making music with the software. This can show you some of its capabilities and help you decide whether you want to spend the money.
While Band in a Box doesn't offer a free trial, DoNotPay can help you get free trials from thousands of other websites like Disney+, Microsoft PowerPoint, and more!
How to Avoid Getting Charged After Free Trials on Your Own

If you have ever signed up for a free trial, chances are high that you might have forgotten to cancel your subscription, and ended up getting charged for a service you didn't actually want. Companies know this, which is why they offer free trials. Sometimes people don't even realize they are being charged month after month, and they might make hundreds of dollars off of you before you even know it!
To avoid this problem on your own, follow these steps:
Find a website that offers a free trial you are interested in
Take note of how many days your free trial lasts
Write a reminder on your calendar to cancel the subscription a few days before it is set to expire and/or set a reminder on your phone to cancel the subscription
Log onto the service or app you are using and manually cancel your subscription, or contact the customer support team to ensure it is canceled
Although this system isn't foolproof, it can help you remember to cancel free trials before you get charged. Even still, you may not look at a calendar reminder, or you may accidentally set a cancellation reminder on your phone for the wrong day or week. Fortunately, DoNotPay offers a better way to avoid getting charged after your free trial!
Avoiding Automatic Payments Easily With DoNotPay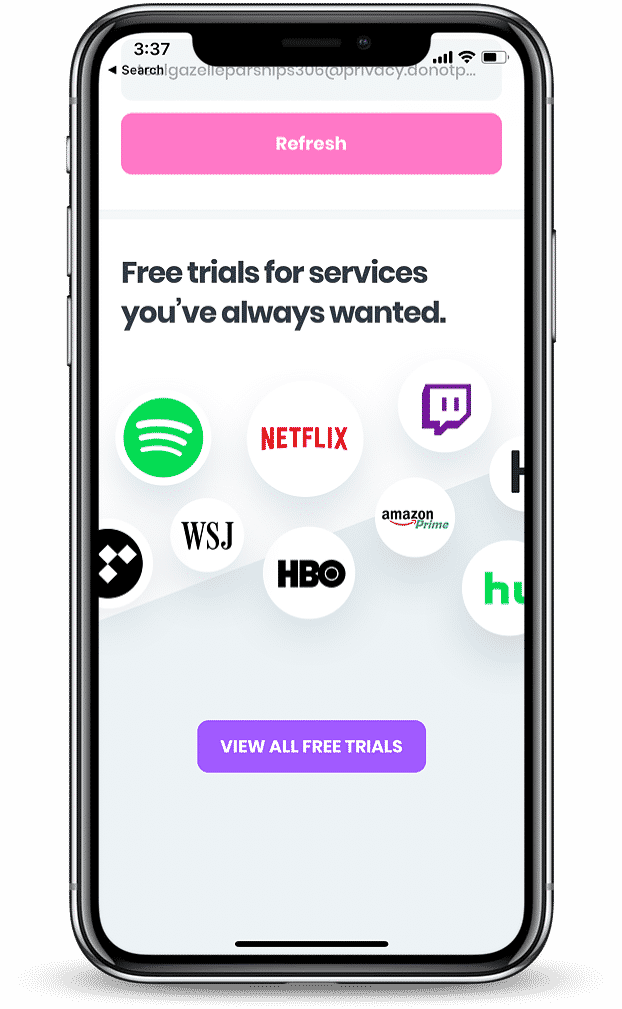 When signing up for free trials, it can feel risky to put in your own credit card information. Some companies have been involved in data breaches, giving hackers access to your information. Plus, this allows companies to charge you when you forget to cancel your subscription after a free trial!
This is why DoNotPay developed the Virtual Credit Card tool! Here is how it works:
Find a free trial you are interested in
Complete most of the sign-up process, but stop once it asks for credit card information
Visit DoNotPay's Virtual Credit Card tool
Obtain a virtual credit card number, which is a set of randomly generated numbers, including expiration date and security code
Input the virtual credit card information into the free trial form
Enjoy your free trial, and don't get charged!
Because DoNotPay's Virtual Credit Cards don't carry a balance, the subscription service won't be able to charge you when your free trial is up! Use the virtual credit card to get free trials for:
What Else Can DoNotPay Do?

Besides helping you avoid unwanted charges, DoNotPay can also help you with:
Getting advance healthcare directives
To find out all that DoNotPay can do to make your life easier, visit our website today!