Start Your ACE Diet Pills Free Trial With a Virtual Credit Card

Saba is a company that offers several options for improving your health and lifestyle. If you're looking to lose weight, you can look into one of their more popular products, which is ACE diet pills. And if you want to try Ace diet pills without committing to a significant purchase, a free trial would be your best option. However, Saba doesn't offer any free trials of their ACE diet pills.
You may be able to find an ACE diet pills free trial or sample as part of a promotion or contest that Saba sponsors. And if they do offer a free trial in the future, you'll want to know that you can sign up for it without worrying about unwanted charges to your credit card or bank account.
Fortunately, DoNotPay can help you avoid risking your credit card or bank information with ACE diet pills free trials or any other company.
Is There An ACE Diet Pills Free Trial Available?
Unfortunately, Saba doesn't have a free trial program for ACE diet pills or any of their other products. The closest you could come to a free trial through the company is a discounted rate on their products given to their preferred customers. So you would have to sign up for a membership with the company as a preferred customer.
In addition, you could sign up for the company as a promoter. Promoters are tasked with advertising and selling Saba's products in an affiliate position. By doing so, you will be signed up for a subscription-based schedule of products, including ACE diet pills.
Does The ACE Diet Pills Subscription Automatically Renew?
As a preferred customer, you can opt to be placed on a shipment schedule and receive products at a specific time per month. You will be automatically charged for each shipment.
Promoters are also generally placed on an automatically renewing schedule of products to receive. Because they sell these products, promoters get them at a slightly lower price than preferred customers. However, they are still charged for the products.
Avoid Risking Your Financial Information Thanks To The DoNotPay Virtual Credit Card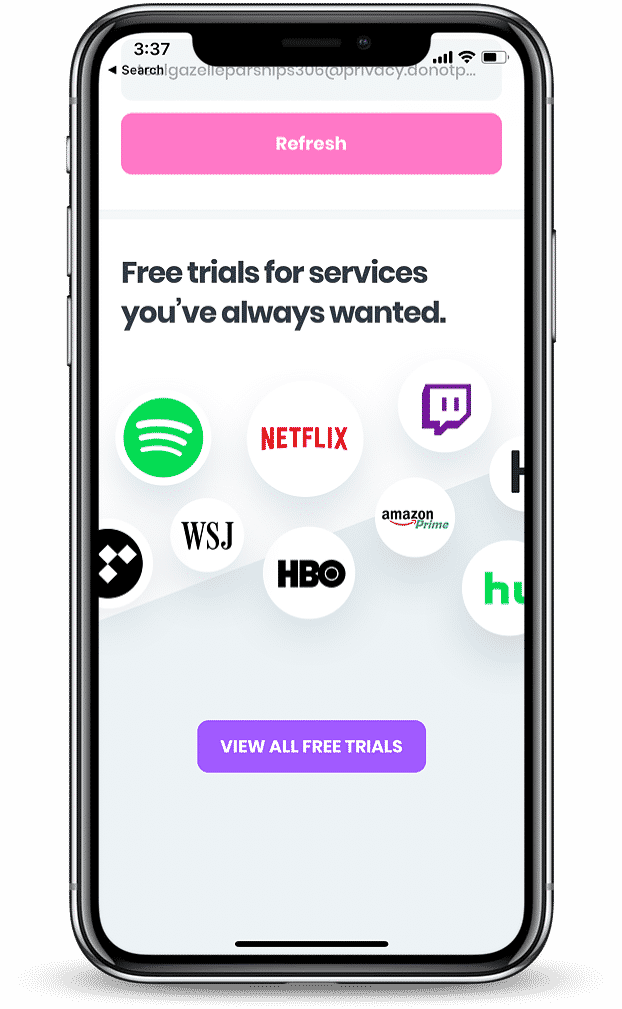 Acquiring ACE diet pills requires signing up as a customer or promoter. Neither option offers a free trial, but they come with a subscription where you receive products according to a schedule. You'll want to avoid giving out your credit card or bank information for this and other companies that offer a free trial.
Many people sign up for free trials because they believe that they can try a product or service out and avoid paying for it if they don't want to. The problem is that these free trials still require your financial information and email address to sign up because they generally renew into paid subscriptions that automatically charge you monthly. In addition, you never hear from these companies until you get charged by them, meaning that the odds are high that you will forget about the automatic charge until it's too late.
To make matters worse, free trial companies make it as challenging as possible to cancel your subscription once you're signed up. They only leave you with two options:
Try to cancel the service on your own by spending hours fighting with customer service via telephone or email. Below is a table
Obtain legal assistance to draft a demand letter that the company cancel your subscription right away.
This unscrupulous behaviour is why DoNotPay offers an alternative to keep your financial information safe. The DoNotPay virtual credit card allows you to sign up for free trials without being charged. So how does it do this? Here are the ways that the virtual credit card works for you:
The account numbers used for the virtual credit cards are randomly generated with no connection to your financial information.
Each virtual credit card has a one-time use and is deactivated after that use.
The DoNotPay virtual credit card generates a false email address for use in signing up to receive free trials, so you don't have to put your personal information at risk or deal with annoying spam advertisements.
The DoNotPay Virtual Credit Card Can Help You With Free Trials At Any Company

Dealing with free trial subscriptions that automatically renew into paid subscriptions is a major hassle. People have lost millions of dollars to unwanted charges from the companies behind these subscriptions, so DoNotPay offers a virtual credit card to help you avoid this situation. Using the DoNotPay virtual credit card, you can avoid being charged for free trials at multiple companies, such as
What Else Can DoNotPay Do For You?
DoNotPay is the world's first robot lawyer, designed to help you save money, fight large companies, and cut through bureaucracy and red tape. As such, there is a multitude of services available for your needs. DoNotPay can help you:
So, if you're looking for help with a financial or legal problem and you don't know where to turn, sign up for DoNotPay.