Dispute White Plains parking tickets in 2 minutes
According to an article by NPR, DoNotPay has helped dispute more than 200,000 parking fines in America and the UK.

If you need help with your parking citation from White Plains, follow these simple steps:
Use the

web app

in any browser.

The AI-powered chatbot will ask you a few questions. Make sure to answer truthfully. 

Snap a photo of your parking citation and upload it to the app.

Finally, DoNotPay will give you a script of what to say in your hearing to dispute your ticket. 
Watch how to dispute parking citations in any city
Is disputing a parking ticket in White Plains worth my time? Can I win?

Yes. Disputing a parking ticket is always worth your time, especially when you use DoNotPay. The world's first robot lawyer will save you at least half a day of work and can get you out of paying your fines! 
If you want to dispute a citation, within 21 days from the time the ticket was issued, ask for an Administrative Review. This can be done via post, in-person, or online. 
If the citation cannot be disputed, you have to schedule an administrative hearing overseen by an independent hearing officer. If the outcome is not to your liking, then you can ask for reconsideration via the Supreme Court. 
It may seem like a headache, but DoNotPay is here to help. The app will craft the script you will use when asking for a dispute hearing. Plus, this step will only take a few minutes!
When you schedule a hearing, bring the necessary documents you need such as:
Photos as evidence

Car registration 

Supporting documents as proof of transfer of car ownership 
Access DoNotPay in any web browser.
I'm really swamped. Can DoNotPay save me time?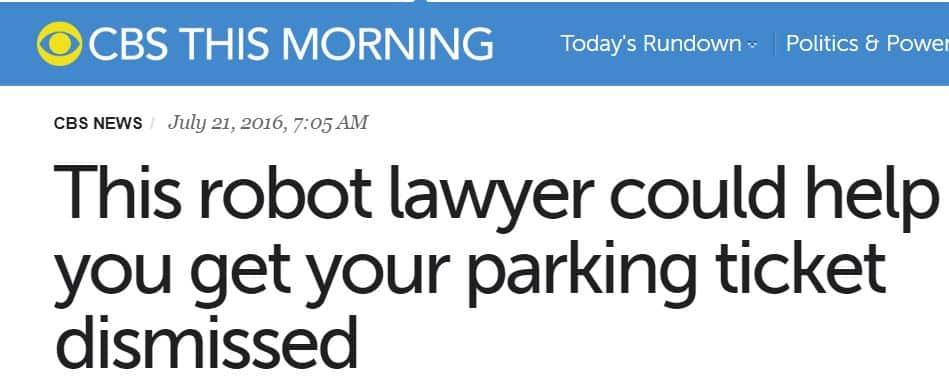 Without the help of the DoNotPay app, you'd have to gather all the evidence yourself, prepare a speech for your hearing, and get ready for your dispute. Accomplishing all this will take at least half a day, if not more. In contrast, the process will only take a couple of minutes if you use DoNotPay. 
Access DoNotPay through any web browser.
Will DoNotPay assist me in litigating White Plains NY parking citations from private firms?

Yes, DoNotPay does assist with disputing parking tickets from private firms. These private companies include:
The Parking Club

iPark

Manhattan Parking Group

Rapid Park NYC

Imperial Parking, aka Impark

Elegant 2 Valet Parking Svs Inc.

World Class Parking

ParkSmart Valet Parking

Propark America

King Valet Parking Services

Park Plus Parking
Use the DoNotPay web app in any browser to dispute tickets from private companies!
Do I need a lawyer to contest my White Plains parking citation?

Thankfully, you do not need a lawyer to contest a parking ticket. If you use DoNotPay, you can successfully dispute your citation without a legal representative which will save not only time but money too!
However, if you still want to hire someone, here's what to keep in mind.
Explore

. Don't just settle for the first lawyer you find. Do some research and ask for recommendations. Explore your options.

Do a background check

. Look into your lawyer's past cases, read their CV and educational background, and check their area of expertise.

Be careful

. Beware of malevolent people are out to swindle you. If a lawyer sounds too good to be true, they probably are.

Think about the cost.

How much will it cost to seek a legal representative? Is it practical? Is it worth it? It may be inconvenient and may cost more than your actual parking ticket.

Meet them in person.

To be fully acquainted with your lawyer or lawyer-to-be, it is best to meet them in person.
Are lawyers in White Plains expensive?

Plenty of lawyers in White Plains have free consultation fees. However, a traffic lawyer in White Plains will bill you about 350 to 500 dollars to represent you in court. It is highly likely that this amount is more expensive than your parking tickets combined.
Instead of paying for a lawyer, use DoNotPay! The app is free and has a high success rate and over 200,000 parking tickets overturned! Use the DoNotPay web app in any browser!
How can I pay for my parking tickets in White Plains? I just want to get rid of them.

Before you pay, consider disputing your parking fines first! With the help of DoNotPay, you can contest all your tickets in just 2 minutes—for free!
However, if you have to pay for your citation, here are your courses of action to take note off:
Pay online

. Go to the White Plains

online payment system

. You will need to put in your ticket number, the name of the state where you registered your vehicle, and your license plate. You could pay through Discover and American Express, Visa, or Mastercard. Paying online entails an extra 3 dollar service charge. 

Pay by phone

. Contact

866-661-2707 to pay via telephone. Similar to the online payment method, you have to pay a 3 dollar service charge if you choose this method.

Pay by post

. Mail your payment to this address:

City Court – Parking Violations Office

City of White Plains

P.O. Box 6500

White Plains

NY 10602-6500

Pay in person.

Stop by the Public Safety Building in the Parking Violations Office located at 77 South Lexington Ave. in White Plains and pay for your charges. The Parking Violations Office is open Mondays through Fridays from 9 am to 4 pm. 
For more details regarding this matter, visit the White Plains official website or go to this page. 
Use the DoNotPay web app in any browser to dispute all your citations instead of paying for them!
Should I pay the penalty or contest it?
| | | | | |
| --- | --- | --- | --- | --- |
|   | Convenience | Waiting Time | Fees | Advantages |
| Contest | Simple if you use DoNotPay. | You only have to wait for 2 minutes to get the script you will use in your hearing. | Zero. The app is free to download | The app is free, and if you win the case, you don't have to pull out any money from your pocket. |
| Settle | Easiest online, but comes with a price | In person payments can take almost all day | Your parking fees plus an extra 3 dollars if you pay online or via phone, plus the cost of transportation and missing work | You won't have to think about unpaid tickets. |
Can my parking fees be reduced?
Yes, you can drastically reduce your fees and even completely get rid of them if you dispute your ticket and win the case. If you do not win the case and you are unable to pay for your parking tickets, you could bank on New York's payment plan.
If your fees are 350 dollars and above, the New York City government will help construct a payment plan. However, your car should be registered under your name, or you should be the court-appointed agent of the registered owner. Moreover, you need to have, at the very least, 40 more days in the present registration. Plus, your vehicle has to have insurance for more than 30 days. For more information on asking for a payment plan, visit the New York City Department of Finance website.
What are the consequences if I choose to not pay for a parking fine issued in White Plains? 
The parking fine itself may not seem that much. However, the consequences of failing to pay for a parking ticket in White Plains can be costly. The parking fine could be doubled or even tripled due to extra penalties. In New York, if you fail to pay for a parking citation for more than 90 days, you have to pay an additional $60.
Aside from additional fees, here are other possible consequences of unpaid parking tickets:
Outstanding parking fees could affect your credit score. 

You may not be able to register your car.

Your car could get confiscated. In New York, the city will even hold an auction for vehicles with unpaid parking fines.
Use the DoNotPay web app in any browser to dispute all your citations in 2 minutes!
Will a parking infraction affect my driving record? 
Thankfully, parking tickets do not go on your record. However, don't celebrate yet. Remember, unpaid parking tickets may result in some consequences, to the extent of you paying a lot of money or even losing your car. Moreover, multiple unpaid parking tickets could be enough cause for the city government to report you to the DMV (Department of Motor Vehicles). The DMV has the power to refuse to renew your car and suspend your license. 
What if someone takes the ticket from my windshield? Do I still have to pay?
The White Plains city government will send you a letter of notice reminding you to pay for your fines due to parking violations. Therefore, if you did not see the ticket because someone removed it from your vehicle, or it flew away due to the strong wind—it doesn't matter.
Read more about people who have gone through a similar situation in this discussion thread. 
Will a parking ticket increase my car insurance rate?
Luckily, no. Auto insurance companies in New York, such as Regency Agency Incorporated, will not hike up your insurance due to a parking ticket. Do take note though, if the DMV does not renew your car registration due to unpaid tickets, the company may decline to insure your car. 
Avoid paying more than you owe! Use the DoNotPay web app in any browser to dispute all your citations in 2 minutes!
Do I still have to pay a parking citation from White Plains NY if I don't live there? 
Wherever you are, you still have to follow traffic rules and regulations. Ignorance of the US Laws and ordinances does not excuse any person. It is your duty to pay for parking tickets from White Plains, NY, even if you are not a resident. Do not fret, though, as you can still dispute a parking ticket from anywhere in the States. Use the DoNotPay web app in any browser to dispute all your citations in 2 minutes! 
For more info on the subject matter, you can consult these Reddit threads: here and here. 
Can I get a parking ticket while I'm inside my car? 
No matter if you're sitting in your car, or standing beside it, you will still be issued a ticket if you park improperly. Always be cautious of where you park, even if you are in a hurry, and even if it will "just take a few minutes." Being cautious will help you avoid hassles and fines. 
Read more about this information on this Quora thread. 
Do I have to pay for citations I got while I was driving a rental?
Of course, you do, and you must do so as soon as possible. Paying the fine while the vehicle is still with you is even better. If you refuse or forget to pay for the ticket, car rental companies, such as Hertz Car Rental, will pay for the fine initially. However, they will proceed to send you the bill plus add a fee for administrative charges. This additional fee ranges from 30 to 45 dollars. Instead of giving yourself a headache, dispute the ticket, or pay on time. 
Use the DoNotPay web app in any browser to dispute all your citations in 2 minutes!
How much does White Plains NY earn from tickets issued for illegal parking?
Westchester, the county where White Plains is located, makes nearly 1 million dollars in revenue from its annual traffic violation fees and illegal parking tickets, as stated in this article. 
DoNotPay helps users fight and beat tickets in any city
DoNotPay helps users fight parking tickets in every city in the US and UK. Here are a few cities we've helped users dispute the most tickets in:
What else can DoNotPay do?
DoNotPay can help with a variety of legal problems and consumer rights such as:
Helping you contest speeding tickets

Disputing traffic citations

Help you get compensation for delayed and canceled flights
A quick recap of the information regarding White Plains parking citations:
| | |
| --- | --- |
| Disputing White Plains parking tickets is easy with DoNotPay | DoNotPay constructs an argument for you to use in your hearing.  |
| DoNotPay can help you with tickets issued by the city | It can also help contest tickets issued by private companies. |
| The city of New York helps create a payment plan for dues $350 and above.   | You need to be the registered owner or the agent of the registered owner, your car must be insured and registered, you have to complete the hearings, and any pending payments under the payment plan must be paid in full.   |
| You need to deal with all of your parking tickets in all states. | Excuses such as, "I do not live in White Plains" will not be accepted.  |
| Your car insurance will not necessarily increase due to unpaid parking tickets. | Sadly, your insurance company may not insure your car if the DMV chooses not to renew your car registration. |
| DoNotPay can help with other things too! | For instance, the app can schedule you an appointment with the DMV fast! |