Dispute San Jose Parking Tickets For Free From Your Phone In Minutes
San Jose parking tickets are expensive. Fortunately, you can get your fine reduced or dismissed simply by disputing it.
With DoNotPay's AI-powered "robot lawyer," you have expert help when appealing your ticket. Designed by a British teenager, the app has been overturning parking infractions across the US. It has saved users more than $4 million in fines since 2014, according to Newsweek.

Appealing your San Jose parking ticket is effortless with DoNotPay. Just follow these steps, and you can dispute it for free:
Use the DoNotPay web app in your browser

.

The AI-powered app will ask a few questions that will help build your case. This could include the type of infraction you received, the state where you received it, and the reason why you're trying to appeal it.

Upload a photo of your ticket in the app.

DoNotPay will give you the exact argument you need to dispute and beat your ticket.
Watch how to dispute parking tickets in any city:
Is contesting a parking ticket in San Jose worth the hassle? Can I beat it?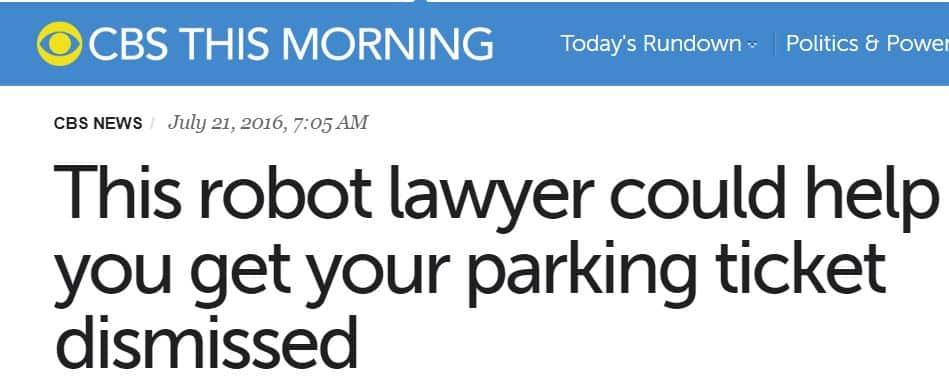 It's always worth disputing your ticket, especially given how easy DoNotPay makes it. Simply disputing your ticket can get your fine reduced, whether or not you were actually in the wrong.
Here are a few reasons people win their parking ticket appeals:
A potential mistake on your ticket

Possible alterations or corrections

Crucial information not included in the ticket

The car was sold before the citation was issued

You weren't driving the car

Faded paint on the curb

Missing or obscured street signs
San Jose ranks among the US cities with the highest parking fines. When you appeal your parking infraction, you increase your chances of having it reduced. With a free app that could do it all for you, then you have no reason not to try. Access DoNotPay through any .
Read this Reddit thread for other tips for fighting parking tickets in the City of San Jose.
How much time does DoNotPay save appealing parking infractions?

Crafting a compelling dispute takes a lot longer if you do it yourself. By using DoNotPay, you save yourself a lot of time and headache. It can take over half a day to figure out what you need to do and get all the documents together if you don't use DoNotPay.
Will DoNotPay help me fight parking infractions in San Jose from private companies?
DoNotPay's services are just as useful for disputes with private companies as they are with government-issued tickets. So, download the app to fight disputes from any private parking company, including:
Lanier Parking

Laz Parking

ABM Parking Services

Ace Parking

Douglas Parking

Imperial Parking, aka Impark

SP+, aka Standard Parking

Towne Park
Can a lawyer help me avoid paying for a parking ticket in San Jose?

Hiring a good parking infraction lawyer in San Jose, where everything is expensive, can cost you a lot, even more than your parking fine. But, you don't have to hire one when appealing parking tickets.
Count on DoNotPay to help you get the job done in a matter of seconds. All you need to do is provide the necessary information, and let the world's first robot lawyer do the rest.
However, should you feel compelled to hire a lawyer, look for these qualities:
Credentials

Expertise in the field

Experience
How to find a parking ticket lawyer?
Check your state bar association.

Ask your friends or colleagues for referrals.

Research their work experience.

Ask for their service fee upfront.

Set up a consultation.
How much does a parking ticket lawyer in San Jose cost?

Generally, a lawyer's fee ranges between $200 and $1000 per ticket case. We're talking about representation in the Bay Area, so lawyer fees will be on the higher end of that range.
If you think a $60 infraction is worth hiring a lawyer over and you have the money to spend, then go for it. Or you could access DoNotPay through any and receive the same services, minus the hassle!
Do infractions go on my record?

Your infractions will not be reflected on your driving record. The bad news is that your local DMV can refuse to renew your vehicle's registration or suspend your license should it find out that you have unpaid citations.
So, instead of refusing to pay, dispute your citation using DoNotPay. Access DoNotPay through any .
What if I get a parking infraction in San Jose, but I never saw it?
Not finding a ticket on your windshield doesn't mean you haven't been issued one. City authorities will notify you by mail that you have a fine to pay. The only problem you can encounter is if you changed your address without notifying the DMV.
Should this happen, your infraction will be turned over to a collection agency, which could affect your credit score and any future loan applications.
Can San Jose parking tickets increase my insurance?
Insurance companies like Allstate don't have access to your parking infraction records. So your parking ticket will not directly affect your insurance coverage.
However, car insurance coverage requires you to present your license or registration, which may be suspended if you do not pay off your citations.
If I lose my appeal, how do I pay San Jose parking tickets?
DoNotPay can help you determine whether your parking ticket can be disputed, but it cannot guarantee success in every single case. If your appeal fails, here's how to pay your fine:
You can do it the traditional way by

visiting the Office of Parking Violations

from Monday to Friday, between 9 a.m. and 4 p.m.

You can also pay by phone using your credit card.

You have the option of paying by mail. Follow these instructions:
Mail a check or money order using the envelope provided with your citation to

the City of San Jose, P.O. Box 11023, San Jose, CA 95112.

Write the citation number on the check or money order.

Never send cash.
You can also pay online through pticket.com.
Note that city of San Jose parking tickets must be paid or contested within 21 days of their issuance. After that grace period, you'll receive a reminder notice via mail, extending your payment window by another 15 days. Failure to pay within that timeline will have various consequences.
Contest or Pay?
| | | | | |
| --- | --- | --- | --- | --- |
| | Ease | Time it takes | Cost | Benefits |
| Dispute | It only takes a few clicks to dispute using DNP | You can appeal a parking ticket in less than 120 seconds | Can save you all costs including the fine | Will likely get your fine reduced or overturned |
| Pay | There are a few payment options, with online payment being the most convenient | Payments can take hours and even days if made by mail | Parking fine + additional fee if you pay online or through credit card | Your wallet will be lighter |
How do I get my parking tickets in San Jose reduced?
Life in San Jose, the heart of Silicon Valley, is expensive. Even parking tickets are more expensive than average. This Reddit thread attests to that.
The city has a history of malfunctioning smart meters, which can result in violations that you don't deserve.
Simply disputing your ticket can help you reduce your fine. Access DoNotPay through any .
I can't afford this right now, what if I don't pay?
Failure to pay parking tickets in San Jose won't result in jail time. But this doesn't mean you can just ignore that frustrating piece of paper—this Quora thread describes what happens if you don't pay it off.
In California, registered vehicle owners cannot be charged with a misdemeanor or other criminal offense if they ignore a parking ticket. But here are the punishments that they could face should they decide not to pay:
Refusal to renew your vehicle registration.

Late payments guarantee more significant fees.

Just as in other cities, unpaid San Jose parking tickets go straight to a collection agency.

The city government has the right to intercept your state income tax refund.

Vehicles with numerous unpaid parking tickets may be subject to impoundment.
What if I'm from another state? Do I need to pay my San Jose parking citations?
Every jurisdiction has its own parking laws. So, if you are charged with violating one of these regulations, you will have to deal with the situation by either disputing it or paying the consequences.
It doesn't matter if you are from another state or another country, if you were issued an infraction, you should immediately either pay it or dispute it.
DoNotPay is a great help for people who get parking infractions outside their own state since the app can help them process the dispute remotely.
Will San Jose cops give me a ticket if I'm in the car?
Getting parking tickets while you're behind the wheel is not rare. You might forget to park in a designated place when you're making a quick call or responding to an important message. So, yes. Parking enforcers can and will issue you a citation whenever they think you have violated the rules.
Do I really have to pay the tickets I get while driving a rental car?
Rental car companies like Hertz require you to pay any parking infractions you've obtained while renting their cars.
According to Hertz's rental qualifications and requirements, the renting party is responsible for any fines, road tolls, congestion charges, and other similar fees incurred during the rental. All parking fines will be automatically charged to your credit card with an additional administrative fee for the company.
How much does the City of San Jose make from parking tickets?
In 2013, San Jose ranked 10th among US cities with the highest revenue from parking tickets, according to financial reports compiled by TicketZen. New York topped the list with over $540 million in parking infraction revenue.
Despite the City's efforts to provide residents with parking permits and the availability of smart parking meters across San Jose, many are still caught violating simple parking regulations.
San Jose reportedly makes more than $60.5 million in parking fines alone annually.
DoNotPay helps users fight and beat tickets in any city
DoNotPay helps users fight parking tickets in every city in the US and UK. Here are a few cities we've helped users dispute the most tickets in:
What else can DoNotPay do?
DoNotPay also offers free assistance with:
Getting you an appointment with the DMV faster
Contacting customer service on your behalf and connecting you after it reaches a real human being
Disputing speeding tickets
Contesting traffic tickets

Suing companies and people in

small claims court

Making a virtual credit card to avoid getting charged at the end of a free trial

Help you get compensation for delayed and canceled flights
Whenever you find a parking ticket on your car, appeal it using DoNotPay. Access DoNotPay through any .
To Summarize San Jose parking tickets:
| | |
| --- | --- |
| Appealing your parking tickets can take little effort. | DoNotPay has helped overturn more than $4 million in fines since 2014. |
| Contesting a parking citation should not take more than two minutes. | DoNotPay allows you to appeal your infraction under 120 seconds. |
| DoNotPay can help you win parking ticket battles with City authorities, as well as private parking companies. | DoNotPay's services can be obtained wherever you are in the US. |
| Failure to pay off your parking ticket has a lot of severe consequences. | Jail time is not one of them. |
| Parking infraction disputes are always worth the hassle. | With DoNotPay doing almost the entire process for you, you don't have to deal with the stress that comes with infraction appeals. |
| You can pay your citation by phone, mail, online, or in person. | If you dispute it with DoNotPay, there's a high chance that you won't pay anything at all. |
| Appealing your infraction can help you reduce your fine. | Some cities are more lenient when it comes to fine deductions. |
| Your driving record won't include your parking tickets. | But this doesn't mean you can just ignore your infractions. |
| Missing or stolen parking tickets are not grounds to avoid payment. | Parking authorities will notify you should you receive a parking ticket via mail. |
| Your vehicle insurance is not directly affected by parking tickets. | However, without your license, the chances are high that you won't be able to renew your coverage. |
| If you don't pay a parking fine, you could end up unable to renew your registration. | Some insurance companies won't cover your vehicle if it isn't registered. |
| A citation incurred out of state must be paid off. | Though cities and states have different parking laws, they should be obeyed all the same. |
| You can avoid parking tickets if you pay close attention to regulations. | But when you're issued one, there are also many ways to dispute it. |
| Getting an infraction even when you're behind the wheel is not rare. | You may forget parking legally when responding to emergency calls or text messages. |
| Your car rental company requires you to pay all parking tickets obtained during your rental. | An additional administrative fee will also be automatically charged. |
| San Jose ranked 10th among US cities with the highest revenue from parking tickets. | The city rakes in more than $60.5 million annually in parking fines. |
| DoNotPay offers other services. | Canceling free trials and appealing speeding tickets are just some of them. |