Dispute Rutgers parking tickets in 2 minutes
After receiving your fine and before deciding to pay it off, how about trying to dispute it first? To help make things more convenient, DoNotPay is here. DoNotPay app helps beat tickets in 120 seconds with the help of an AI chatbot, making DoNotPay "the world's first robot lawyer." DoNotPay has already helped hundreds of thousands of users contest their infractions.

Here are the quick steps you can follow to contest your ticket, for free:
You can access the

desktop version

directly from your web browser.

After logging in, the chatbot will ask several questions, such as the type of citation you received and where you received it.

Take a snapshot of your ticket and upload it to the app.

DoNotPay will then process the information and send you an exact script that you can use in your dispute.
Watch how to dispute parking tickets in any city:
Is disputing a Rutgers citation worth the hassle? Can I win?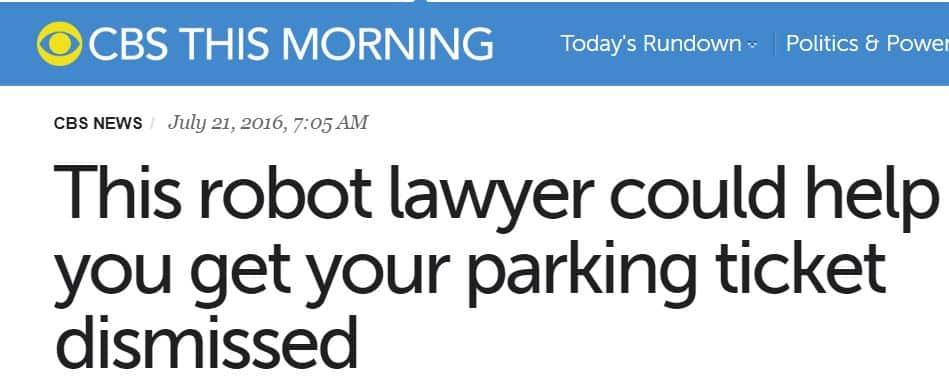 Appealing a Rutgers parking ticket is most certainly worth the hassle. Rutgers is a university, and students are the primary parking offenders. Unnecessary expenses, such as fines, are not welcome for students who can use that extra money for other expenses.
Appeals for parking tickets in Rutgers can be made within ten calendar days from issuance. After ten days, the right to appeal is lost, and fines associated with the citation will have to be paid. Towing costs cannot be disputed.
Note that these are not valid reasons for appealing a citation at Rutgers:
Ignorance of regulations or policies

Inability to locate a parking space

Failure to see posted restrictions

Had emergency flashers or four-way flashers on

Lack of time to park properly
Appeals are not considered for the following reasons:
Illegal parking, even for a short while

Ignorance of laws

The inconvenience of the parking area

Expired meter

Misunderstood or unread signages

Financial trouble
DoNotPay eliminates the complications of appealing and simplifies the process with just a push of a button. Use it in the from any device.
I'm pretty busy. How much time can DoNotPay save?

If you opt to do everything yourself and in an old-fashioned way, it would take you at least half a day to appeal your ticket. Collecting documents and evidence, writing up an explanatory message, and sending it will be quite the chore. There is an online appeal scheme in Rutgers, but in cases where your appeal was ignored, you might have to call the ticketing office or go in person, as per the comments in this Reddit thread. That is quite a hassle.
DoNotPay chatbot will help you contest your citation in a matter of minutes, removing the complications entirely. Use it in your to save hours of precious time.
If I receive an infraction from a private company in Rutgers, can DoNotPay help me fight it?

DoNotPay can and undoubtedly will help with the tickets issued by private parking companies, including but not limited to:
Imperial Parking, aka Impark

ABM Parking Services

Lanier Parking

Towne Park

SP+, aka Standard Parking

Ace Parking

Laz Parking
Do I need legal counsel to dispute parking tickets from Rutgers?

Rutgers does not require a lawyer to dispute tickets, which is fortunate since legal counsel is quite costly, especially when compared to the parking violations, which can be paid $20 at the minimum and $250 maximum.
The best alternative is to use the services of DoNotPay. DoNotPay is entirely free and will help you find solutions to your parking violation problems. All you have to do is follow the steps the app asks of you so that it can create a template for your letter of appeal. Use it in your for free.
If you are determined to get a lawyer, though, you need to look out for:
Credentials and experience. A lawyer must be capable of winning the dispute. Check their case history and see if they have ample experience in the type of case you are hiring them for.

Research. Learn as much as possible about the lawyers or law firm you are planning to employ. Ask for recommendations from family and friends or look for testimonials online.

Cost-benefit analysis. It is costly to hire legal counsel, so make sure your benefits would outweigh the expenses. Do not hire a lawyer for more than your citation amount.

One-on-one interview. The best way to learn about a person is to engage in a face-to-face conversation with them. In the interview, ask them anything you would like to know about.
How much will a lawyer cost in Rutgers?
Depending on the severity of the case, lawyers would charge anywhere from a few hundred to a few thousand dollars. Court representation services would lead to additional charges.
But it does not have to be that way! With DoNotPay, help is free. DoNotPay chatbot can generate the exact script you can use in your hearing. You only have to provide us information and specifics. It's that simple! Use it in your for free.
Assuming all else fails, how can I pay the fine?

There are cases where your appeal fails and you have to pay the fine. You can pay the amount in different ways.
Mode of Payment
Options for Payment

Online

With a credit card (Visa, Mastercard, etc.)

By mail

Via check or money order payable to Rutgers, The State University of New Jersey

Send to the Department of Transportation Services

Mailed payments are to be postmarked within 20 days of the date the ticket was issued to avoid a late fee.

In person

Payments to the cashier in either the New Brunswick or Newark campus offices using cash, check, or credit, or the Rutgers University express card.

Payments to the cashier in the Camden office in cash ONLY.

At the Department of Transportation Services office
Late fees will be charged depending on when Rutgers receives your payment. A fee of $5.00 is added to your infraction if the payment is received after 20 days from the issuance of the ticket. A late fee of $10.00 is charged if payment is made after 30 days from ticket issuance.
For cases outside Rutgers but within the state of New Jersey, access this site for direct payments to the municipal court.
Pay or dispute?
| | | | | |
| --- | --- | --- | --- | --- |
| | Ease | Time | Cost | Benefits |
| Pay | Numerous ways to pay, online being the easiest | Can take hours or days | Ticket amount, plus fines and fees, and the cost of transportation and losing half a day of work | Your infraction will be removed, but at a cost |
| Dispute | Very easy with DoNotPay | Help comes within 2 minutes | The app is free | You won't have to pay a dime |
Am I still obliged to pay infractions when driving rental cars?
Yes. Whether driving your car or not, the driver is responsible for all the tickets they obtain, and that includes parking citations. Car rental agencies, such as Alamo, will pay off your tickets first, and then charge you for the expenses, plus the company's service fee.
Can I reduce my Rutgers ticket fines?
The fees for parking ticket fines can be reduced, but it depends on the appeal. Contests are to be submitted online, supported by a factual statement on why the ticket has to be voided.
The hearing officer assigned to your case has the full power and authority to uphold, adjust, reduce, or outright remove any penalties and fines. The hearing officer's decision is binding and cannot be disputed again except with another appeal that presents new evidence. The hearing officer also has the power of whether to accept or reject a resubmission.
Make it easier to challenge ticket fines using DoNotPay. Use it in your for free.
What will happen if I don't pay my fines?
Students who have not paid their fines would have trouble accessing their records, such as their transcripts and diplomas. They may also be held back from registering in classes, or worse, graduating. Parking privileges may also be revoked, and new parking permissions will not be issued. Such restrictions on parking permissions will also apply to faculty and staff members.
All cars, whether belonging to students, faculty, or staff, will be towed when the cumulative total of all citations and penalties exceed $300. Unpaid tickets will be eventually sent to a collection agency for payment.
You should never let it go as far. Use it in your for free.
Do I need to pay for a Rutgers parking ticket if I am not a student at the university?
Parking regulations of Rutgers apply to everyone, even visitors. There are different ways to acquire parking permission and pay for parking permits. As a licensed driver, you are expected to uphold and follow the established traffic rules wherever you go. Rutgers, as stated above, will not accept a dispute based on the fact of your ignorance of the law.
You can still contest a ticket despite living in a different place. Let DoNotPay help you with your needs. Use it in your for free.
Will parking tickets from Rutgers show up on my driving record?
No, they won't. But as unpaid fees are eventually sent to a collection agency, they may affect your future financial credit standing, not a good sign for your next loan applications.
Don't let it come to this. DoNotPay will help you dispute your ticket citations so that from the start, you won't have to worry about anything. Use it in your .
What if I got a ticket and never saw it on my car? Is the fine still applicable?
This will rarely ever happen in Rutgers, as violators will be issued electronic citations through registered license plates. They have stringent data retention policies and software in place, so your data won't be lost.
Even so, as soon as you receive the notice, you should dispute it. Use it in your .
Will my car insurance go up because of a parking ticket from Rutgers?
According to this discussion thread, a parking citation won't make your car insurance company, such as Geico, raise their rates. Parking violations are not moving violations, and pose little to no danger to the car.
However, there may be an entirely different set of drawbacks involved in an infraction. For Rutgers students, the worst effects will be related to graduation or papers.
Challenge the tickets as soon as possible. Paying the required amounts will be the last resort solution.
Can I receive a citation while still behind the wheel?
Yes. Again, a licensed driver is assumed to know what and what not to do. Even if you are still inside the car, you can receive citations provided you are illegally parked or violated a parking rule of Rutgers.
One way to address this is by being mindful of regulations. It can't be that hard to know where to park and where not.
How much does Rutgers get from ticket fees?
An article states that the New Brunswick campus of Rutgers took in a few thousand dollars short of $2.8 million. According to the document and broken down by month, April 2019 showed the most revenue, when it received over $447,000 from parking tickets.
The money from citations goes to pay staff, maintain street lights, and other means of transportation maintenance such as snow plowing and cleaning.
DoNotPay helps users fight and beat tickets in any city
DoNotPay helps users fight parking tickets in every city in the US and UK. Here are a few cities we've helped users dispute the most tickets in:
What else can DoNotPay do?
Our app has a wide array of services aside from disputes of parking tickets. It can:
Beat speeding tickets as well

Contest traffic tickets

Help you get compensation for delayed and canceled flights
Summary of Rutgers parking tickets
| | |
| --- | --- |
| DoNotPay allows easy, free, and accessible contesting of parking tickets. | Within 120 seconds, the app will generate a script you can follow in disputing infractions. |
| DoNotPay app can help with battles against private parking companies, as well. | Use it all around the United States. |
| Disputing your ticket can be worth the effort. | Fortunately, with DoNotPay, contesting becomes much more accessible, with a high success rate. |
| If all else fails, there are numerous channels to pay the fine. | You can pay online, via mail, or in person. |
| You are responsible for the fines you receive. | Whether you are a visitor from a different place or driving a rental car, you, as a driver, are held accountable for all the violations and infractions. |
| Car insurance will not rise because of a parking ticket | A Rutgers parking ticket is not a moving violation, but it can have different repercussions, such as a student failing to graduate. |
| DoNotPay does not only help in parking infraction disputes. | For example, it may also help in connecting you to customer service, or lets you secure that meeting with the DMV faster. |