Get the Vyond (GoAnimate) Free Trial and Start Creating
Vyond—formerly known as GoAnimate—is a platform for animated video creation. It was founded in 2007 in California. Vyond is easy to use, especially with the help of their resources section where you can find tips and tricks when it comes to creating both impactful and fun videos. It's no wonder that millions of people have since used their system to let their animated imagination run wild.
Is There a Free Trial of Vyond?

Yes, there is! Vyond offers a free trial. It is designed for people from all walks of life—IT professionals, teachers, public speakers, marketing experts. Even if you just want to have fun with creating video content, why not give it a go? With the Vyond free trial, you'll be able to take Vyond' Premium plan out for a test run free of charge.
Things You Should Know About the Vyond Free Trial Offer
There are four subscription plans that Vyond offers.
Essential

Premium

Professional

Enterprise
You can only get the Vyond free trial of their Premium plan.
Is the Trial Different From the Paid Subscription?
Yes, it is. By signing up for the Vyond free trial, you get their Premium plan with some limitations. Let's compare these two versions.
| | |
| --- | --- |
| Vyond Premium Plan | Vyond Free Trial |
| 1080p download | Sharing videos, not downloading |
| Downloading animated GIFs | No downloading |
| No logo in videos | Logo in videos |
| No watermark | Watermark |
Although you won't be able to download your masterpieces, you will still be able to share them. During the free trial, you will get the feel of Vyond's possibilities, with access to Premium features while making your animated videos. Premium video styles include
Contemporary

Business-friendly

Whiteboard animation
Visit this webpage to find out more about different styles and resources that await you.
How Long Does the Free Trial of Vyond Last?
If you snatch Vyond's free trial, you'll be able to enjoy it for 14 days. As soon as the trial expires, you can subscribe to a paid plan of your choice. You can also do it in the course of the trial if you wish to do so. Everything you created during the free period will be stored and kept for you, should you decide to come back with a paid subscription.
How To Get the Free Vyond Trial?
Now that you are up to date on Vyond's free trial, you can get it and begin designing your animated videos. Follow these steps to embark on your free Vyond journey:
Go to

Vyond's sign-up page

Sign up with your
Email address

Google

Office 365
Fill in your personal details

Read their

terms of service

and

privacy policy

Tick

I agree

Click on

Sign up for a free trial
Take a look at this Vyond's video for beginners. Make sure to also visit their YouTube channel to both learn and be inspired.
Will Vyond Charge Me After the Free Trial?
As you join Vyond with a free trial, you disclose your name, company name, and job (if applicable), phone number, country, and email address. You don't have to give up any bank info, though. As a result, Vyond cannot charge you once their free trial comes to an end.
Never Worry About Trials Turning Into Paid Subscriptions Again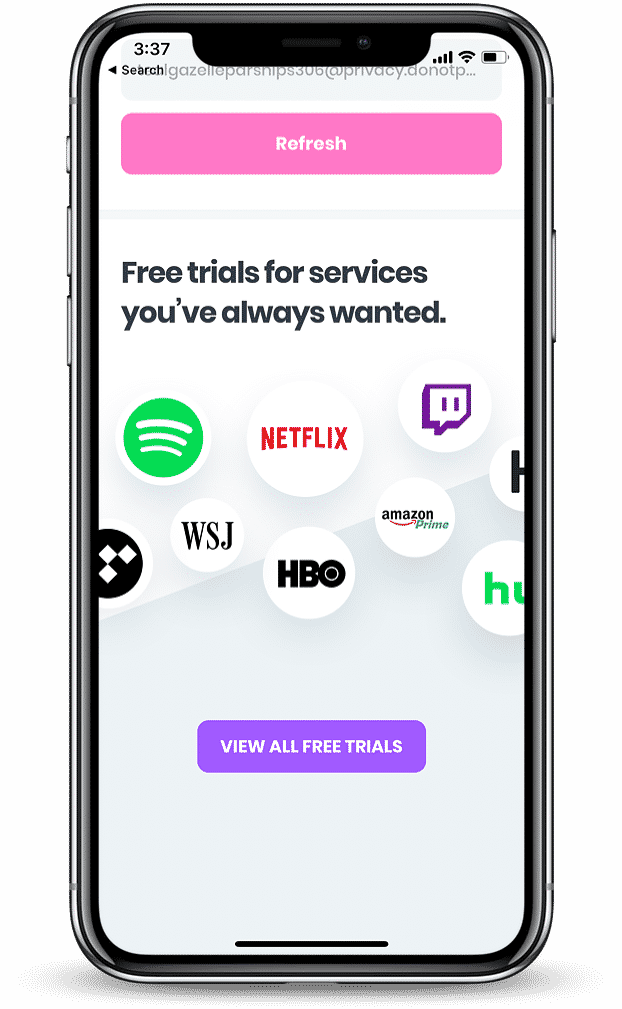 You do not have to pay a dime after the Vyond free trial ends, but this is not the case with most companies. Don't despair—we've got you covered! Whatever the cost may be, you shouldn't be forced to pay for something you forgot to cancel.
With DoNotPay's virtual credit card, automatic renewals of free trials will never be an issue again! We generate this free trial card by jumbling random numbers together to make fake credit card info. Take a look at what you gain with the card and how it works:
The card has

no funds

It is linked to a fake name and email

We can stop companies from tracking or charging you
Learn more about DoNotPay's card and take a step towards feeling safe and relaxing when you try out free trials.
Can I Cancel My Vyond Subscription?
Vyond free trial may not have an automatic renewal policy, but the paid subscription does. If you pay for one plan, you will automatically be charged until you cancel manually.
To make this go away:
Go to

your profile

Tap on

Profile Settings

Change the auto-renewal button from

ON

to

OFF
If you want to know more about Vyond's cancellation policy, check out this section on their website.
How Much Is The Paid Version of Vyond?
The price of Vyond's paid subscription varies based on the plan you choose. Their plans can be paid monthly or annually. See for yourself which type is a better fit.
Essential

Premium
Professional

Enterprise

$49 monthly

$299 annually

$89 monthly

$649 annually

$159 monthly

$999 annually

Contact Vyond for a custom price
Besides the prices, there are differences when it comes to what each plan has to offer. These are the categories where they differ:
Team collaboration

Export options

Branding

Character creators

Support

Security

Training
To learn more about all the bells and whistles, read the breakdown on this webpage.
Cut Email Spam in the Bud With DoNotPay's Assistance

No matter how you sign up for Vyond's free trial, they collect your email address. It is clearly stated in their privacy policy that they will send you newsletters, marketing content, and offers.
If that is not something you want to be bothered with, there are a couple of ways you can handle it.
Click on the

Unsubscribe link

you receive along with the spam email

Contact Vyond's customer support at

support@vyond.com
If you don't have time to deal with this inconvenience, DoNotPay can solve the problem for you! This is how we make email spam disappear:
Visit DoNotPay on

Click on

Spam Collector

Fill in your email address

Forward your next spam email to

spam@donotpay.com

Find no more spam in your inbox
You Want to Get More Free Trials No Strings Attached?
DoNotPay can help you with all your free trial adventures. We are here to make free trials both easier and safer. Showtime, Adobe InDesign, or PlayStation Plus may interest you, among many other free trial step-by-step guides that you can access either through your . The annoyance of revealing your credit card info, getting automatically charged, being spammed—all of these can disappear, thanks to DoNotPay.
We at DoNotPay Have More in Store for You!

Now that you know how to deal with free trial issues and companies spamming you, why not learn other ways you can fight bureaucracy and save your hard-earned money? If you access DoNotPay through your we can help you:
Dispute your speeding tickets

Contest your traffic tickets