How to Get a TransUnion Free Trial With a Virtual Credit Card
TransUnion is one of the three major credit reporting agencies in the country. Also called credit bureaus, these companies collect information about your borrowing and repayment history, which they compile into a credit report. This report is used by lenders to determine whether you'll receive a loan and what the terms and interest rate will be. In other words, your credit report is valuable and you should protect it.
TransUnion doesn't just curate and provide your credit history to potential lenders. The company also offers products designed to help consumers manage their credit. For example, TransUnion offers a credit monitoring service that tracks your credit report and alerts you whenever there is a change. TransUnion's credit monitoring service is fairly expensive at $24.95 a month, but with DoNotPay, you can get a .

Does TransUnion Offer a Free Trial?
Not all the time, but on occasion, TransUnion will offer trial services to customers just beginning a paid service or subscription. Credit monitoring and identity protection services are the most popular types of free trials offered by TransUnion and other credit reporting agencies. The details of the free trial, such as the amount of time the trial lasts and other details of the offer will vary depending upon the services being offered. Do keep in mind that when signing up for a , you'll need to provide your billing information to process the order. 
Does a TransUnion Free Trial Automatically Renew Into a Paid Subscription?
Yes. According to the TransUnion Interactive terms of service you will not be charged for services if you have canceled during the . However, if you upgrade your monitoring subscription during the free trial period, you will be billed immediately for the new service.
Keep in mind that you may cancel your TransUnion subscription at any time during the trial period without incurring any charges.
Avoid Automatic Renewals With a DoNotPay Virtual Credit Card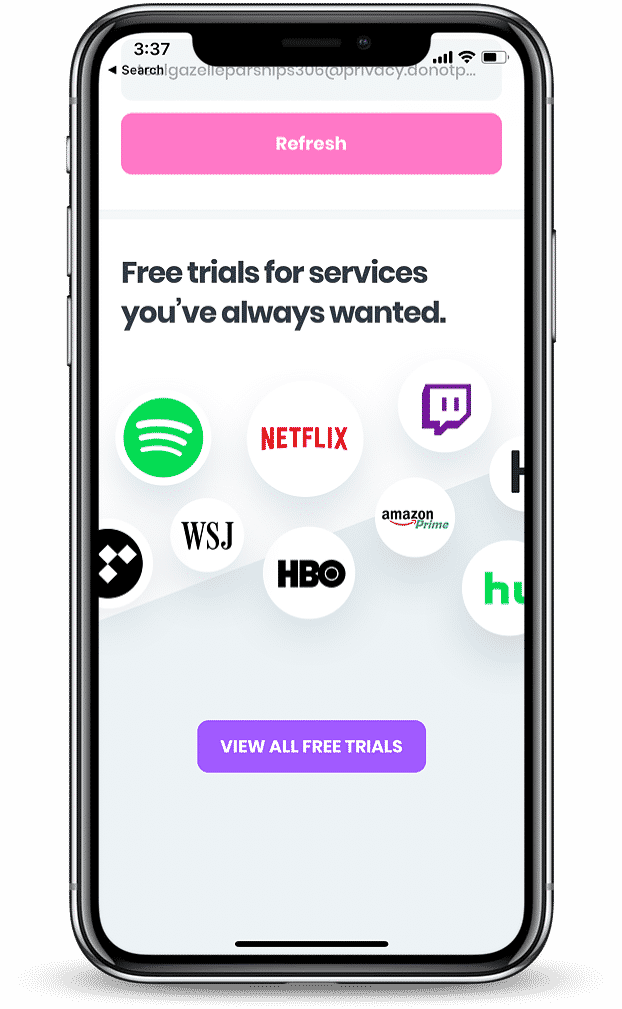 You may not realize this, but free trials aren't always free. Most free trials automatically renew at the end of the trial period. If you're not on top of it, you'll be billed for another month.
But, did you know that you can sign up for a monthly subscription and you don't have to worry about an automatic renewal hitting your credit card? How? By using a virtual credit card from DoNotPay.
DoNotPay will generate a random credit card number you can use to subscribe to any service.
You get to enjoy all the benefits provided by TransUnion for the month.
When the free trial expires, they can't charge the card, and you are unsubscribed right away.
What Are the Most Popular Alternatives to TransUnion?
As mentioned before, TransUnion is only one of three major credit reporting agencies in the United States. The other two, Experian and Equifax offer similar services in that they track and report your credit usage, payment history, and other information.
This table explores Equifax and Experian.
| | |
| --- | --- |
| Equifax | You can obtain a Trial Offer from Equifax for $1 for 7 days of credit monitoring and identity theft protection. Once the trial is up, you'll be billed $19.95 a month after that until you cancel. You can cancel anytime, however, there are no partial month refunds provided. |
| Experian | You can get a 7 day trial of their credit monitoring and identity theft services for free from Experian. If you do not cancel within the trial period you'll be billed $24.99 per month until you do. As with Equifax, you can cancel anytime, but it's unlikely you'll get a refund for subscription fees paid. |
DoNotPay Works for All Types of Subscriptions and Trials
If you like to try before you buy, free trials are a great way to shop. But, you have to be very careful about keeping track of your free trials or you could end up with unwanted monthly subscriptions that are hard to cancel. With DoNotPay, you can get free trials and subscriptions without worry including:
If you can subscribe to it or get a free trial for it online, you can use a DoNotPay virtual credit card for the transaction without worrying about future charges.
Why Use DoNotPay to Get Free Trials
DoNotPay is fast. Applying for free trials independently is time-consuming. Therefore, enjoy your SPSS experience with DoNotPay.
DoNotPay is easy. It helps you avoid filling out many long forms. Wait for the feedback as DoNotPay ensures that your interests are well taken care of.
DoNotPay is successful. We have been tried, tested, and verified.
What Else Can DoNotPay Do?
The world's first robot lawyer, DoNotPay, is an indispensable assistant that can help you with just about everything! From daily errands to once-in-a-while tasks, DoNotPay is your life assistant. Just a few of the things this amazing product can do include: 
But, that's only the tip of the iceberg. DoNotPay is an amazing product and you'll wonder how you ever managed without it once you discover all the ways it makes your life easier and more convenient.