Shelby County Sex Offenders—DoNotPay Delivers Automatic Reports
In the State of Tennessee, Shelby County is number one by the number of registered sex offenders. The counties that come right after Shelby in the offender numbers are:
Davidson
Hardeman
Knox
If you live in a county with the largest population of sex offenders in the state, you need to take measures to keep your family safe.
The first step should be regular checks of the Tennessee sex offender registry. If you're short of time, the state registry website also offers email notifications. The trouble with these is the lack of customization. You can sign up for updates on two ZIP codes and up to ten registrants.
The easier way of staying on your toes (and not getting fed up) is turning to DoNotPay. and gain access to the Sex Offender Search tool. It allows you to personalize search queries and delivers automatic reports every week.
A Quick Look at the Shelby County Sex Offenders' Numbers
The capital of Shelby County—Memphis—has 2,293 registered sex offenders. Expressed in proportion to the regular citizens, it comes down to one Memphis sex offender per 285 people.
The density of the offender population is somewhat lower on the territory of the whole county—an offender per 386 citizens.
The safest city in Tennessee when it comes to sex crime is Germantown. The ratio of sex offenders to the rest of the population here is one to 9,778.
Shelby County Sex Offender Registry Laws
Quickly after Megan's Law was enacted in 1994, Tennessee got its Sex Offender Registry. The state sex offender laws require all offenders to register, regardless of the tier they were assigned.
The registrants also need to conduct regular verifications of their personal data, and here the frequency does depend on the tier. Check out the overview:
Tier 1—Once a year
Tier 2—Once in six months
Tier 3—Every 90 days
The same rules apply to the Shelby County Sex Offender Registry. This complete list allows the County's residents to access the correct data and search the database by:
Offender's personal details
City
County
ZIP code
System-sent email notifications
Note that the offender map link exists, but the state has blocked the content due to security concerns.
The Tier Classification of Shelby County Sex Offenders
According to the federal sex offender registration laws, the registrants in most states are divided into three tiers (or levels). Here is the classification followed in Shelby County:
Tier
Criminal History
Frequent Crimes
Mandatory Registration Duration
Tier 1
First-time offenders

False imprisonment of a minor
Receipt or possession of child pornography

15 years

(10 years for good behavior)

Tier 2
Prior sex offense with the punishment longer than one year

Involving a minor with prostitution or solicitation
Enticing a minor to engage in sexual activity that is criminal
Sexual contact with minors 13 and older

25 years
Tier 3
Prior Tier 2 offense

Non-parental kidnapping of a minor
Committing sexual acts through the use of force, by rendering the victim unconscious, or drugging them

For life
The Shelby County Sex Offender List—Restrictions the Offenders Must Follow
Released sex offenders are still under supervision after they leave custody. They have to follow a list of rules. In some cases, offenders aren't allowed to do certain jobs, and in others, they are to follow strict residential prohibitions.
Here are some of the major restrictions to which Shelby County sex offenders must comply:
Have to report all traveling plans to the authorities
Cannot practice medicine
Can't live with their adoptive child if the child is younger than 13
Mustn't live (or work) within 1,000 feet of an education facility for minors if their victim was underage. This rule doesn't apply if their residence before the crime was within this radius
May not live within 1,000 feet from their victim or approach them closer than 100 feet
The released offenders mustn't ignore their registration obligations and stay unregistered or fail to comply with the sex offender law in any other way. For this form of conduct, they can be charged with a Class E felony. If the offenders disregard their compliance obligations while on parole, they can be returned to prison.
Keep Up With the Shelby County Sex Offender Registry! DoNotPay's Custom Alerts Make It Effortless!
Here's an appalling thought—Shelby County sex offenders can live by the school if their victim was older than 13. What about the older children? It's up to you—their parent—to protect them.
Searching the Shelby County Sex Offender Registry daily or even weekly can feel like a burden. Setting up reminders, filling out the boxes, and scrolling away—a busy parent can't manage this type of obligation. To make things worse, the registry's email notifications don't have many customization opinions, so your reports can turn out to be overwhelming.
Our app has a feature that can help you. Our Sex Offender Search tool:
Is fast and convenient
Has two search methods
Includes three search radius settings
Offers regular alerts about the local offenders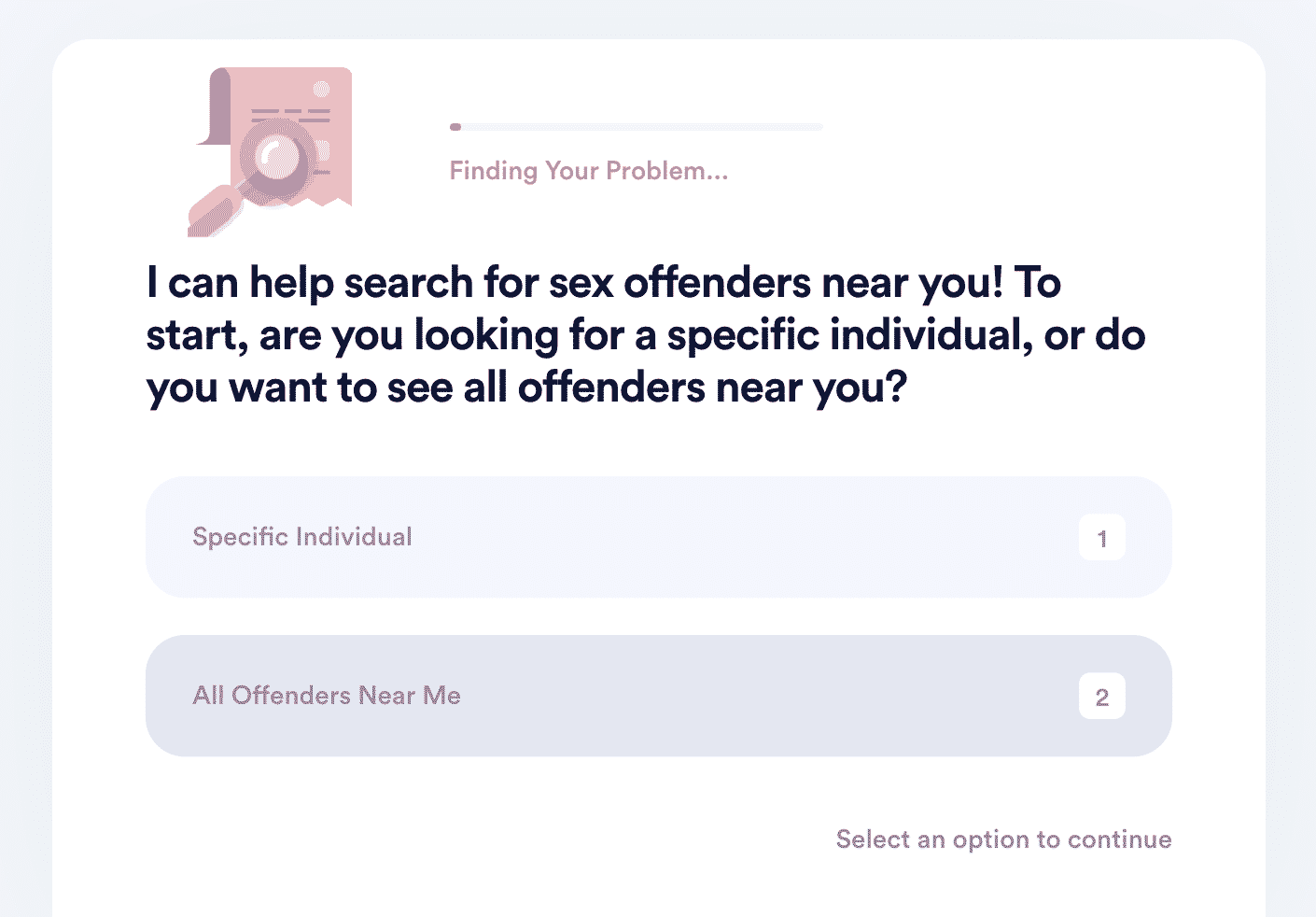 To do your search and set up your personal alert preferences, you should:
Go to your and find the Sex Offender Search tool
Choose the look-up methods
Pick the distance from your destination to your base (one, two, or three miles)
Apply for the tailored reports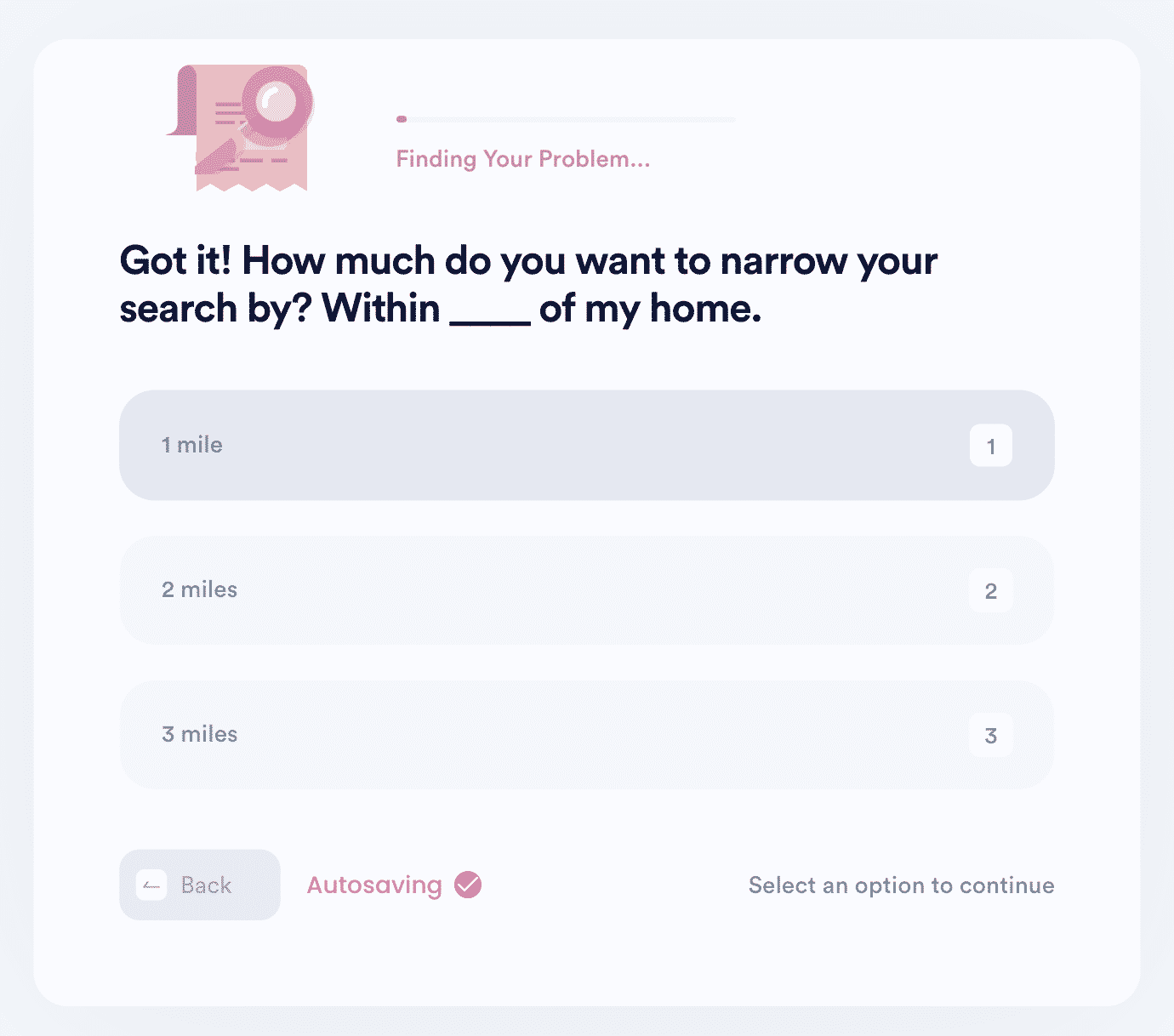 Our app will scan the Shelby Sex Offender Registry and instantly send you the alerts so you can be on the lookout.
Drowning in Paperwork? DoNotPay Comes to the Rescue!
Dealing with administrative procedures is never a fun experience. Not only is it time-consuming, but it's also extremely inconvenient and impractical. Luckily, we have a practical solution!
Use DoNotPay to cut through the red tape and handle any bureaucratic issue that comes your way stress-free! Check out the list below to see a fragment of tasks you can tackle with our help:
Explore DoNotPay's Other Services
DoNotPay provides you with a ton of other services you can find useful when completing your everyday tasks.
You can contact customer service support without waiting for hours, request refunds from various companies, file a missing package claim, and get compensation for missed or delayed flights in a few clicks!
If you want to earn some money, we can help you with: