DoNotPay Demystifies the Laws on Sexual Offenders in Jacksonville, FL
There are more than 2,400 registered sexual offenders in Jacksonville, FL. This number is alarming, and you are probably worried about how to protect yourself and your loved ones. In this guide, DoNotPay explains the laws and regulations that the registered sex offenders need to abide by. We will also show you how to search the Sex Offenders Registry in Jacksonville, Florida, and why our app is more convenient if you want to on the sex offenders close to you.
Registration Laws for Sexual Offenders in Jacksonville, FL
Jacksonville sex offenders need to register with the sheriff's office either twice a year (in their birth month and six months after) or four times a year (in their birth month and every three months after), depending on the intensity of their crime.
Sexual offenders must maintain their registration for the duration of their life. Failure to comply with the registration requirements is a felony of the third degree.
Information Available on Sexual Offenders in Jacksonville, FL
The following information about sex offenders in Jacksonville, FL, is available to the public:
Name
Photo
Address
Status
Registration date
Restrictions for Jacksonville Sexual Offenders
Sex offenders are not allowed to travel without updating their registration, and they can't live or loiter in the vicinity of certain locations.
Travel Restrictions
A sexual offender in Jacksonville, Florida, needs to inform the sheriff if they intend to travel outside of Jacksonville for a prolonged period:
| | |
| --- | --- |
| Type of Travel | Notification Period in Jacksonville |
| Out of state | Two days before the date of travel |
| International | 21 days before the date of travel |
If a sex offender is visiting Florida from another state, he/she should report to the sheriff's office and the Department of Highway Safety and Motor Vehicles within two days of arriving in Florida.
Residential Restrictions
Sexual offenders in Jacksonville, Fl, cannot reside within 1,000 feet of a:
School
Childcare facility
Park
If the offender has already set up a permanent residence before the establishment of any of the above, he/she will not have to relocate.
Loitering Restrictions
Sex offenders in Jacksonville, Fl, cannot loiter within 300 feet of a place where children are gathered.
Are Sex Offenders in Jacksonville, FL, Protected?
Jacksonville sex offenders have strict laws to abide by, but they also enjoy protection by the law if anyone uses the information from the registry to harass or perform any acts of violence against them. Information provided by the sex offender registry in Jacksonville, Florida, should only be shared on a need-to-know basis to prevent further crimes from being committed.
How Can I Look for Jacksonville Sex Offenders?
With the passing of Megan's Law, information on sex offenders became available to the public. You can use this information to your advantage and map out the sex offenders near you.
You can look for sex offenders using the Florida Department of Law Enforcement website by doing the following:
Open the Sexual Offenders and Predators Search page
If you want to search by name, use the Offender Search option

Type in the first and last name
Hit the Search button

If you want to search by neighborhood, use the Neighborhood Search option

Type in the address, city, ZIP code, and radius
Click the Search button
DoNotPay—A Smarter Option for Sex Offender Searches
Unfortunately, using the government registry system can be time-consuming—especially if you want to search for sex offenders on a regular basis and keep a close eye on who's living around you.
You can take this task off your to-do list with DoNotPay. Not only are our search options more efficient, but our app can send you automated reports on the Jacksonville sex offenders residing near you every week.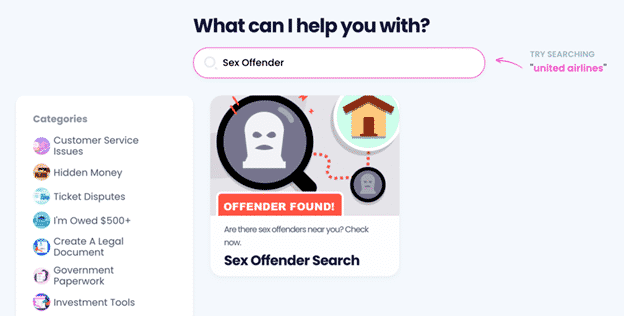 To use DoNotPay, here's what you need to do:
Type in Sex Offender Search
Search for an offender by name or find the ones in your vicinity
Enter the proximity—one, two, or three miles of your address
Check the weekly check option and hit Submit
You will receive a report on the sexual offenders in Jacksonville, Fl, within microseconds. You can also opt to receive weekly email reports so you don't need to worry about inputting your information every time.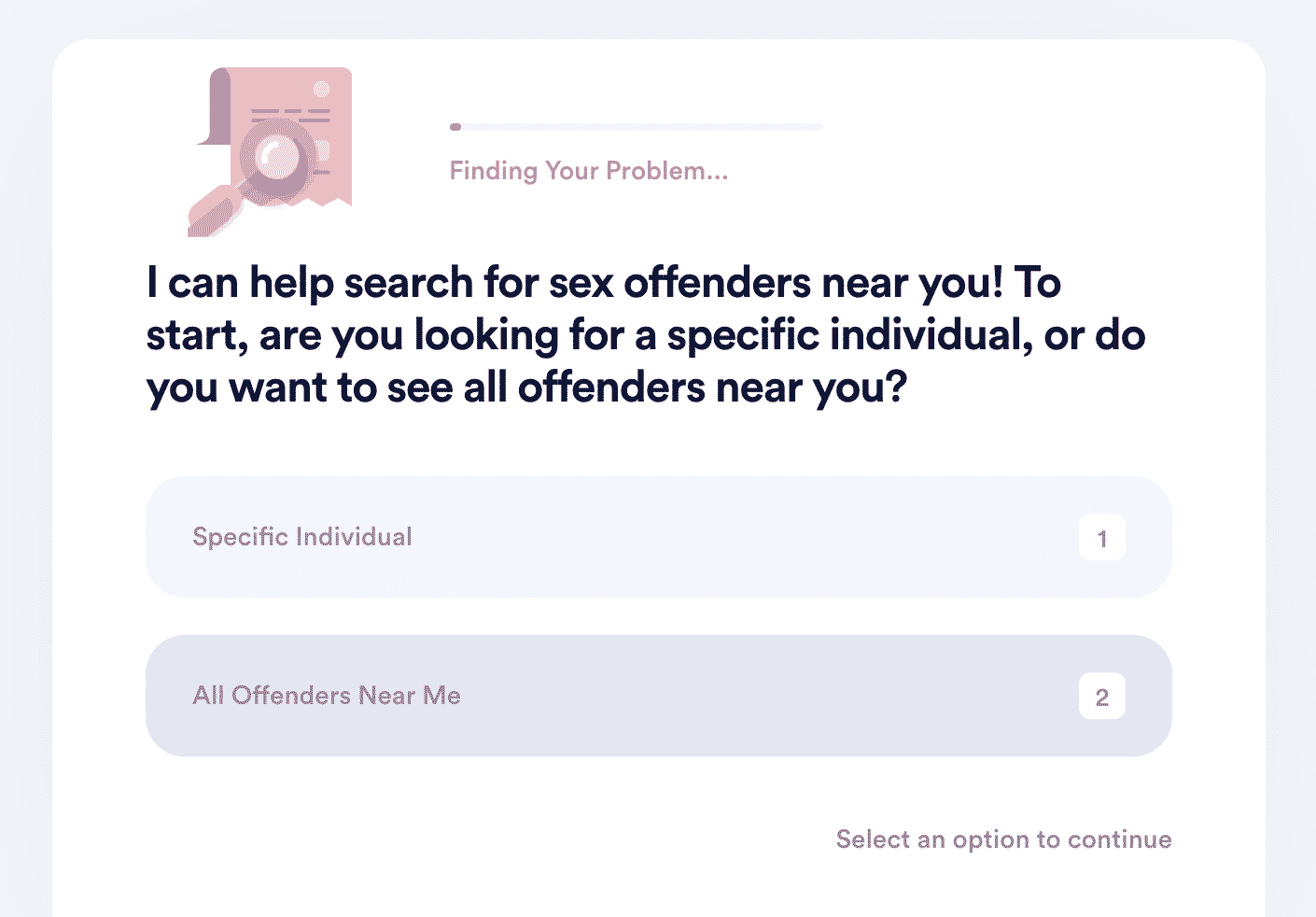 Can Jacksonville Sex Offenders Have Social Media Accounts?
There are no laws in Florida that prohibit a sex offender from having a social media account. Sex offenders may have specific restrictions set by a judge. You can find out the exact details by contacting the Department of Corrections or the Department of Juvenile Justice.
How Can I Keep My Neighborhood Informed?
If our tool revealed sex offenders in your area, you don't have to despair. Most sex offenders don't repeat their crimes and are completely rehabilitated after serving their sentence—especially if their offense determines they are tier/level 1 offenders. That doesn't mean that you should leave the well-being of your family to chance.
There is plenty you can do to stay vigilant and check whether the nearby sex offender is posing any real threat:
Hold community meetings to reveal the sex offenders in your neighborhood
Prepare safety fliers with tips for families
Speak to the sheriff and ask for updates on the sex offender regularly
Report any suspicious activity to the sheriff
Only the Sky Is the Limit for DoNotPay
DoNotPay has an insane number of features that keeps growing. Our platform can help you:
Say Goodbye to Spam Mail With DoNotPay
DoNotPay has designed a feature that will put a stop to the flood of junk and spam mail into your inbox! We can help you join a class action against a spammer or take any person or company that's wronged you to small claims court!
Need a virtual credit card number or a fake phone number to protect yourself from scammers? We've got you covered! We can help you fight text spam or even assist you in sending mail without any chance of error.
Our users' safety is our number one concern, so we've developed a feature that will protect you from cyber stalking or harassment!