Dispute Santa Monica Parking Tickets
DoNotPay features a chatbot that can help you dispute your parking tickets without charging you anything. Business Insider published an article that shares how this robot lawyer was able to beat hundreds of thousands of parking tickets and save users millions of dollars in fines.

Here are some quick and simple steps for you to appeal your ticket with DoNotPay:
Download the free app. You can use it directly in the browser.

The chatbot will ask you a few questions regarding the ticket you received. You need to give honest answers so that it can give you proper advice.

Provide a picture of the ticket and upload it via the free app.

Once you send in everything that it needs, DoNotPay will email you the exact template to use to dispute and beat your ticket.

Watch how to dispute parking citations in any city:
Is contesting a Santa Monica parking ticket worth the hassle? Can I beat it?

Yes. Contesting a parking ticket is always worth the hassle because even the smallest thing can get your citation overturned. With DoNotPay, you can get help disputing your parking infraction in 120 seconds for free. It uses AI technology and can offer different suggestions to appeal your parking ticket, such as:
The street sign or marker is unclear or faded

Issuance happened after you sold the car

The omission of essential details

You do not have the vehicle

The parking ticket is i

llegible

Some information on the ticket is incorrect
How much time does DoNotPay save?

Generally, DoNotPay can help you fight your ticket in 120 seconds! It takes about two minutes. You will answer questions related to your citation, and the app will guide you through the dispute process and make everything smooth.
However, if you want to do everything yourself, you will have to spend hours. Doing it yourself means you need to collect witness statements and bring your documents to the appeal. Besides, you'll need to wait in lines, prepare checks, and draft and send letters.
Choose the way to appeal your ticket that takes the shortest amount of time. You do not want to miss work for a prolonged time, as it will cost you more than just paying the parking fine. Access DoNotPay through any .
Will DoNotPay help me fight tickets in Santa Monica from private companies?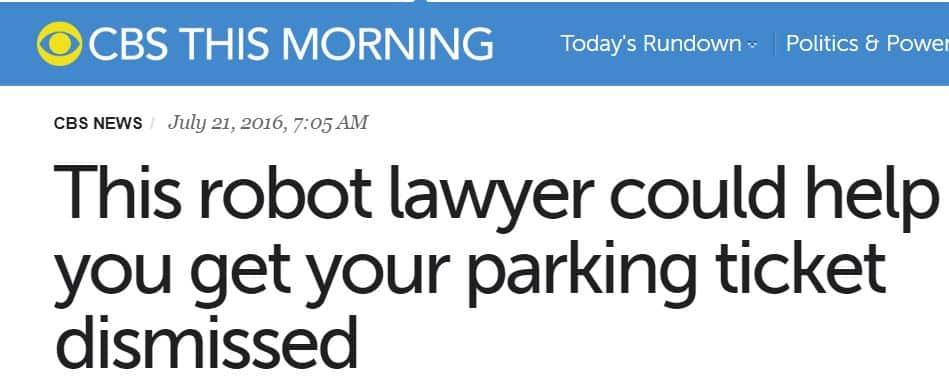 Yes, DoNotPay will help you fight and win parking citations from any private company such as:
Ace Parking

Towne Parking

Laz Parking

Douglas Parking

Imperial Parking, aka Impark

SP+, aka Standard Parking

Lanier Parking

ABM Parking Services
Do I need a lawyer?
Fortunately, you do not need to hire a lawyer to help you dispute your City of Santa Monica parking ticket. This is excellent news because getting a parking infraction lawyer will be costly.
To save time and money, DoNotPay would make a great alternative. DoNotPay is the very first AI-powered robot lawyer that can help you fight your parking infractions for free. Plus, you can dispute your citation in a couple of minutes! You only have to explain your situation as concisely as you can and answer the robot lawyer's questions to get a step-by-step solution.
However, if you decide to get a lawyer, you will need to do a couple of things.
Do extensive research

- It is essential to make sure that the lawyer you are planning to hire is good at his job. Try to check with your friends and family if they have any recommendations. You can also find information about legal advisers through the internet.

Check credentials

- This step is quite similar to the first one. You need to know if the lawyer is capable of solving your issues and that they have a clean track record. There are online reviews available that you can read through before making your decision. You can see the cases they have worked on before.

Take note of any warning signs or red flags

- Try analyzing all information about the lawyer for any signs of a scam.

Cost

- Again, it is expensive to hire a lawyer. Depending on their level of expertise, lawyers can end up costing way more than your parking ticket. Do not pay more than the price of the fine on a lawyer.

Conduct an interview

- The best way to learn about the potential legal representative you found is by talking to them. Schedule a meeting to know more about them professionally.
How much does a parking ticket lawyer in Santa Monica cost?

In General, the cost of hiring a lawyer can range from $200 to $1000.Though most of them do their best to get the job done, there are still a lot of scam artists that will try to cheat you. Make sure to do your research and hire a legitimate lawyer.
If you do not have the funds to pay for a legal representative, or if you are wise with money, you can use DoNotPay to help you deal with your fine. With this app, you will not have to pay anything. All you need to do is provide the necessary documents and evidence to support your case.
As soon as you send in proof, DoNotPay will compile all of it and arrange it neatly into a single file. You can then easily send everything to the city officials, whether online or via another method. After that, you only need to wait for any updates or notifications regarding your dispute. Access DoNotPay through any .
How do I pay off my ticket?

It is genuinely worth it to appeal your parking tickets, no matter whether you were actually in the wrong. DoNotPay makes it even easier for you to dispute the parking ticket by giving you the chance to use their free app. Access DoNotPay through any .
However, there is a chance that they will refuse your appeal. In this case, you will have to pay the fees through any of these methods:
Online - To save time, you can submit your payment online. This option is safe as the local government has provided a system that is secure and user-friendly.

By phone - You can call their automated telephone system and pay with your Visa, MasterCard, or American Express credit card. This option is available 24/7, and you only have to follow the instructions the system gives you.

Mail - You can pay Santa Monica parking tickets by sending your check, money order, or cashier's check to their address. Never send cash or credit card numbers through the mail.

In-Person - Some people prefer to pay in-person, especially those who wish to pay with cash. However, remember that they do not accept credit card payments in person. You can only pay with a credit card via the online system or by telephone.
Dispute or Pay?
| | | | | |
| --- | --- | --- | --- | --- |
| | Ease | Time it takes | Cost | Benefits |
| Dispute | It is quick and straightforward with DoNotPay. | You can do this in a couple of minutes. | It is free with DoNotPay. | You get to save time and money with the free app. |
| Pay | It is quite convenient to pay online. | Your payment will be reflected in a day or two. | All you need to pay for is the fine specified. | Your wallet will be lighter. |
Can I get my parking ticket reduced?
In some cases, the officials do lower the fine you have to pay just because you disputed your ticket. Depending on which city or state you are living in, there are other ways to get a deduction on your citation fines.
Around 80% of people never bother to dispute their tickets. Those that do often get a discount on their fine. If you cannot pay the fine, you can show the court evidence of your family's financial hardship. They may help you by reducing the fee, giving you a different payment plan, or letting you do community service. Remember, not all courts allow this, and not all types of violations are subject to the same opportunity.
It's always worthwhile to dispute your citation. Access DoNotPay through any .
What happens if I don't pay off my ticket?
The punishment for disregarding a parking ticket differs from city to city. Here are some possible scenarios you could undergo if you do not pay your parking ticket fine:
Your fine will increase

Officers can impound, boot, or tow your car

They may prevent you from renewing your vehicle's registration

Suspension of your driver's license

Damage to your credit score
If you do not pay the fine in the specified period, you can get additional fees on top of your original one. The court can also charge you with an infraction for "failure to pay." However, if you appeal, you will not have to go through any of this. It is best to respond to the citations quickly and resolve them as soon as possible to avoid any other penalty.
Sometimes, the city may take your car away from you and auction it. The money they get from auctioning off your vehicle will serve as payment for the fees that you have neglected to pay.
When the city realizes that you haven't paid your fine, they may get a collection agency to take care of it. The agency may notify credit bureaus, affecting your credit score.
Do infractions go on my record?
Parking tickets will not go on your driving record. However, if you ignore the citation and decide not to pay the fee, the city will report it to the DMV. This could impact your ability to renew your vehicle registration or driver's license.
To have peace of mind and prevent the risk of not being able to renew your license, choose one of these two options. Either pay the fine or, if you feel wrongly accused, dispute it. Access DoNotPay through any .
What if I got a parking citation and someone took it off my car?
If someone takes the parking ticket off of your car, the respective authorities will send you two letters to notify you about the citation. If you choose to ignore the notifications and not pay the fine, they will give you additional penalties. Additionally, if you do not respond to these two notifications, the parking infraction will be reported to a collection agency, thus lowering your credit rating.
You can always call parking enforcement to clarify the situation once you get the letter. It is better to deal with it as soon as possible instead of letting penalties build up, causing you to suffer even more.
Here is a discussion regarding a similar situation.
Dispute your citations quickly with DoNotPay. Access DoNotPay through any .
Can my car insurance go up?
Generally, getting a parking ticket will not increase the rate of your car insurance. However, if you fail to pay the citation and your vehicle registration gets suspended, there is a chance that your premium will increase when you get new coverage. This is often the case with the company Esurance, for example.
Do I need to pay parking tickets I get in Santa Monica if I'm from out of state?
You need to pay any parking citation given to you, no matter where you live or which state you visit. It is more challenging to dispute the ticket if you do not live in the jurisdiction in which it was issued.
If you do not wish to go to court out-of-state, you can opt to use the DoNotPay app. It gives you step-by-step instructions and advice on what you need to do to dispute the citation. You can get things done in just a couple of seconds. Plus, it's free. Access DoNotPay through any .
Read through this discussion thread to learn more about the situation.
Can I get a citation while sitting behind the wheel?
Though rare, officers have the right to issue parking tickets if they find grounds that you are violating any law. It doesn't matter if you are still sitting in the driver's seat. You need to be mindful of where you are parking and not be distracted by your phone. If you ever get a citation in this situation, try using DoNotPay to dispute the ticket.
Also, pay attention to where you park when you use your phone. Ideally, you would have your phone on silent mode while driving. If you absolutely must take a call, make sure you park correctly to avoid getting a ticket.
If you do end up getting a citation, DoNotPay can help you dispute it in a matter of minutes. Access DoNotPay through any .
Do I have to pay parking infractions I get in a rental car?
Usually, when you rent a car, you will be given a rental agreement to sign. Rental companies, like Avis, will not cover any of the parking fines you accrued while driving their vehicle. On top of the ticket fine, they will charge an administrative fee to the card you used on the rental. These will be automatically charged to the card you used to make the booking.
To learn more about Avis's rental agreement, you can read this page. You can also read this discussion regarding this situation.
How much does Santa Monica make from parking tickets?
Santa Monica is a city in Los Angeles County. In 2015, Los Angeles collected $148 million in parking fines.
Even though much of the revenue is reinvested, 70% usually goes to administrative overhead. If you're against big government, that's yet another reason to dispute your parking ticket and keep your money! Access DoNotPay through any .
DoNotPay helps users fight and beat tickets in any city
DoNotPay helps users fight parking tickets in every city in the US and UK. Here are a few cities we've helped users dispute the most tickets in:
What else can DoNotPay do?
DoNotPay can help you:
Appeal speeding tickets
Dispute traffic tickets
Get you an appointment with the DMV faster
Make a virtual credit card to avoid getting charged at the end of a free trial

Help you get compensation for delayed and canceled flights
Using DoNotPay can help you save time and money. Access DoNotPay through any .
To Summarize
| | |
| --- | --- |
| It is quite easy and quick to appeal your parking ticket. | All you need to do is download the DoNotPay app entirely for free. |
| There are additional penalties if you decide to ignore a citation instead of dealing with it as soon as possible. | Make sure that you either pay the fine or dispute it as soon as you get it. |
| Santa Monica gives you different payment options. | Online, in-person, by phone, or by mail. Remember, you should not send cash or your credit card number through the mail. |
| Parking tickets will not reflect on your driving record. | However, the credit bureaus will know about your violation if you refuse to pay the fine. |
| There are some instances in which your fine can be reduced. | By simply disputing the ticket with DoNotPay, you may receive a reduction in the fine. |
| You will have to pay for a ticket even if someone took it off your car or it was lost. | Parking enforcement will send letters to the address on your car's registration. |
| You have to pay parking fines issued to a rental car you were driving. | On top of that, you need to pay an administrative fee to the car rental company. |
| There are other services that DoNotPay offers. | Other than parking tickets, they help you deal with traffic and speeding tickets, too. |