Find a San Diego Mobile Notary in No Time, but Don't Stop There!
If you are wondering how to notarize a document in Southern California the easiest way, you might think about using a San Diego mobile notary service. DoNotPay can tell you how mobile notarization works and if there is a more efficient way of having your documents notarized.
How Does Mobile Notarization Work?
Mobile notarization is a handy way of getting your documents notarized without leaving your house. If you choose to use this kind of notary service in San Diego, you can expect a notary to come to your home or office instead of the other way around.
To get a document notarized this way, you will have to follow these steps:
Find a mobile notary

Contact the notary you chose

Schedule an appointment

Ask about the fees you'll need to pay

Collect the necessary documentation
The upside of mobile notarization is clear—you can handle the task from the comfort of your own home. This is a convenient solution, especially during the global pandemic.
When Should You Consider Hiring a Mobile Notary?
Sometimes, going to a notary isn't a realistic option for various reasons. People usually consider mobile notarization if they:
Have a disability that prevents them from leaving the house

Don't have a vehicle to get to the notary's office, which may be far away

Can't make an appointment during their working hours
Where Can You Find a Mobile Notary in San Diego?
If you plan on finding a mobile notary in San Diego, you should check online for the available options. Good platforms for finding notaries include:
What Documents Can a Mobile Notary in San Diego Notarize?
There are numerous documents a mobile notary in San Diego can notarize for you. Take a look at the list below:
Power of attorney

Mortgage documents

Advanced healthcare directive

Authorization for minor to travel

Living trust

Irrevocable/revocable trust
A downside of hiring a mobile notary is the fact that their services are often more expensive because the signer needs to cover the travel expenses.
San Diego Mobile Notary Pricing
To get a mobile notarization service in San Diego, you'll need to spare some serious money. Here are the prices according to the mobile notary zones:
Mobile Notary Zone 1—$45

Mobile Notary Zone 2— $55

Mobile Notary Zone 3 —$65

Mobile Notary Zone 4— $75

Mobile Notary Zone 5 —$85
All the listed prices include up to four signatures. Every extra signature is charged an additional $5. Knowing about other notary service options might offer you a better solution.
Other Notary Service Choices in San Diego
If you are already aware that traditional in-person notarization is not the right choice for you, you should also know that mobile notarization is not the only alternative. Current state laws don't allow online notaries in California, but you can use out-of-state remote online notarization.
This option involves you finding a notary in another state who can notarize your document online. This is a great solution because it connects the best of both worlds—having your documents notarized on your schedule and saving money on exorbitant mobile notary travel fees.
You also have zero risks of exposing yourself to the dangers of the global pandemic. The easiest way of finding an online notary is with DoNotPay's help!
Get a Document Notarized With DoNotPay Easily
If you want to get the best service and experience the easiest way of notarizing legal documents, you should use DoNotPay. Our app will help you find and schedule an appointment in a matter of minutes. You only need to follow these simple instructions:
in your favorite web browser

Locate and choose the

Notarize any Document

product

Upload the document that needs to get notarized

Type in your email address in the provided field

Confirm your appointment with the notary
During your online meeting, the notary will perform all the required notary acts, including the verification of your signature.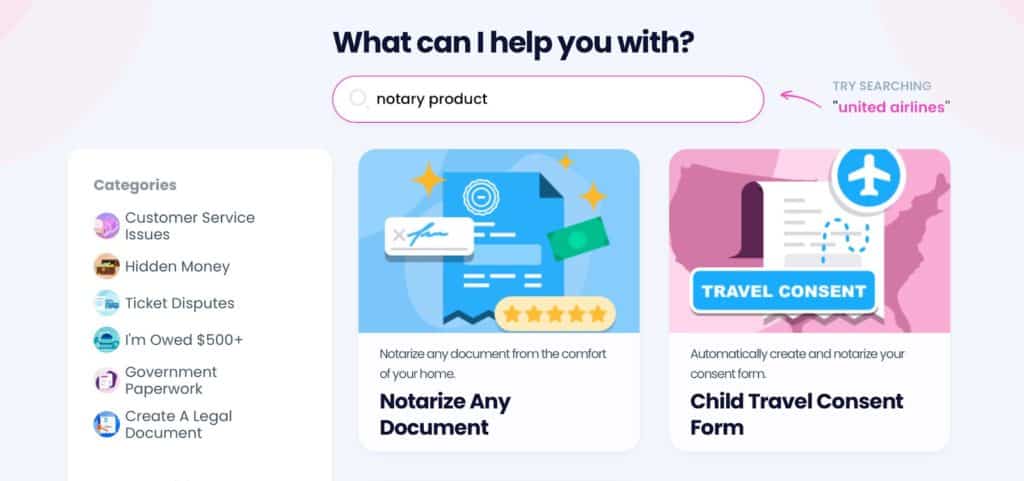 DoNotPay's neat features don't stop at notary services. You can also count on our app for creating legal documents!
Create a Legal Document With DoNotPay
offers a convenient way of killing two birds with one stone—you can get a document generated and notarized by following simple steps and using just one app! For drafting legal documents, you only need to open our Standardized Legal Documents product.
The table below shows all the documents DoNotPay can make for you:
Real Estate
Business Agreements
Miscellaneous

Quitclaim Deed

Residential Lease Agreement

Estoppel Certificate

Intent To Purchase Real Estate

Bill of Sale

Independent Contractor Agreement

Non-Compete Agreement

General Business Contract

Non-Disclosure Agreement

LLC Operating Agreement

General Affidavit

Parenting Plan (Child Custody Agreement)

Prenuptial Agreement

Promissory Note
If you wish to inform yourself about other agreements, you can read through any of our guides about:
Settlement Agreements

Confidentiality Agreements

Room Rental Agreements

Postnuptial Agreements

Purchase Agreements
Don't Let Companies Take Your Hard-Earned Money!
People love to subscribe to all sorts of services—especially if there are free trials involved. The problem is that most of them forget that they signed up for anything in the first place. Companies are aware of this, which is why they auto-renew memberships as soon as the free trials expire.
Don't let them get away with it—use DoNotPay to sign up for free trials and cancel subscriptions right before they renew. If you want to save even more money, use our platform to learn how to handle high bills, parking tickets, college application fees, canceled or delayed flights, or faulty services you should get refunded for.
Use DoNotPay To Stop Illegal Activities and Earn off Scammers!
Our AI-powered platform can assist you in dealing with all sorts of scammers. If you got any of the following, the world's first robot lawyer will help you seek justice:
Do you want to protect yourself and your loved ones from stalking and harassment as well? Use DoNotPay to learn how! If the situation with a stalker escalates, our app is going to help you take them to small claims court by preparing all the paperwork and your court statement.
Don't stop there—check out how you can bypass phone number verification, claim any type of warranty, or pass any government test with flying colors!