Dispute Pasadena Parking Tickets For Free In Just a Few Minutes

If you want to make contesting your city of Pasadena parking ticket quick and easy, here are the steps to follow:
Use the

web version

in your browser. 

The AI-powered chatbot will ask a few questions. Answer in detail and be as honest as possible.

Snap a photo of your parking ticket and upload it.

DoNotPay will send you a script of the argument you can use when disputing your citation
Watch how to dispute parking tickets in any city:
Is fighting a citation in Pasadena worth it? Do I have a chance to win?

Contesting a citation is always worth your time, especially if you're using DoNotPay. With the app, you can dispute your tickets in a matter of minutes and go about your day, not worrying about the infractions. In Pasadena, there are three phases when disputing a parking ticket. These phases are prescribed by  California's Vehicle Code to allow people to fight an unfair citation.
For more information regarding the matter, visit the City of Pasadena's website.
The process may seem intimidating, but with the help of DoNotPay, things will be a lot easier. DoNotPay app will provide a script for you to use when requesting an administrative review so that you do not have to do it on your own. Plus, the process will take 120 seconds at most. 
Do not forget to bring the essential files and documents with you for a higher chance of winning your case. These documents include:
Photo evidence

Car registration papers

Car ownership papers
Appealing your ticket is always worth with DoNotPay. Use it in your web browser for free.
How much time can DoNotPay save me when contesting my parking ticket?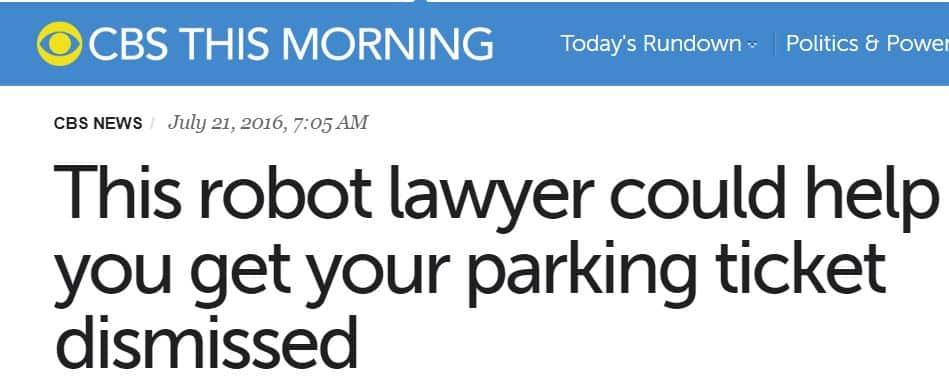 Without DoNotPay, you have to do everything on your own. Instead of taking at least half a day to complete the process of contesting your ticket, gathering evidence, and figuring out the paperwork, use DoNotPay to cut the time to only a few minutes. 
Use it in your web browser for free.
What if I don't want to dispute? How do I pay for parking tickets in the city of Pasadena?

Before opting to pay your fines, try fighting the citation first. Contesting may seem scary, but don't worry. DoNotPay will create the script you can use in your hearing, so there is not much to be concerned about.
If you have made up your mind and have already decided to pay off your ticket instead, here is what you can do:
Online payment:

Quick and easy, this is the option most people prefer. Prepare your credit card and parking ticket number and then fill in

this

form. 

Payment by phone

: Have your parking ticket, license plate, and credit card information ready. Call the Parking Citation Section at (626) 744-4360. 

Pay in person

: Paying in person gives you a variety of payment options to choose from. You can pay by credit card, debit card, cash, check, or money order. Go to the City of Pasadena Parking Citation Section at 221 E Walnut St, #199, and pay there. They are open Monday through Friday. On Mondays, Tuesdays, and Thursdays, they are open from 7:30 am to 5 pm, from 9 am to 5 pm on Wednesdays, and from 7:30 am to 4 pm on Fridays.

Payment by mail

: If paying by mail, you can pay by money order, credit card, or check. Never mail cash. Make sure to fill out

this

form.
If we missed out on any details, you can always refer to the City of South Pasadena's official website.
Does DoNotPay also help with disputing Pasadena CA parking tickets from private companies?

DoNotPay will save you time and money, whether you are disputing tickets from private companies or the city. The app works with all private firms, including:
EverPark, Inc. 

Unified Valet Parking, Inc 

Los Angeles Valet Company

SP+ Parking

Westco Parking Services Inc.

LAZ Parking

Veritas Parking Services LLC

AB Parking Services

Unipark, LLC

Modern Parking Inc
Use it in your web browser for free to dispute tickets from private companies too!
Do I need a legal representative to contest my City of Pasadena parking ticket?

The great news is that no, you do not require a legal representative to fight a parking ticket. You can prepare the documents and represent yourself in court. Use the web version. Within 120 seconds, DoNotPay will send you the script that you can use in your dispute. 
If you still want to get a lawyer, here are a few tips:
Research:

You should have plenty of options. Research, explore, and search the web. Ask around for recommendations. This will help you find the best candidate.

Investigate:

Look into their credentials. Do they come from the best schools? If they are contract lawyers, are they competent in their job? Investigate their past cases and their win rate.

Be careful:

There are plenty of people around with malicious intent. Make sure the lawyer you choose is legit and doesn't want to scam you.

Consider the cost

: The money it will cost to pay your legal representative may cost close to or as much as your actual parking fines. If so, is it practical and cost-efficient to get one? 

Interview:

See your candidates in person. If someone is to take on your case, make sure to get to know them well. Organize a meeting and interview them. 
How expensive is it to hire a lawyer in Pasadena?

Since the costs of parking ticket fines are relatively low in legal terms, around $75 in Pasadena, only specific lawyers accept such cases. The cost of disputing with a lawyer will often be higher than the price of the actual fine. Use the DoNotPay app and represent yourself. The app is free of charge, and it will provide you a script for your dispute in only 120 seconds. 
Use it in your web browser.
Can I have my parking ticket fees reduced in Pasadena?

Yes. You may get your fine lowered just by contesting your ticket. In most cases, your fines will be entirely waved. To increase your chances of beating your Pasadena parking ticket, use the web app.
Will a parking infraction increase my car insurance fees?
Fortunately, no. Auto insurance companies in Pasadena, such as Progressive Insurance, will not increase your insurance fees due to parking tickets. However, if your car remains unregistered due to unpaid fines, then insurance companies may opt not to insure your vehicle.
Dispute or pay?
| | | | | |
| --- | --- | --- | --- | --- |
|   | Difficulty Level | Time It Takes | Cost | Strong Point |
| Dispute | Easy with DoNotPay. | 120 seconds.  | The app is free of charge | DoNotPay is free of charge and assuming you win the case, it will even save you money. |
| Pay Fines | Easiest online, but some people do not have this option | At least half a day | The cost of your parking ticket, cost of transportation, and missing work | Your wallet will be lighter.  |
What can happen if I decide not to pay a parking fine issued in the City of Pasadena, CA?
In most cases, the parking ticket is not a major issue as parking tickets fines run less than a hundred dollars. The problem occurs when the parking tickets are left unpaid. There will be an additional $27 fine on each unpaid ticket, and possibly a $3 DMV (Department of Motor Vehicles) fee if your car registration is put on hold. 
Aside from extra payments, other things can happen:
Your car may be impounded or towed

Overdue fines may affect your credit score.

There is the likelihood that you will not be able to register your vehicle

Debt collectors may get on your back
You might think that you can ignore your parking tickets and they will just go away, or the local government will forget about them, but this is not the case. Before you get in trouble, either pay your fines or dispute them. Use the website to contest your citation.
Can a parking citation affect my driving record? 
No, a parking citation will not go on your driving record. Still, it is worth remembering that parking tickets that are left unpaid could bring consequences. If you want a piece of mind and stop thinking about those pesky parking tickets, use DoNotPay and contest them all! Use it in your web browser to appeal all your parking citations in a matter of minutes!
Can I get a ticket even if I'm inside my car?
Whether you are in your car or not is not an issue. The issue is whether you have stopped in a location where it is legal to do so. As such, it is best to be cautious. Be careful where you park to avoid fees and inconveniences.
For a more in-depth discussion on the subject, visit this Quora page. Make sure to pay attention to where you park, even if it's just for a few minutes.
Use it in your web browser to contest all your parking tickets.
What if I do not know that I have a parking citation because I didn't see it on my car?
That doesn't matter. The Pasadena local government will send you a notice regarding the fines you have to pay. As such, whether you saw the citation on your car or not is of no importance.
Read more in this discussion thread. 
Do I have to pay a parking ticket from Pasadena, CA, if I'm not from California?
There are laws, rules, and ordinances to be followed across the globe. Wherever you are, you should follow the regulations of that jurisdiction. So if you do get a ticket in Pasadena, CA, you are responsible for paying the fines. However, it is your right to contest it wherever you are in the US. Use it in your web browser.
Read more about this in this Reddit thread.
How much does Pasadena earn from parking tickets?
The city of Pasadena earns quite a lot from parking tickets. According to this article, Pasadena CA makes around 1.5 million from all of its parking meters and a whopping 5.8 million from parking tickets alone.
Do I have to pay a citation even if the car I was driving is only a rental?
Absolutely. You are responsible for the tickets you got while you were driving. If you do not pay off the fine for whatever reason, car rental companies, like Enterprise Rent-A-Car, will cover the fees for you initially. The agency will send you a bill that includes not only the actual ticket citation fine but also an additional fine for administrative charges. Alternatively, they will charge your credit card directly. Administrative charges will cost you about 30 to 45 dollars.
Use it in your web browser to contest all your parking tickets.
DoNotPay helps users fight and beat tickets in any city
DoNotPay helps users fight parking tickets in every city in the US and UK. Here are a few cities we've helped users dispute the most tickets in:
What else can DoNotPay help you with?
DoNotPay provides a long list of services that can help you avoid day-to-day life nuisances. Part of these services are:  
A summary of the information gathered about the City of Pasadena parking tickets:
| | |
| --- | --- |
| DoNotPay app gives you the option of easily contesting Pasadena parking tickets. | DoNotPay creates an argument for you to use when disputing your parking fines. It does this free of charge, and in only two minutes. |
| DoNotPay will help you dispute tickets issued by the city or any company. | Almost all private companies fall under this category. |
| Winning the case means lowering or getting rid of your fees. | Disputing takes only 2 minutes with DoNotPay. |
| Parking fines must be paid wherever you are. | Being from a different jurisdiction does not mean you do not have to pay Pasadena parking tickets. |
| Delinquent parking tickets do not necessarily entail an increase in your insurance fees. | However, if the DMV does not allow you to register your car, insurance companies may decide not to insure it, either.  |
| DoNotPay provides a variety of other services | For example, it can help you get a DMV appointment quickly.  |