Do You Need To Visit a Notary in Rockville, MD? DoNotPay Has Better Ideas
If you wish to get a document notarized in Maryland without leaving the house, you can do so. DoNotPay can guide you through the notarization process without taking the document to a notary in Rockville, MD.
What Does a Notary Public in Rockville, MD, Do?
Notary publics in Rockville perform notarial acts, which include:
Administering oaths and affirmations

Performing a jurat

Certifying document copies

Taking acknowledgments
Notaries also need to ask for proof of identification and make sure you are signing the document with awareness and willingly.
How Much Does a Notary in Rockville, MD, Charge for Their Services?
Notaries in Maryland have some of the lowest fees in the country. Take a look at the list below to see how much notary services cost in Maryland:
Taking acknowledgments—$2

Notarizing copies—$1 per additional

signature

on each copy

Acting as an official witness—$2

Certifying copies—$2

Performing jurats—$2

Administering oaths and affirmations—$2
Where Can You Find Notaries in Rockville, MD?
You can look for notaries online on platforms such as 123notary.com, the American Society of Notaries, or the American Association of Notaries. You can also find notaries in banks, accountant offices, public libraries, or money transfer stores. This is all connected to in-person notarization, but you can opt for other solutions as well.
What Are Your Options for Getting a Document Notarized in Rockville, MD?
You can get a document notarized in three ways in Rockville, Maryland. Here are your options:
Traditional in-person notarization
There is no doubt that online notarization reigns supreme, and you'll see the reasons below.
What You Should Know About In-Person Notarization in Rockville
The traditional way of getting documents notarized in person is outdated. You need to take the time out of your busy schedule and go to the notary's office. Should we even mention potential traffic jams? The whole process is inconvenient and time-consuming. Going to the notary involves another risk nowadays—endangering your health during the COVID-19 global pandemic.
What You Should Know About Mobile Notarization in Rockville
Even though it is more practical and convenient than the traditional way of notarization, mobile notarization is not flawless either. No, you don't need to worry about being stuck in traffic, and you can pick a suitable time and place for the notary to come, but what is the cost?
The cost is high—up to $100 for additional travel fees and after-hour services, to be more precise. The good news is that you don't need to settle for mobile notaries because online notarization exists!
What You Should Know About Online Notarization in Rockville
Maryland is one of the 28 states that allow remote online notarization. This has proved to be an excellent idea, and numerous other states have come to recognize the advantages it brings. Online notarization allows notaries and signers to handle the entire process during a virtual meeting.
Notaries in Maryland can use these platforms for online notarization:
GoToMeeting

Microsoft Teams

Google Meet

Skype

Cisco Webex
This is not only more practical and faster than the other two options but safer as well. When there is no human contact, there is no risk of catching COVID-19. DoNotPay can help you find an online notary in a heartbeat!
Use DoNotPay To Get a Document Notarized Fast
Once you decide to use online notarization, you need to find a notary to help you with the task. DoNotPay offers a great solution and has partners that work 24/7 during the entire year. This is a perfect choice for anyone who needs a document notarized fast, even though it may be the weekend or a holiday.
If you want to get your hands on this feature, you'll need to follow these instructions:
in any web browser

Choose the

Notarize Any Document

product

Upload the document you want to get notarized

Type in your email address
Once you're done, you will receive an email from DoNotPay with a link to confirm your meeting with the notary!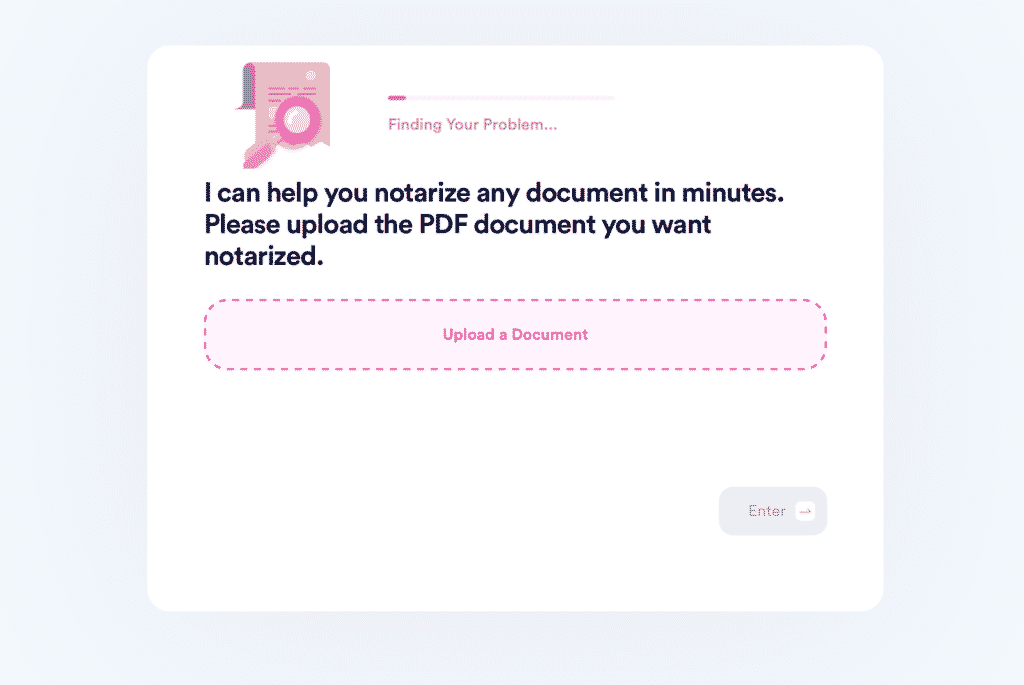 You can also count on DoNotPay when you need to create a legal document in a jiffy.
Use DoNotPay To Make a Legal Document Without a Lawyer
Another benefit of using is the fact that you can handle two bureaucratic tasks without leaving the app. Yes, you can make a legal document and set up a meeting with a notary in a matter of minutes!
Once you open our Standardized Legal Documents product, you can choose between many contracts and agreements. Check the table below for currently available options:
Business Agreements

General Business Contract

Non-Compete Agreement

LLC Operating Agreement

Independent Contractor Agreement

Non-Disclosure Agreement

Bill of Sale

Real Estate

Quitclaim Deed

Estoppel Certificate

Residential Lease Agreement

Intent To Purchase Real Estate

Other

General Affidavit

Promissory Note

Prenuptial Agreement

Parenting Plan (Child Custody Agreement)
Say Goodbye to Administrative Issues—Rely on DoNotPay
Are annoying procedures—such as canceling memberships, disputing parking tickets, filing warranty and insurance claims, requesting refunds for purchased products or services—giving you headaches? Do you dread calling an airline's customer support to request a refund and compensation for a canceled flight? You're not alone! The good news is—DoNotPay can help you solve these issues stress-free!
You can use our app to prepare for your driving test or other government exams and schedule an appointment with the DMV in minutes.
Are you wondering whether you're paying too much for your property taxes? Make sure to try out our Property Tax feature and learn about the best way to reduce your property tax bill.
Annoyed by Spammers? DoNotPay Can Help!
With DoNotPay, you can get rid of spam emails and text messages and report robocalls in one fell swoop. Our Burner Phone feature will generate a fake phone number that you can provide upon registration for any service!
Besides helping you enjoy free trials without the risk of being charged, DoNotPay's virtual credit card has another advantage. It will provide a random email address you should use when signing up for a free trial. That way, you'll avoid pesky marketing emails and email notifications.