How to Get a New York Times Crossword Free Trial With a Virtual Credit Card
The New York Times Crossword is a digital crossword puzzle published by The New York Times on their website, Windows desktop, and mobile platforms. The New York Times Crossword has captivated a multitude of solvers since its launch in 1942. The puzzle increases in difficulty throughout the week, with the easiest one on Monday and the toughest one on Saturday. A typical puzzle measures 15 by 15 squares, while the larger Sunday puzzle, an American classic, measures 21 by 21 squares.
Use DoNotPay to get your  with zero risk of automatic renewal.
Does the New York Times Crossword Offer a Free Trial?

Yes. They offer a no-obligation  with complete subscriber benefits. However, to play The New York Times Crossword Puzzle online, you need to subscribe to The New York Times Games.
Does the New York Times Crossword Free Trial Automatically Renew Into a Paid Subscription?
Yes. Billing will continue at the end of the trial period according to the payment plan you chose at the time of your order. In most cases, they'll notify you in advance of upcoming renewals. Automatic renewals are charged in advance of each billing cycle as follows:
Every four weeks for a monthly subscription.
Once a year for an annual subscription.
How Can I Sign Up for a New York Times Crossword Free Trial?
You can sign up for the New York Times Crossword free trial by subscribing to The New York Times Games. This can be done via the web platform or through the iOS and Android Crossword apps using your phone or tablet.
Follow the following steps to start your New York Times Crossword free trial:
Create a New York Times account on your web browser, Android, iOS application, or log in if you already have an account.
Pick a payment method; PayPal or credit/debit card. New York Times Games will charge the chosen account following the terms of your subscription.
Confirm your purchase.
What Do I Get With a New York Times Free Trial?
The 7-day free trial comes with the full benefits of a subscription, which include:
The Crossword Early access to daily crossword puzzles the evening before they are released in print
Cross-platform access and syncing

You can play the Crossword app on your iOS/Android phone, tablet, or web browser.

Access to all New York Times Word Games and Logic Puzzles

The Mini Crossword, Spelling Bee, Letter-Boxed, Tiles, and Vertex
Access to over 10,000 crosswords, including their Daily puzzles dating back to 1993 and Minis back to 2014.
A subscriber-only monthly bonus puzzle.
Access to Acrostics and PDFs of a variety of puzzles that run in the Sunday magazine.
How Much Does a New York Times Games Subscription Cost?
New York Times Games offer two subscriptions:
| | |
| --- | --- |
| Monthly subscription | Yearly subscription |
| $0.50/week | $20/year |
Use DoNotPay's Virtual Cards for a Risk-Free Trial Experience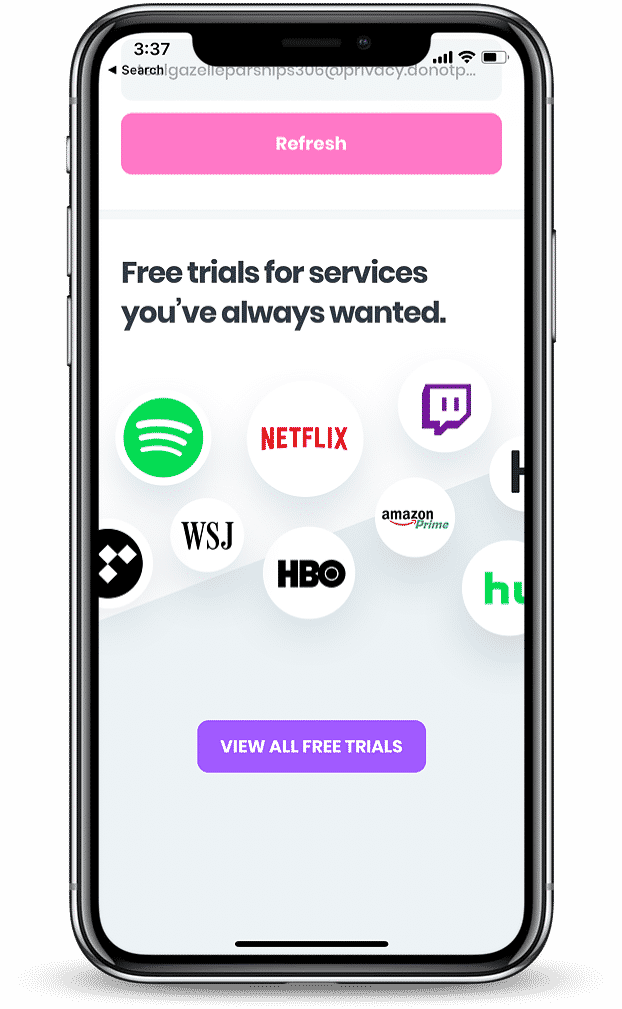 You can enjoy a free trial without the risk of being charged once the trial period is over by using a virtual credit card. It is easy to forget to cancel a free trial before it expires, especially with a 7-day free trial. DoNotPay offers you a free trial card to use with any subscription service that requires your credit card information for a free trial.
DoNotPay's virtual credit cards help you with:
Generating random credit card information and number. Although this credit card information isn't physical, services like the New York Times Crossword will accept it for free trials.
Additionally, DoNotPay generates a temporary email address during registration to avoid cluttering your primary email address with promotional emails.
When the free trial is over, the company can't bill you because the virtual credit card doesn't have money on it. You will be automatically unsubscribed.
Generate a free virtual credit card when creating a DoNotPay account on a web browser.
Note: DoNotPay can help you cancel a New York Times Crossword or any other subscription-based service.
File a Complaint Against New York Times Games
If you're not satisfied with your NYT Games subscription, DoNotPay can help you get a reimbursement in line with your consumer rights for refunds.
Once we ascertain that your case is eligible, DoNotPay will help you write a demand letter to the company. We can then help you fill out a legal claim and prepare for court if the demand letter proves unfruitful.
Get More With DoNotPay

You can count on DoNotPay to help you get a free trial with most companies like Twitch Prime, Netflix, Apple Music, and Spotify. DoNotPay can help you get a refund, even from companies with a no-refund policy.
 through a web browser or app, and we can help you with much more: