Dispute New Haven parking tickets

Here's how you can use DoNotPay to appeal your parking citations:
You can access DoNotPay through your

web browser.

Regardless of where you access our services, you'll be guaranteed accurate and reliable advice.

Answer all the questions the chatbot asks you, and be honest about it. Your answers will play an essential role in receiving the correct advice from the app.

Upload a picture of your parking ticket.

Once you've answered all questions, DoNotPay will give you a template of how to proceed with your dispute.
Watch how to dispute parking tickets in any city:
Do I have a chance at winning when I contest my New Haven parking ticket?

There's a big chance you'll win your parking ticket dispute, especially with the help of DoNotPay. New Haven allows you to dispute your parking tickets, and it starts with filling out a form. You'll have to fill out several pieces of information, but the most critical part of the form is the "description of contestment." Make sure to be specific with your narrations so that the proper authorities can get a better understanding of your situation.
New Haven allows you to appeal your citations. Your fines will only start to accumulate again once you receive a written notice of the results of your dispute. DoNotPay will be able to help you.
Disputing your parking ticket is always worth it, and you can increase your chances of winning by providing the following:
Valid driver's license and car registration

Photos of your vehicle and its surroundings when it was ticketed.

Other relevant information or documents.
This thread posted by a Reddit user reminds us why you should dispute your parking tickets. You always have the chance for a dismissal. Use it in your to contest your parking tickets in no time!
I'm very busy. Can DoNotPay save me time?

You can save a lot of time with DoNotPay because you can get feedback in a matter of minutes. It takes approximately 120 seconds for you to get an accurate response, whereas contesting a parking ticket on your own will take a lot of time. Instead of missing work and spending hours collecting evidence, you can begin disputing your parking tickets in the comfort of your home or office. Use it in your to contest your parking tickets in no time!
Can DoNotPay help me contest tickets issued by private companies in the city of New Haven?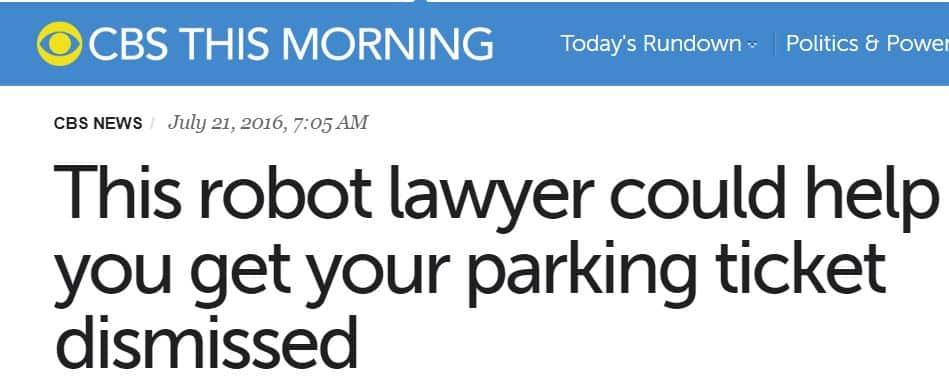 DoNotPay will help you regardless of where your parking tickets came from. Whether it's a city of New Haven parking ticket or a ticket from any private company, DoNotPay will make sure to prepare a good defense for you. It can help you win your disputes against private companies like:
Imperial Parking, aka Impark

Douglas Parking

Towne Park

Lanier Parking

Towne Park

SP+, aka Standard Parking

ABM Parking Services

Douglas Parking

Laz Parking
Use it in your to contest your parking tickets issued by private companies too!
Do I need a lawyer to dispute New Haven parking tickets?

You won't be needing a lawyer to help to settle your New Haven parking ticket. You can handle the whole process by yourself, with the help of DoNotPay.
DoNotPay app makes everything convenient and fast, and you can do everything on your own. You won't need to find someone else to settle parking tickets for you. If you want to resolve the dispute by yourself, here's what you should do:
Use it in your

and make sure to provide the chatbot with accurate information to give you the best possible advice for your concern.

Check your ticket carefully, and make sure you take note of any deadlines. Also, take a look at the violation cited on you and check whether it accurately describes your situation. There might be a chance that you were charged by mistake.

Knowing the traffic rules will be your best defense. If you know that you did nothing wrong, then there's a big chance that your case will be dismissed.

Gather all evidence, including pictures. Bring photos of your vehicle and the surrounding at the time you received the ticket.
Are lawyers expensive in New Haven?

Lawyers in New Haven can get expensive, depending on the service you need them for. Don't expect their rates to come cheap just because you need them to dispute a simple parking ticket. Their price depends on the situation, and whether they need to make an appearance on your behalf.
Luckily, DoNotPay can offer the same kind of service for cheap. You can dispute your tickets by yourself, relying solely on DoNotPay's quality service. You won't have to shell out a considerable amount of money just for a parking ticket. Use it in your with ease.
Will my parking infractions affect my driving record?
Fortunately, parking infractions don't appear on driving records. However, if you're a repeat offender, and you keep refusing to settle your violations, your record my suffer. You'll have a hard time renewing your car or driver's license, which is why you don't want to leave any parking infractions unsettled.
How can I pay for my New Haven parking ticket?
If you plan on settling your payment, you can pay through the following methods:
Pay through the New Haven website. You'll have to fill out a form before you can pay online. It'll ask you for the following information:
The citation number written on your ticket

License plate and issuing state, especially if you've lost your ticket.

If you don't have either of these documents, you'll have to indicate your VIN.
Pay in person. This method can take time as you'll have to show up and wait but is the only option that works for some people.
Disputing parking tickets is way easier with the help of DoNotPay, which is why you shouldn't rush to pay just yet. The app can help you through the whole process, and it'll provide you with what you have to say. All you have to do is provide accurate information to get the appropriate instructions for your appeal. Use it in your .
Can I reduce the amount I have to pay for my ticket in New Haven?
Some states reduce the amount you have to pay for parking tickets, and often it depends on your income, profile, community standing, among others. Here are some common ways to reduce how much you have to pay for:
Dispute your parking ticket. Often you can get a reduction just by disputing. Also, if there's a ground that shows that there was a basis for your ticket, but you're able to prove that some other factors contributed to its issuance, then they might consider reducing your fee.

Pay the ticket immediately. If you want to settle the ticket and not have to think about it, the appropriate office might reduce your penalty for paying early. This is at least a good way to avoid penalties for paying late.

Show your income status. Some states allow people who fall under a lower bracket to pay reduced fines for parking tickets.
Pay or dispute?
| | | | | |
| --- | --- | --- | --- | --- |
| | Ease | Time it takes | Cost | Benefits |
| Dispute | Faster and easier with DoNotPay. | Less than five minutes, then you're all set. | $18/month | You won't have to pay the fine. |
| Pay | It can be a hassle, especially if you pay in person. | Varies depending on whether you pay online or in person, but at least half a day | The cost of your ticket, transportation, and missing work. | Your wallet will be lighter. |
What can happen if I don't pay my New Haven parking ticket?
Throwing your New Have parking tickets in the bin feels so gratifying, especially if you know you don't deserve it. But there are several consequences if you ignore these tickets, including the following:
Your fine can double or triple within days. To avoid this, you can dispute your ticket with the help of DoNotPay.

The app can offer you a script of what to say, and you won't run the risk of having excessive penalties.

The DMV can refuse to renew your vehicle registration and your driver's license.

Collection agencies will go after you
What if the parking citation was removed from my car?
In case someone steals your parking ticket, or it gets blown off of your car, that's not the end of it. The New Haven government will send you a letter of notice. They have your license plate number, and they can always find you. However, there's a risk that your notification will be delayed, which means you might incur late penalties.
Once you're notified of any violation and you noticed that you've been charged fines, consider disputing the citation. DoNotPay can help you challenge your penalties and parking tickets and craft an explanation of why you don't deserve the same. Be accurate and specific with the answers you provide in the app so that it can give you a proper assessment. Don't forget to indicate the fact that the ticket was missing, which is why you didn't know about any violation. Use it in your .
Can parking tickets affect my car insurance?
Parking tickets don't usually affect your insurance, and it depends on a combination of many factors. Auto insurance companies like Farmers Insurance won't increase your premium because of a parking ticket. They'll have to look at several factors, such as whether you have multiple violations of the same kind, or worse.
If it's your first time receiving a parking ticket, then your insurance should still be good. But once you start having a record of repeated violations, your vehicle registration may be suspended. Then the auto insurance company may refuse to insure your vehicle. You can avoid any of this from happening by disputing your parking tickets. Use it in your to contest your parking tickets issued by private companies too!
Do I still have to settle my New Haven parking ticket even if I'm not from that area?
Even if you're passing by New Haven or you've been a residence for many years, you'll still have to settle the ticket. Drivers in the United States are expected to observe traffic rules and regulations of the places they pass through, and New Haven shouldn't be an exception. To avoid getting into any trouble, be sure to familiarize yourself with the traffic rules of New Haven.
Don't worry because you can still dispute any tickets you receive from New Haven through DoNotPay. DoNotPay does not distinguish which State you're from and where the alleged violation was committed. The app will still provide you with a script in a matter of minutes, and you're all set to resolve any problem.
Can I get a citation even if I'm sitting in my car?
Some people find it impossible to be issued a ticket even if they're still seated behind the wheel, but it's possible. This Quora user asked the same question, and the answers are enlightening.
Do I have to pay for parking tickets I got in a rental car?
You must settle your parking tickets before you return a rented car. In most agreements between you and the car rental company like Avis, it'll show that you're responsible for the vehicle once it is in your possession. Most importantly, the company will pay the fines, and deduct them plus an additional fee from your credit card.
Don't worry, because you can also contest parking tickets even for rental cars. DoNotPay offers its services in a fast and efficient manner, and you can resolve your disputes immediately.
Does New Haven earn a lot from parking tickets?
Most cities earn a lot of income from parking tickets since driving is a way of life in America. New Haven isn't an exception, and it's one of the cities that earn tons from parking violations—$5.9 million to be exact. A part of what they make from tickets is used to fund city services.
DoNotPay helps users fight and beat tickets in any city
DoNotPay helps users fight parking tickets in every city in the US and UK. Here are a few cities we've helped users dispute the most tickets in:
Does DoNotPay offer other services?
DoNotPay offers other services besides help you dispute parking tickets! DoNotPay can help you:
Fight speeding tickets

Contest traffic tickets

Help you get compensation for delayed and canceled flights
To Summarize
| | |
| --- | --- |
| The city of New Haven parking tickets can be disputed | DoNotPay can give you a script for your hearing in a matter of seconds, ensuring success in your dispute. |
| You can settle your parking tickets online. | But also in other ways. |
| Hiring a lawyer to dispute parking tickets can be expensive. | You don't need a lawyer to settle your New Haven parking disputes. DoNotPay is all you need to help you. |
| DoNotPay has other services you can benefit from. | Such as contesting traffic and speeding tickets, canceling services, and suing companies in small claims court. |
| DoNotPay can help settle your disputes even with private parking companies. | Regardless of where you got your parking ticket, DoNotPay will provide you with reliable help appealing it. |
| Disputing New Haven parking tickets is possible even if you aren't from the area. | DoNotPay can provide you with the proper advice to dispute your parking tickets, regardless of where you live. |