Dispute Nassau County parking tickets
According to TechCrunch, DoNotPay provides assistance to people in all 50 states in the U.S. and the U.K. contest parking tickets.

Here are the simple steps you can start with to dispute your parking violation:
Our services are accessible through our official

website

.

Once logged in, you will have to answer our chatbot's questions about your case. Answer as honestly as possible so that the chatbot can provide you with an accurate answer.

You will then be prompted by the app to upload a picture of the parking ticket that was issued to you.

DoNotPay will scan the details of your citation, and once done, it will generate a template that you can use in your appeal

.
Watch how to dispute parking tickets in any city:
Is contesting a parking ticket in Nassau County worth the hassle? Can I beat it?

The short answer is yes, you can dispute a parking infraction in Nassau County in 3 simple steps. The first thing to do is to file for a petition within 30 days upon receipt of the citation. The citation may become delinquent if you don't write your appeal explaining your case to Nassau County Traffic and Parking Violations Agency. There are 3 ways to do this, either you can request a review by mail, online, or in-person.
If the authorities deemed it necessary to make you amenable for the citation, you have an option to challenge it by requesting an administrative hearing, and you can expect that an independent hearing officer will oversee it. Should you find the result of the hearing unsatisfactory, you can still take your case to the Superior Court.
As complicated as it may sound, the DoNotPay app will make it simple for you. By deciding to utilize our services, you can get the exact template which you can use in filing a petition for review.
Likewise, the likelihood of a successful appeal depends on the documents you submit. Here are some of the supporting documents that you should send in:
Documentary evidence such as photographs

Latest vehicle registration information

Change in vehicle ownership information (if applicable)
DoNotPay will help you with this and ask you to submit the exact documents you need to successfully contest your ticket. Your time and effort using DoNotPay are worth it, especially when you are aware of your options in challenging your citation. Appeal your ticket directly from any
How much time does DoNotPay save?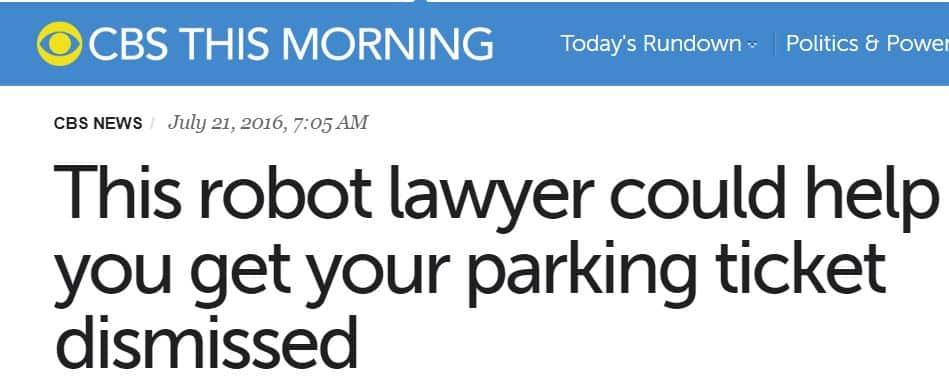 DoNotPay app is powered by an AI chatbot that can answer your parking ticket concern in just 120 seconds. Preparing for an appeal normally takes a few hours of your time because of the information gathering process. Without guidance and assistance, the process may take you longer, half a day, at least. This includes reading cases, gathering related data, and preparing your written appeal to submit to Nassau County Traffic and Parking Violations Agency.
Why choose a time-consuming process, when DoNotPay can do it for you faster? If you have a full-time job, missing a day solely because of your preparation for appeal is not practical. Appeal your ticket directly from any
Will DoNotPay help me fight a Nassau County, NY parking ticket from a private company?

DoNotPay covers all parking tickets issued either by the government or any private parking company, including:
Douglas Parking

Lanier Parking

Laz Parking

Towne Park

Ace Parking

Imperial Parking, aka Impark

SP+, aka Standard Parking

ABM Parking Services
Appeal your ticket from private companies directly from any
Do I need to get a lawyer to dispute Nassau County parking citations?

Getting a lawyer is not mandatory to clear out your Nassau County parking ticket. It could be expensive and may not be worth it.
With DoNotPay, it's no longer necessary to hire a lawyer that may cost you hundreds or even thousands of your hard-earned dollars. DoNotPay was the first to introduce an AI-powered chatbot that specializes in helping you appeal your parking tickets, among other services. The first thing to do is to download and install the app. Then, the app will ask you questions which you should answer honestly so that the chatbot can provide you with a correct answer for your case. It will give you an exact template that you can use when filing your appeal to Nassau County.
Hiring a lawyer may not be necessary, but if you still want to have one, consider doing these things first:
Research and ask for referrals. Hiring the right lawyer for your case is not easy. You should have options because hiring the first one you meet is not recommended. Do some research, and if you have the opportunity, ask your trusted associates or friends for referrals.
Be wary of scams. There are many fraudsters and scammers, and they're on the lookout for cases like yours. Be aware of these people and be attentive to the early signs. A legitimate lawyer doesn't make false promises and has an established law firm office address. Deceitful lawyers, on the other hand, don't pay attention to your details, offer alteration of the evidence, and seem unprepared in general.
Review the lawyer's CV and credentials. Hiring a newly licensed lawyer is not really a bad thing itself, and their services are usually cheaper too. But you would not risk your case on someone who doesn't have enough experience. Review your lawyer's CV and credentials, and check if they have positive reviews from previous clients.
Consider the cost. Have an overview of the cost should you decide to get the services of a lawyer. You might end up spending more than you expected, and an experienced lawyer may win your case, but the cost may not be worth it. A novice lawyer may be less expensive, but the risk is higher.
Appeal your ticket directly from any
How much does a parking citation lawyer in Nassau County cost?

Experienced lawyers may charge around $500 per ticket case. A low-cost novice lawyer may charge half, but again, the success rate may be lower as well. Hiring the services of a lawyer that specializes in parking tickets may cost you more than the fine itself, and your success rate is the same when using DoNotPay. If you want to save money but get high-quality service, use the DoNotPay app.
Appeal your ticket directly from any
What if I just want to pay my fine and move on? How to pay a Nassau County ticket?

The process of paying your parking fines in Nassau county is complicated, time-consuming, and has many steps to follow. Thus, it is recommended to dispute your citation before deciding to pay it. With the DoNotPay app, the complicated process is easier.
However, if you just want to pay it and get it over with, you have three payment methods in Nassau County:
Online payment. Visit Nassau County's online payment facility

here

. Fill out the necessary details being asked by the form. You can either use a credit card, debit card, prepaid or gift cards, and electronic check as payment.
Via Mail. This is the most basic and oldest way of sending payment via snail mail. What you should do is either pay by money order or check in US dollars. The key here is to mail your payment as soon as possible because it can take up to two weeks before the payment is completely processed. You may send your parking ticket payments to:

Nassau County Traffic and Parking Violations Agency

16 Cooper St W

Hempstead, NY 11550

United States

In-person. If you want to pay in your parking ticket in person, you may visit the Nassau County Traffic and Parking Violations Agency from Monday through Friday, between 8:30 a.m. and 4:00 p.m. An appointment is not necessary, but it is recommended that you come early because they work on a first-come, first-served basis. You can either pay in cash, check, money order, and credit or debit card.
If you want to learn more regarding their different payment options, you may check out their official website here.
Pay or dispute?
| | | | | |
| --- | --- | --- | --- | --- |
| | Difficulty | Period | Cost | Advantages |
| Dispute | Simple with DoNotPay | Get answers in 120 seconds | $18/month | Minimal cost or no money needed to spend at all |
| Pay | Quite a hassle | Several hours | Fines plus other possible fees | You don't have to think about parking tickets |
Can I get my parking fine reduced?

The Nassau County Traffic and Parking Violations Agency gives the drivers who challenge their parking tickets online, by mail, or in person an option to appeal within 30 days upon receipt of the citation. You must dispute the ticket to have the fine discounted.
Just take note that granting of discounts depends on how severe the infraction is. If your car obstructed an intersection, you may not get a discount. Vehicles possessing commercial plates may also not qualify for a discount.
Should you receive a reduction in your citation, your 'no parking zone' or 'expired meter' ticket fee can go from $65 to $43.
A penalty of ten dollars will be added to your fee if payment for your parking ticket fee is not made within 30 days upon receipt of the ticket.
Appeal your ticket directly from any
What happens if I don't pay a Nassau County fine?

Unsettled parking tickets don't usually result in jail time, but the penalty could reach $60 if it remains unpaid for more than 90 days. The state will also start to charge monthly interests after 100 days should non-payment of the infraction persist.
You should also be aware that the parking authorities have your license plate on record. Thus your vehicle may be towed if you continue to ignore your citation penalties. There were several instances where the Nassau County authorities towed vehicles with too many pending citations. Collection agencies also come into the picture if the authorities decide to forward the case to them.
Make an appeal now to your citation ticket via DoNotPay iPhone app, or through your browser. It's possible that you will no longer need to pay any fines. All you need is 120 seconds with the DoNotPay app. Appeal your ticket directly from any
Do parking infractions go on my driving record?
Technically, parking tickets do not come up on your driving record. Excessive parking tickets and unpaid fines are the cases that can be forwarded to the city's Department of Motor Vehicles (DMV), which can lead to consequences. If you neglect your obligation with your parking ticket fines, the DMV can recommend suspension of your driver's license or prevent you from renewing your vehicle registration.
Can a parking citation make my car insurance go up?
Most insurance companies like Geico don't have a database to check if you have pending parking tickets. Thus your insurance premium cost has no direct effect on them. Just be aware that continuous neglect of your parking tickets can still have consequences. According to a forum thread on Reddit.com, some insurance companies might not be able to renew your policy because of excessive unpaid traffic citations.
Other repercussions from non-payment of parking tickets include:
A red flag on your credit rating as noted in

TheBalance

.

Your tax refund may be compromised if the state forwards the IRS a report regarding your unpaid parking tickets.
What if I got an infraction and someone took it off my windshield?
Should this happen, the registered car owner will be notified via mail with at least two notices before the parking ticket's due date. In case the given address of the owner is incorrect, or the registered owner moved without updating the address, the notices and parking tickets will be forwarded to a collection agency. If the collection agency still can't locate the registered owner, they will submit a report to major credit agencies, which may put a red flag on the owner's credit record.
For more information about this matter, visit this Quora thread.
Do I need to pay a fine from Nassau County, NY, if I'm not from New York?
Nassau County will not accept any kind of excuse, like alleging that you do not know the local regulations because you're not from Nassau. You should learn about the rules in Nassau County before driving there.
However, you need not worry, you can challenge a parking ticket regardless of the city where you live. Appeal your ticket directly from any
Can I really get a parking citation while seated behind the wheel?
The short answer is yes. As long as the vehicle is illegally parked, a parking officer can still issue you a ticket even if you're there sitting in the car. There may be urgent matters that you need to attend to immediately making you stop your vehicle. You should be attentive of the parking signs and other street signs. As a licensed driver, you should comply with all the parking regulations wherever you plan to stop or park.
You can learn more about this issue here.
Do I have to pay for tickets that I'm issued while driving a rental car?
The answer is yes. If you have a pending parking ticket, the record will be seen by the car rental company, which will eventually charge you accordingly.
According to AutoSlash, car renters will be charged and are responsible for parking fines. It's advisable to settle the fine as soon as possible. If you fail to settle your rental car's parking ticket citation on or before the due date, the company will apply additional charges which can reach $100.
How much income does Nassau County get from parking tickets?
The average parking ticket in Nassau County costs between $30 and $120. While this may look like not much for one parking ticket, the Nassau County itself issues a lot of citations every day.
According to an article in Newsday, Nassau County made around $73 million from parking infractions in 2018.
DoNotPay helps users fight and beat tickets in any city
DoNotPay helps users fight parking tickets in every city in the US and UK. Here are a few cities we've helped users dispute the most tickets in:
What else can DoNotPay do for me?
DoNotPay can also help you:
Beat traffic tickets

Contest speeding tickets

Dispute parking tickets in other cities!

Help you get compensation for delayed and canceled flights
A summary of info on parking tickets in Nassau County:
| | |
| --- | --- |
| Nassau County parking tickets are easy to challenge. | By using DoNotPay, appealing parking tickets is not complicated. |
| You can appeal your parking ticket conveniently by using DoNotPay. | DoNotPay has a site and user-friendly app that allows you to find the best solutions for your parking ticket appeal within 120 seconds. |
| DoNotPay assist you in challenging parking tickets from any private parking company. | DoNotPay doesn't only focus on private parking companies, the app also covers government-issued tickets. |
| If you neglect your obligation to pay your parking ticket, there will be consequences. | Consequences are not limited to fines, your registration may also be affected. |
| Challenging your parking ticket in court can be hard without DoNotPay. | With accurate info from you, DoNotPay can help you. |
| You don't have to pay your Nassau county parking fine. | With the help of DoNotPay, you can be aware of the options for appealing so you won't have to pay your parking fines. |
| Disputing a parking ticket is worth your time. | WithDoNotPay, you'll learn how to deal with your parking ticket in 120 seconds. |