Malwarebytes Free Trial
—Try Before You Buy
Malwarebytes is a program that detects and eliminates malware. It is owned by Malwarebytes Corporation, and it works on Microsoft Windows, macOS, Android, iOS, and Chrome OS. The first version was introduced in 2006, under the name Malwarebytes Anti-Malware. 
You can get Malwarebytes for free or pay for the premium version. There are also different options for business and private users. The program can protect against:
Malware

Adware

Spyware

Rogue security software

Ransomware

Exploit 

Malicious websites
Everything You Need To Know About Malwarebytes Free Trial

You can start your Malwarebytes free trial by downloading the program from their homepage for free. The process doesn't require any payment details at that point, and there are no registration forms to complete. 
As soon as you hit the Free Download button, the installation file will start downloading, and you will be taken to the page that points out the biggest differences between the free and the premium version. 
After you install Malwarebytes on your device, you will be able to use all of its features for 14 days. When the free trial expires, you can continue using it at no extra charge, but the program will run only the most basic tasks. For full protection, you will have to pay for a one-year or two-year license. 
The Malwarebytes for iOS and Android can also be used for free, but if you want to have access to all features, you will have to sign up for the premium subscription. Both apps offer a 30-day free trial period before the first charge. 
What To Check Before Starting Malwarebytes Free Trial
Before starting your Malwarebytes trial version download, you should check whether this program will run on your computer. The minimum requirements for Windows and macOS computers are listed in the table below:
macOS

Windows

macOS 10.11 (or higher)

Active Internet connection

Any hardware capable of running macOS 10.11

Operating system: Windows 10, 8, 8.1, 7, Vista, and XP

Active Internet connection

800MHz CPU or faster, with SSE2 technology

2048 MB RAM (64-bit OS), 1024 MB (32-bit OS, except 512 MB for Windows XP)

250 MB of free hard disk space

1024x768 or higher screen resolution
Malwarebytes Premium vs.
Malwarebytes Free Version (No Trial)
If you're not sure whether the free version of Malwarebytes is enough for you, or you need to sign up for the premium features, this overview might help you decide:
| | | |
| --- | --- | --- |
| Feature | Free Version | Premium Version |
| Cleans the device with already-existing malware issues on demand | ✓ | ✓ |
| Stops malware that slows down the computer performance | ✗ | ✓ |
| Protects your privacy from hackers | ✗ | ✓ |
| Ensures protection from harmful websites | ✗ | ✓ |
| Real-time protection  | ✗ | ✓ |
How To Start the Malwarebytes Free Trial
Starting your Malwarebytes free trial is not complicated:
Access the Malwarebytes homepage from any web browser

Click on

Free Download

in the upper right corner

Wait for the installation file to download

Find the downloaded file and click twice to start the installation process for your device

Follow the on-screen instructions
Once you're done, Malwarebytes should start automatically. Installing the Malwarebytes app on your mobile device works like in every other app's case. 
What Is the Price of Malwarebytes Premium? 
Besides the list of premium features, the pricing can also determine whether you will choose to pay for this software. The cost of the subscription depends on the license period and the number of computers you plan to protect. The more devices you pay for, the bigger the discount. 
The table below can help you understand their pricing system (7% tax is reflected in the prices):
| | | |
| --- | --- | --- |
| Number of Devices | One-year Subscription | Two-year Subscription |
| One | $3.57 per month/$42.79 per year | $3.12 per month/$74.88 for two years |
| Five | $7.13 per month/$85.59 per year | $6.24 per month/$149.78 for two years |
| Ten | $11.59 per month/$139.09 per year | $10.14 per month/$243.4 for two years |
If you decide to buy the license, you will have to make a payment on their website and enter the activation key in the program to continue using all the premium features after the free trial ends. 
The pricing for Malwarebytes iOS and Android apps works differently. While the subscription for computers allows only annual billing, smartphone users can choose between monthly charges ($1.49 per month) or annual subscriptions ($11.99 per year). 
Can I Start the Malwarebytes Free Trial Without the Risk of Being Charged?
Downloading the Malwarebytes program free of charge doesn't put you at risk of being charged when the trial ends. Since they don't demand payment information upfront, once the free trial expires, you will revert to the limited, free version of the program. Only when you purchase the license will your credit card be charged. 
Can I Change My Mind After I Subscribe to Malwarebytes Premium?
As stated on their Support page, if you purchased Malwarebytes for personal use, you qualify for their 60-day money-back guarantee. 
You can request a refund by contacting their customer support team and filling out the Submit a request form.
DoNotPay Makes Automatic Subscription Renewals a Thing of the Past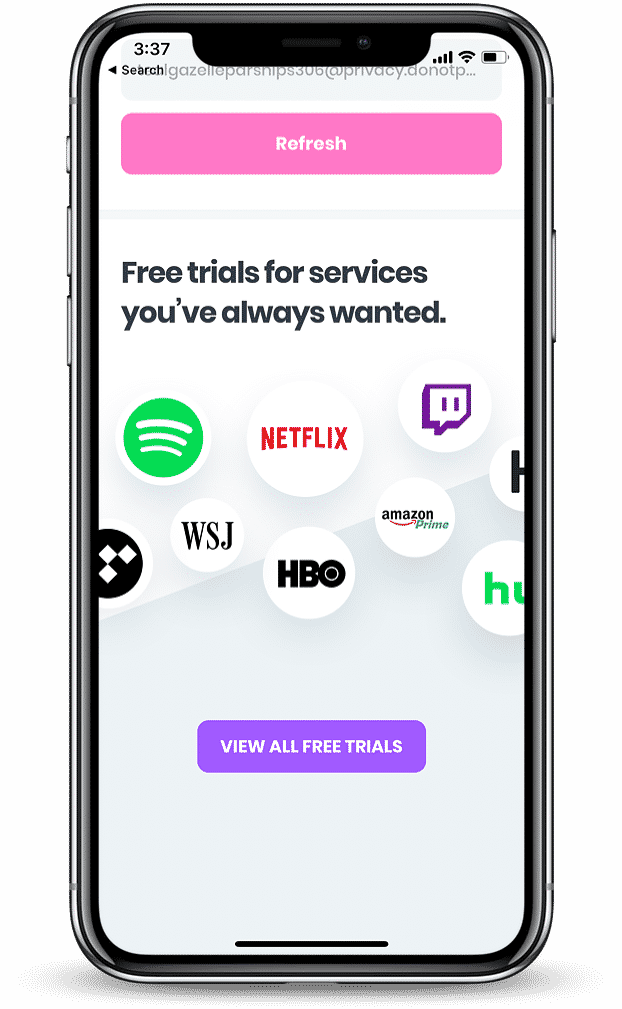 Malwarebytes free trial doesn't require payment information, but many other companies won't let you try their services without entering credit card details at the signup. While some people choose to devise complicated notification systems and calendar reminders for monitoring their free trials and avoiding automatic charges, with DoNotPay, you can try those services risk-free!
Have you ever wanted to start a free trial for a streaming platform like Hulu or Netflix, but gave up because you were afraid you wouldn't cancel on time? You don't have to worry anymore. 
DoNotPay comes with a great feature that helps you create a Free Trial Card, a virtual credit card that has valid payment information, but no money on it. When signing up for a free trial, generate the credit card number and expiration date, and leave your real card in the wallet. You can access this DoNotPay's feature from any web browser. 
When the free trial expires, and the company tries to charge you for the first month of service, they won't be able to do so since our card is not connected to your bank account. Your free trial account will be terminated without hassle, even if you forget about it. 
Our Free Trial Card can also be used in the following situations:
Fighting

robocall

scammers

Protecting yourself from malicious links in

spam emails

 

Turning the tables on scammers who use

spam text messages
DoNotPay Helps With More Than Free Trials

The world's first robot lawyer can do so much more than assist in trying out new services. Did you know that DoNotPay can help you dispute parking tickets in any city? Poor Wi-Fi on your JetBlue flight even though you paid the full price? Our app will step in and make sure your rights are protected. 
Access DoNotPay from a web browser. With our help, you will be able to:
Challenge speeding tickets

Dispute traffic tickets