Dispute Parking Tickets in Madison, WI in Two Minutes
DoNotPay's free app allows you to contest your parking tickets for free in only 120 seconds. As BBC News reports, a British developer created the world's very first robot lawyer to help people dispute their parking tickets and fight other bureaucratic and legal battles. Though DoNotPay started operations in the UK and New York only, it has expanded across the entire U.S.A. Access the app through any web browser.

Here are the quick and simple steps that you can follow to appeal your citation:
Access the app through your web browser. 

The chatbot will ask a few questions regarding your situation, which you will need to answer accurately. You need to state your type of infraction, where you received it, and why you want to fight the ticket.

The app then will ask you to send a picture of the ticket that you received.

When the DoNotPay app gets all the data that it needs, it will send you the exact script that you can use in your hearing. 
Watch how to dispute parking tickets in any city:
How hard is it to contest a parking infraction in Madison? Is it worth my time?

It is absolutely worth it! Fighting a parking citation becomes less of a hassle when you use DoNotPay. The app is AI-powered and will give you suggestions on how to appeal your ticket. Here are some of the reasons that can get your fine dismissed:
Street signage is faded

Officers issued the citation after you sold the vehicle

The details on the ticket are incorrect or missing

You did not have the car at the time of issuance

You were only a minute lat
To read through the rest, you can visit the City of Madison's official website. 
The City of Madison has provided ample information on the ways to fight the ticket, making it worth your time and effort to try. The most effortless way is to follow DoNotPay's advice. Access the app through any web browser.
How much time does DoNotPay save when contesting Madison parking tickets?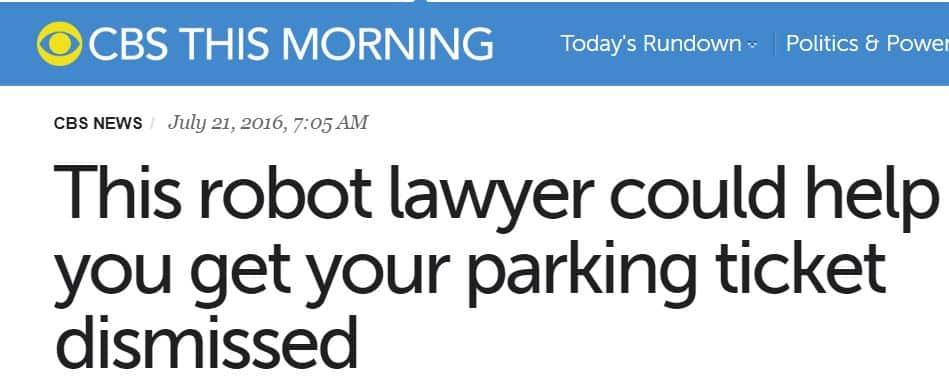 If you use the DoNotPay app, you can receive a step-by-step solution on how to fight your ticket for free in only two minutes. Access the app through any web browser. However, if you decide to do everything on your own, it will probably take you a day to compile all the necessary documentation. You will have to fill out forms, do your research, and wait in many lines. 
If you have a full-time job, it will be best if you choose the fastest option. If you miss a day's worth of work, you might lose more money than the amount of the parking fine. 
Will DoNotPay help me fight parking infractions in Madison from private companies?

DoNotPay can help you beat parking citations from any private company, including:
Towne Park

Ace Parking

Douglas Parking

Imperial Parking, aka Impark

Laz Parking

Lanier Parking

SP+, aka Standard Parking

ABM Parking Services
Do I need a lawyer to dispute a parking citation in Madison?

Getting an attorney is very expensive. It may cost you more than the citation fine itself. Fortunately, the city of Madison does not require you to hire a lawyer to help you dispute your parking ticket. 
The DoNotPay app is an excellent alternative that you can use. By using DoNotPay, you can receive a step-by-step solution to your problem in only a few minutes. Access the app through any web browser.
However, if you prefer hiring a lawyer, there are some things you have to do:
Thorough research: You need to know all about any lawyer that may be representing you in court. You can use the internet to look for the information you need. For help finding the perfect legal adviser, you can ask for recommendations from your friends and family.
Check their credentials: Check customer reviews to find out what kind of experience and success rate they have. 
Steer clear of scams: You need to be careful when choosing a lawyer as there are many out there who will try to scam you and take shortcuts just to make money. 
Consider the costs: Since it is very costly to get a lawyer, you will have to weigh the costs and benefits of hiring one before actually doing so. It is clearly unwise to spend more money on an attorney than on the citation fine itself. 
Conduct an interview: The best way to learn more about a person is by speaking to them face-to-face. This will also be your chance to ask them all the questions you have about your case and their track record. 
How much do lawyers charge for a parking fine dispute in Madison?

The cost of getting a lawyer to fight your parking tickets differs from one city to another. It also depends on the severity of the violation that you have been ticketed for. Lawyer's fees range from $100 to more than a thousand dollars.
Instead of spending this money, you can download DoNotPay's free app and dispute your infraction for free. All you need to do is answer the questions that the chatbot asks and provide the evidence it requests. Once it has all the necessary data, it will give you the exact script that you can use in filing your dispute. Access the app through any web browser.
What if my dispute fails? How can I pay a Madison parking fine?

Before deciding to pay your fine, you should try fighting it. You could eliminate all penalties that the city has leveled against you. You can benefit from the help of DoNotPay to make disputing your ticket easier. The app will provide you with the argument and script to use in only two minutes. Access DoNotPay through any web browser.
However, if you have no other choice but to pay the fine, the city of Madison provides different payment options for you:
Online:

 If you wish to pay your ticket online, you need to prepare the following items:

license plate number and state, 

parking ticket number, 

credit card (Visa, Mastercard, or Discover) or debit card details

Besides the items above, you will also need to find out if you have other unpaid parking tickets. Follow

this link

for more information.

By Mail:

If you prefer this method, you can only pay via a check or money order. Write the citation number on the check or money order. You should never send cash by mail. Make your check or money order payable to:

City Treasurer, PO BOX 20,

Madison, WI, 53701-0020

In person:

You can pay in any method, cash, money order, check, Visa, Mastercard, Discover, or debit card at this address:

Court Services, Madison Police Department, Rm. GR 21, 211 S. Carroll Street, Madison, WI 53703

They are open Mondays to Fridays from 7:30 a.m. to 4:15 p.m.
Dispute or Pay?
| | | | | |
| --- | --- | --- | --- | --- |
| | Ease | Time it takes | Cost | Benefits |
| Dispute | DoNotPay helps the process become easier | You can get the exact script to follow in two minutes | Possibly eliminate all fines | You won't have to pay  |
| Pay | The most convenient way would be to pay online | Online payments take a few minutes. In-person: about half a day. By mail: about two weeks | The fine plus any cost of transportation or missing work | Your wallet will be lighter |
Can I get my parking ticket reduced in Madison?

Simply fighting your parking citation can get you a reduction in your fine. DoNotPay will help you contest your fine in less than 2 minutes! Access the app through any web browser.
If you want parking officials to review your tickets for errors, there is an online review form that you can fill out. If the Madison Police Department agrees that the citation was issued in error, they will dismiss your ticket, as well as your fines. You only get to do this within ten days of issuance. 
You can contact the Madison city administration and ask about the different payment plans they have. Although this option does not reduce the total amount, it lets you pay in installments. 
What can happen if I don't pay my citation in the City of Madison?
In 2019, the Madison City Council extended the time limit for people to pay their parking fines. Instead of 21 days, you now have 25 days to make your payments before the city charges an extra fee of $10.
Besides the late fees, if the city forwards your case to the local DMV, they may suspend your driver's license. Not only that, but they could also reject your vehicle registration renewal application. If you continue neglecting to pay your fines, the city of Madison may notify a collection agency. If this happens, your credit rating may be affected, and you might have difficulty getting a loan in the future. 
Try not to let it get to this point. Once you receive a notice from the government, you should deal with it as soon as possible. You can fight the citation right away with the help of DoNotPay. Access the app through any web browser. However, if you are left with no other option, you can pay via the payment methods listed above. 
Do Madison, WI parking infractions go on my driving record? Should I be worried?
Luckily, parking tickets do not go on your driving record. However, if you don't pay your fines, you may incur other penalties. Your driver's license may get suspended, your vehicle registration could get rejected, vehicle booted, towed, or impounded, credit score reduced, and late fees added. 
To avoid the additional penalties, you should dispute the ticket. You will have the chance to eliminate all fines. Use the free DoNotPay app to help you with the process. Access the app through any web browser.
Can I get a parking ticket in Madison while I'm in my car?
If you stop to receive a call or respond to a text, make sure that you have scanned the area for street signs. If you are illegally parked, officers have every right to issue you a citation. It does not matter if you are in the car or standing near your vehicle.
Whether or not you believe that you were unfairly ticketed, you should appeal it. Download the DoNotPay app, and within a couple of minutes, you'll receive the exact script to use in your dispute. Access the app through any web browser.
You can learn more by reading this Quora post.
What if someone takes the ticket off my car for fun and I never see it?
There have been various cases wherein a passerby has taken a parking ticket off of a windshield. They may place it on their vehicle to deceive parking enforcement into thinking that they have already been ticketed. In other cases, the wind blows the slip off of the car. Nevertheless, you are still responsible for paying the fine.
The city will send you a letter notifying you of your infraction. Never avoid dealing with the citation because you will end up paying a larger amount due to late fees. Always try to dispute the ticket first. With the help of DoNotPay, you can eliminate all the fines that you have incurred. Access the app through any web browser.
You can read through this thread to learn more.
Can my car insurance go up because of my parking infractions in Madison?
No, auto insurance companies, such as American Family Insurance, do not increase your premium because you've received a parking ticket. As long as you are diligent in paying your dues, your insurer will not change your insurance policy in any way. However, if you neglect to pay your parking fines, your vehicle registration renewal may be rejected by the DMV. When this happens, your insurance provider may not be able to cover your vehicle. When you re-apply, your premium may go up. Your insurer could also force you to switch to a different policy.
How much does the City of Madison make from parking tickets?
According to the Wisconsin State Journal, the city of Madison earned $5.2 million from parking tickets in 2017. The most common violations that people commit in Madison are letting the meter expire, parking longer than the time limit, and parking on private property. The article notes that the money the city receives goes into the city's general fund. Madison uses it to cover the expenses for city services, such as public safety, administrative costs, city debt payments, and more. 
What if I'm not from Madison? Do I need to pay parking fines if I'm from another state?
As a licensed driver, you are expected to know the traffic and parking regulations in the areas in which you drive. If you are visiting Madison, Wisconsin, from a different city, you still need to be aware of the rules that you have to follow. If the city believes that you have made any violation, you will be held accountable.
The great news is that Madison provides an online method for you to pay your dues or request a review of your ticket. This option is especially convenient for those who do not live in the city. You can also use DoNotPay to help deal with this situation. Access the app through any web browser.
You can find out about other people's experiences by reading through this Reddit thread.
I was driving a rental car in Madison when I got a ticket. Do I have to pay it off?
If you are driving a rental car, you are still responsible for all the parking tickets that officers issue to you. Although the city will charge the fines to the car rental company, the company will get you to pay the total amount plus an administrative fee. Car rental companies, such as Avis, will send you the details of your violation and will automatically charge the credit card or debit card that you used for the rental.
DoNotPay helps users fight and beat tickets in any city
DoNotPay helps users fight parking tickets in every city in the US and UK. Here are a few cities we've helped users dispute the most tickets in:
What else can DoNotPay do?
Fighting your parking ticket is not the only service that DoNotPay offers. We can also help you:
Beat speeding tickets

Contest traffic tickets

Make a virtual credit card to avoid getting charged at the end of a free trial

Help you get compensation for delayed and canceled flights
Access DoNotPay through any web browser.
To Summarize Parking Tickets Madison, WI:
| | |
| --- | --- |
| Disputing a ticket is quick, cost-efficient, and easy. | Using DoNotPay, you can receive the exact script to use in a hearing in only 120 seconds, for free. |
| Other than government-issued tickets, DoNotPay can help you fight tickets from any private company. | Check the partial list of companies above. |
| Madison provides various payment options.  | You can pay online, by mail, or in-person.  |
| You are responsible for paying all the parking tickets you receive. | You must deal with the fine even if you found no parking ticket on your car, you were sitting behind the wheel, live in a different city, or were driving a rental car.  |
| Your auto insurance premium will not increase because of parking tickets.  | However, if the DMV rejects your car registration renewal, the insurer may not cover your vehicle. |
| Other than fighting parking tickets, DoNotPay offers other services. | We can help you sue companies, beat your speeding tickets, and more.  |