How to Sign Up for Live TV Free Trial Without Giving Your Credit Card Info

Live-streaming allows you to be in the present moment. You can now keep up with events as they appear on your TV. Initially, live streaming was limited to social media platforms until several TV platforms integrated live TV sessions as part of their service delivery plans.
Hulu, an American TV broadcasting platform, has partnered with Live TV to bring you a full streaming library and a combination of TV series, movies, and recent episodes of some network shows. You, however, need to pay a subscription fee to access these live streams.
The free trials upgrade to a paid subscription immediately after they expire. DoNotPay allows you to . Sign up to our website and manage your subscriptions instantly.
Does Live TV Offer a Free Trial?
Yes, , in conjunction with Hulu, commonly referred to as Hulu  + Live TV,  offers a 7-day free trial period to all new users. The free trial has lesser features as compared to the standard Hulu + Live TV package.
You can access the following channels on a Hulu+ Live TV free trial:
| | | |
| --- | --- | --- |
| CNN | TLC | Telemundo |
| ESPN | The CW | HGTV |
The standard Hulu + Live TV package has more than 75 channels, including CNN, MTV, Nickelodeon, and Comedy Central.
How to Register for a Live TV Free Trial
To sign up for a Hulu  +Live TV free trials, follow the following steps:
Log onto the Hulu plans page on your PC
Tap the Start Your Free Trial button
Choose the Hulu  +Live TV
Provide your email address, password, and personal info
Select your payment method and tap Submit
Your free trials will be immediately activated and the countdown for the seven days will start. You can access your live streaming from any supported device, personalize the recommendations, and watch live streams.
Does the Hulu + Live TV Free Trial Automatically Renew Into a Paid Subscription?
Yes, the Hulu+ Live TV free subscription automatically upgrades to a paid subscription once the free trial period is over. To avoid this automatic upgrade, you should cancel your subscription at least two days before the seventh day.
If you had no intention of upgrading your Hulu=Live TV subscription but forgot to cancel your subscription on time, you can get a refund. Here is a simplified way to get a refund from Hulu.
Avoid Automatic Renewal With DoNotPay's Virtual Credit Card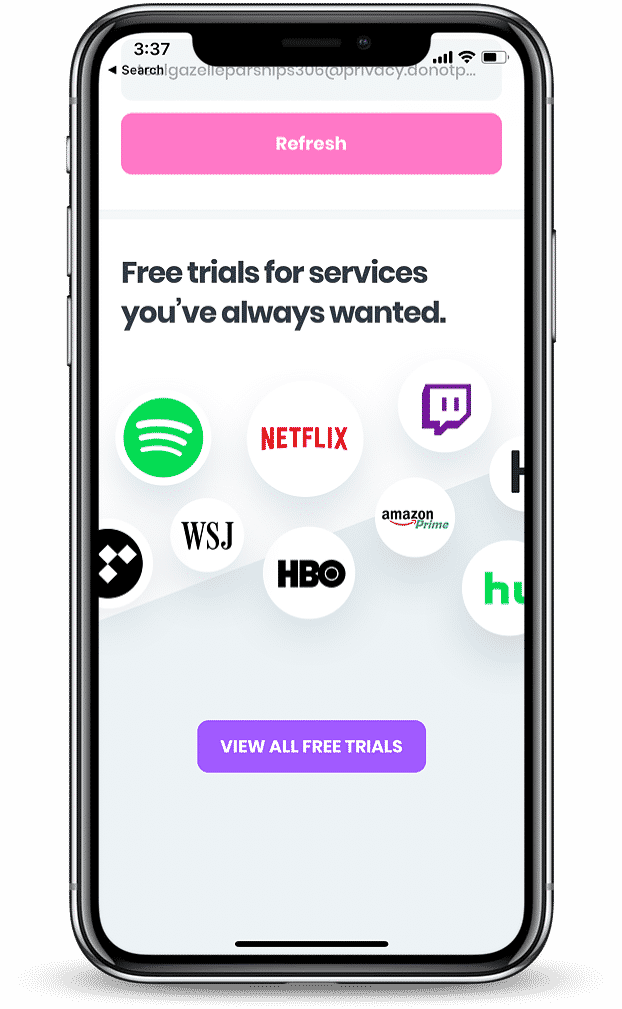 More often than not, we forget to cancel our free trials on time. Unfortunately, despite giving you a great time, almost all free trials come with a downside; you must submit your credit card details during sign-up.
Once the free trial is over, you will be automatically billed for the services you signed up for, unless you cancel your subscription before the trial period expires. This automatic upgrade leads to us paying for services we had not budgeted for.
The DoNotPay Free trial card allows you to subscribe to free trials without linking your credit card. Once you sign up on our website for free trial services, we will give you a virtual credit card to use in place of your original credit card.
The DoNotPay virtual credit card generator uses the same technology as a bank credit card generator to come up with a combination of digits that work as your virtual credit card.
Using the virtual credit card has the following advantages:
Not linked to your bank
Has no money and does not require you to deposit any money for use
Automatic approval on free trial pages
Automatic decline on subscription pages
Automatically rejects auto-renewal advances
How Much Will My Membership Cost After the Trial Period?
If you decide to keep your subscription after the free trial period is over, you will be charged $54.99/month and enjoy all Hulu plan benefits plus the following:
Live TV guide
65+ channels on Live TV
Record Live TV with 50 hours of Cloud DVR storage
What Are the Most Popular Alternatives to Hulu +Live TV?
Several other platforms have quality streaming services. The difference between these platforms is the subscription fee and the amount of content you can stream.
Go through each one of them, understand their operational terms and settle on the platform that works best for you. Top alternatives to Live TV include:
How Else Can You Use DoNotPay?

DoNotPay simplifies all the long and tedious processes for you. You can  from your browser, scout for other platforms offering free trials, and cancel your subscription, among other services. 
Besides helping you out on tedious processes, we offer legal counsel regarding almost every topic. We work in partnership with significant government entities to bring you the following services and more: