Dispute Las Vegas parking tickets fast and easy
Did you know that contesting Las Vegas parking tickets doesn't have to come with a lot of hassle? There's no need to spend hours on research and tiring queues, as our AI lawyer, DoNotPay, can help you challenge your ticket in only a couple of minutes. With an astonishing success rate of 73%, DoNotPay has beaten hundreds of thousands of parking tickets so far, reports VentureBeat. The app can help you contest any ticket, regardless of whether you were in the wrong or not. 
How can I contest parking citations in Las Vegas in only two minutes?

Yes, you read that correctly — DoNotPay enables you to contest your citation in only two minutes or less. Here's what you need to do:
Open the app in any

web browser

. 

Have a short chat with our chatbot, and answer a couple of questions about your parking violation.

Send us a clear photo of your citation
The app will generate a letter that complies with Nevada's laws and points out mistakes in your ticket that can make it invalid. The only thing left to do is to complete the online appeal form and copy-paste the letter to it. You will also need to include the ticket number and either your vehicle identification number (VIN) or license plates. Appealing online comes with no additional charges, and you will receive the verdict in several days.
Alternatively, you could contest your citation in person at the City of Las Vegas Parking Services Office. Unlike sending your appeal online, this method is time-consuming and exhausting. 
Watch how to dispute parking citations in any city
Can DoNotPay help me fight parking infringements from private companies?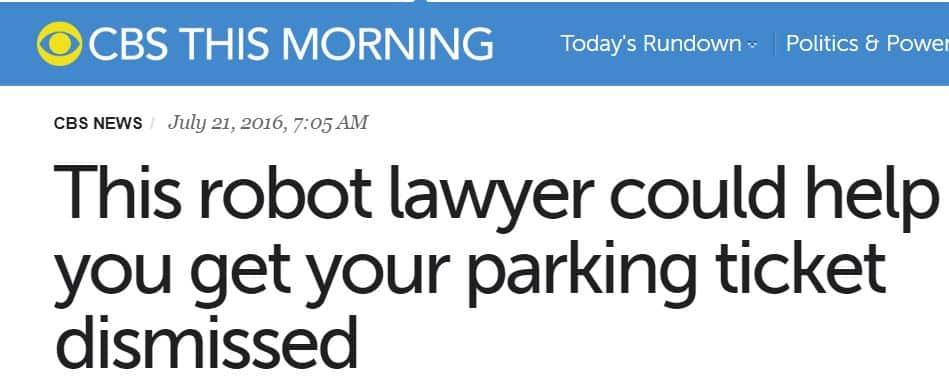 Of course! It doesn't matter if the government or a private company issued your ticket. DoNotPay can help you beat tickets from all private parking lots, including those from:
Laz Parking

Towne Park

Ace Parking 

Lanier Parking

ABM Parking Services

Imperial Parking, aka Impark

SP+, aka Standard Parking 
Can DoNotPay save me some time?

DoNotPay can save you hours and hours. Although the procedure of sending your appeal in Las Vegas is relatively simple, making your case is not. You are required to write a detailed letter explaining why you disagree with the citation. You need to include evidence that will make your citation invalid, as well as cite specific laws. To do all this by yourself, you would need to study the parking rules and regulations of Las Vegas and be familiar with laws related to parking violations.
If you use DoNotPay, you won't have to do any research on these topics. Our app has an extensive database of all Las Vegas regulations. All you need to do is explain your situation, and the app will compile a letter that will challenge your ticket. That way, it will save you both time and effort. 
Do I have to hire a lawyer to dispute a citation?

No, there is no reason for you to hire a lawyer to contest a parking citation. If having a legal representative by your side would make you more confident, bear in mind that finding the right person for the job is a time-consuming ordeal. When hiring a lawyer for your ticket dispute, make sure to take the following steps:
Watch out for frauds

. Las Vegas is full of con men who are more than ready to take advantage of you. 

Look for attorneys with experience in parking ticket cases.

Hiring someone who specializes in another field would be a waste of both time and money.

Check every candidate's credentials.

Look for online reviews from their old clients and compare their pricing.

Interview each candidate

to see if they are a good fit for you and your case.

Calculate the costs

. You don't want to spend more on your lawyer than what you will get from the dispute. 
How much does an attorney cost in Las Vegas?

A lawyer in Las Vegas can charge you anywhere between $200 and $1000. The prices usually depend on their experience and reputation. Of course, a first-rate lawyer could charge you even more. Taking these numbers into consideration, paying the fine is usually more profitable than hiring someone to help you contest it. 
There is no reason to waste your time on lawyers or fines. Our robot lawyer will help you challenge the ticket for free!
Is disputing my city of Las Vegas parking ticket a waste of time?

No, it never is! If you dispute your ticket with DoNotPay, you have nothing to lose. The whole process will last only a couple of minutes, and you will either get away with your violation completely or get a reduced fine. 
If you're worried there are no grounds for a dispute, don't be. DoNotPay specializes in identifying loopholes that will make your ticket void. Here are some things that could defeat your ticket:
Parking restrictions in the street are unclear or contradictory

The street sign paint is faded

The handwriting on your citation is illegible

You weren't the owner of the vehicle when the citation was issued

There are factual errors in any of the information on the citation, including:

The type of vehicle

The make, year, and model of the vehicle

The color of the vehicle

The registration status of the vehicle

The license plate number

Precise time and date

Specific location (street, city, county, and state)
As you can see, there are many ways we could challenge your ticket. The traditional approach to appealing is maybe not worth it, and it's easier to just pay for the fine. But with the DoNotPay app, contesting the citation is always better than paying. 
How do I pay a parking fine in Las Vegas?

If you've lost your dispute or just want to get it all over with it, the only thing left to do is to pay the fine. Depending on the severity of your parking violation, the fine can cost you between $20 and $250. There are several methods of payment:
Online payment:

this is the preferred method in the city of Las Vegas, as well as the easiest. All you need to do is to complete

this form

. 

In person

at the City of Las Vegas Parking Services Office, 350 S. City Parkway., Las Vegas, NV 89101

By mail:

you will find the mailing address on your ticket.
The city of Las Vegas has also organized charity events that you can take part in instead of paying for the ticket. In 2019, the city allowed drivers to pay the fines in food donations. You can read more about this program on this Quora thread. Before paying for your citation, check out the city of Las Vegas website to see if there are any ongoing events of this kind. 
If you cannot afford to pay for the citation, you can ask for a Time Payment Installment Plan. If your request is granted, you will have up to six months to pay the fine in monthly installments. 
Paying the fine is beneficial only if you don't have another choice. Always try to dispute your ticket with DoNotPay first!
Should I pay or dispute?

| | | | | |
| --- | --- | --- | --- | --- |
| | Convenience | Time | Expenses | Advantages |
| Dispute  | With DoNotPay, contesting tickets is fast and easy | If you use our app, no more than two minutes | No expenses! DoNotPay is a free app | We will save your time and money |
| Pay | Online forms are simple, but other methods are more complicated | Between 15 minutes and several hours | Your fine can reach a couple of hundreds of dollars! | No benefits come with paying |
Will parking citations go on my record?

No, your tickets won't end up on your driving record. If you refuse to pay the fine, however, the DMV will be notified, and they may cause trouble when you try to renew your car registration.
Will my car insurance go up?
If you pay or dispute the ticket, your insurance company will never find out about it, and your insurance rates won't increase. If you fail to pay the fine on time and the DMV refuses to renew your registration, most companies, such as Geico, won't accept to insure your vehicle.
I can't or don't want to pay for the ticket. What's the worst thing that can happen?
Unfortunately, parking citations don't have an expiry date, so you can't just ignore it and wait until it disappears. Failure to pay the fine in Las Vegas comes with several unpleasant consequences:
After 30 days, the penalty will increase

After 45 days, the penalty will get even higher

After 90 days, your case will be handed over to the DMV
Once the DMV finds out about your violation, they will suspend your car registration and charge you several additional fees. You won't be able to drive your car until you pay the fine. They can also send your case to a collection agency, which comes with even more fees.
Do I have to pay for the ticket if I don't live in Nevada?
Yes, you do. When it comes to parking violations, leaving the state won't be of any help. The parking officer who handed you the citation has your license plates and personal information, so the ticket will come at your home address. 
Do I need to pay for the ticket if I got it in a rental car?
Yes, you do. Although the ticket will be sent to the company that owns the car, you will still be responsible for paying for it. Car rental companies, such as Sixt, usually pay for their clients' tickets and then charge their credit cards for all expenses, including additional administrative fees. You can read more about similar experiences on this Reddit thread.
Can I get a parking citation while I'm inside the car?
Yes, you can. If you stop your car in a restricted area, it doesn't matter if you're sitting inside or not. Still, you can ask the parking officer nicely to let you go if you move the car at once.
DoNotPay helps users fight and beat tickets in any city
DoNotPay helps users fight parking tickets in every city in the US and UK. Here are a few cities we've helped users dispute the most tickets in:
What else can DoNotPay help me with?
DoNotPay, our robot lawyer, offers other services besides contesting Las Vegas parking tickets. We can help you with various other issues, such as:
Beating speeding tickets

Appealing traffic tickets
To Summarize:
| | |
| --- | --- |
| What is DoNotPay? | DoNotPay is a free robot lawyer that excels at beating parking tickets |
| How can I contest parking citations with DoNotPay? | Open the app, answer several questions, and send us a photo of your ticket |
| Can DoNotPay help me fight citations issued by private companies? | Yes, it can contest any ticket, regardless of who issued it |
| Will DoNotPay save me some time? | Yes, it will save you at least a couple of hours |
| Do I need to get a lawyer? | No, that would be a waste of your time and money |
| How much would I have to pay for an attorney in Las Vegas? | Between $200 and $1000 |
| Is disputing my parking tickets in Las Vegas worth it? | Absolutely!  |
| How do I pay for the ticket? | Online, by mail, or in-person |
| Will parking citations go on my record? | No, they won't |
| Will my insurance rates increase? | No, it won't |
| What's the worst thing that can happen if I don't pay the fine? | The fines will get bigger and bigger, your car registration will be suspended, and your case will eventually reach a collection agency |
| Do I have to pay if I don't reside in Nevada? | Yes, you do |
| Do I need to pay for the infringements I get in rental cars? | Yes, the rental company will find you responsible for all violations you make |
| Can I get a parking citation while I'm inside the car? | Of course, you can |
| What else can DoNotPay do? | We can help you dispute speeding and traffic tickets, create virtual credit cards, jump phone queues, and much more! |