Get a KLM Refund, Don't Let the Opportunity Fly Away
KLM—Koninklijke Luchtvaart Maatschappij N.V.—is an airline company from the Netherlands. You may know it as part of the Air France-KLM group.
Refunds from airlines can be bothersome, so let us take you on the journey to getting your money back.
Submit a KLM Refund Request With DoNotPay

When airline companies keep piling on various rules and regulations when it comes to what qualifies as a refund and how to get it, it may be too much to take. Luckily, DoNotPay can swoop in to save you the trouble of applying for a refund on your own. Here's what you need to do:
Open DoNotPay in a

Create an account

Select

File a Chargeback

Fill in your payment details

Type in

KLM

for merchant

Answer a few questions

Verify your details
You're all set! DoNotPay will send a dispute letter to both your bank and KLM to get you one step closer to gaining your money back.
What You Need To Know About the KLM Refund Policy
When you want to take matters into your own hands, the first thing you need to know is if you qualify for a KLM refund according to their refund policy.
You can request a refund of:
Your ticket
Extra options
Travel voucher
It is wise to note that, when you book via a travel agency, you should contact them directly.
KLM Ticket Refund Conditions
You are entitled to your money back only if the airline canceled the flight. In the event that you canceled the flight, you will not be given the money, but you can get a travel voucher to be used for future flights. A voucher may not be such a bad option, since KLM often offers 15% bonuses if you use it to pay for a flight ticket. You can also use it to purchase extra options.
Extra Options
What are extra options? You can claim a refund for extra option costs, like better seats, extra luggage, or an upgrade to Business Class. Being eligible for an extra options refund has to do with your ticket number.
| | |
| --- | --- |
| Ticket Number Starts With | Request a Refund Via |
| 074 | |
| 057 | Air France |
| 006 | |
If your ticket number starts with 074, check out this KLM's webpage, scroll down to find your extra option you wish to get a refund on, and click on the request.
Travel Voucher
A travel voucher has many perks, such as buying a new flight ticket or some extra options, even getting a bonus discount. You may just want to have your money back, though. You can exchange your voucher for cash if you haven't used it for 12 months.
Handling KLM Refunds by Yourself

KLM's website can be a bit confusing when it comes to finding a refund request form. They actually have a few lined up:
Request a refund

with your booking code and last name, where all three options are covered (travel voucher, extra options, flight tickets)

Refunds Processing System

which is for all three options you specify in the steps on the request form
The third refund request form seems like the simplest option, although it doesn't beat DoNotPay's fast and easy way of getting money back to customers.
KLM's Refunds Processing System
Go to this

KLM's webpage

Choose your

language

Select your

country or region

Choose the type of request—

Ticket Refund, Extra Option Refund, or Travel Voucher Refund

Select the correct

Product Type

if necessary

Choose the

Refund Reason

from the drop-down menu*

Click on

Continue

Tap on

Confirm

Fill in your

Contact Details

Select

Continue

Upload document files

Complete the info about your ticket under Refund Details

Follow the instructions and

Confirm
*KLM specified that you can only get a cash refund if the airline canceled the flight, but it gives you plenty of other reasons for a refund in the request form, so you may as well give it a try. The reasons offered are:
Cancellation 24h

Visa denial

Canceled flight

Trip involuntary abandoned at the connecting airport

Death case

Refund according to ticket conditions

Denied boarding

The health situation in China

Flight disruptions

Flight delays
If you're still not sure if you are eligible for a refund or which reason to choose, why not go with DoNotPay's way and get it over with, the quick and painless way?
KLM Compensations
KLM offers refunds, as well as compensations. You can find the necessary info on their Refunds and Compensations page. DoNotPay also deals with airline flight compensation.
KLM Covid-19 Information About Refunds
If your refund reason is connected to Covid-19, this KLM website's section offers up-to-date information, and most asked questions are answered on this webpage.
Ways To Contact KLM Support
When you're sick of filling out forms on KLM's website, you can add a personal touch by contacting them directly and getting the help you need. These are the ways you can contact KLM:
Contact Option

Details

Calling the customer support center

+1 800-618-0104

Sending a WhatsApp message 24/7

KLM WhatsApp

/+31206490787

Contacting KLM via Facebook 24/7

Contacting KLM via Messenger 24/7

KLM Messenger

Contacting KLM via Twitter 24/7
When Can I Expect To Receive My Money Back From KLM?
Once you request a refund with KLM, you won't get an answer from them quickly. It could take up to 90 days for them to get back to you on your refund request, to process it, and to check if you qualify for it. They state in their customer support section that they will try to complete the request in 60 days. As soon as they process it, they will let you know via email. If they don't contact you for 90 days, you should contact KLM customer support.
DoNotPay Has More Quick Fixes Lined Up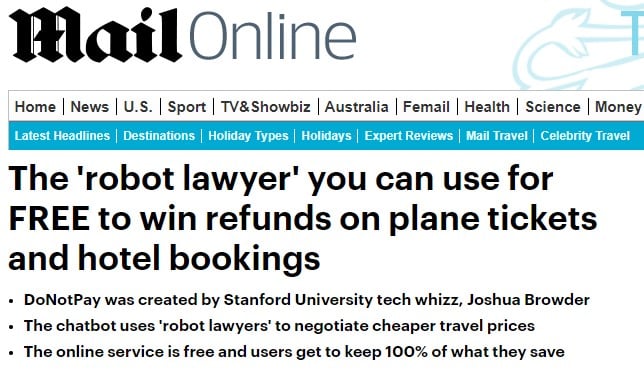 Besides taking care of refunds and chargebacks, we stack myriads of flight issues solved, such as canceled flights, problems with American Airlines, United Airlines, delayed flights, Delta Airlines, overbooked flights, airline passenger rights, and American Airlines Wi-Fi.
Be sure to check out our other sections below, not just the ones connected to airplanes. Who knows, you might just find some hidden money!
Disputing speeding tickets

Contesting a traffic ticket