Delete Your Old Kabam Account Easily
With the increase in online security breaches, most people know they need to delete their old and dormant accounts, but they choose not to. Why is this? Simply put, it is too much work. Most often than not, service providers fail to provide enough information on where subscribers need to click to close their accounts. It is important to make certain that you delete old accounts such as your old Kabam account to protect yourself from malicious people on the internet.
However, as mentioned, deleting old accounts can be a complete nightmare, and that is without mentioning other service providers who put confusing options on their websites, such as "deactivating an account," which leaves users wondering if their information will actually be deleted.
Given all the frustrations associated with deleting an old Kabam account on your own,  has introduced the new Delete Old Accounts product to make the whole process as hassle-free as possible. In addition to helping you delete your old Kabam account, DoNotPay will help you delete old Gmail, Uber, Venmo, Instagram, eHarmony, Yahoo, Amazon, and AOL accounts.
Reasons To Delete Your Kabam Account
There are many reasons you may want to delete your old or dormant Kabam account. The top ones are:
You want to prevent your personal data from being accessed by unauthorized parties
You do not want to fill up your inbox with spam emails
You were locked out of the account
You want to delete old applications that you do not use to free up space on your computer
How To Delete a Kabam Account on Your Own
Go to Kabam.com and use your email and password to log in to your account.
At the bottom of the page, select 'Contact' > 'Player support'
Click on the button 'Need More Help? Contact Us'
Choose a game and then fill in the provided form. Under subject, you will write 'Request to delete account'. Proceed to explain why you need the account deleted. Remember to key in your name, username, and the email associated with the account.
You should receive a reply from support in at least 24 hours. You may be asked to provide more information for your account to be permanently deleted.
Issues You Might Run into Deleting Your Kabam Account
As mentioned, getting rid of your old Kabam account may not be as easy as opening it. There are many frustrations you may face during the process, such as:
You may be kept waiting in line, sometimes for days, to get feedback from support after either calling or emailing them
It may be quite a hassle for you if you are trying to figure out how to do it by yourself for the first time
You may have forgotten your login credentials
You may run into technical issues
Next steps for Deleting a Kabam Account If You Are Unable To Do It Yourself
As mentioned, permanently deleting your Kabam account may not be a walk in the park. If you have forgotten your password, you may have to go through a lengthy process attempting to get a new one. Also, sometimes the customer care agents may not be cooperative so it's may take days for your issues to be resolved. 
The pile-up of frustrations may leave you feeling defeated. But not to worry because there is an alternative. With DoNotPay's Delete Old Account product, you will be able to achieve this with no hassle.  We'll ask you a few questions regarding your account and collect information to help verify your account ownership. Once your case is ready to go, we'll submit a demand letter to the service provider on your behalf, verifying your account ownership and requesting for your account to be deleted.
Delete A Kabam Account with DoNotPay
If you want to delete an old Kabam account but have no idea where to start, DoNotPay will handle this for you in 7 easy steps:
1. Go to Delete Old Accounts product on DoNotPay.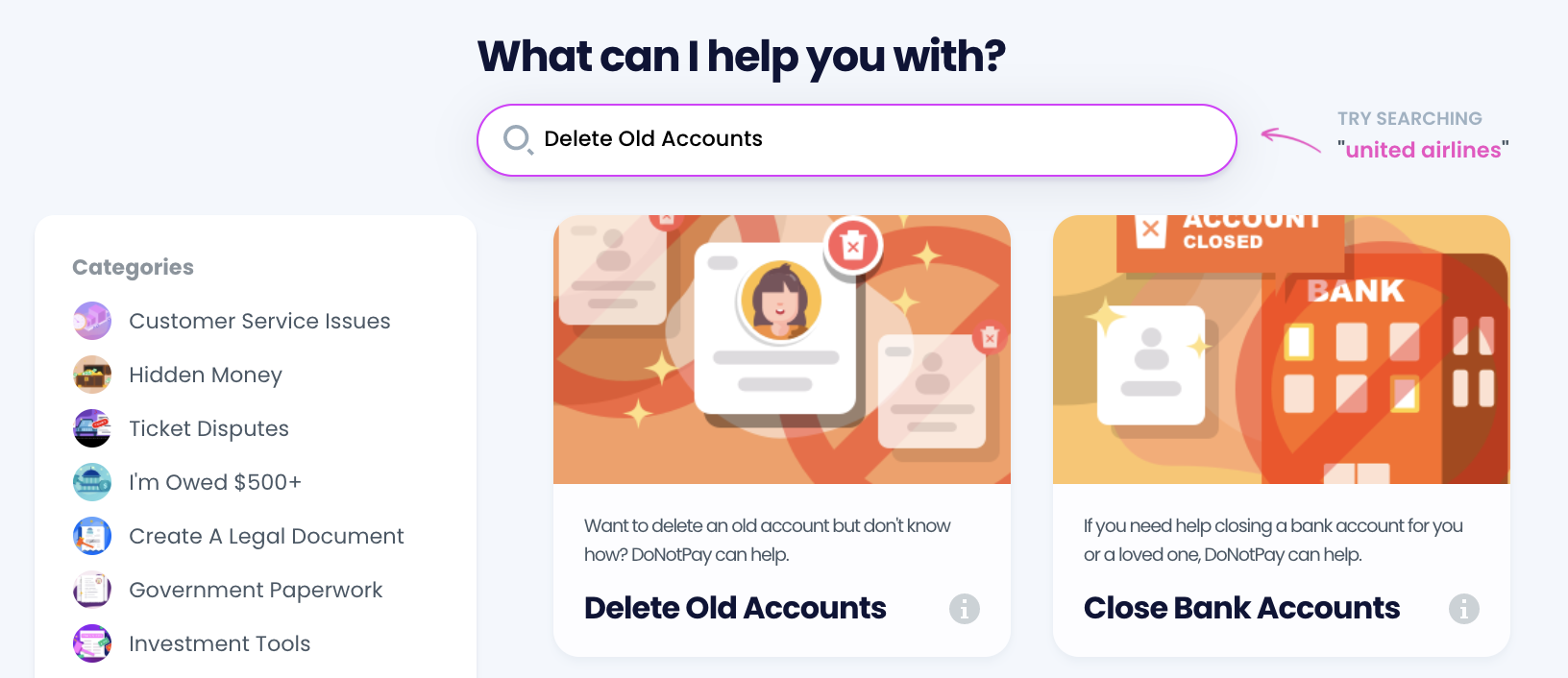 2.Select the type of account you are trying to delete, such as email, streaming service, social media, gaming, eCommerce, and more.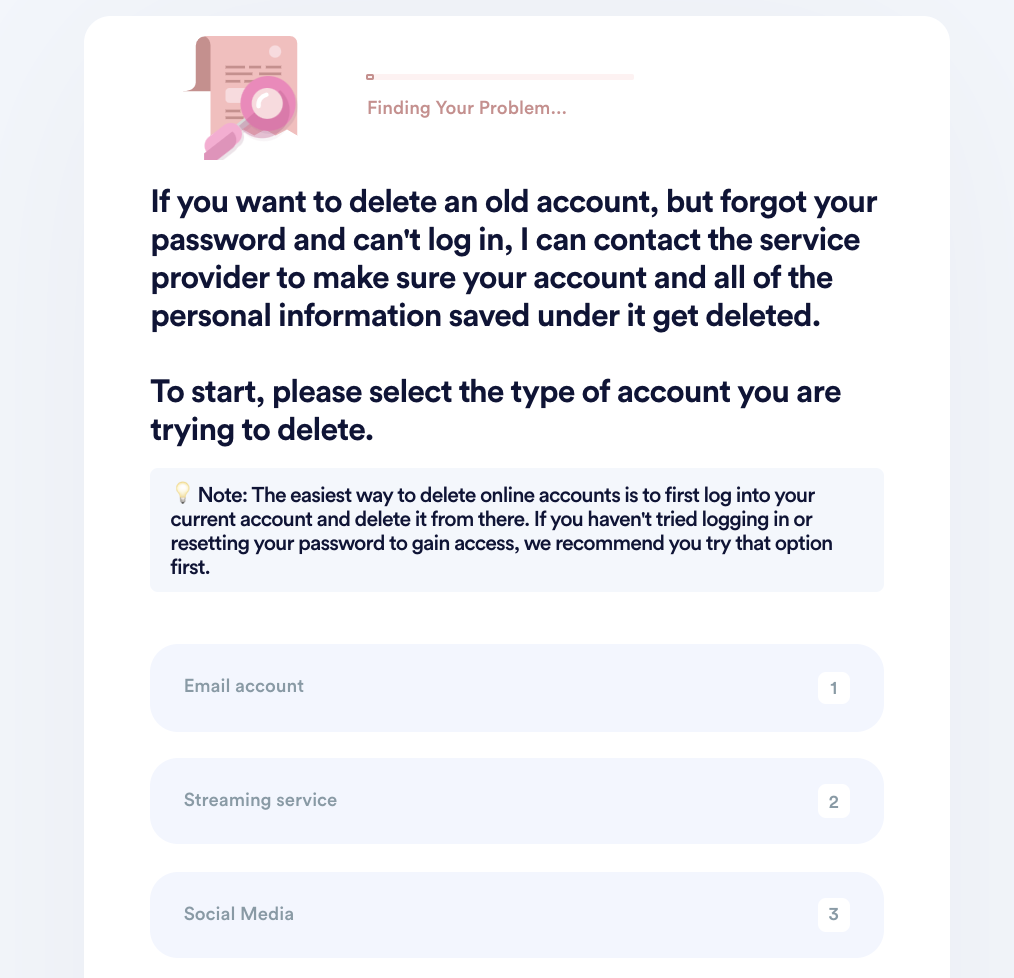 3.Tell us more about your account, including usernames and associated emails / phone numbers.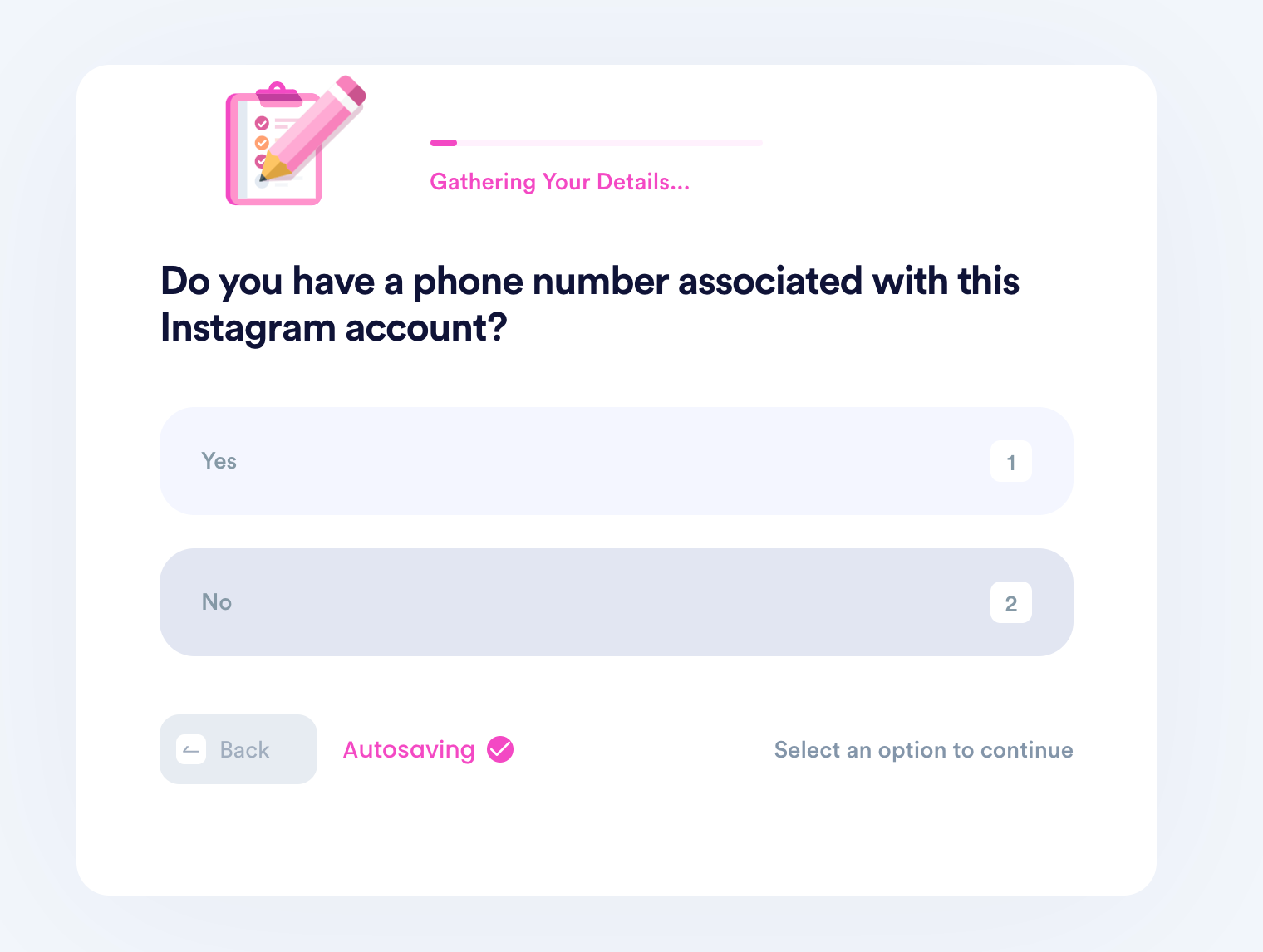 4. Help us verify your account ownership by entering the date you first created the account, when you last logged in, any payment methods saved under the account, etc.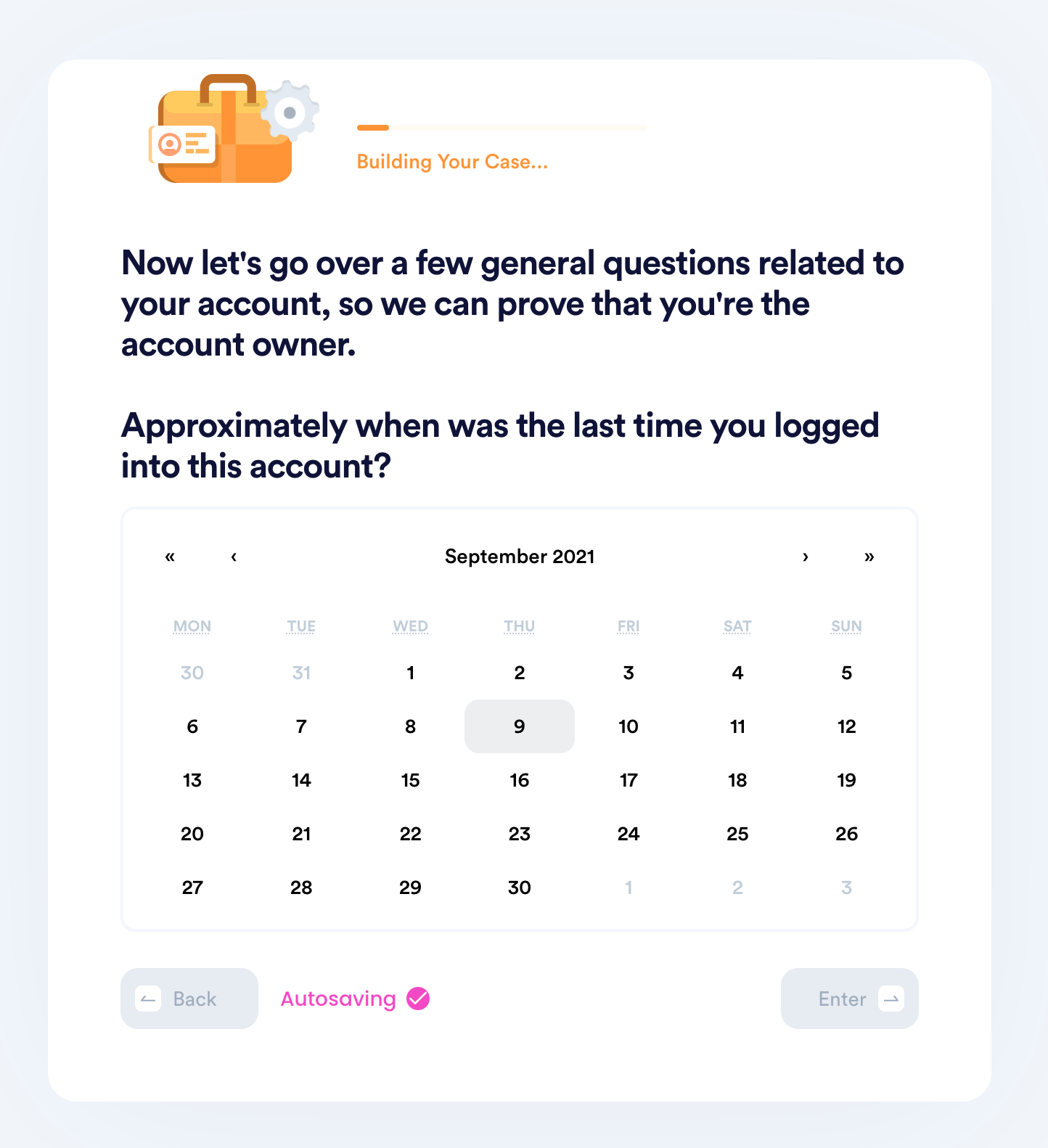 5. Upload photographic evidence if you have any that can help prove your account ownership.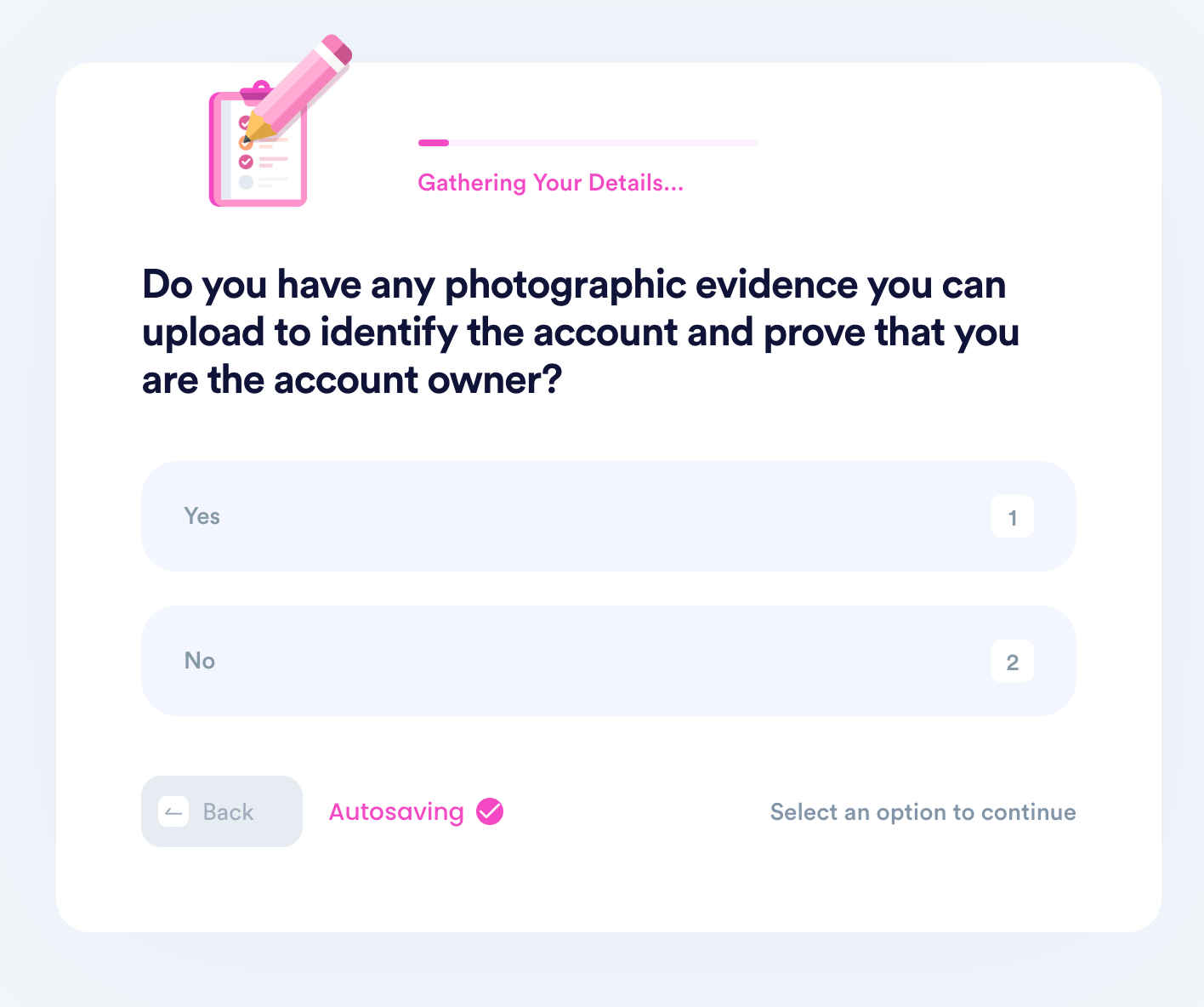 6. Enter any last known or previously used passwords.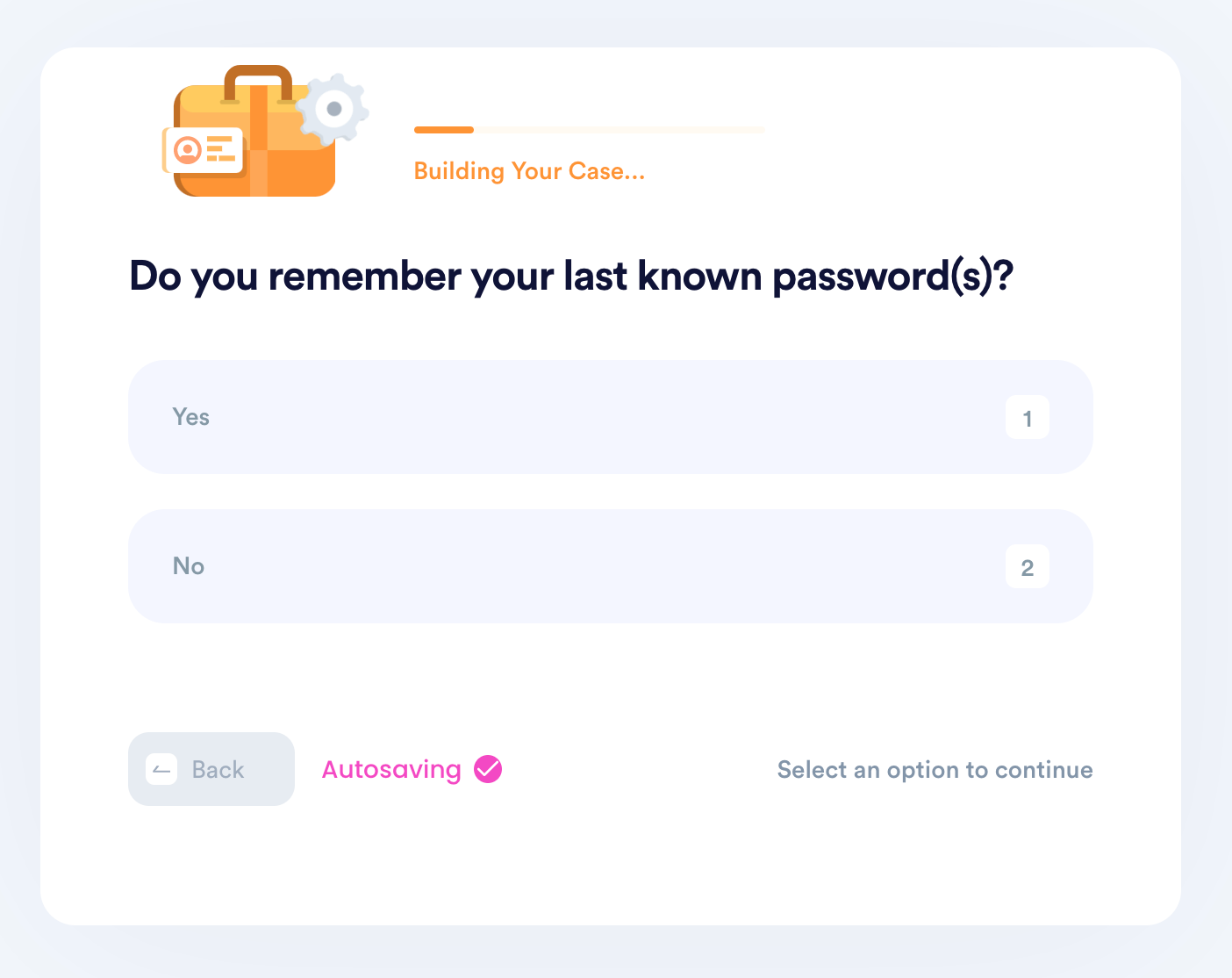 7. Enter your contact information and submit the task!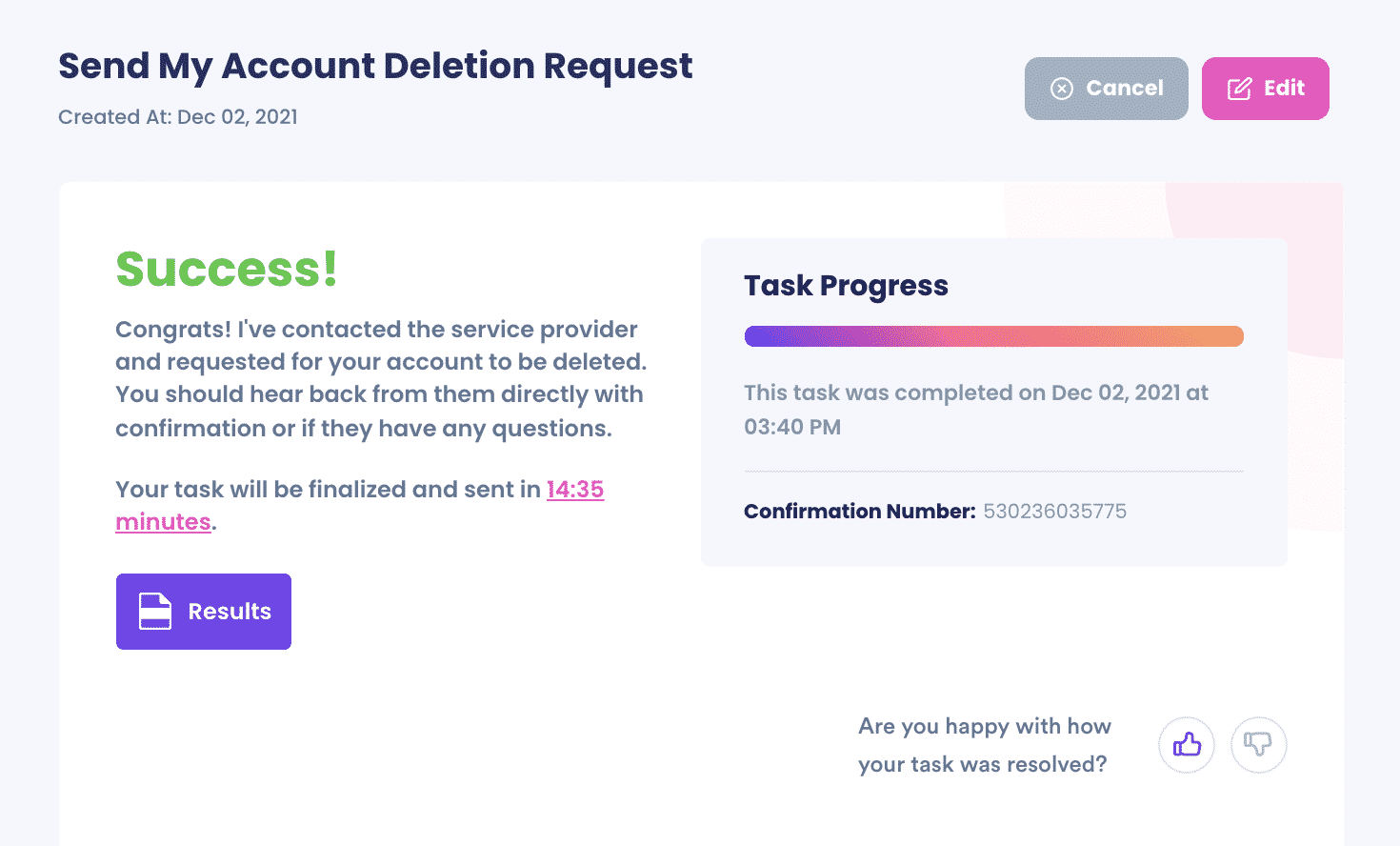 And that's it! DoNotPay will handle everything!
Can I Delete With — Yes/No
| | |
| --- | --- |
| DoNotPay | YES |
| Phone | YES |
| Website | YES |
| In-Person | NO |
| Email | YES |
| Live Chat | YES |
| Mail | YES |
Reasons To Use DoNotPay to Delete A Kabam Account
DoNotPay is the best platform to use to delete your account because:
It is reliable and trustworthy
It has a user-friendly interface
It is always available
It is easy to use
What Other Services Can DoNotPay Offer?
DoNotPay can provide you with many other crucial services, such as:
Check out these links for prompt service from !
Why wait? Contact  today to learn about our many other products and services.