How To Get the George Washington University Scholarship
Tuition at George Washington University (GWU) is higher than the national average. Since most students can't afford to pay these sky-high tuition fees, the university has prepared an array of institutional scholarships they can apply for.
If you are a high school senior and are planning to apply for a George Washington University Scholarship but don't know how to start or where to look, you've come to the right place!
Sign up for our service and save time on exhaustive research—DoNotPay explains everything about this scholarship and provides you with a list of others you qualify for.
What Types of George Washington University Scholarships Are There?
Scholarships at the George Washington University may be offered as:
Part of your admission to the university
Part of or the financial aid award package
You can apply for two different types of scholarships:
Merit-based scholarships
Need-based scholarships
All scholarships and merit awards—unless otherwise stated—can only be used for tuition.
George Washington University Merit Scholarships
Check out the table below to find out what scholarships you may apply for:
Types of Applicants
Scholarships
First-year applicants

Presidential Academic Scholarships
Cisneros Scholars
Corcoran Scholars
FIRST Robotics Scholarship
Engineering Scholarships
Clark Engineering Scholarship
District Scholars
Stephen Joel Trachtenberg (SJT) Scholarship
Scottish Rite Scholarship

Transfer applicants

Alpha Beta Gamma
Phi Theta Kappa
National Society of Collegiate Scholars
Transfer Engineering Scholarship
Scottish Rite Scholarship

Military and veteran applicants

GW Military and Veteran Services Processes Benefits Offered by the Department of Veterans Affairs
Yellow Ribbon Program
ROTC Scholars

International applicants

Presidential International Scholarship
Presidential Academic Scholarships
International Engineering Scholarships
International Baccalaureate (IB) Scholarship
You Are Welcome Here Scholarship
If you are a first-year, transfer, or international applicant, you will be automatically considered for most merit-based scholarships as part of your admissions process. Only a handful of special scholarships require a separate application. Note that you may qualify for more than one scholarship but can be awarded only one.
If you obtain a merit scholarship as a first-year student, you will be guaranteed the award for up to ten semesters, but only if you:
Stay enrolled full-time
Maintain satisfactory academic progress (SAP) toward your degree
George Washington University also offers scholarships to student-athletes, and the number of awards is determined by the Athletic Office.
The following groups of students don't qualify for merit-based scholarships:
Second Bachelor's degree students
Students in the College of Professional Studies, Distance Education, and Certificate programs
George Washington Need-Based Scholarships
You can apply for need-based financial aid only if you are an eligible U.S. citizen or a permanent resident.
The Office of Student Financial Assistance administers need-based aid and will review your financial details. Your financial need is determined based on the information you supply through:
The College Scholarship Service (CSS) Profile
Besides scholarships, you can apply for these types of need-based aid:
Federal and institutional grants
Loans
Federal Work-study
Who Is Eligible for George Washington University Scholarships?
To qualify for most types of federal and institutional financial aid, you must be:
A U.S. citizen
A permanent resident
An eligible noncitizen
Citizen of the Freely Associated States
You must report your status on the FAFSA application. If the Department of Education isn't able to confirm your status, you will have to submit one of the following documents to prove your citizenship:
Birth Certificate
U.S. Passport
Certificate of Citizenship
Naturalization Certificate
Eligible noncitizens can submit one of the documents listed below:
US permanent resident status, also known as a green card
Parolee documentation of battered immigrant-qualified alien
T-Visa
Arrival-Departure Record that shows one of the following:

Asylum Granted
Refugee
Cuban-Haitian Entrant
Conditional Entrant
How To Apply for George Washington University Scholarships
To apply for federal and institutional aid at George Washington University, you have to take the following steps:
Indicate that you will be applying for aid on the Undergraduate Admissions Common Application
Fill out the CSS Profile and FAFSA applications
Submit signed copies of prior year federal tax returns and W2 statements to the Financial Assistance Office
Submit the Verification of Family Member Enrollment
The application process is different for international students. To apply for aid, they must complete the CSS Profile and provide documentation of student and parent earnings. This may be:
A translated letter from a foreign employer that and reflects earnings for the current calendar year (in US Dollars)
A translated copy of the foreign tax return (in US Dollars)
Keep in mind that you may need to write an essay or get a letter of recommendation to qualify for some scholarships.
Use DoNotPay To Find the Best Scholarship for You
Since George Washington University offers a number of scholarships, it may be difficult to find the most suitable one for you. Sign up for DoNotPay if you need assistance with finding scholarships you are eligible for at GWU or any other college or graduate school.
To get started, follow these two simple steps:
Locate the Apply for Scholarships feature
Answer a few questions about your level of study, grades, residency, types of scholarships you want, and educational interests
We'll process your answers and send you a list of scholarships and grants in minutes. If you are interested in a no-essay scholarship, we can apply for it in your stead and save your time.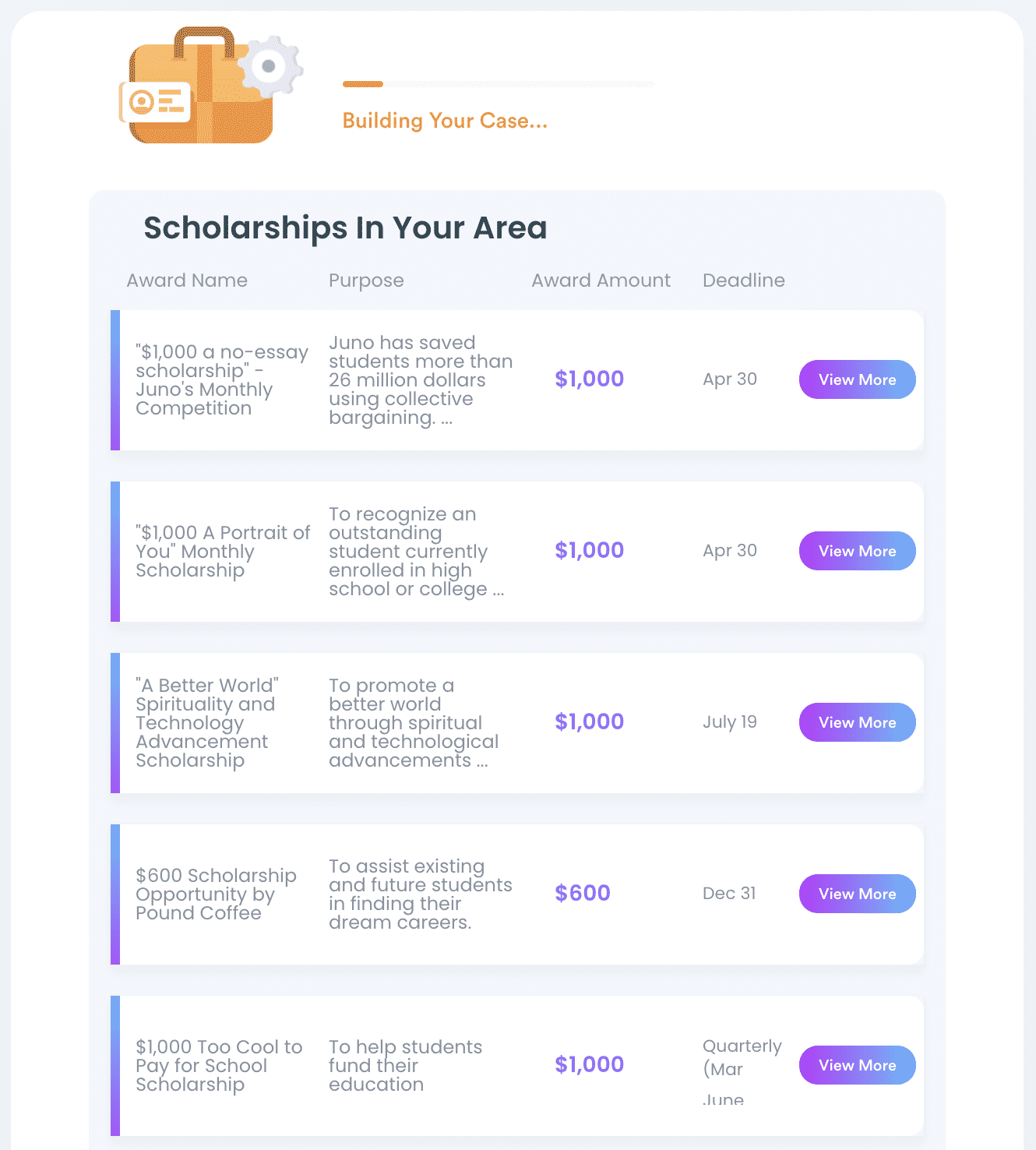 Save Time With DoNotPay
DoNotPay is not done helping you! We offer you assistance in completing a variety of tasks quickly and efficiently, such as:
Canceling Subscriptions Has Never Been Easier!
If you keep getting charged a monthly subscription fee even though you no longer want to use a certain service, don't let your money go to waste! Some companies tend to renew your subscription automatically, but that doesn't mean you have to put up with it—use our app to terminate your membership or subscription in a few clicks!
Do you want to sign up for free trials and create a virtual credit card or a burner phone number to protect your sensitive info? Once you subscribe to DoNotPay, we will walk you through the process of doing all of the above in no time!
You can also count on our assistance if you need to get rid of spam or robocalls.