How to Sign up for
Funimation Free Trial
Risk-Free
Funimation is an entertainment company based in the USA. It was founded in May 1994, and it's famous for the distribution of Japanese Anime and other foreign entertainment content. There is both subbed and dubbed content to be found on Funimation.
In February 2016, Funimation introduced a new streaming service—FunimationNow. It came with a redesign for mobile apps. It is currently available in the US, Canada, UK, Ireland, Australia, and New Zealand.
How Does Funimation Free Trial Work?
Funimation offers three payment plans—Premium, Premium Plus, and Premium Plus Ultra. The company offers free trials for all three. The registration process for Funimation free trial is swift and straightforward; all you need to do is create an account and leave your credit card info.
There are two ways you can sign up for Funimation:
Via the Website

Via the App
Registration for Funimation Free Trial via the Website
Follow these straightforward steps to sign up for the Funimation free trial on the website:
Visit the

Funimation subscription page

Click the "Start my free trial" button

Create an account with your email and password information

Choose the payment plan

Give your credit/debit card information (if you're using PayPal, there will be a pop-up window asking your permission for Funimation to use PayPal as a payment method)
Signing Up for Funimation Free Trial via the App
If you opt for using the Funimation app, you can start your free trial this way:
Click on the "Start your free trial" button on the "Discover Extraordinary Anime" page

Scroll down to the package you want to try out and click on "Start your free trial"

The page that opens will have a "Set up your account" button, click on it

Create an account with your email and password

This will open the store—either Google Play or Apple store, depending on your mobile operating system—and ask you for your payment method

Add your credit or debit card information and click "save"
What Features Does Funimation Have? 
Funimation offers a variety of features to its members. Here is the list of their services:
Immediate dubbing

—when an episode is released in Japan, Funimation has the English dubbed version as soon as the next day. They offer subtitles too, but dubbed titles are more popular

Funimation's library

—the library offers films and TV shows

Online shop

—Funimation's online store offers videos, toys, collectibles, and apparel and there are exclusive sales for some items that can't be found elsewhere

Exclusive content

—there is certain content that is unavailable anywhere else because Funimation owns rights to it
On Which Devices Can You Get the Funimation Free Trial?
Funimation supports an array of devices, operative systems, and streaming platforms.
Smart TV Devices

Amazon Fire TV

LG Smart TV

Android TV

Samsung TV

Apple TV

Roku

Chromecast

Mobile Devices

Gaming Consoles

XBOX One

PlayStation4

PlayStation3

Other Devices
How Long Is the Funimation Free Trial
?
The free trial period for Funimation is 14 days. You can choose any of the plans offered by Funimation and you'll get almost the same benefits as paying members do. You'll be able to stream on any device connected to the internet and you'll have early access to Home video dubs and new SimulDub shows. With the free trial, though, ads are coming your way as well. This might be the only downside of the free trial on Funimation.
Does Funimation Free Trial Automatically Renew Into a Paid Subscription

Many people forget to cancel their subscription and get automatically charged. This is exactly what companies count on.
Funimation automatically upgrades to a paid subscription too. After the 14 days trial is over they will bill you according to your chosen payment plan. 
Some users reported having serious problems with canceling their Funimation subscription. They mentioned:
Being unable to cancel the subscription, because the "unsubscribe button" wasn't working until the first charge had been made

Being blocked from deleting credit card information, because the subscription was still live 

Being unable to contact customer support
If you need help to cancel Funimation, DoNotPay can help you!
Does Funimation Offer Refunds if You Forget to Cancel Your Free Trial?

Funimation doesn't offer a refund for the mistakes made on your part. Their shop policy states that Funimation determines if the refund request is appropriate. They do play favorites with their longtime members, which excludes free trial users. You can try to request a refund with DoNotPay or try to write a letter yourself, all you need is a good sample letter of refund payment.
How Much Does Funimation Cost After the Free Trial?
Funimation has three payment plans—Premium, Premium Plus, and Premium Plus Ultra. Here is the table showing how much each of them will cost you:
| | |
| --- | --- |
| Payment Plan | Prices |
| Premium | $5.99/month |
| Premium Plus | $7.99/month |
| Premium Plus Ultra | $99.99/year |
There is also the option of subscribing annually to Premium and Premium Plus accounts for $59.99/year for Premium and $79.99/year for Premium Plus.
The Premium service enables two simultaneous streams, while Premium Plus enables five.
No More Automatic Renewals With DoNotPay Virtual Credit Cards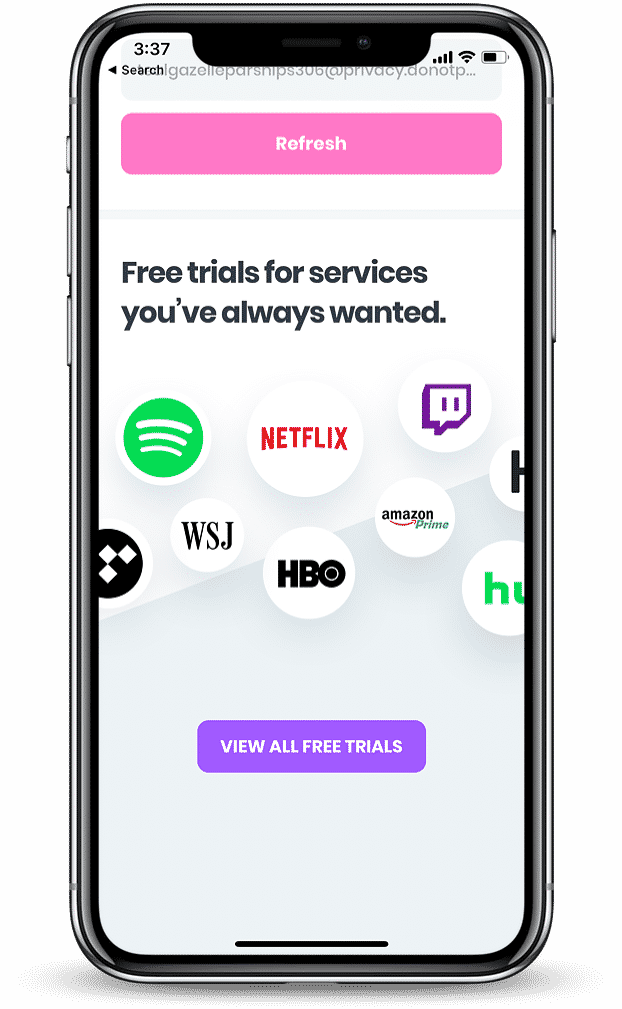 Forgetting to cancel your subscription and getting charged after a free trial can be frustrating, but luckily there is a solution—DoNotPay's virtual credit card. What exactly is a virtual credit card? It is a unique credit card number acquired through a virtual credit card generator, that enables you to protect your real information—name, credit card number, and expiration date.
You can subscribe to any free trial service using our free virtual credit card. The short-term account number you get is linked to the subscription and gets automatically canceled after the trial is over because virtual credit cards don't have money on them. This is how DoNotPay does it:
Generates a unique credit card number

Gets you a free trial 

Cancels automatic charges

Cancels your subscription
DoNotPay's Virtual Credit Cards Help You Keep Your Inbox Spick and Span

Our virtual credit card keeps your private information undisclosed, but this is not all it can do. With DoNotPay's VCC, you get a fake email account that you can use when signing up for free trials. This keeps companies from tracking your location and pestering you with spam email about the company and services you signed up to. If you ever wondered how to unsubscribe from emails, then DNP is the right app for you.
What Will Funimation Charges Look Like on Your Bank Statement?
Wondering how your bank account charges might look like on your statement? Check out the table below and you'll recognize them:
| | | |
| --- | --- | --- |
| FUNIMATION PRODUCTIONS             | FUNIMATION PRODUCTION 877-887-7815 TX | PAYPAL INST XFER FUNIMATION WEB ID: PAYPALSI77  |
| Payment to FUNimation.com | FUNIMATION.COM |   FUNIMATION PRODUCTIONS 877-887-7815 TX |
| FUNIMATION PRODUCTIO HTTPSWWW.FUNI TX | FUNIMATION PRODUCTIO FUNI TX  | PAYPAL INST XFER FUNIMATION  |
How Else Can DoNotPay Help You

If you need help with things such as canceling subscriptions, getting refunds, parking tickets, credit cards, and more, open DoNotPay in your web browser and check out what we can do for you. We can help you:
Dispute your traffic tickets

Fight speeding tickets anywhere