First-Time Sex Offender Sentence and Registration—DoNotPay Keeps You in the Loop on All New Registrants
Since Megan's Law was enacted, the sex offender registration laws became fairly similar across the U.S. All sex offenders must now register to the local sex offender registries.
When it comes to penalties, the first-time sex offender sentences are often wide-ranging but not rigorous. These offenders can even stay on the section of the registry undisclosed to the public since they aren't considered dangerous.
Beware that not all first-time offenders pose a low-level danger. Some have committed crimes severe enough to put them on the registry, and they must be kept at bay.
DoNotPay's new feature makes this job much easier. , and you'll have weekly sex offender updates on your phone in just a few clicks.
Sex Offenders Sentence—The General Crime Categories and Related Penalties
Crimes of a sexual nature are a delicate area. This is why local laws can differ in crime definitions as well as the prescribed sentences.
There is still some pattern—sex crimes across the U.S. can be grouped in the following manner:
Crime Committed Against
Examples
Adults

Rape
Sexual assault
Marital rape

Relatives
Children

Pornography
Exploitation
Molestation
Abduction

Nature

Indecent exposure
Sodomy
Bestiality
Another group covers "sex for sale" acts, i.e., prostitution.
The Range of Sentences for Sex Offenders
Sex offenses related to children, prohibited pornography, and sexual crime-related interstate travel are regulated on the federal level. Handling other crimes is the responsibility of individual states.
Depending on the jurisdiction level that handles the case, the punishment can have a fixed term or vary from case to case, e.g.:
For federal crimes involving the sexual exploitation of children, the sentence is 15 years in prison in most cases
The punishment for a first-degree rape or sexual assault depends on the state and the circumstances of the crime, and it ranges from 15 years to life imprisonment
Federal-level statistics can provide some insight into the average lengths of sex offender sentences. Recent data on average federal-level sentences looks like this:
191 months for sexual abuse offenders
262 months for production of child pornography
147 months for travel to engage in prohibited sexual conduct with a minor
178 months for rapists
30 months for statutory rape
27 months for offenders convicted of abusive sexual contact
First-Time Offenders Treatment
First Offender Act guides the punishment decisions for the offenders with a clear criminal history. The main recommendations within this Act are aimed at rehabilitating offenders without imprisonment.
These measures often don't apply to handling first-time sex offender sentences. The court might show minimum leniency towards the sex offenders who don't have a stained history, but it all depends on the state and the crime.
First-Time Sex Offender Sentence
A court ruling in a criminal case never relies on only one aspect. This is particularly true in sex offense cases. The factors most often taken into consideration are:
Nature of the assault
Victim's age
Status or profession of the defendant
Defendant's criminal history
Note that the nature of the crime is the most meaningful. If the sex offender's criminal history is clear, a Level 1/Tier 1 offender may receive a moderate sentence for a Class C misdemeanor. This punishment shouldn't be longer than a year.
A clear criminal history is meaningless in the case of aggravated sexual assault. There are first-time Tier 3/Level 3 perpetrators who show the symptoms of being violent sexual predators. They can still easily be sentenced to 25 years to life imprisonment.
Upon release from prison, new convictions can be added for every act of non-compliance. Each new disregard to residential or employment rules and regulations—especially failure to register—adds to the severity of the additional sentence.
Get Timely Alerts About Released Sex Offenders Moving into Your Neighbourhood! Rely on DoNotPay!
All potentially dangerous sex offenders, including the first-time convicts, will be listed on your local sex offender registry. The trouble is—manually browsing through the sex offender map or list can take up too much of your time. It could turn into a regular chore if you want to keep up with all the changes in real-time.
DoNotPay's new feature was designed to provide you with a quick fix to this problem. Our Sex Offender Search compiles regular reports about your area, and you can set it up in a few clicks.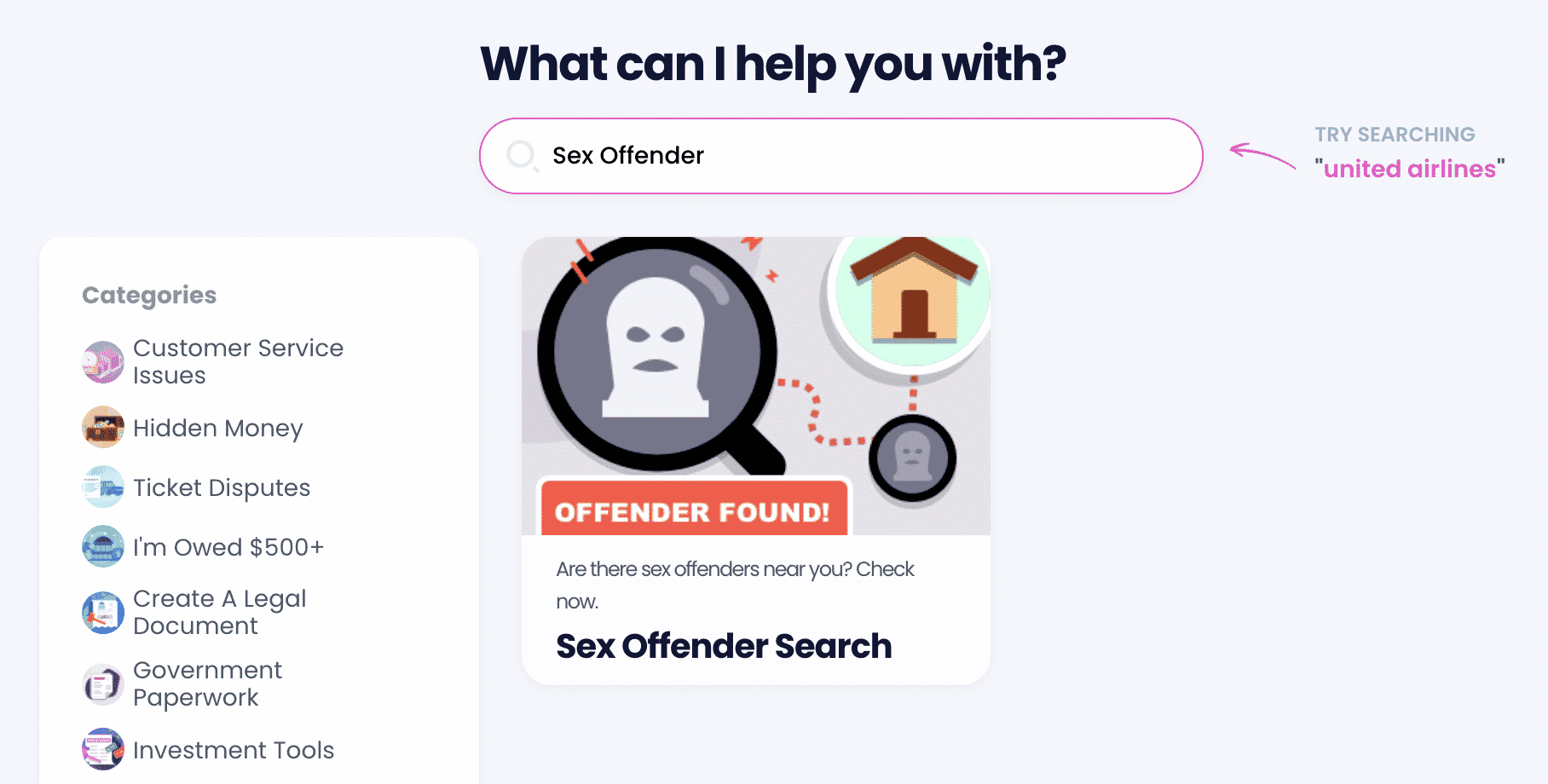 The main advantages you'll enjoy are:
The speed and simplicity—our app is a straightforward chatbot
Search alternatives—you can browse by offender name or your address
Flexible search radius—there is a selection of one-, two-, and three-mile area scans
Automated searches—you only need to set up the parameters and wait for the weekly alerts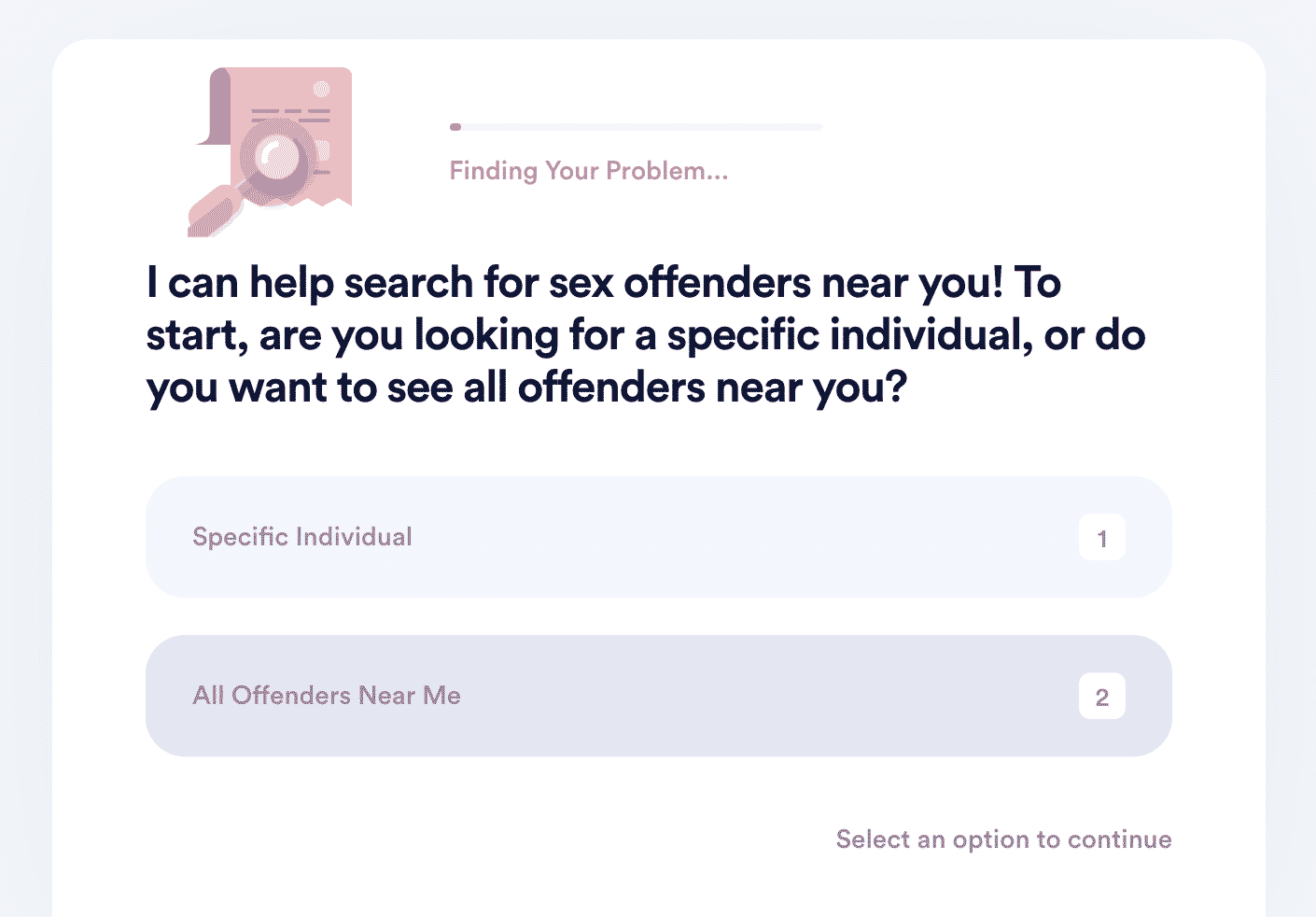 To set up your personalized reports, follow these quick steps:
and open the Sex Offender Search feature
Select between the search methods—choose whether you are looking for a specific criminal or you'd like to see all nearby offenders
Pick the search perimeter—one mile, two miles, or three miles
Set up your weekly notifications
Our app automatically conducts a search based on your parameters and instantly delivers a comprehensive report to your phone.
Drowning in Paperwork? DoNotPay Comes to the Rescue!
Dealing with administrative procedures is never a fun experience. Not only is it time-consuming, but it's also extremely inconvenient and impractical. Luckily, we have a practical solution!
Use DoNotPay to cut through the red tape and handle any bureaucratic issue that comes your way stress-free! Check out the list below to see a fragment of tasks you can tackle with our help:
Explore DoNotPay's Other Services
DoNotPay provides you with a ton of other services you can find useful when completing your everyday tasks.
You can contact customer service support without waiting for hours, request refunds from various companies, file a missing package claim, and get compensation for missed or delayed flights in a few clicks!
If you want to earn some money, we can help you with: