Dispute parking tickets in Evanston in two minutes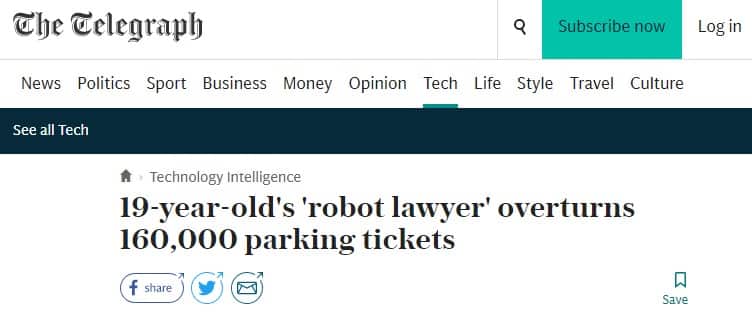 Most people associate contesting parking citations with gathering too much paperwork, waiting in long queues, and wasting their time. But this isn't the case anymore because with the DoNotPay app, appealing an infraction has never been easier.
Beating parking fines demands no effort

As Venturebeat reported, the DoNotPay app has managed to challenge over 160,000 citations so far. Relying on an AI chatbot, it takes a few minutes tops to fight an infraction in any city in the US for free.
Watch how you can dispute parking tickets anywhere in the US in 2 minutes or less:
Fight citations in a couple of minutes
The Parking Department of Evanston is in charge of the government-owned parking spaces, violations, and regulations in this city. They take pride in their detailed information about parking restrictions, changes in the infrastructure, and the numerous highly efficient and modern ways of keeping their residents in the loop of the latest parking changes.
In the past year, the city introduced an increase in parking fees, which outraged the locals. The parking meter rate doubled, free parking on Sunday was eliminated, and the most frequent parking violation, the expired meter, is now $25 instead of the previous $20.
Why pay for your infractions when you can easily dispute them with our app? All you have to do is:
Open your

web browser

Answer a few questions about your citation providing as many details as you can

Take a picture of your ticket
That is all it takes! The DoNotPay app will produce an appeal letter written to suit the laws in your area for you to send it and beat your parking fine, or at least reduce it significantly.
I don't have the money nor time. Is disputing really worth the hassle?

It is always worth the hassle. Why would you pay the full ticket when you can dismiss it with our app, or at least have it considerably reduced?
You can try to appeal on your own without the app. There are two options of contesting a fine in Evanston:
In-person

- visiting the Civic Center, room 2700, and filling out the request to fight the ticket. The clerks will lead you through the whole process.

Online

- the

online payment application

allows you to challenge your fine. To start the procedure, you have to enter the infraction number or plate number and the state where your car is registered.
The entire process isn't tricky nor too demanding, but it takes time to go to their office, fill out paperwork, or follow the instructions on the application, which can easily crash. Besides, you don't even know whether it will succeed for sure in the end?
But, with the DoNotPay app, and a success rate of 74%, your chances of winning are significantly higher. It takes only several minutes of your time to answer some questions about your citation, for it to generate an appeal letter for you to use to contest your fine.
How much time does DoNotPay save?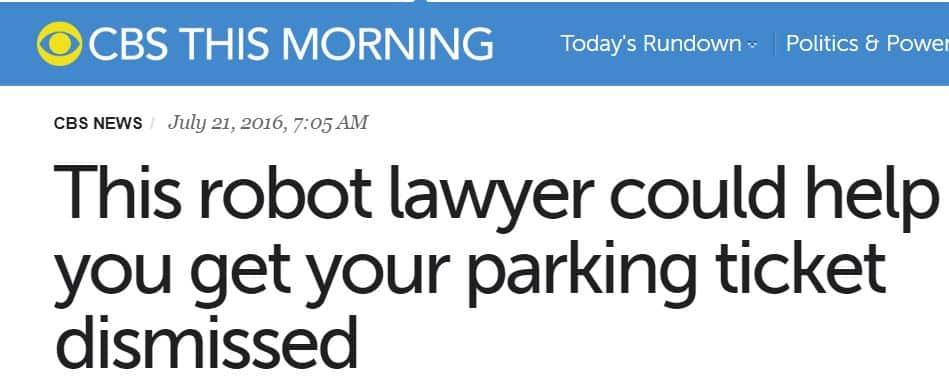 Challenging your infraction online or in-person can take at least a day without scheduling a hearing. The procedure is straightforward, but it also could take a week before they notify you about their decision. Because it is time-consuming, 95% of people pay the citation even when they have a good reason to challenge it and dismiss their infraction.
The DoNotPay app takes care of your time and money because it manages to efficiently fight your parking ticket in less than 120 seconds in any city in the US for free.
Can I beat infractions from private companies with DoNotPay?

You can find private parking facilities in most of the cities in the US. They are quite useful when you cannot find an empty parking lot in the government-owned facilities. It comes in handy knowing which companies are well-known in the private parking business:
SP+ or Standard Parking

Douglas Parking

ABM Parking Services

Lanier Parking

Towne Park

Ace Parking

Laz Parking

Imperial Parking
With our app, you can also dispute infractions received on private parking spaces in any city in the US.
Do I need a lawyer to dispute a parking citation in Evanston, IL?

The process of contesting an infraction in Evanston is simple and straightforward, so you don't need a lawyer. But, if you think you have higher chances of winning with an attorney by your side, you can always hire one. Hiring a lawyer can take time and money as you have to:
Ask around and make a list of great attorneys in your area based on their level of expertise and reputation

Schedule meetings with them to discuss your case and their fees

Compare them and see which one suits your budget the most

Hire the selected candidate and pay them a real fortune
While legal representation is necessary and useful in some cases, here, it will only consume your hard-earned money. Attorneys are expensive, and you will end up spending more money on them than on the ticket itself.
There is no need to spend a dime because the world's first robot lawyer can handle your appeal in a matter of seconds for free.
How much do I have to pay for a parking ticket lawyer in Evanston?

A reasonable attorney in Evanston can cost you somewhere between $100 and $500 per hour. Their fees depend on their experience, reputation, and the severity of your parking violation. The cheapest fine is for the expired meter $25. Add the lawyer's fee to that amount, and you will spend almost an entire salary on disputing an infraction.
With our app, you can contest your fine in a few minutes for free.
How do I pay for the Evanston parking ticket?

Evanston parking citations can be paid in one of the following five payment options:
By mail

- send your ticket or the citation number along with a check or a money order to:
City of Evanston

Collector's Office

2100 Ridge Avenue
By app

- download the

ParkEvanston

app on your device, create an account, and use it to complete parking payments, and keep track of the latest news in the parking regulations and policies in Evanston.

By phone

- call 847-448-4311or 888-232-9326 and carefully follow the instructions. Before you give it a ring, prepare your credit card and citation number. You might have to pay $2.95 as a convenience fee.

In-person

- stop by the Collector's Office on the first floor of the Civic Center in Evanston between 8.30 am and 5 pm, Monday through Friday, and complete the payment by using cash, credit card, money order, or check. Don't forget to bring your infraction with you.

Online

- visit the city's

website

and pay your fine through the online payment application. Prepare your credit card and the ticket or plate number to complete the payment successfully. A convenience fee of $2.95 might be applied.
Pay or dispute?
| | | | | |
| --- | --- | --- | --- | --- |
| | Ease | Time | Cost | Benefits |
| Pay | By app, phone, and online is super quick and easy, while by mail and in-person it could be tricky | Depending on the payment option, it can take from two business days to a week | At least $25 for an expired meter | There is no need to worry about anything |
| Dispute | Never been easier with the DoNotPay app | Less than 120 seconds | No cost | Even if it was your fault, you might not have to pay it or pay less |
What happens if I don't pay for my ticket?
When the Parking Department of the city of Evanston issues a parking infraction, the registered owner of the vehicle has ten days of the issuance date to either pay or contest the received fine.
If you don't pay by the given due date, the authorities will send a second notice containing information about the ticket and the payment or appeal options. The hearing may be scheduled in three ways: online, written, or in person. If you don't pay the ticket after 35 days of the hearing decision, a collection agency will get involved.
In case you have three or more outstanding infractions, your vehicle will be immobilized either with a boot or a barnacle. After that, it may be towed. To release your car, you will have to pay all fines, along with the fees, boot removal fee, and tow and storage fees.
Do parking tickets go on my record?
Moving violations such as traffic and speeding fines go on your driving record, while parking citations don't. In Evanston, Illinois, if you collect more outstanding or uncontested infractions, your driver's license might be suspended until you pay what you owe. Without a valid license and registration, you won't be able to drive or insure your vehicle.
Do I need to pay parking fines I receive in another state?
Absolutely. Not only do you have to pay the parking tickets you get in the state of your legal residence, but also in any other state where you receive a fine. If you want to pay, the city of Evanston has five payment options, such as online, by mail, by phone, by an app, or in-person. Luckily for you, with the DoNotPay app, you can challenge your citation in any city in the US for free in no time.
Do I have to pay for the tickets I get in a rental car?
Yes. It doesn't matter whether the vehicle is yours or not; you have to pay or contest the fine. It is always better to do it yourself, as the rental agencies, such as U-save, can charge the credit or debit card you used to rent a car for the unpaid citation along with an additional service fee for the inconvenience. If you continue to ignore the infraction, it will only cause more trouble as the company may even sue you.
Can my car insurance go up?
No. Unlike speeding and traffic fines, parking tickets don't affect your car insurance. The car insurance agencies don't get notified about your unpaid citations, so they can't raise it in any way. But, if your driving license is invalid, agencies, such as Ez Center, might reject your request for insurance renewal.
Can I get a ticket while I'm sitting in the car?
Of course. No matter whether you are in the car or not, if your vehicle is violating any parking regulation, the parking officer will have to issue a fine. You may try to talk yourself out of it, but there is no way to know whether they will listen to you.
DoNotPay helps users fight and beat tickets in any city
DoNotPay helps users fight parking tickets in every city in the US and UK. Here are a few cities we've helped users dispute the most tickets in:
What else can DoNotPay do?
With our app, you can quickly solve many everyday problems, such as:
Seeking compensation for delayed flights

Contesting traffic tickets

Beating speeding tickets
Summary
| | |
| --- | --- |
| How easy is it to beat a ticket? | The DoNotPay app makes it super easy. |
| How long does it take to dispute a citation? | Our app does it in less than 120 seconds. |
| Is fighting an infraction waste of time? | No. With our app, it is worth your time. |
| Does it help challenge tickets from private parking companies? | Absolutely. It can be used to overturn both types of fines. |
| Do I need a lawyer for disputing in Evanston? | No. The procedure is simple, so you don't need a lawyer. |
| How much will I have to pay the attorney? | In Evanston, a reasonable lawyer will cost you between $100 and $500 per hour. But, the virtual lawyer is free. |
| Which option should I use to pay for the ticket? | There are five options, but it is much easier to fight the citation with our app. |
| What consequences will I face if I don't pay for my citation? | You will receive a notice with a scheduled hearing, and your vehicle may be booted and towed. |
| Will parking infractions show up on my record? | No, they won't, but if you collect more of them, your driving license will be suspended. |
| Am I legally obliged to pay the citations I receive in other countries? | Yes. With DNP, you can dispute them in any city in the US. |
| If I rent a car and get fined, do I have to pay the citation? | Yes. If you don't do it, the rental agency will charge your credit card for the fine along with the service fee. |
| Will my insurance increase if I get a ticket? | No, it won't. But without a valid license, you won't be able to insure your car. |
| If I'm in the car, can I still get a citation? | Absolutely. In or out of the car, it doesn't matter, as long as it is improperly parked. |