Venmo? Heck No! How to Get a Venmo Refund?
Venmo is a mobile payment service and a subsidiary of PayPal. The app allows users to transfer funds to others, and it handled $12 billion in transactions back in the first quarter of 2018. People use Venmo for splitting meals and cab fares, which is super convenient. Venmo does not have an option to cancel which you can use to instantly get your money back or undo the payment, but there are a couple of options you can resort to if you want to get your money back. You do not have to do it on your own — DoNotPay can take care of that on your behalf. 
How to Refund a Venmo Payment With DoNotPay

DoNotPay is always the easiest way to refund Venmo payments. Doing it on your own can take a while, and you need to read through the refund policies to understand the process fully, but not with DoNotPay. Getting a Venmo refund with DoNotPay is quick and easy. Here's what you have to do:
Log in to your DoNotPay account in your

web browser

or download the

iOS app

Scroll down and find Instant Chargeback

Click on Get Protected

Fill in the necessary information and answer the chatbot's questions

Click on Sign and Send
After you've successfully completed the steps, DoNotPay will automatically fax your bank and request a refund. While the refund is being processed, you will be able to go through the VISA and MasterCard codes we provide you with and gather the information that will be useful for your refund request. DoNotPay can assist you in creating evidence for your case or contact the merchant on your behalf. 
How to Get a Venmo Refund On Your Own
It is advised that you contact the merchant first if you are not satisfied with a purchase you made.
| | |
| --- | --- |
| Can You Request a Refund Via | Yes / No |
| DoNotPay | Yes |
| Email | Yes |
| Phone | Yes |
| Letter | No |
| Website | No |
| In-person | No |
If you cannot get through to the merchant or you cannot come to a solution with the business, you can contact Venmo's support team via email. Venmo does not guarantee a refund, but the support team will be able to assist you as much as possible. 
When you apply for a refund on your own, you will have to provide the following information to Venmo:
Reason for your claim

Date and amount of the transaction

The seller's name

An explanation of your issue
When responding to Venmo's requests for documentation, you may have to provide receipts, police reports, third party evaluations, or other specified documentation. Note that you have to provide the necessary information on time. 
It is likely that you will also have to ship the item back to the seller at your expense and provide proof of delivery. 
All of this is too complicated and time-consuming. That is why you should use DoNotPay to make everything quick and efficient.
Requesting a Venmo Refund via Email
To contact Venmo's customer support and request a refund, follow these steps:
Reach out to the support team at

cardsupport@venmo.com

Explain the reason for your refund request
It will probably take a couple of business days until you hear from Venmo's customer support. 
Requesting a Venmo Refund via Phone
You can call (855) 812-4430 to open a dispute within 180 days of the date you made the purchase. A customer support representative will provide you with all the necessary information after you've explained your request.
Venmo Refund Policy
The Venmo refund policy states that there are several scenarios in which you can get a payment refund.
Payments may be refunded or reversed if: 
The payment was sent by Venmo by mistake

The funding transaction is declined or reversed

The payment is not authorized 

The payment is used for activities that violate Venmo's user agreement
If a sender or recipient of a payment that has been refunded for any of the reasons above, you may be liable for the full amount of the payment, and Venmo can recover the amount of the payment from you, including any fees that might occur. 
Venmo Business Profiles Refunds
If you buy a product from a seller that has a business profile on Venmo and you refund the transaction, the money will be sent back to you. It may not always be refunded to the payment method used to make the purchase in the first place. 
If you are the seller, and you've sold goods or services, and a customer has requested a refund, you are responsible for the full amount of the payment. You are also responsible for any fees that might be included and the chargeback fees. 
If you, the seller, lose the refund claim, Venmo will deduct the funds from your profile. If you do not have sufficient funds to cover the refund, this will result in a negative balance, which you owe directly to Venmo. In case the payment methods linked to your profile do not have sufficient funds to cover the due amount, you must add funds to your balance immediately. If you dispute a transaction with the Venmo Purchase Program and Venmo decides against you, you can dispute the transaction with your card issuer.
If this is a lot to take in, there is always a less complicated option for getting a Venmo refund, and that is exactly what DoNotPay can do for you! 
Chargeback Fees
If you are a seller on Venmo and a customer pursues a chargeback for the translation directly through their card issuer, you will have to pay the chargeback fee. 
DoNotPay Protects Your Privacy and Finances
Sharing your credit card details online comes with certain risks, and it's getting more difficult to tell good and bad websites apart. With DoNotPay's virtual credit card generator, you will be able to protect your identity and bank account from cyber scammers.
Whenever you run into a suspicious email or website, generate a virtual credit card and proceed without worries. Our virtual cards also work like a charm if you want to avoid automatic payments after free trials.
What Else Can DoNotPay Help You With?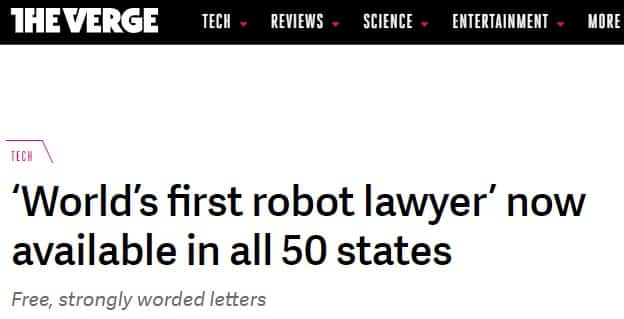 As the world's first robot lawyer, DoNotPay can assist you with a wide range of problems you bump into, both online and offline. We know that disputing traffic tickets is annoying, and that is why we can help you with that in any city, including Portland, Sacramento, or Los Angeles. 
A lot of people have grievances with big corporations, and that is why we are here to help you with suing companies such as DirecTV, Verizon, or United Airlines in small claims court. 
Our virtual credit card can be very useful when it comes to saving money. You can use the card to apply for online free trials, and not be charged for a full subscription once the trial ends. This will be extremely useful if you do not want to pay for something you did not want to use in the first place. 
Log in to your DoNotPay account in your web browser or download the iOS app, and see what we can offer. We can help you: 
Dispute traffic tickets

Fight speeding tickets