Dispute Dodger Stadium Parking Tickets in Just a Few Steps
To avoid fines, contest your ticket with the help of DoNotPay before deciding to pay your citation! DoNotPay can give you the exact script to use when you file your dispute. It will only take you 120 seconds. Access DoNotPay through any web browser. According to Newsweek, DoNotPay has helped people across America fight hundreds of thousands of parking tickets since 2014. DoNotPay has overturned many millions of dollars in fines.

Here are the quick and easy steps to follow for DoNotPay to help you appeal your citation:
you can get help disputing your ticket directly from your

.

The chatbot will ask you a few questions regarding the situation you are in, and you will need to answer each one accurately. You need to provide the app with the necessary information so that it can give you an effective solution.

You will then upload a picture of your ticket to the app.

Once the app has all the data it needs, it will give you the exact script to use when you dispute your ticket.
Watch how to dispute parking tickets in any city:
Is contesting a parking citation from Dodger Stadium worth my time?

DoNotPay can help you dispute your parking citation in only two minutes. The chatbot will offer suggestions on what argument to use in your dispute, such as:
Street signs are faded

The citation was issued after you sold the car

Some details on the ticket are incorrect or missing
Contesting your Dodgers Stadium parking ticket is a three-tier process. First, you will need to request an initial review within 21 days of the issuance date or 14 days from the day you received the notice.
If you are unhappy with the results of the first step, you can go ahead and request an administrative hearing. You need to do this within 21 days of the day you received the letter regarding the initial review decision.
The last step is for you to appeal the final decision, which you will need to do within 30 days from when the city sent you the hearing examiner's decision.
If you follow the advice of our DoNotPay app, and the steps and guidelines the city has provided, your chances of winning the dispute will be high. Access DoNotPay through any .
How much time can DoNotPay save me?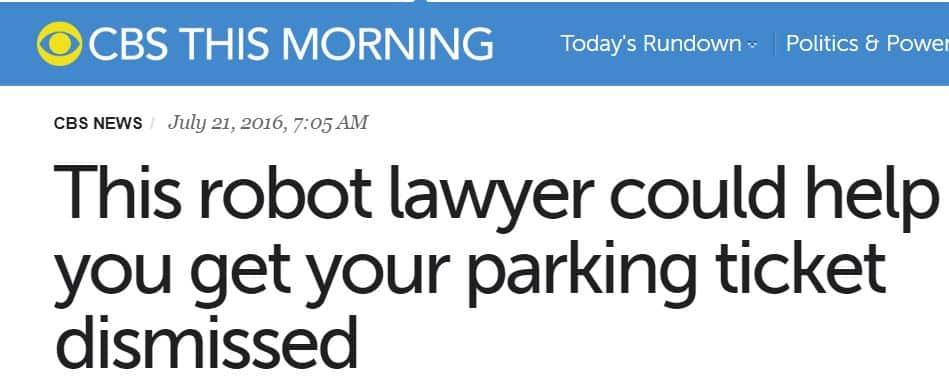 Typically, DoNotPay can help you file a dispute within a few minutes. If you plan to do everything on your own without DoNotPay, it will take you at least half a day, possibly much more. You will need to compose your mail to the city from scratch and gather evidence to present with your appeal.
For those who have full-time jobs, it is best to use DoNotPay, the much faster option. Otherwise, you could end up losing more money than the amount you owe for your parking infraction. Access DoNotPay through any .
What about private companies around Dodger Stadium? Will DoNotPay help me fight parking infractions received from them?

Other than the tickets issued by the city government, DoNotPay can also help you fight citations from any private parking company, including:
Towne Park

SP+, aka Standard Parking

ABM Parking Services

Imperial Parking, aka Impark

Douglas Parking

Laz Parking

Lanier Parking

Ace Parking
Access DoNotPay through any .
Do I need to hire a lawyer to dispute a Dodger Stadium parking citation?

Fortunately, the city of Los Angeles does not require you to get a lawyer to fight your tickets. This is excellent news for everyone since hiring a legal representative is expensive.
You've got an even better alternative. You can use our DoNotPay app, which is the world's very first robot lawyer. Access DoNotPay through any . All you have to do is answer the questions it asks, and in under two minutes, you will get the script you can use in the dispute.
However, if you insist on getting a lawyer, there are some additional things that you need to do:
Do your research: During your search for a lawyer, you need to find out as much as you can about each of them. You can use the internet to see client reviews or ask your friends and family if they have any recommendations.

Check their credentials: You can try to find out the different cases they have dealt with in the past and see what their success rate is.

Beware of fraud: Lawyers around the world are renowned for charging exorbitant fees. Make sure that the ones you are considering are legitimate and professional.

Consider the costs: Again, the price of getting a lawyer is high, and could be unnecessary. You should never pay more for a lawyer than the total amount of the parking ticket that you received.

Conduct interviews: To determine if a lawyer is the best fit for you, you need to talk to them face-to-face.
How much would I have to pay for a lawyer to fight the Dodgers parking infraction?

The lawyer's fee depends on various factors. For example, the more citations you have, the more your lawyer has to work, and consequently, the higher the amount you have to pay them. Generally, lawyers cost as little as a hundred dollars and as much as a few thousand dollars.
Or you could get the help of our DoNotPay app, which can give you the argument and template to use in your dispute in only two minutes. All you need to do is answer its questions and send a picture of the parking ticket that you received. Access DoNotPay through any .
I just want to pay my Dodger Stadium parking ticket? How would I do that?

Before deciding to pay your ticket, you should always appeal your citation. Though the process may seem complicated, DoNotPay makes it easy for you. It will ask you a few questions to learn more about your situation so that it can give you an effective script. If you win the dispute, all fines could be eliminated.
However, if you have no other choice but to pay for your ticket, there are different payment options that you can choose from. Since the parking area around Dodger Stadium is part of Los Angeles, you may have to make the payment to the city. Payments can be made via:
The web: You will need to fill out a form with your citation number and follow the directions on the secured site. You can pay the full amount or make a partial payment of any amount using your Visa or Mastercard.

Telephone: You can make a credit card payment via the Customer Care Hotline any time of the day, seven days a week.

App: The PayTix app gives you a simple, fast, and easy way to pay your parking tickets.

Mail: Through the post, you can only pay using a check, money order, or cashier's check. You should never send cash or credit card numbers through the mail. Also, remember that your payment must be made in U.S. currency.

In-person: You can visit the different public service centers throughout the city. They are open from 9 a.m. to 5 p.m., Monday through Friday.
Note that there is a $2.00 processing fee per transaction made online, by phone, or on the app. To learn more about each payment method, you can visit here.
Dispute or Pay?
| | | | | |
| --- | --- | --- | --- | --- |
| | Ease | Time it takes | Cost | Benefits |
| Dispute | The process is effortless with DoNotPay | Will only take you a few minutes | All fines may be eliminated and canceled | Not having to spend a dime |
| Pay | The most convenient way is paying online | Depends on the method | The total amount of fines + $2 processing fee | Your wallet will be lighter. |
Is it possible to have my fine reduced?

In many states around the country, simply disputing a parking ticket can get your fine reduced. You can use DoNotPay to help you win your dispute!
If you cannot afford to pay off your parking citation, you can opt to enroll in a payment plan to pay in installments. This plan is available for those with vehicles registered in the State of California who qualify as members of very low-income households. Only individuals with a monthly income of 125% or less of the current poverty guidelines are eligible to make use of the payment plan.
When you are enrolled in the general installment payment plan, you will pay 60% for the first installment. The remaining amount can be paid in two installments, 20% each, to cover the total remaining balance.
To learn more about the other two payment plans, click here.
I don't want to pay my Dodger Stadium citation. What can happen to me?
If you leave your citation unpaid, you will incur late penalty fees on top of your parking fines. The amount will depend on the type of violation that you made. Check out the Los Angeles Municipal Code for the exact charges.
After some time, the city will send your case to the local DMV. Once it reaches the DMV, they may place your vehicle registration renewal on hold. This means you will not be able to renew your registration until you pay off your citations.
The State of California may even intercept your state tax refund. If you incur five or more delinquent citations, the city will boot, tow or impound your vehicle.
Another possibility is that your case may be forwarded to a collection agency. Once this happens, your credit rating may drop, which will make it difficult for you to get a loan in the future.
Do parking citations go on my record?
Fortunately, parking tickets will neither show on your driving record nor on your criminal record. Parking citations are not considered a criminal violation in California, which means you will not be arrested for not paying them.
However, there are many penalties that you could incur, such as additional late fees. You should not let it reach this point. You should fight your ticket before it is too late and, if you have no other choice, pay the fine as soon as possible.
Here is a guide to help you find a parking spot around Dodger Stadium without the risk of getting a citation. Dispute it with DoNotPay. Access DoNotPay through any .
What if someone takes the ticket off my windshield?
Even if you did not see the physical ticket that the officer placed on your windshield, you are still responsible for the citation.
The city will mail a notice to your address. If you are surprised to receive it, you may want to contact the local government to clarify things. Even if you think it is unwarranted, do not ignore the ticket. If you try to avoid paying the fines, then you will incur additional fees and other penalties.
Check out this Quora post for info on other people's experiences.
Should I be worried about my car insurance going up?
Luckily, getting a parking ticket will not increase your monthly car insurance premium. However, auto insurance companies, such as Freeway Insurance may not cover vehicles with unrenewed registrations. If you do not pay the citations on time, the DMV may reject your car registration renewal. If you need to re-apply for insurance, your rates may go up.
As soon as you receive the ticket or the notice from the city, you should deal with it right away. Always dispute any parking ticket that you receive. It's effortless with DoNotPay. Access DoNotPay through any .
Do I need to pay the Los Angeles Dodgers parking tickets if I'm from another state?
As a licensed driver, you are subject to local enforcement wherever you travel. It doesn't matter if you are only visiting. You cannot claim that you were not aware of the rules because you don't live in the area.
It is always worth disputing your parking citations. Fortunately, the city has provided an online way for you to request an initial review of your citation. You can also get the assistance of our DoNotPay app to appeal remotely effortlessly. DoNotPay will help you save time by giving you the exact script to use in your dispute. Access DoNotPay through any .
You can read more about getting tickets while away from home here.
How much does Los Angeles make from parking tickets?
According to this article, Los Angeles collects more than a hundred million dollars annually from parking ticket revenues. Over the years, many people in LA have complained about the city's onerous and arbitrary parking fines. The most common violation that people make that leads them to receive fines is parking in the way of street-sweeping vehicles.
What if I'm in my car? Can I still get a fine?
Yes, you can still get a parking citation even if you are still in the vehicle. If officers have reason to believe that you are violating any parking regulation, they have the right to issue you a ticket. Before you stop anywhere to receive a call or respond to an important text, you need to scan the area for street signs. You always have to be mindful of the parking rules and regulations.
You have a chance of getting all fines canceled, though! You should download the DoNotPay app to get the exact argument to use in your dispute within only 120 seconds. Access DoNotPay through any .
Learn more about getting a ticket while in the car here.
I was driving a rental car. Do I still need to pay my parking citations?
Yes, you are responsible for all parking tickets that you receive, even the ones you incur while driving a rental car. The city will send a notice to the rental company.
Companies like Avis will then pay off the ticket and charge you the total amount of the citation plus an administrative fee. They will directly bill the credit or debit card you used for the rental.
DoNotPay helps users fight and beat tickets in any city
DoNotPay helps users fight parking tickets in every city in the US and UK. Here are a few cities we've helped users dispute the most tickets in:
What else can DoNotPay help with?
DoNotPay also provides the following services:
Appeal your speeding tickets
Beat your traffic tickets
Contact customer service on your behalf and connect you after it reaches a real human being
Make a virtual credit card to avoid getting charged at the end of a free trial

Help you get compensation for delayed and canceled flights
To summarize Dodgers Stadium parking tickets:
| | |
| --- | --- |
| It is quick, easy, and prudent to dispute your parking ticket. | DoNotPay can provide you with the exact script to use in your dispute in two minutes. |
| If you ignore your citation, you will incur more penalties and late fees. | You should deal with it as soon as you receive the ticket or the notice from the city. |
| Los Angeles provides different payment options. | Pay via the web, phone, app, mail, or in-person. |
| You are responsible for all parking tickets that you receive. | It does not matter whether you live in a different city, you are driving a rental car, you didn't see the physical ticket, or you are still inside the car. |
| You can dispute the ticket to get the fines reduced. | If denied, you can enroll in the Installment Payment Plan, which the city offers to people from low-income households. |
| Your car insurance will not go up if you receive a parking ticket. | However, if the DMV refuses to renew your car registration due to unpaid fines, your insurer may choose not to cover your car. |
| There are other services that DoNotPay offers. | Other than parking tickets, they help you deal with speeding tickets and suing companies in small claims court, too. |