Start Your Curology Free Trial Without Providing Your Credit Card Info
Curology is a company that provides customized skincare products. If you have any problems such as acne, dark spots, dry or oily skin, you can get a personalized formula to treat them. The company can also match you with a skincare provider for consultations about its products or your skincare goals. The customized formulas are made by the Curology dermatologists.
Curology Free Trial Explained
Curology offers a 30-day free trial for new users. You can get their formulas for free, but you need to pay $4.95 for shipping and handling and, if needed, the taxes. Curology doesn't offer any gift cards or coupons at the moment.
When you start your free trial, you will get their trial-size products together with other formulas that they pick specifically for your skin type. You can also add or remove some of the products before you make an order. If you don't cancel Curology after your free trial, you will get full-size products of your trial order.
You will also be able to change the products in your box when your free trial expires. Make sure you make the changes to your package one or two business days before your next shipment to get the products you added.
How To Sign Up for a Curology Free Trial

If you think your skin needs extra care, you can try out the Curology formulas for 30 days for free. Follow these steps to sign up for a Curology free trial:
Go to the Curology website and click on

START TRIAL

Provide your zip code to see whether they deliver to your region

Give your personal information

Answer their questions about your skin goals and your health

Get your custom formula and tap on

REVIEW YOUR TRIAL

Provide your shipping address and phone number

Add your credit card details

Confirm the order
When Curology processes your order, they will send you the formulas in one to three days.
Questions Curology Might Ask You When You Sign Up for a Free Trial
When you start your sign-up process for a Curology free trial, the company will want to know more about your skin and your health so that they can provide you with a custom-made formula. Here are some of the questions they might ask:
Type of Questions

Examples

Skin goals

What goals can we help you with?

(choose whether you want to improve texture, boost firmness, fight wrinkles, or something else)

What is your skin type?

Any new pimples in the last seven days?

Do you wear sunscreen?

Health history

Are you male or female?

Are you pregnant or breastfeeding?

Have you ever used any prescription topicals (creams, gels, etc.) for acne, skin aging, or dark spots?

Are you taking any pills for acne?

Do you have any allergies?
In case you have any further questions for Curology, you can send them an email to support@curology.com or visit their help page.
Will My Curology Free Trial Automatically Renew Into a Paid Membership?
Yes, it will. In case you don't cancel your Curology free trial, they will ship the same box and charge you for it. You should cancel your free trial one to two business days (or even more) before your free trial expires to avoid the automatic renewal into a paid subscription.
How Much Will I Have To Pay for a Curology Subscription?
If you don't cancel your Curology free trial, they will send you the same box as during your free trial but with full-size products. The price of the Curology box depends on the size and type of formulas you order. Here are the prices of their products:
Product

Benefits

Price

The small custom formula

A monthly supply of formulas for your skincare

The option to add or remove products from your box

$19.95 a month + $4.95 shipping and handling

The large custom formula

$39.90 every two months, plus:

Emergency spot patches $4.95 shipment

Acne body wash $18 shipment

Cleanser and moisturizer set $20 shipment
You will be able to change the delivery dates after your free trial. You can also choose between large and small custom formulas, but you can't add emergency spot patches, acne body wash, or the cleanser and moisturizer set to your small custom package.
With a paid Curology subscription, you can earn consultation credits that you can use to get advice from your provider.
What Do the Curology Charges Look Like on My Bank Statement?
Here is how the Curology charges may look like on your bank statement:
| | | |
| --- | --- | --- |
| CUROLOGY / CUROLOGYCAUS | CUROLOGYIN | CUROLOGY 8588591188 CA |
| Curology, Inc. | CUROLOGY CUROLO | CUROLOGY CUROLOGY |
| CUROLOGY | CUROLOGYINC | CUROLOGY CUROLOGY, CA #000 |
| CUROLOGY, 8588591188, CA | CUROLOGY 8588591188 | Curology curologca |
| CUROLOGY CUROLOGYCA | CUROLOGYINC CA | CUROLOGY CUROLOGY CA |
Use DoNotPay's Free Trial Card and Don't Get Charged When Your Free Trial Expires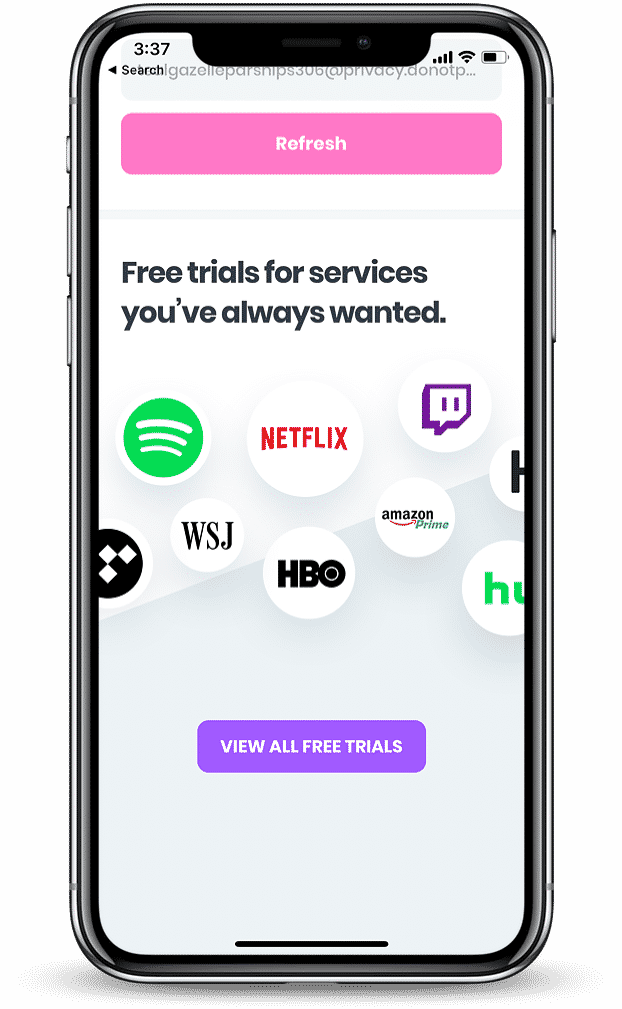 You ordered the Curology skincare products during the free trial, used them for a few days, and then completely forgot about it? Don't be surprised when you see a Curology charge on your bank statement. The company will bill you unless you cancel your free trial on time. If you want to avoid this situation, DoNotPay has a great solution for you!
DoNotPay offers virtual credit cards for free trials! If you use our virtual credit card, you won't need to worry about wasting money after your Curology free trial expires. Our Free Trial Card will look like a real card to any merchant! You may use it to sign up for any free trial without being charged afterward. The card is not linked to a real source of funds, so the company won't be able to charge it once the free trial expires.
What is awesome about DoNotPay's card is that you also get a generated email address to start your free trials but dodge spam emails from companies.
If you already have problems with getting spam email or text messages, check out how you can get rid of spam emails or report spam text to Verizon.
Can't Keep Track of Your Subscriptions? DoNotPay Is Here To Help

It's often difficult to keep track of multiple subscriptions, so you can end up paying for services you never use. If you want to save money on your inactive subscriptions, use DoNotPay's Find Hidden Money Feature! Connect your email or bank account to our app, and we will monitor all of your subscriptions. We can easily find the ones you don't use and cancel them for you.
DoNotPay—A Salvation From Bureaucracy

Do you need to cancel some subscriptions? We can help you cancel Xperience Fitness, get rid of CrScr membership, end your Shopify membership, and much more! If you use DoNotPay to terminate your subscriptions, you won't need to deal with customer service!
We can also help you get a British Airways, Oyster card, or YouTube Premium refund.
Access DoNotPay from your and check out other issues that we can assist you with:
Disputing traffic tickets

Fighting speeding tickets