A Complete Guide to British Airways Refund Policy—Here's What You Need to Know
British Airways is one of the largest airlines in the United Kingdom, with a revenue of over 13 billion pounds.
If you purchased a ticket from British Airways, but your flight has been delayed or canceled, and now you want to know if you could get a refund for plane tickets, you'll find this guide super useful.
British Airways Refund
Policy Explained

Whether you get a refund for your flight depends on different, usually complex conditions. Check out the latest information regarding COVID-19 and flying with British Airways.
Delayed Flights
In case your flight is delayed for over five hours, you will be eligible for a refund for the part of the trip that you didn't fly.
You can claim compensation if your flight is delayed for more than three hours on your final destination, and the cause is within the British Airways control. You can file the claim by completing the form on the website.
Canceled Flights
If your flight gets canceled, you can rebook it for free. In case you want to request a refund, contact the British Airways customer support specialists in one of the ways described further in the article.
Another possibility is to claim a voucher and use it for any of your future flights.
Connecting Flights
Is your flight delayed three hours before the departure? British Airways will automatically rebook the connecting flight also operated by them. That way, you'll have more time to connect. Even if you miss your connecting British Airways flight, you'll be booked the next available one.
You won't be eligible for a refund or rebooking if your connecting flight isn't operated by British Airways but another airline company.
Is your connecting flight disrupted by the British Airways flight that's been delayed for five hours or canceled? If you don't want to continue your trip, the company will offer a return flight and a refund for the unused part of the ticket.
Non-Refundable Flights
Non-refundable tickets stay non-refundable. You can only request a tax refund.
Other Expenses
If you book your car, hotel, transfer, or anything else together with your plane ticket and the flight gets canceled, you can claim the refund. You will also have two other options:
To book a different flight on the same date, free of extra charge

To book a flight for different traveling dates, free of extra charge
If you choose to book for different dates, and that causes the price of the car, hotel, or transfer to change, two things can happen:
You will be paid back

the difference if the price gets lower

You'll have to pay more if the price for different dates is higher
How to Request a
British Airways Refund
on Your Own
You can choose from a few options when requesting a BA refund by yourself, but keep in mind that each of those methods can be time-consuming.
| | |
| --- | --- |
| Can You Request a Refund Via | Yes / No |
| DoNotPay | Yes |
| Email | No |
| Phone | Yes |
| Letter | Yes |
| Website | Yes |
| In-person | No |
| Fax | Yes |
How to Request a British Airways Refund Over the Phone
British Airways suggests contacting their customer support reps as the fastest way of getting help requesting a refund. You can do so by dialing +1-877-767-7970. Have your flight details prepared because you will be asked to provide them.
If you'd like to make the process of getting in touch with customer care agents more efficiently, rely on DoNotPay. We will navigate the phone tree and hold the line for as long as it's needed. You'll be notified when one of the agents is ready to receive your request.
Other than contacting British Airways, DoNotPay can also help you get in touch with other companies, including:
How to Request a British Airways Refund via Letter
While writing a letter is another option of requesting your BA refund, this solution is the slowest one. If you prefer having a paper trail, here's how you can send the letter:
Compose a formal letter asking for the refund

Explain the reason why you're eligible to receive a refund

Include your personal and flight details
Sent the letter to:
British Airways Customer Relations
2 Park Ave Suite 1100
New York NY 10016
How to Request a British Airways Refund Through the Website
If you want to request a refund through the British Airways website, follow these steps:
Go to the

customer service portal

Log in with your account or continue as a guest

Choose "Cancelations, delays, and diversions"

Complete the rest of the contact form according to your issue
How to Request a British Airways Refund via Fax
If you'd like to request your refund via fax, send all of your flight details to +1-212-251-6753. Don't forget to include:
Your personal info

All of the flight details

Why you're eligible for a refund
DoNotPay Helps You Get
BA Refunds
Fast and Easy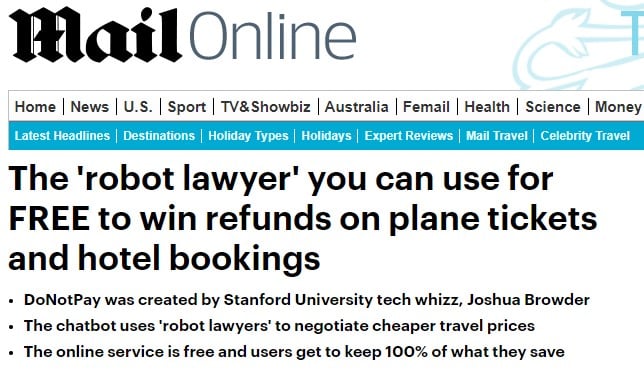 Are you tired of completing too many forms and wasting minutes, sometimes hours on the phone trying to contact customer support? Who could blame you! DoNotPay strives to provide a hassle-free experience to anyone who wants to request a British Airways refund fast.
Here's which steps to follow to request your BA refund in only two minutes:
Log in to your DoNotPay account from a

Scroll down to find the "File a Chargeback" option

Click "Get Protected"

Type in info about your bank and payment method

Enter "British Airways" as the merchant name

Answer other questions

Click on "Sign and Submit"
Respecting the Fair Credit Billing Act rules, DoNotPay will automatically fax the request to your bank and send the letter with codes for Visa and Mastercard. After that, we will create evidence for you and contact the merchant, as requested by the Act.
Where to Check the Status of My
British Airways Refund Request
?
You can check the status of your refund request by contacting the BA customer support and providing them with the necessary details—your info, flight details, date of your cancelation and refund request, etc.
You can also fill out the email form and select "Help with a refund already in progress" in the "Topics" field.
How Long Do I Have to Wait to Receive a
BA Refund
?
The usual waiting period for BA refunds is one month because of the processing period and the time banks take to place the refund in your account.
What Issues Can I Expect When Requesting a Refund from British Airways?
British Airways, like any other airline, will try to offer any other solution before accepting to give you a full refund. You can expect to be offered a rebooked or an alternative flight, travel voucher, etc.
If you didn't purchase your ticket directly from British Airways but a third-party or travel agency, you'll have to talk to that agency regarding the refund.
DoNotPay Makes Your Life Easy

Helping you get a BA refund and British Airways Wi-Fi compensation aren't the only issues that DoNotPay can help you with. Feel free to access your account from a and rely on DoNotPay's assistance anytime you want to:
Dispute traffic tickets

Fight speeding tickets