Get Personalized Reports on Clark County Sex Offenders and Keep Your Family Safe
There is one sex offender for every 1,213 citizens in Clark County, Washington. This ratio is much higher if you focus on the county's seat, Vancouver, with one convicted predator on every 579 citizens.
These numbers might not appear concerning, but you can never know where Clark County sex offenders are located. After their parole, they face no residential restrictions that would keep them away from schools.
One option of staying informed about the offender's movements is regularly visiting the Clark County Sex Offender Registry. This is not the most efficient method because it requires continual searches.
DoNotPay has created a new feature that speeds up your search by automating the process. and access our Sex Offender Search tool to stay informed and safe.
How Can You Search the Clark County Sex Offender Registry?
County Sheriff's Office manages Clark County Sex Offender Registry. When you open the website, you'll have several search tabs you can choose from. They are displayed in the following order:
In your area—You can type in your address and scan your neighborhood for sex offenders. Note that you cannot choose the search radius
Name—If you know the first or the last name of the offender, you can pinpoint their exact location
City—Lists all offenders in the town you choose
Non-compliant—Lists all offenders within the county who failed to comply with some of the registration requirements
Like other Washington State Sheriff websites, Clark County doesn't offer the offender map search.
There is an option to sign up for email alerts, but you can't choose any of the parameters except your address. Besides the inflexibility, there is also a problem with receiving emails from the county's registry. These notifications can easily end up in Junk inbox as most email providers don't recognize them as relevant messages. Sometimes, they are even completely blocked.
Clark County Sex Offender Registry Laws
The Community Protection Act of 1990 and Megan's Law of 1996 are two pieces of legislation responsible for the greater safety of American citizens.
These and other sex offender registration laws allow regular citizens access to the state's documentation on the potentially dangerous sex offenders. This way, everyone can take steps to protect and instruct their children to avoid unreliable contacts or dangerous neighborhoods.
Clark County Sex Offenders on the Public Registry
Sex offender rules and regulations require all offenders to register within 48 hours of release from prison. If they stay unregistered, they can be convicted of Class C felony.
Keep in mind that not all local predators will appear on the public Clark County sex offenders list. The ones considered the least dangerous—typically known as Level 1 offenders—will be omitted if they reside and were prosecuted in Washington State.
When Level 1 offenders registered in other states travel through Washington and stay in Clark County for an extended visit, they need to register. Their data will be displayed publicly.
Clark County Sex Offender Classification and Data Availability
Clark County Sheriff's Office is in charge of compiling the sex offender details and informing the community when an offender is about to become a part of it.
The severity of the crime and the offender's residence determine what info will be passed on.
Here are the offender levels and the accompanying community notification standards:
Level
Recidivism Rate
Notified Community Members
Level 1
Low

Other law enforcement agencies
Other members of the public on request

Level 2
Medium

Schools
Daycare providers
Children or vulnerable groups, organizations, or services
Community groups near the offender's residence

Level 3
High

Flyers generally disseminated throughout all neighborhoods
Any person requesting info will be provided with the flyer
Scan the Clark County Sex Offender Registry Without Lifting a Finger—Let DoNotPay Run Your Search
Clark County is among five Washington counties with the largest number of sex offenders. The counties preceding Clark in this negative statistic are:
King
Pierce
Snohomish
Living in such an unsafe environment prompts you to take precautionary measures. The basic and most effective protection is staying informed. You can always use the Clark County Sex Offender Registry if you've got time to browse endlessly. State's email alerts may fail to deliver the latest info, so you can't rely on them.
DoNotPay's Sex Offender Search tool gives you efficient search options. Here are the most prominent advantages of this service:
Speed
Convenience
A choice of search methods
Adjustable search radius
Automatic regular reports on the sex offender location shifts in your area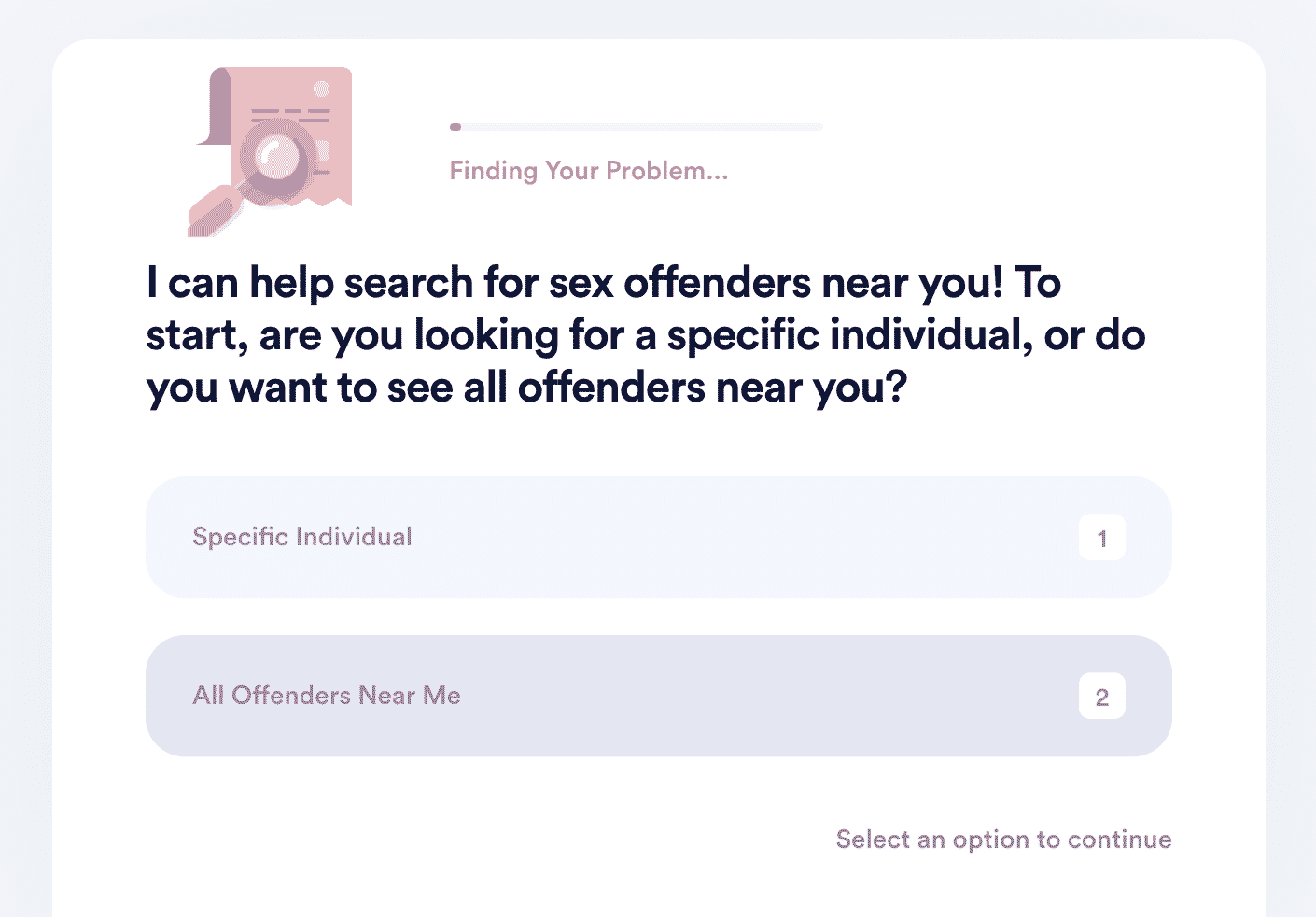 All you have to do is:
and find Sex Offender Search
Select the search method you prefer—by name or address
Pick the desired search perimeter—one, two, or three miles
Choose to receive weekly notifications on the sex offenders in your neighborhood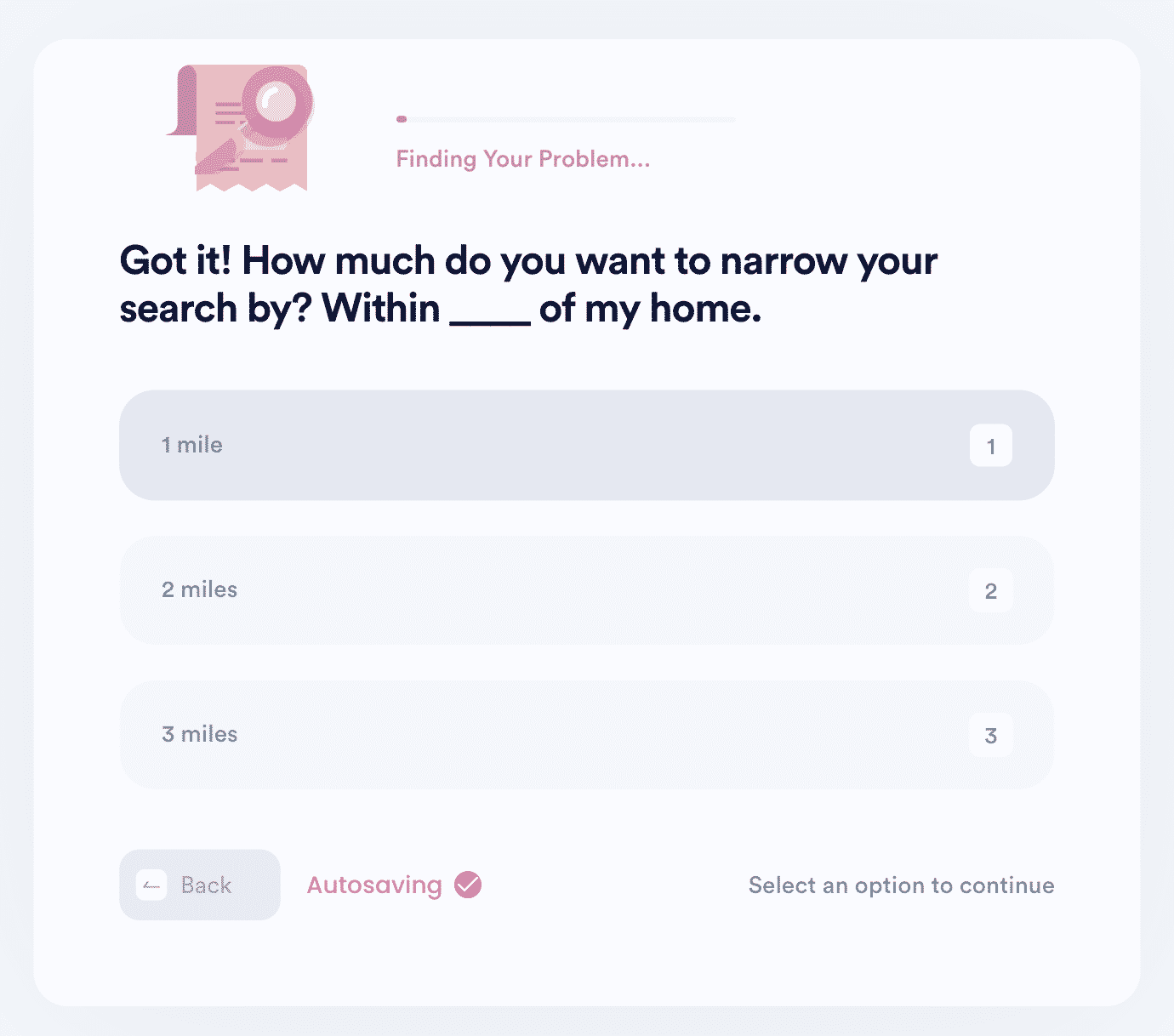 We run detailed analyses based on your criteria and deliver timely reports directly to you, so you can take further safety steps.
DoNotPay Makes Administrative Hurdles a Piece of Cake
If you ever needed to deal with an administrative task, such as drafting a valid legal document or paying property taxes, you know that it's a struggle. The good news is—it doesn't have to be!
With a bit of assistance, you can draft a POA document and learn how to reduce your property taxes in a jiffy!
DoNotPay will also show you how to tackle any of the following tasks like a pro:
We Offer More Helpful Tools!
Helping you deal with bureaucratic hurdles isn't everything we got in store for you! DoNotPay boasts various other nifty tools that you can use to deal with everyday tasks. You can: