Quit Searching the Spokane Sex Offender Registry List Mannually—DoNotPay Speeds Up Your Search
The Spokane Sex Offender Registry list is the fourth longest in Washington State.
These lists change quite often since sex offenders have full liberty to change residence and switch jobs as long as they aren't on probation. That is why it's important to have a constant flow of information from your local sex offender registry.
to access Sex Offender Search—our feature that helps you stay on top of all changes in your area's sex offender registry. Our app provides you with weekly reports about sex offenders' whereabouts, so you'll never miss an update about a nearby and potentially dangerous offender.
Spokane Sex Offender Registry Laws
Megan's Law paved the way for significant changes in sex offender registration laws, mainly by allowing all citizens access to sex offenders' location and appearance details. The new regulations make it easier for people to protect their children and themselves from offenders that have a high recidivism potential.
In Spokane County, the offenders are classified into three levels based on the severity of their offense and how likely they are to commit another offense. Their probation and registration obligations are determined based on the level and class to which they belong.
Check out the table below for more information:
Spokane Sex Offender Level
Characteristics
Level 1

Low potential for reoffense
First-time offenders—least severe crimes

Level 2

Medium possibility to re-offend
Often tried for their second or third crime
Higher severity of the crimes

Level 3

The highest potential to re-offend
Severe crimes in the domain of aggravated sexual assault and obvious predatory behavior
The Spokane Sex Offender Registry doesn't share info on the Level 1 offenders convicted in Washinton State. Note that it still does share info on the Level 1 transient offenders—those who are only traveling through the county but were convicted in other states.
How Long Are Spokane Sex Offenders Required To Remain Registered?
The period during which Spokane sex offenders need to be registered is determined according to the severity of their offense. Here are the registration periods for each offense class:
Offense Class
Offense Severity
Required Registration Period
Class A
The most severe crimes:

Rape in the first degree
Rape in the second degree
Rape of a child in the first degree

For life
Class B
Crimes of medium severity:

Child molestation in the second degree
Indecent liberties

15 years at a minimum
Class C (and gross misdemeanors)
Crimes of the lowest severity:

Rape in the third degree
Child molestation in the third degree
Sexual misconduct with a minor in the first degree

Ten years or more
Convicted sex offenders in Spokane County mustn't remain unregistered, or else they can be returned to prison. Spokane sex offenders are not allowed to abuse substances such as alcohol and drugs, initiate contact with children, or live near a school—this applies to the offenders who are still on probation. If their probation has ended, they can live without restrictions.
How To Search the Spokane Sex Offender Registry List
The Spokane Sex Offender Registry is managed by the County Sheriff's Office and shared on the Office's website.
You can perform the search according to the following criteria:
Area—The first four required fields are:

Address
City
State
ZIP
ZIP Plus

The offender's:

Last name
First name
Known alias

City—Lists all resident and transient offenders registered in the city you search
Non-compliance—Gives you a list of all non-compliant offenders in the county
The Spokane Sex Offender database has limitations and doesn't offer the offenders' map view of the search results like some other registries do.
One of the features it does offer is an email alert signup. The problem is that the emails coming from the platform can easily get lost in your Junk folder or never reach you at all. Relying on an unreliable alert system such as this means gambling with your family's safety.
Scan the Spokane Sex Offender Registry List in a Split Second—DoNotPay Automates the Search and Boosts Its Efficiency
If you rely solely on the county's sex offender registry website, you can easily miss crucial changes in the offenders' whereabouts.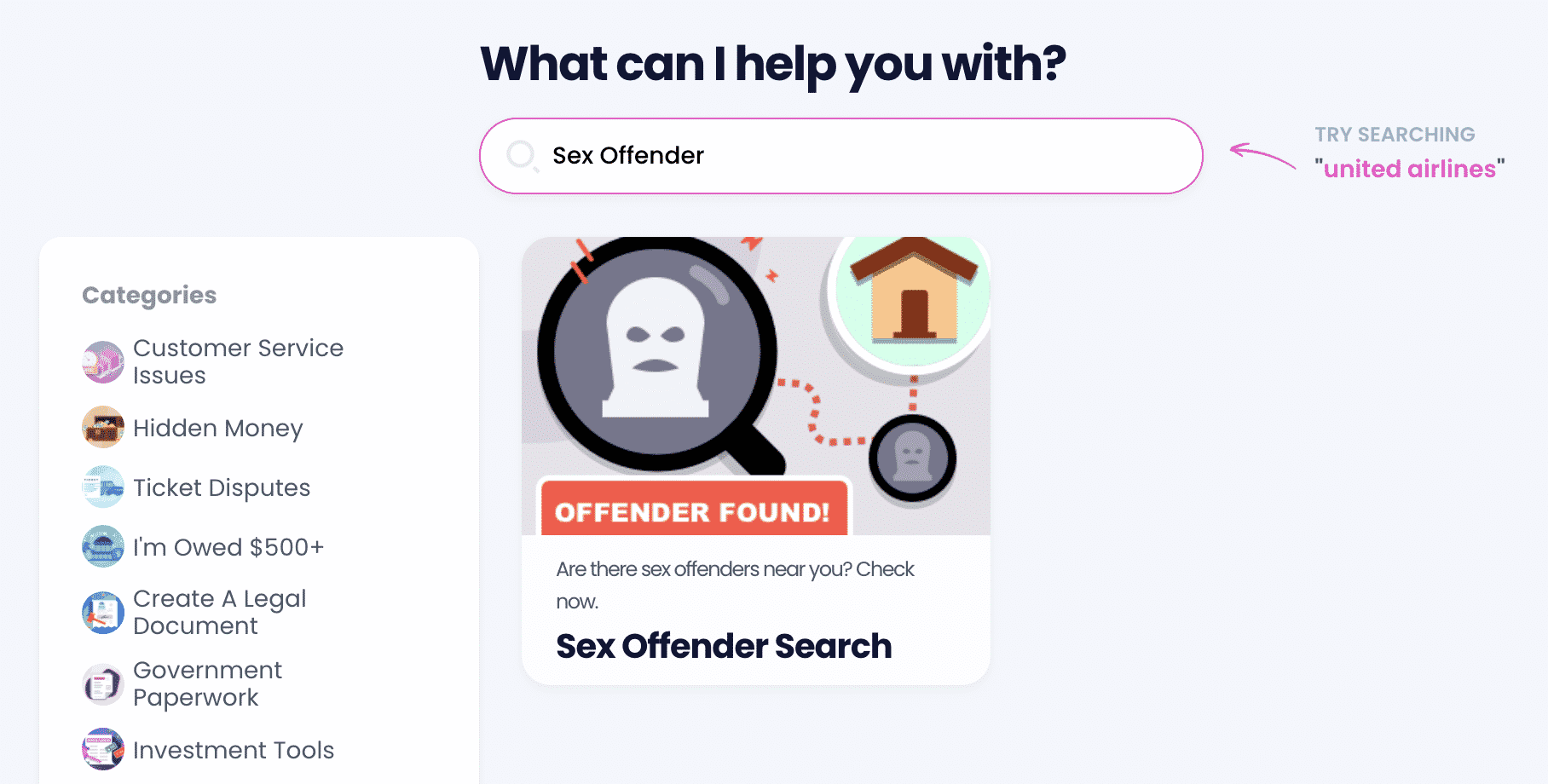 DoNotPay is a more reliable source of updates on sex offenders. Our Sex Offender Search product sends you tailored weekly reports to keep you informed on potentially dangerous offenders residing in your vicinity. Some of its numerous advantages include:
Ease of use
Options to look up offenders by name or by the residential area
The flexible search radius that can be set to one, two, or three miles
All-encompassing weekly reports that let you know if any new offenders have moved into your neighborhood over the week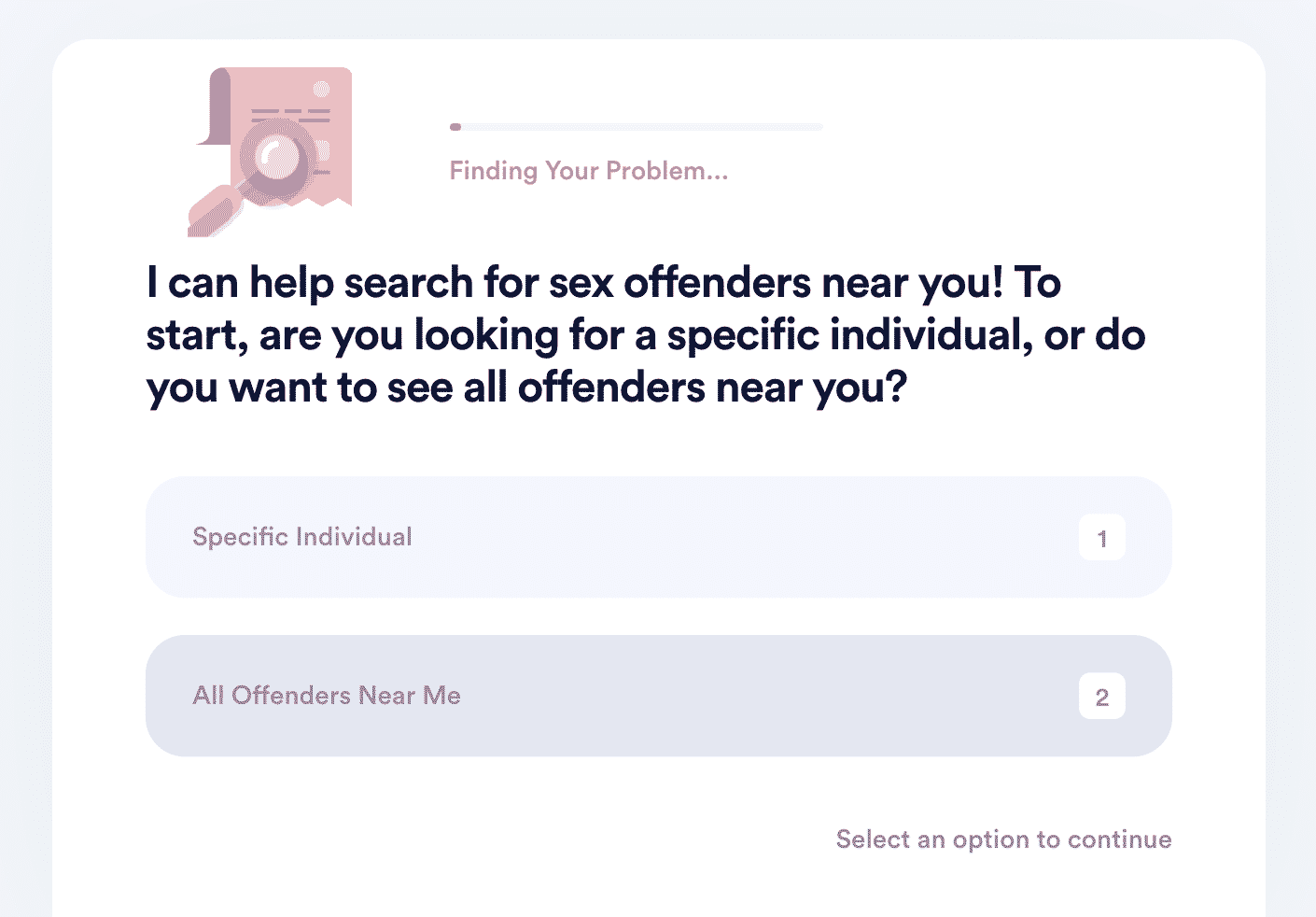 To set up our service, you need to:
and open Sex Offender Search
Select the option to search for a specific offender or all that reside near you
Pick the search perimeter
Sign up for weekly notifications
Our app conducts regular searches of the Spokane Sex Offender Registry and delivers detailed and personalized reports straight to you.
Drowning in Paperwork? DoNotPay Comes to the Rescue!
Dealing with administrative procedures is never a fun experience. Not only is it time-consuming, but it's also extremely inconvenient and impractical. Luckily, we have a practical solution!
Use DoNotPay to cut through the red tape and handle any bureaucratic issue that comes your way stress-free! Check out the list below to see a fragment of tasks you can tackle with our help:
Explore DoNotPay's Other Services
DoNotPay provides you with a ton of other services you can find useful when completing your everyday tasks.
You can contact customer service support without waiting for hours, request refunds from various companies, file a missing package claim, and get compensation for missed or delayed flights in a few clicks!
If you want to earn some money, we can help you with: