Should I Prep for My Citizenship Test on Quizlet?
Do you plan on taking the citizenship test provided by the U.S. Citizenship and Immigration Services (USCIS)? If you're brainstorming the best methods of preparing for it—such as taking the mock citizenship test on Quizlet—you've come to the right place.
We will discuss the ins and outs of the Quizlet citizenship practice questions and show you a viable alternative prep method.
Practice tests are your golden ticket to acing the citizenship exam and the most streamlined option you can choose! DoNotPay has the citizenship practice test that you need—don't hesitate to use it!
How Can I Practice for the U.S. Citizenship Test on Quizlet?
Quizlet is a tool that you can use to get the idea of what a real citizenship test looks like and the sort of questions you will be asked there. You can find it online and use some of its features free of charge.
Quizlet offers you civics questions similar to the ones you'll get on the real exam and gives you other options to practice, such as: 
Flashcards

Writing exercises

Spelling drills
You can use the flashcards with the civics questions or practice your writing and spelling. If you make a mistake and answer any of the questions incorrectly, you will be able to determine which segments you should improve on and study more.
Keep in mind that Quizlet also has some disadvantages. Some of the features on Quizlet are locked behind a premium membership, so you won't be able to use it to your fullest advantage unless you pay up. Another drawback of the Quizlet practice questions is that they are useful mainly for rote learning.
Flashcards
If you are curious how you can use Quizlet's flashcards option, we'll provide you with all the info. Follow the next five steps to gain access to the Quizlet flashcards:
Create an account on

Quizlet

Log in to your account

Open a civics study set

Click on

Flashcards

Tap on the flashcard to flip it and see the question
Writing Exercises
To use the writing exercises option, go to Quizlet and choose Write in the study section. You'll get to type in your answer and see whether you need to study the matter further or not.
Spelling Drills
You can use this option to practice your spelling. Once you tap on the speaker, you will hear the sentence, and you will have to type it out correctly. If you get it wrong, you will be offered the correct answer and pronunciation of it letter by letter.
Other Ways To Prepare for the U.S. Citizenship Test
You can choose to prepare for your citizenship test in any way that you want to and that you find to be the most effective! 
Considering that the citizenship test consists of two portions—English language and U.S. history—the best course of action is to do your research first and see what prep method is more up your alley before you commit.
Quizlet provides you with several options regarding both portions of the exam. Using the civics flashcards can help you memorize the questions and get an idea of what to expect on the real test.
If flashcards aren't your cup of tea, you can find books, study guides, quizzes, videos, and many other test prep tools online.
Visiting the USCIS website could also prove quite helpful since you can find all the information and details about the real test and the kind of questions that you need to prepare.
Ultimately, practice tests are the key to passing your citizenship test successfully! You can find them on the USCIS website or turn to DoNotPay and start practicing for any of the tests we have to offer!
Taking the Citizenship Test With DoNotPay
DoNotPay is the best place to find and take numerous practice tests and improve your knowledge before the real exam! The process is super easy and convenient!
All you need to do to take your citizenship practice test with DoNotPay is to follow the next steps:
Open DoNotPay in any

web browser

Find the

U.S. Citizenship

practice test

Pick the test that you want to practice

Choose the number of test questions that you would like to have (10, 20, or 30)

Practice away!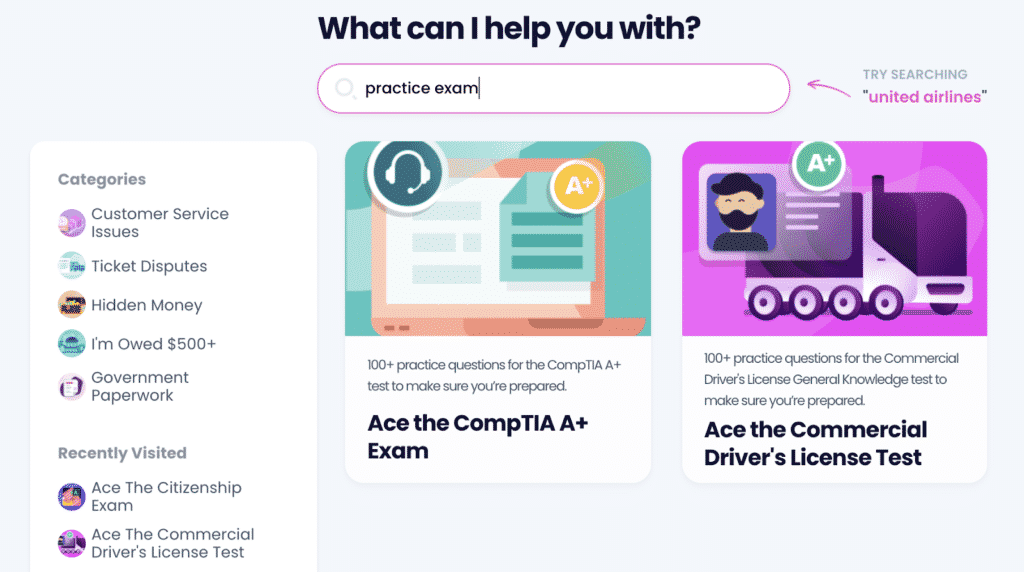 If you get any of the questions wrong on our practice test, you will be able to try it again right away, which is not possible on Quizlet. In case getting questions wrong doesn't bug you and you can continue the practice test uninterrupted, DoNotPay obliges. Waiting to see your score and retaking the test after you finish it is another neat option we offer.
Apart from practicing for the citizenship test, you can also use our app to practice for eight other exams! Here is a list of all the practice tests you can find on our app: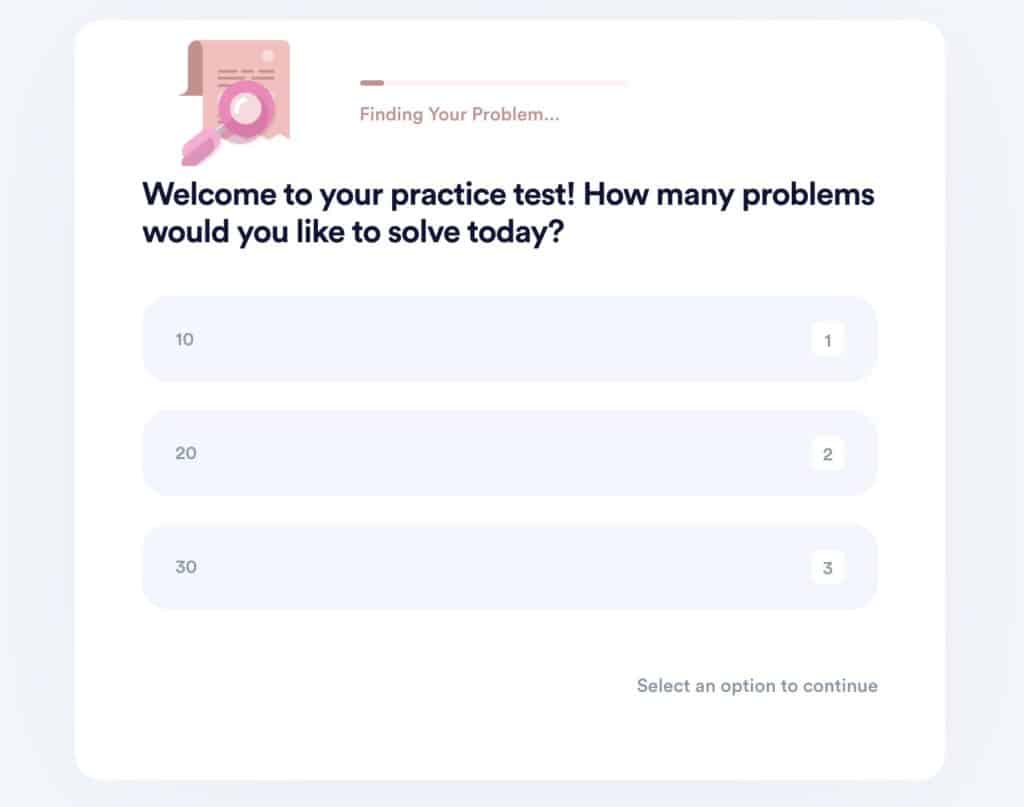 What Can I Expect on the Real Citizenship Test?
The real citizenship test consists of two segments:
Civics test

English test
For the first portion of the exam—the civics test—you will be asked to answer 20 questions about American history and the U.S. government out of a 128-question database. You will answer these questions orally, not in a written form. Out of the 20 posed questions, you will need to get 12 right to pass.
The English test serves as a way for you to showcase your ability to speak and understand the basic English language. The exam consists of three parts—speaking, reading, and writing one sentence correctly in English.
How Do I Schedule a Meeting With USCIS?
Due to the breakout of the COVID-19 virus, USCIS made a new system under which you can be admitted for an in-person meeting. You will first have to call the USCIS contact center at 1-800-375-5283 and ask about your case. You can potentially be scheduled for a meeting at a USCIS field office. 
You should also submit a request online for an in-person meeting. A USCIS official will review the online request and call you back to schedule a meeting if needed.
Enjoy Services Worry-Free With DoNotPay
Do you want to try out a new service but are worried about being charged if you forget to cancel it before it ends?
With DoNotPay, you can sign up for free trials without worrying about auto-charges. Our virtual credit card makes sure you enjoy your trial run of the service and prevents any company from taking money out of your real account.
This free-trial card also protects you from email spam because it generates an alternate email address for the free trial sign up.
If you want to keep your phone number private and deter robocallers and text spammers, use DoNotPay's Burner Phone feature when subscribing to services.
In case the company does charge you, initiate a chargeback on your credit card transactions instantly with our app.
Discover DoNotPay's Amazing Features
DoNotPay is a virtual lawyer app that can take over annoying bureaucratic tasks from you. 
We can cover anything you may need help with—dealing with customer service reps, booking appointments with the DMV, securing refunds and compensation from airlines, disputing your parking tickets, or getting you an extension on bill payments. 
Our app can help you draft any legal document in minutes or access public records from state and federal databases.