Disputing Parking Tickets In Charleston In Minutes, Without a Lawyer, For Free
A new chatbot has been successfully helping hundreds of thousands of people appeal their parking citation for free, according to BBC News. The app, called DoNotPay, was programmed by a British teenager after going through the same dilemma with citations, time and again. Aside from helping in infraction disputes, the world's first robot lawyer can also assist when seeking compensation for delayed flights, the report added.

DoNotPay makes it easy for you to dispute your Charleston parking ticket. Here's a step-by-step guide to help you:
You can use DoNotPay to appeal your ticket using a web browser.

Be prepared to answer a few questions when disputing your parking ticket. These questions could include where you received your infraction, what type of citation it is, as well as why you're contesting it.

Upload a photo of your ticket and other pieces of evidence to the app.

After providing all the necessary details, DoNotPay generates a script for you to follow to dispute your infraction successfully. 
Watch how to dispute parking tickets in any city:
Is contesting a parking ticket in Charleston worth the hassle? Can I beat it?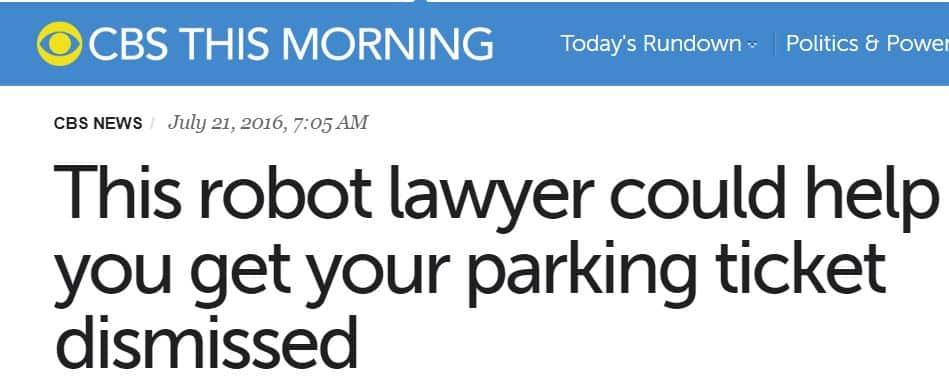 Contesting a parking ticket is always worth the effort. Simply disputing your ticket could reduce your fine. 
With DoNotPay doing almost everything for you, there's just no reason why you shouldn't appeal your infraction. Access DoNotPay through any web browser. Back your appeal up with solid pieces of evidence, and you're halfway there. Here are some examples of evidence that might be of great use to your dispute:
A mistake on your ticket

Visible corrections or alterations

Missing information on the ticket

Faded paint on street signs

Missing street signs

You sold the car before the citation was issued
In some more cases, taking citations to court might be necessary. Give these considerations some thought:
It won't hurt if you check Charleston's

regulations

first.

Do you have witnesses who could stand up for you?

Do you have concrete evidence?

Are you sure the lengthy process is worth your time?
Charleston is a fair city, though recent changes to its parking regulations, especially in commercial loading zones, can cause residents a headache. If you wish to understand more about these rules, read this Reddit thread.
How much time does DoNotPay save?

DoNotPay saves you a ton of time. Appeals usually take hours since you'd have to collect information and gather evidence to support your dispute. This can also include gathering witness statements to help support your case. Appealing a parking ticket on your own also means you'd have to write a formal letter and mail it to city authorities. You'll have to research the process to get it right. DoNotPay makes it effortless. Access DoNotPay through any web browser.
Can DoNotPay help me fight and beat tickets from private parking companies in Charleston?

Yes! You read it right! DoNotPay can help you fight off both government-issued tickets, as well as citations from any private company, including:
Towne Park

Imperial Parking, aka Impark

Douglas Parking

Ace Parking

ABM Parking Services

SP+, aka Standard Parking

Laz Parking

Lanier Parking
Is it worth finding a parking lawyer in Charleston?
With Do NotPay's do-it-all app, you don't have to spend hundreds or even thousands of bucks on a lawyer. Access DoNotPay through any web browser. You don't need a lawyer when appealing simple parking infractions. Fines usually run between $40 and $150 depending on the severity of the alleged violation. Paying more than that for a lawyer doesn't make sense.
Should you feel the need to hire one, ensure that your lawyer has these qualities:
Credentials

Expertise in parking regulations

A great success rate with parking cases
Finding a lawyer who specializes in parking tickets may not be as easy as looking for one with other specializations. But here's a quick guide:
Ask for referrals.

Check your state bar association. It has detailed info on all local lawyers.

Create a shortlist of at least three lawyers, if possible.

Set up a consultation to get to know their expertise and rates.

Research their work experience and success rate before hiring.
How much can I expect to pay for a parking attorney in Charleston?
Though Charleston is not among the most expensive cities in the US, things can be pretty costly here. According to the latest data, Charleston's cost of living is four-percent higher than the national average. This includes everything, from primary commodities to services. So, expect to shell out more than you would in other cities if you decide to hire a parking ticket lawyer in Charleston.
Generally, a lawyer's fee ranges between $200 and $1000 per ticket case. If you think a $40 infraction is worth the hassle and that cost, then go for it.
But DoNotPay can do the same thing for free. Access DoNotPay through any web browser.
If I lose my appeal, how can I pay my parking ticket in Charleston?

It used to be easy to find a parking space in Charleston, and sometimes they were even free. However, with recent changes to the City's parking regulations, it may get more difficult and expensive now.
The Charleston government has vowed to intensify its pursuit of parking violators and those who don't pay off their infractions. So, if you don't want to receive bench warrants or face a variety of other consequences, always dispute your tickets immediately.
Use Do NotPay's free app to determine whether your parking ticket in Charleston is beatable. Access DoNotPay through any web browser. If you can't beat it, pay off the fine ASAP. 
You can pay Charleston parking tickets using these options.
If you have a valid debit or credit card and your citation number or license tag number, you can pay online using the

City of Charleston Parking Portal link

.

You may also pay by mailing your payment to the Revenue Collections Parking Division, 2nd floor, 180 Lockwood Boulevard, Charleston, SC 29403. However, only checks and money orders are accepted using this option.

You can also pay in person. Just go to the Revenue Collections Parking Office during office hours on weekdays.
The City allows you to request a review of your citation within 30 days of the date of issuance.
Pay or dispute?
| | | | | |
| --- | --- | --- | --- | --- |
| | Ease | Time it takes | Cost | Benefits |
| Dispute | Appealing simply means answering a few questions with DoNotPay | DoNotPay will help you Dispute parking tickets in no more than two minutes | Can turn out completely free | When you appeal your ticket, there's a high chance of having it reduced or dismissed |
| Pay | You can pay in person, by mail, phone, or online | The process usually takes hours or even weeks depending on the payment method | You will shell out the fine, additional fees + incidental expenses  | Your wallet will be lighter |
Does Charleston reduce parking fines? 
Yes, you can have your parking ticket in Charleston reduced. Take this Reddit thread for an example. 
The City is strict with parking rules, but it is also lenient with reductions, especially when you have a reasonable argument. Dispute with DoNotPay. Access DoNotPay through any web browser.
Money is pretty tight right now, what happens if I don't pay a citation I get in Charleston?
Failure to pay parking tickets in Charleston won't result in imprisonment. However, if your ticket is marked "Appearance Required," you must appear in court to avoid getting a bench warrant. Here are other possible consequences when you neglect to pay your parking ticket in Charleston:
Late payments always incur more fees

Refusal to renew your vehicle registration

License suspension

Unpaid parking tickets go straight to a collection agency, risking your credit score

Your vehicle may be subject to towing
Can Charleston infractions go on my record?
Your driving record won't show any parking violations you've committed. However, having unpaid parking tickets can indirectly affect the renewal of your license or vehicle registration.
This has severe implications. Your local DMV can suspend your driver's license and refuse to renew your vehicle's registration should you fail to pay your parking tickets. So, instead of risking getting booted or having your license suspended, try disputing your tickets with DoNotPay! It will just take you a few clicks. Access DoNotPay through any web browser.
What if I never found a ticket on my car but got notified by mail? Do I still need to pay it off?
Aside from the physical ticket parking officers hand out, they also notify violators via mail. So, yes, even if your parking ticket was blown off by the wind, stolen, or went missing, you will still have to deal with the fine. 
The only problem that could arise from this is when you failed to inform the DMV that you changed your address. Late fees and other penalties could mount up on tickets that you don't know you have.
Can parking infractions in Charleston increase my insurance rates?
Your insurance company won't know about your parking citations. However, insurance companies like StateFarm may refuse to insure unregistered vehicles. 
Should the DMV suspend your vehicle registration, you may have to re-apply for insurance. There's no guarantee that you will get the same rates.
I was visiting from out of state, do I really need to pay a ticket I received in Charleston? Even if I don't plan on coming back?
The answer is a resounding yes. You need to pay parking citations whenever and wherever you're issued one. It doesn't matter if you reside in that state or not. 
Each jurisdiction has its own parking laws that you are required to follow the moment you enter. Failure to obey a state or city's law has consequences. Some offenses, like parking citations, can be disputed.
With DoNotPay, it's easy to appeal your infractions, even outside your state or country of residence. Access DoNotPay through any web browser.
Do Charleston traffic cops give tickets to people who are in their car?
You can get parking tickets even while you're behind the wheel. Staying in one place, even for just a few minutes, can result in an infraction. So, always mind your parking when you answer a call or an urgent text message.
Parking officers pay attention even to the smallest of details that we often miss. The city will be more than happy to receive your fine.
What about if I'm driving a rental car?
You will have to pay any citations you obtained while renting a car. Rental companies, like Alamo, usually charge your credit or debit card automatically when you receive an infraction, plus a hefty administrative fee. 
Alamo makes it easy for you to pay car rental citations online. But if you prefer to pay via mail, you can do so by mailing in your payment and indicating your citation number. You can find them in the notification that was sent to you. 
If you already paid the citation in person, you can submit documentation to get a citation refund using this link.
How much does the City of Charleston make from parking tickets?
Charleston claimed $3.43 million from parking violations in 2018, and the figure is expected to spike in 2019 after the city eliminated free evening parking to raise city revenue. In fact, parking meter revenue rose threefold in the months after the new regulation was introduced.
The new regulation also doubled the price of parking meters to $2 per hour. Residents, especially those working in the hospitality and restaurant industries, were struck by the changes since they can no longer get metered spaces at a low cost. But the changes don't end there.
Charleston has vowed to be more aggressive in giving out and pursuing fines, especially those issued to non-Charleston residents. The majority of unpaid tickets in Charleston are out-of-state, according to a financial officer with the City.
DoNotPay helps users fight and beat tickets in any city
DoNotPay helps users fight parking tickets in every city in the US and UK. Here are a few cities we've helped users dispute the most tickets in:
What else can DoNotPay do?
DoNotPay can also assist you with:
Disputing speeding tickets
Contesting traffic tickets
Getting you an appointment with the DMV faster
Making a virtual credit card to avoid getting charged at the end of a free trial

Help you get compensation for delayed and canceled flights
When using Do NotPay's free app, all you need to do is answer a few questions and wait for the result of your dispute. Access DoNotPay through any web browser.
To summarize San Jose parking tickets:
| | |
| --- | --- |
| You can appeal your tickets with little to no effort. | DoNotPay can help you beat your parking ticket, as it has with 160,000 infractions since its launch. |
| Appealing a parking citation should not take more than 120 seconds. | DoNotPay allows you to contest your parking ticket in under two minutes. |
| DoNotPay can assist you with both government- and private company-issued infractions. | DoNotPay offers services wherever you are in the US. |
| Failure to pay your parking ticket in Charleston can result in bench warrants, among other severe consequences. | You won't be jailed if you don't pay infractions. |
| Parking infraction disputes can be worth the lengthy process and effort. | With DoNotPay, you can save yourself the stress, time, and hassle that comes with disputes. |
| Charleston has several payment options: pay by phone, mail, online, or in person. | But using DoNotPay, there's a great chance that you won't need to pay it at all. |
| The City of Charleston usually allows a reduction in parking fines. | You have to appeal your ticket within 30 days of its issuance. |
| Your parking tickets won't be reflected on your driving record. | But this doesn't mean you don't have to pay your citation. |
| You can't claim you shouldn't pay because the ticket is missing or stolen. | The city will notify you whenever you have parking violations via mail. |
| Parking tickets don't affect your insurance coverage. | However, unpaid citations can result in the suspension of your registration, which is a requirement to renew your insurance. |
| You can take your parking infraction to court. | But court proceedings aren't that necessary and could even cost you more in the long run. |
| You should pay citations you incurred, even if received them in other states. | Cities and states have different parking laws that should be obeyed at all times. |
| You can avoid parking tickets if you pay close attention to city regulations. | Appealing a citation is always an option. |
| You can be ticketed even when you're behind the wheel. | Stopping to answer a call, a text message, or an email can result in parking violations. |
| Car rental companies require renters to pay all parking tickets obtained during the rental. | Infraction fees can be automatically charged to your debit or credit card. |
| Charleston had launched sweeping changes to its parking regulations and vowed to pursue violators. | The city rakes in more than $3 million in parking fines in 2018. |
| DoNotPay can assist you with your other needs for free! | Appealing speeding tickets, canceling free trials, and seeking compensation for delayed flights are just some of them. |