The Easiest Way To Cancel Project Fi
Project Fi—also known as Google Fi—is a wireless service provider operated by Google. It offers data packages on three mobile networks that your phone can switch between:
T-Mobile

Sprint

U.S. Cellular
If you are looking to cancel the Project Fi service, there are several ways to do it.
Cancel Project Fi on Your Own
To cancel Project Fi and deactivate your account, you can either visit the website or contact the company via phone.
If you have any questions or requests, the website also has online customer support that you can reach out to and ask for help.
Cancel Project Fi via Phone
To cancel Project Fi by contacting its agents via phone, you need to dial 1-844-TALK-2-FI.
Cancel Project Fi via Its Website
If you want to cancel Project Fi via the website, these are the steps you'll need to follow:
Open the Project Fi website or mobile app

Find the

Account

tab and choose

Manage Plan

Choose

Leave Project Fi

Follow the required steps to confirm your cancellation and choose what to do with your number:

Transfer your number to another carrier if you leave the family package

Transfer the phone number to Google Voice

Delete your phone number
If this seems confusing and time-consuming, DoNotPay can make it easier for you to deactivate your account and cancel Project Fi.
| | |
| --- | --- |
| Can You Cancel Via | Yes/No |
| DoNotPay | Yes |
| Email | No |
| Phone | Yes |
| Website | Yes |
Cancel Project Fi With DoNotPay

DoNotPay makes it easy for users to cancel any subscription without spending time on the phone or going through lengthy processes.
You only need to open the app in your preferred and follow these simple steps:
Sign in to your account

Select the

Find Hidden Money

option

Type in

Project Fi
When you confirm your choice, DoNotPay will proceed to cancel your subscription. In less than 48h, everything will be finished, and you will be notified once the cancellation is complete.
We can help you cancel any service, including:
Can You Pause Your Project Fi Account Temporarily?
If you enjoy the service Project Fi provides but, for some reason, need to pause your account temporarily, Project Fi allows you to do that. To pause your subscription, follow these steps:
Open the Google Fi website or the phone app

Choose

Your Plan

from the account tab and click on

Manage Plan

Select

Pause Service

Confirm
Keep in mind that your number will remain active while your account is paused, but you:
Will have no access to domestic calls, texting, data, or international services

Won't be able to use your data for mobile hotspots or tethering

Will have your data-only SIMs paused as well

Will be charged for device protection and financing
When you decide to unpause your account:
Open the website

Select

Resume

service
Find Alternatives to Project Fi
Once you cancel Project Fi, you might want to find an alternative wireless service provider. If that's the case, you can choose from one of the options below:
Try DoNotPay's Virtual Credit Card To Avoid Auto-Renewal Charges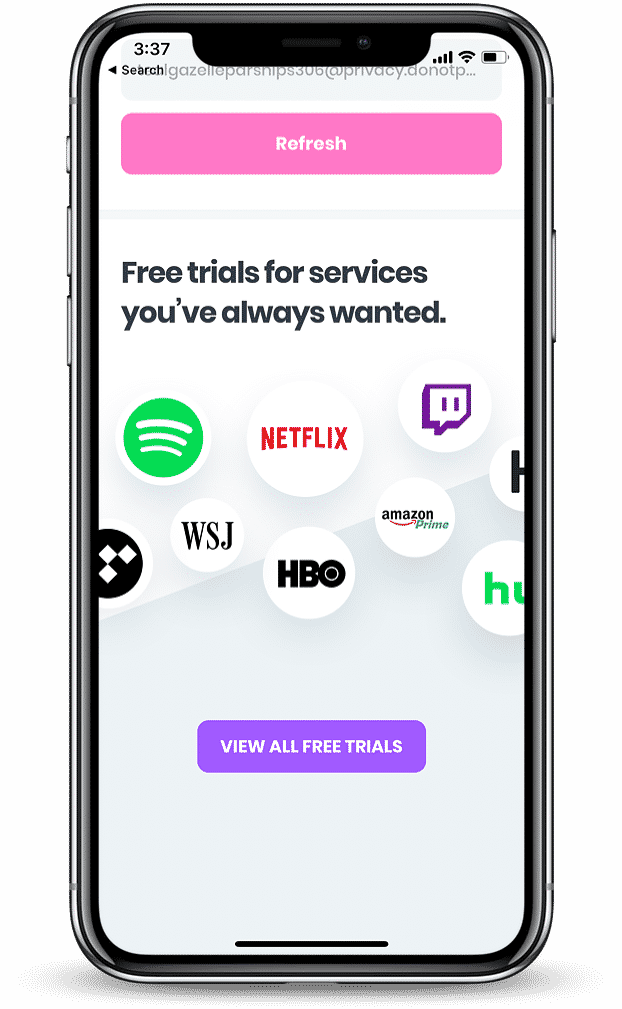 We often do not get notified that our free trial will expire soon, and as a result, we get charged because the membership gets renewed automatically. DoNotPay offers a virtual credit card that can prevent this from happening.
Our app's virtual credit card has no funds—when the free trial expires, companies will unsubscribe you on their own because they will not be able to charge you.
You can also get a temporary email account that you can use for subscribing. This way, your personal email won't get cluttered by annoying spam or promotions.
DoNotPay's virtual credit card can:
Generate a random credit card number

Get approved on free trial pages

Stop charges and automatic renewals

Cancel subscriptions for you
Always Monitor Your Subscription Status With DoNotPay
People often forget to cancel subscriptions they no longer use and get charged as a result. To avoid unnecessary spendings, we have to monitor our subscriptions and get rid of the ones we do not need. Thousands of Americans spend more than $300 a year on subscriptions they do not use.
Our app has a solution for it! What you need to do is:
Open DoNotPay in a

of your choice

Connect your bank or email account to DoNotPay

Wait for us to find all of your active subscriptions and mark the ones you don't use

Have us cancel all of the subscriptions you don't need
Once you complete this simple process, you will protect yourself from auto-renewal charges and avoid wasting your money on services you never use.
Outsmart Scammers With DoNotPay
Are you troubled every time you think about subscribing to a service because you fear your personal information will leak and your privacy will become invaded?
There's no need to fret anymore as DoNotPay has come up with a way to shield you from hackers, scammers, and identity thieves alike.
Check out how you can use DoNotPay and browse the internet care-free:
Open DoNotPay in your web browser

Locate our

Virtual Credit Card

generator

Use the made-up card number to sign up for any

free trial

Move forward to our

Burner Phone

product

Use the temporary phone number to verify any online account

Enjoy the trial without worrying about

canceling it

—the service will do it on its own
Signing up for services with DoNotPay's hacks frees you from ever falling victim to a serious crime, such as identity theft, and liberates you from the bothersome and never-ending spam calls, texts, and emails that you never explicitly agreed to receive.
What Else Is Hot About DoNotPay?
DoNotPay does wonders in protecting your online privacy, but it can do so much more for you!
With our assistance, you can claim compensation for canceled or delayed flights, request refunds and chargebacks for unsatisfactory purchases, file warranty claims for defective products, and even overturn unjust parking tickets!
Our app can locate unclaimed funds that exist under your name, the best clinical trials for your needs, and public records that you couldn't identify on your own.