Dispute Brookline Parking Tickets For Free
If you get a parking ticket in Brookline, you have a chance to get your fine dismissed. You can fight your citation as soon as you get the ticket. DoNotPay makes the process effortless. Access DoNotPay through any web browser.
DoNotPay helps you dispute Brookline parking tickets within 120 seconds for free

Instead of rushing to pay your parking fines, you should dispute your citation so that you won't have to pay a single dime! To help simplify the process, DoNotPay can give you the advice you need in only 120 seconds for free. Business Insider reports that DoNotPay has won hundreds of thousands of disputes since its launch. It enjoys an incredibly high success rate.
Here are some quick and easy steps that you will need to follow when appealing your citation:
You can use DoNotPay directly from your web browser.

Our chatbot will then ask a few questions to gather an understanding of the situation and its particular details. You have to answer each question honestly for our app to give you an accurate and helpful solution. 

You then have to upload an image of the parking ticket that you received to the app. 

Once our chatbot has all the necessary information, it will then provide you with the exact argument and script for you to follow when you file your dispute. 
Watch how to dispute parking tickets in any city:
Is it really worth the trouble of trying to beat a Brookline parking ticket?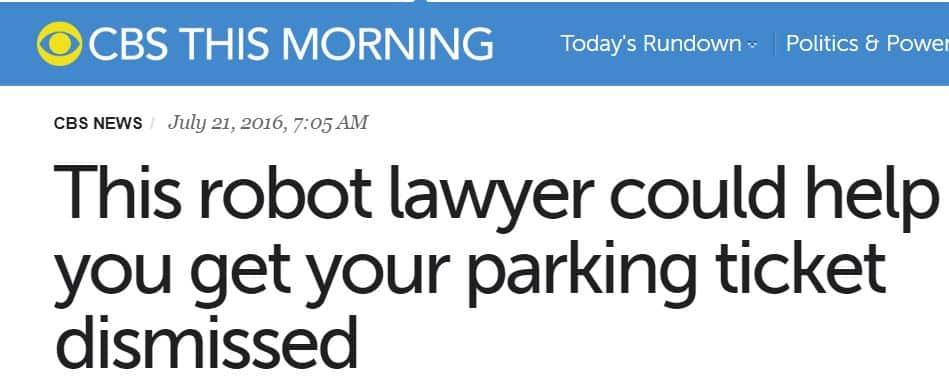 The city of Brookline offers you different ways to dispute your parking ticket. You can do it in person, by mail, or even online. Whichever method you choose, you will have to present your parking ticket. You can include evidence or documents that support your appeal. 
Along with all these, you will need to submit an appeal letter stating your argument. Our DoNotPay app can give you the exact script to use. Access DoNotPay through any web browser. Considerations influencing your dispute include:
Faded street signage

The citation was issued after you sold the vehicle

Some or all the details on the parking ticket are missing or incorrect
If you appeal your parking ticket with DoNotPay and follow the procedure that the app offers, your chance of winning the dispute is substantial.
How much time can I save by using DoNotPay?

DoNotPay can help you appeal your ticket in only a few minutes. However, if you decide to do everything yourself, you will have to spend at least half a day to settle everything. You need to gather all the evidence and other necessary documents. After that, you will have to find out how to file a dispute and send everything to the city yourself. It is a tedious and time-consuming process.
The best option for anyone who has a full-time job is to save time with DoNotPay. Don't miss a day or more from work. You may end up losing more money than the value of the fine. 
Can I contest Brookline parking infractions issued by private companies?

Other than government-issued tickets, DoNotPay can also help you fight citations from any private company, including the following:
Imperial Parking, aka Impark

Ace Parking

Lanier Parking

ABM Parking Services

SP+, aka Standard Parking

Towne Park

Laz Parking

Douglas Parking
Access DoNotPay through any web browser.
Will I have to hire a lawyer to dispute a parking ticket in Brookline?

Luckily, the city of Brookline does not require you to hire a legal representative to appeal your citation. This is good news since getting a lawyer is costly.
You get DoNotPay's help in disputing your ticket instead. Our app is the world's first robot lawyer that can provide you with the perfect solution to your parking infraction in under two minutes. Access DoNotPay through any web browser.
However, if you decide to get a lawyer, there are additional things that you should do beforehand:
Do your research. It is essential to learn as much as you can about your legal representative before hiring them. You can look them up on the internet. You can also ask for recommendations from your friends or family members.

Check their credentials. Take a look at the previous cases they have handled and determine their success rate. 

Beware of frauds. Be extra mindful and check for any red flags.

Consider the costs. It is expensive to hire a lawyer. You should never pay more for a legal representative than the actual cost of the parking ticket. 

Conduct interviews. The best way to get to know a person is by talking to them one-on-one. Ask about their capabilities and the dispute process.
How much will I have to pay for a lawyer in Brookline?

The fee that lawyers charge for their services depends on the complexity of the case. The more complicated the case, the higher the legal fees you have to pay. Generally, hiring a parking lawyer will cost you as little as a hundred dollars to as much as a few thousand dollars. If you need your lawyer to represent you in court, then the price will be on the higher end. 
However, there is a way for you to avoid all expenses from your dispute. You can use our free app to give you the exact argument and template for your appeal letter. All you have to do is answer all the questions our DoNotPay chatbot asks you and provide the documentation it asks for. Access DoNotPay through any web browser.
What are the methods for paying a Brookline parking ticket?

You should try to fight the citation first. That way, you can have all your fines eliminated or canceled. To win your dispute, you can get the advice of our robot lawyer. DoNotPay helps people overturn their parking infractions in only a few minutes for free. Access DoNotPay through any web browser.
If you have no other choice but to pay your citation, you can make your payment through any of the three options that Brookline offers:
In-person: You can visit the police station during office hours to pay off your ticket. You can make payments with cash, money order, certified check, personal check, or credit card (Mastercard, Visa, and Discover). Take note that you will be charged a 2.95% service fee for each credit card transaction. 

By mail: You can send a copy of the ticket with a check or money order by mail. Make it payable to:

Parking Clerk, Town of Brookline

P.O. Box 470708,

Brookline, MA

02447-0708

Online: This is the most convenient way. Visit

this page

and fill in your citation number. It will connect you to the payment page. 
You should remember that if the RMV has placed a hold on your vehicle, the only way you can pay for it is in-person or by mail. You won't be able to pay it off online. Also, when you make your payment, you will have to pay all of the fines in full. The city will not accept partial payments.
Pay or Dispute?
| | | | | |
| --- | --- | --- | --- | --- |
|   | Ease | Time it takes | Cost | Benefits |
| Dispute | The process becomes easy and straightforward with DoNotPay | Will only take two minutes | All fines may be eliminated or canceled | You won't have to spend any money  |
| Pay | Most convenient to pay online | May take up half a day or more | The total amount of the parking ticket + a 2.95% service fee | You won't have to think of what else to spend that money on |
Is it possible to get my parking fines lowered?

In many states around the country, merely disputing your parking ticket can get you a reduction in the total amount of fines you have to pay. You will have a higher chance of winning your dispute if you use the DoNotPay app. Access DoNotPay through any web browser.
Some cities across the nation also offer payment plans to those who are unable to pay their citations. Though it does not reduce the total amount, it eases the burden by spacing out your payment in installments. You can contact the Brookline government and ask for the different payment plans they offer. Also, ask about the eligibility requirements.
What will happen to me if I don't pay my citation in Brookline?

In the city of Brookline, if you don't pay your fines within 21 days of when you received the ticket, you will be charged an additional $10 penalty. If you don't pay before receiving the registry notification, the city will add $40 on top of the original parking ticket fee. 
If you continue to ignore your parking ticket, the city will forward your case to the RMV. Once it reaches them, they may order a hold to be placed on your vehicle registration. They could suspend your driver's license and reject your vehicle registration renewal. Even worse, your car may be booted, towed, or impounded. 
A collections agency will also be contracted to collect the fine. Once this happens, your credit score may be affected, making it more difficult for you to get a loan in the future.
You should never let it come to this. As soon as you receive a parking citation, you should fight it. Access DoNotPay through any web browser. If you do not have any other choice, pay the fines on time.
Will my infractions go on my driving record?

Fortunately, receiving a parking ticket does not affect your driving record in any way. It is not considered a criminal offense, so it will not go on your criminal record either. However, ignoring the ticket and not paying the fines will bring you a lot more penalties. You may have to pay late fees, your license may be suspended, your vehicle may be booted, or your credit score may go down. 
These are not fun situations to be in, which is why you should settle your tickets as soon as possible. You should first dispute your citation with the help of the DoNotPay app, then pay the remaining fines if left with no other choice. For help, access DoNotPay through any web browser.
What if I was issued a citation and I never saw it, it wasn't on my windshield?

Just because you did not find the actual parking ticket on your windshield does absolve you from paying the fine. You are liable for any citation issued to you, even if other people took from your car or the wind blew it away. 
The city will send you a notice regarding your violation. If you are surprised because you did not find any parking ticket on your car, you can call the authorities to clarify things. You should never neglect to pay a fine, or else you will incur additional penalties.
You can read through this discussion thread to learn more about other people's experiences. 
Will a Brookline parking infraction make my insurance go up?

No, your monthly premium for your car insurance will not go up because you received a parking ticket. However, auto insurance companies, such as Security Insurance Agency Inc., will refuse to cover vehicles with expired vehicle registrations. This could happen if you continue to ignore your unpaid tickets. 
To make sure that you do not have your vehicle de-registered, you should deal with your citations as soon as you receive them. Do so by accessing DoNotPay through any web browser.
I'm not from Maryland, do I really need to pay my Brookline parking fine?
Yes, you have to pay your parking tickets even if you do not live in Brookline. As a licensed driver, you are expected to follow all the traffic and parking rules wherever you drive. If you are ticketed in Brookline during your visit, you can not reason your way out of it by saying that you were unaware of the rules in the city. 
The city of Brookline offers an online option for you to appeal your ticket. You can dispute your citation from your hometown. You should use the DoNotPay app to appeal your parking infraction in two minutes. Access DoNotPay through any web browser.
Read more about out-of-state parking tickets here.
Is it really legal to get issued a ticket while behind the wheel?
Yes, you can still receive a parking ticket even if you are sitting behind the wheel. It is common for people to park along the road to take a call or respond to an urgent text, but you have to make sure that you have stopped legally. Otherwise, an officer may issue you a ticket, even if you are in or anywhere near your vehicle. 
It is always worthwhile disputing your parking tickets. You can download DoNotPay's free app and receive a step-by-step solution from our chatbot. Access DoNotPay through any web browser.
Here are some similar situations that you can learn from. 
Am I responsible for citations I get in a rental car?
You have to pay off all the parking tickets that you incur, even when you are driving a rental car. Rental car companies such as U-save will pay the fines automatically. They will then charge the debit card or credit card that you used for the rental. They will also add an administrative fee on top of the fines. 
Here is a Quora post regarding this issue.
How much does Brookline earn from parking violations?
According to this article, the Brookline police department has recently increased the issuance of tickets due to the new pay-by-mobile parking meter system. Brookline hands out tens of thousands of citations per year. The article notes that the city earns millions of dollars from parking tickets alone.
DoNotPay helps users fight and beat tickets in any city
DoNotPay helps users fight parking tickets in every city in the US and UK. Here are a few cities we've helped users dispute the most tickets in:
What other things can DoNotPay help me do?
DoNotPay also offers other services, like:
Beating speeding tickets

Contesting traffic tickets

Help you get compensation for delayed and canceled flights
A summary of dealing with Brookline, MA parking tickets:
| | |
| --- | --- |
| Fighting your parking ticket is easy, cost-efficient, and fast with DoNotPay.  | You just have to download the app and answer each question the chatbot asks. It will give you the exact script to use in only 120 seconds for free.  |
| DoNotPay doesn't only help you with government-issued tickets. | It can also help you with parking citations from private companies. See the full list above.  |
| Receiving parking infractions will not affect your driving record.  | Nor will it land you into jail. |
| You need to deal with all the parking citations that you incur.  | It doesn't matter if you didn't see the ticket, you live in another city, you were sitting at the wheel, or you're in a rental car.  |
| The monthly premium for your car insurance will not go up if you receive a parking ticket.  | However, your insurer may refuse to cover vehicles that do not have their registration renewed by the RMV due to unpaid fines. |
| DoNotPay offers several services other than helping you fight your parking ticket.  | Some examples of these are beating speeding and traffic tickets and contacting customer service. Check out the full list of services above.  |