Dispute Braves parking tickets from your smartphone
Did a parking ticket after the game ruin your day? Don't worry, we've got you covered. Our robot lawyer, DoNotPay, can help you make that irritating citation disappear! As Gizmodo reports, the DoNotPay app has beaten hundreds of thousands of tickets so far. With an outstanding success rate of 73%, DoNotPay can help you send your appeal fast and easy, even if you are guilty of a parking violation.
Is it true that I can contest a ticket in only 2 minutes?

It is! Unlike the traditional methods of contesting parking tickets that can take hours, DoNotPay can help you send an appeal in only a couple of minutes. Gone are the days of waiting in queues and doing your own research. Here is what you need to do:
Open the app. You can access it from any

web browser

.

Snap a clear shot of your citation and send it to us.

Have a short chat with our AI bot and answer its questions about your parking violation.

The app will generate an appeal letter for you.
And that's all there is to it! Once you have your letter, you just need to fill out the city of Atlanta appeal form and attach it to it. Alternatively, you can file your appeal or send it by mail to this address:
Atlanta Municipal Court

150 Garnett Street,

Atlanta, GA 30303
Watch how to dispute parking citations in any city
Is contesting a Braves parking ticket worth the trouble?

Absolutely! There's no reason to pay the fine when you can dispute it. Most parking tickets stay unchallenged for two reasons. The drivers either think that the process of challenging a ticket is time-consuming or they believe the appeal to be pointless as they are guilty of making a parking violation. Fortunately, DoNotPay can fix both these issues.
When you dispute your ticket with DoNotPay, you won't have to put in much time and effort. The app will do all the hard work for you. DoNotPay will also find a way to make your ticket invalid, even if you did break the law. There are many loopholes that can help you win the case, such as:
The handwriting on your ticket is illegible

Parking restrictions in the street are contradictory or unclear

The paint on the street signs is faded

You weren't the one driving the car

The car didn't belong to you when the citation was issued

Any of the following information is incorrect or missing:

Time and date

Street, city, county, and state

The license plate number

The registration status of the car

The type of vehicle

The color of the vehicle

The make, year, and model of the vehicle
There are so many ways to get away with your parking violation. Fortunately, you have DoNotPay to help you identify them. As you can see in this Quora thread, getting away with parking tickets can be quite easy.
Do I need to hire an attorney to dispute a Braves parking citation?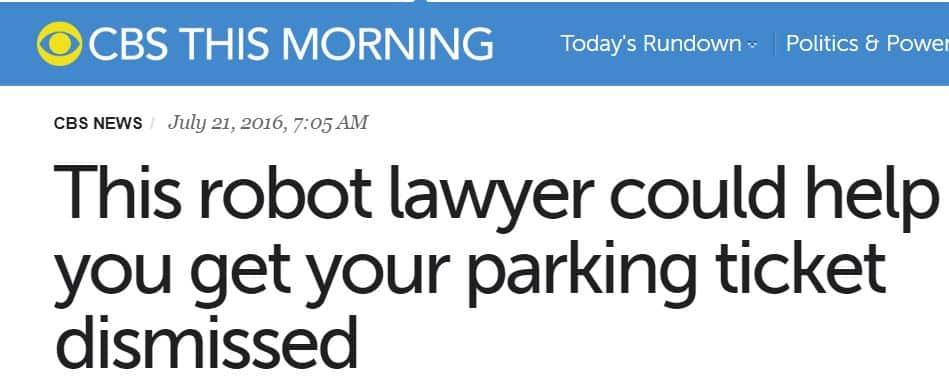 Having a lawyer when fighting parking citations is entirely unnecessary. Hiring a legal representative is not only expensive but also incredibly time-consuming. There are many things to pay attention to when searching for the perfect candidate. If you would feel more confident with a lawyer by your side, make sure to take the following steps before hiring anyone:
Consider at least several candidates. That way, you will know what kind of price is reasonable, and you won't get overcharged.

Look for candidates with experience in fighting parking infringements. An attorney with another expertise, no matter how reputable, won't be of much help.

Look out for frauds. There are many people out there who could try to scam you.

Interview each candidate to see who will be a perfect fit for you and your case.

Do your research. Check each candidate's credentials and reviews.

Consider the expenses. Lawyers are quite pricey, and hiring someone may not be profitable.
How much does a parking ticket lawyer cost in Atlanta?

Attorneys set their prices based on their experience and the complexity of the case. A parking ticket lawyer in Atlanta could cost you anywhere between $200 and $1000. Some people might ask for less, but there's always a chance they're not skilled enough.
Having in mind that a lawyer's services cost much more than simply paying the fine, hiring someone is not the most profitable option in this case. Luckily, our robot lawyer DoNotPay can help you contest your ticket for free! With DoNotPay, there's no need to waste your time and money on attorneys.
Can DoNotPay help me beat tickets from private parking lots?

Absolutely! DoNotPay's services aren't limited to government-issued fines. We can help you combat citations from any private company, including:
Ace Parking

SP+, aka Standard Parking

ABM Parking Services

Laz Parking

Lanier Parking

Towne Park

Imperial Parking, aka Impark
How much time can DoNotPay save me?

Writing an appeal on your own can take a lot of time. You would need to gather all the evidence, go through the city's parking regulations, and study the state of Georgia laws. Even with thorough research, you could easily fail to mention some information that could be crucial in overturning your ticket. Writing a compelling plea could take your whole day or even week.
DoNotPay can do all that in your stead and save you plenty of time. The app needs only two minutes to generate a letter that complies with the state laws and points out the reasons why your ticket is invalid.
How do I pay a Braves parking citation?

If you park inappropriately in any of the Braves' parking lots, your car will be towed away, and you will have to contact the police station. If you left your car in the streets surrounding the stadium and got a ticket, you can pay for it in any of the following ways:
Online: you can use your Mastercard or Visa to make an online payment

here

.

By phone, using your credit card. Dial 888-266-1360 and follow the instructions. This line is toll-free.

In-person at this address: Municipal Court of Atlanta, 150 Garnett St S.W., Atlanta, GA 30303

By mail: you can send a check or a money order to this address: ATLPlus, P.O. Box 2404, Atlanta, GA 30301
Parking fines for cars cost between $25 and $100, depending on the severity of your violation.
Before you give up and pay the fine, why don't you contest it first? It won't cost you a dime and DoNotPay will help you win your case.
Should I pay or dispute?
Convenience
Time it takes
Cost
Advantages
Dispute

If you use DoNotPay, disputing is super simple

Traditionally: several hours;

With DoNotPay: two minutes or less!

Nothing! DoNotPay is a free robot lawyer

You won't have to pay the fine, and you will also save some time and effort

Pay

Online: simple;

Other methods: complicated

By phone or online: up to 15 minutes

By mail: a couple of days; In-person: several hours;

Way too much!

There are no advantages to paying. Do it only if you lose the case
Can I get a ticket while I'm seated behind the wheel?

Sure you can. You sitting inside doesn't make stopping your car in a restricted area legal. To avoid getting citations, make sure you stop your vehicle in a proper parking spot when you need to make an urgent phone call or stop for any other reason. Of course, if an officer comes to give you a ticket, you can always ask them politely to let you go and promise to move the car right away. Don't try to run away before they serve you a ticket, as it will be sent to your address anyway.
Do I need to pay the fine if I was driving a rental car?
Absolutely. The rental company will see you as liable for all driving violations you make while the car is in your care. Most car rental companies, such as Kayak, require their clients to obey the law. If you receive a parking ticket while driving a rental car, the company will pay the fine in your stead. They will also charge all their expenses, as well as some additional fees, to your credit card.
Do I have to pay the infringement if I don't live in Georgia?
Yes, you do. Parking tickets don't have an expiry date and are valid all across the States. If you're not a resident of Georgia, you still can't get away with your violation. The ticket will arrive at your home address. Luckily, you can use DoNotPay to dispute it remotely.
I don't want to pay for the ticket. What's the worst thing that can happen?
If you parked your car in any of the official Braves parking lots and left it there for more than three hours on a game day, you won't get a fine. Your car will be instantly towed away at your expense. If this happens, you will have to pay the fine and the storage fees. It could cost you between $100 and $800 to reclaim your vehicle. If you suspect your car got towed away, you can search for a company that claimed it here.
If you receive a parking ticket in the streets surrounding the stadium and not pay for it in two weeks, the penalty will increase. The fine will double and your car might get booted. It will cost you around $50 to remove the boot. According to Atlanta laws, if you do not pay for boot removal, your car will be towed away.
You can read about some experiences with ignoring citations on this Reddit thread.
Do parking tickets go on my driving record?
Fortunately, they don't. You won't receive any penal points for your parking violations. But that doesn't mean there won't be any consequences. If you pile up several unpaid tickets, the DMV will refuse to renew your license and car registration.
Can a citation increase my insurance?
Luckily, the answer is no. Auto insurance companies, such as Peachstate, aren't notified about any violations that are not on your driving record. Still, if the DMV causes trouble when you try to prolong your driver's license due to unpaid tickets, your insurance company will probably refuse to renew your policy.
How much does Atlanta make from parking citations?
Parking is a great source of income for both the Braves stadium and the city of Atlanta. The Braves earned over $4.5 million from parking revenue in 2015. As for the parking ticket revenue, Atlanta collected $5.5 million from fines in 2017.
DoNotPay helps users fight and beat tickets in any city
DoNotPay helps users fight parking tickets in every city in the US and UK. Here are a few cities we've helped users dispute the most tickets in:
What else can DoNotPay help me with?
DoNotPay has many useful services to offer. Besides being a pioneer in fighting Atlanta Braves parking tickets, our app can help you with:
Contesting traffic tickets

Beating speeding tickets

Getting compensated for canceled or delayed flights
A short recap:
| | |
| --- | --- |
| How can I dispute a ticket with DoNotPay? | Open the app, answer several questions, and send us a photo of your ticket |
| Is contesting the infringement worth it? | Yes, even if you did park illegally |
| Do I need to get a lawyer? | No, that would be a waste of money |
| How much do parking ticket lawyers cost? | Between $200 and $1000 |
| Can DoNotPay help me beat tickets from private companies? | Yes, we can deal with all private companies |
| How much time does it take to contest a fine? | With DoNotPay, only two minutes! |
| How can I pay for the ticket? | Online, by mail, by phone, or in-person |
| Do I have to pay the fine I got in a rental car? | Yes, you do |
| Can I get away with the ticket if I don't live in Atlanta? | No, the citation will arrive at your home address |
| Can I get a citation if I'm sitting inside the car? | Yes, you can |
| What happens if I don't pay for the ticket? | The fine will double, your car will be booted and/or towed away, and you will get in trouble with the DMV |
| Will the ticket end up on my driving record? | No, it won't |
| Can my insurance go up? | No, it can't. |
| How much does Atlanta earn from parking tickets? | $5.5 million a year |
| What else can DoNotPay help me with? | We can contest your traffic tickets, speeding tickets, and help you with all sorts of common issues |