Learn All About the AT&T Online Fax Service With DoNotPay
Faxing is making a comeback after years of slowly losing the battle against emails. Luckily, you don't have to learn how to fax with a fax machine. The internet has made faxing safer, practical, and more reliable than ever.
Online faxing is available through numerous web-based faxing apps and services. DoNotPay is going to teach you about the AT&T online fax service and show you the easiest way to fax any document!
What Is the AT&T Fax Service?
AT&T is an American telecommunications company providing wireless services in most U.S. states. One of their offers includes online faxing.
You can subscribe to the AT&T online faxing service and enjoy many perks of internet faxing. The company promises:
Convenience—you can fax anytime, from anywhere, using any digital device

Security—the faxes are encrypted during transmission

Cost-effectiveness—fax machine maintenance expenses are eliminated
AT&T offers three online faxing plans. You can choose between:
300 pages for $10 per month

600 pages at the price of $25 a month

1000 pages at a monthly cost of $37
How To Online Fax With AT&T
Online faxing with AT&T is possible via the company's cloud-based IP business communication service called Office@Hand. To send faxes via AT&T, you need to create an Office@Hand online account. You can download an app or log in to the company's website. Take a look at the list of AT&T online faxing methods:
Mobile app

Online FaxOut

Email to fax

Desktop app
Fax From Cell Phone With AT&T
Before you start the process, you need to download the Office@Hand app on your mobile phone. Next, you should:
Log into your Office@Hand mobile app

Click on

Messages

Select

New Message,

then

New Fax

Do everything displayed on the

Fax a Document

screen, including:

Click

Send
Faxing via Online FaxOut
You can fax a document via the company's website by following these steps:
Log in to your AT&T Office@Hand online account

Tap on the

FaxOut

icon in the upper right corner of your screen

Enter the recipient's fax number

Attach the file you wish to send

Click on

Send
Sending Faxes With AT&T via Email
Faxing via email requires you to register your email address with the company. You can do that by following the instructions on the Outbound Fax Settings web page. After that, you need to:
Access your email account

Tap on

New Message

Enter the recipient's fax number in the

To

field and add @att.rcfax.com at the end

Type in the message in the Subject field

Attach the document

Hit

Send
Sending a Fax via a Desktop App
You can use the Office@Hand desktop app to send a document from your computer. The process goes as follows:
Log in to the Office@Hand desktop app

Tap on the

Compose Fax

button at the bottom panel

Fill in the required fields

Attach a file you wish to fax

Click

Send
What Are the Disadvantages of Today's Online Fax Services?
It is hard to imagine that online faxing services have any disadvantages. Still, before switching to AT&T or any other online fax provider, you should evaluate the service you are getting based on your needs and budget. We offer an overview of factors worth considering before making a final decision:
| | |
| --- | --- |
| Disadvantages of Online Fax Services | Details |
| Redundancy | Most online faxing providers' services are adapted to regular faxers' needs. Before deciding on a web-based faxing company, you should ask yourself if you need such advanced features for sending an occasional fax |
| Cost | Price plans for online faxing services are high. If you are an occasional faxer like most people, you will be overpaying for the services you don't need |
| Practicality | Not all people are tech-savvy. Before choosing an online fax provider, make sure the website is user-friendly enough |
The best solution would be to find quality service at an affordable price that fits most users' needs. Luckily, DoNotPay fits that description to a T!
The Benefits of Faxing With DoNotPay
is the perfect solution for both regular and occasional faxers. We combine a low price with the most practical features an online fax service can provide. With DoNotPay, you will never feel like you are overpaying for faxing services. If your faxing needs grow over time, we got you covered!
Our many perks include:
Easy-to-use platform

Fast upload of files

Instant snap of photos of checks and bills

Successful transfer of up to 100 pages per month

Nifty integration of our fax service with the

Legal Documents

feature that allows you to create, sign, and send faxes from one place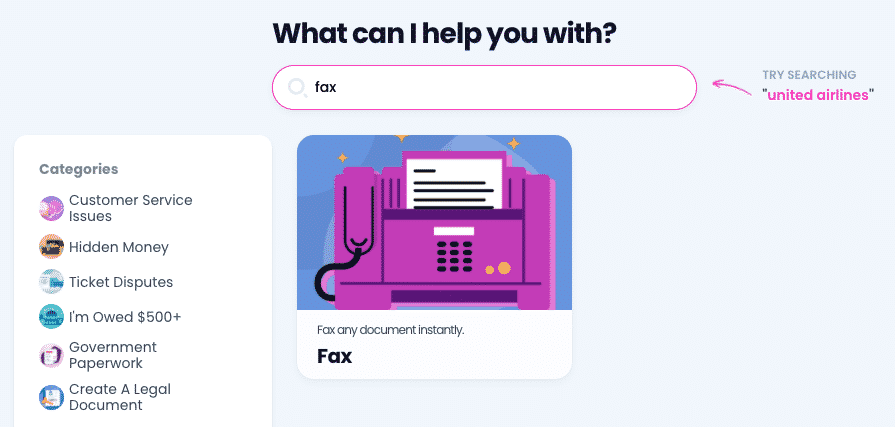 How Can I Fax With DoNotPay?
DoNotPay simplifies faxing to the max. All you have to do is access DoNotPay from any and:
Go to our

Fax

feature

Select the

Send a Fax

option

Upload a file or take a photo

Enter the receiving fax number
After you send the file, you will receive a confirmation as soon as it hits the receiver's inbox.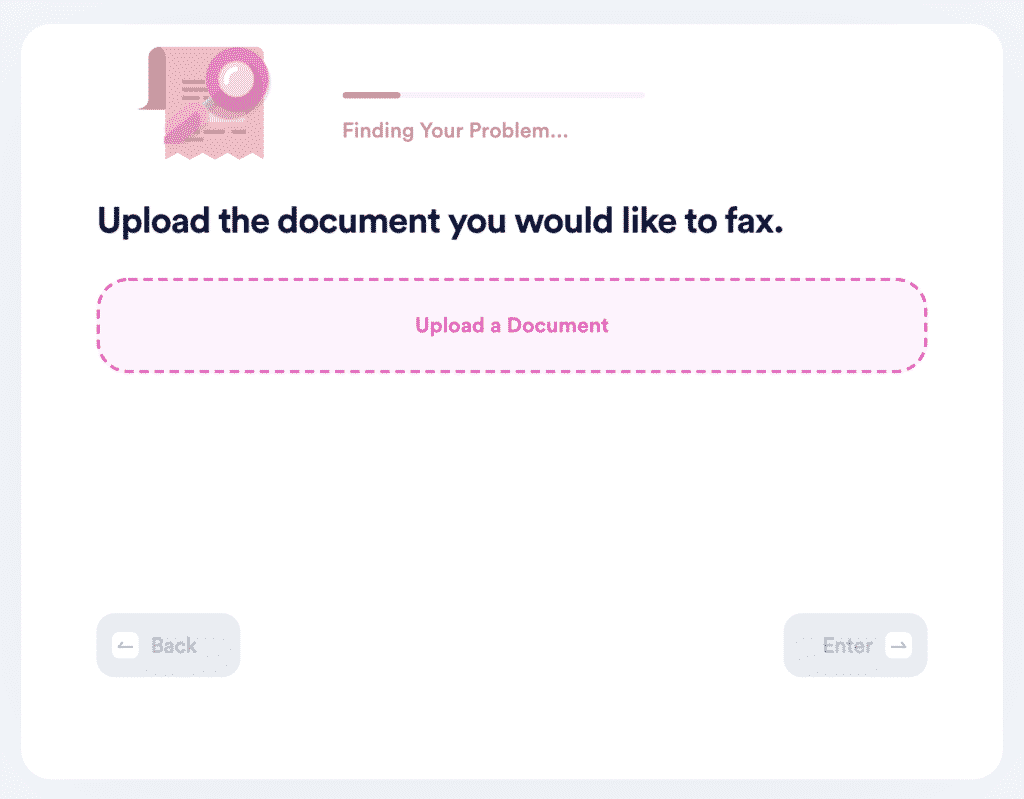 DoNotPay Keeps Your Privacy Intact
DoNotPay can help you surf the web safely and securely. No need to provide your personal information to every company whose service you'd like to take for a test drive. Our Virtual Credit Card and Burner Phone products shield your data from prying eyes and dishonest merchants.
Feel like subscribing for a free trial? Make it truly free and avoid automatic membership renewals with our card. It can also help identify spammers and potential scammers who send bothersome robocalls and robo texts your way. As soon as they act on the virtual card number, DoNotPay will unmask them and demand compensation!
DoNotPay Can Help You Bring Any Business to Justice
Should a company refuse to grant you a refund or compensation, our app will help you take them to small claims court!
We'll help you cancel the service in question to avoid any future charges, and we'll call their customer service so you can get info on your denied request. We'll draft the relevant court documents for your jurisdiction and give you instructions on filing them.
More Nifty Features That'll Make Your Day
You may not have breach of privacy issues or reasons to bring someone to court, but you surely have ample motivation to save or earn a few dollars here and there—especially if we catch you unawares!
DoNotPay can show you how to reclaim funds that you didn't know were under your name or make a denied warranty appeal to any company. We streamlined the processes of requesting refunds, college fee waivers, airline flight compensation, parking infraction dismissals, as well as applying to clinical trials that pay!