Dispute Ann Arbor parking tickets in under 2 minutes
DoNotPay's AI-powered chatbot has helped overturn more than $4 million in fines since 2014, according to money.com. Designed by a British teenager, the app has been helping hundreds of thousands of people appeal their infractions without needing to go through a tedious dispute process. Access DoNotPay through any web browser.

Disputing your Ann Arbor parking ticket will take very little effort. Just follow these steps, and you'll have your fines reduced or dismissed:
Use DoNotPay through your web browser

.

Answer the questions from the AI-powered chatbot. These include the jurisdiction where you received your infraction, the type of ticket you received, and the reason why you're trying to dispute it.

Upload a photo of your ticket in the app.

After evaluating your case using all the information you've provided, in under two minutes, DoNotPay will give you a script to use in your appeal.
Watch how to dispute parking tickets in any city:
I'm a full-time student. Is contesting a parking citation in Ann Arbor worth the trouble?

With DoNotPay's free and convenient service, you don't have to worry about a long, difficult appeal process. Access DoNotPay through any web browser. It is always worthwhile disputing Ann Arbor parking tickets. Such evidence can include but is not limited to:
Mistakes on your parking ticket

Visible alterations or corrections on your ticket

Missing information on the parking ticket

Faded paint on street signs

Missing street signs

You were not in possession of the car

You sold the car before the citation was issued
Ann Arbor does not mess around when it comes to parking violations. But that doesn't mean you have no chances of winning a parking ticket dispute. With DoNotPay's free app that can do everything for you, it's not only worthwhile but effortless. Access DoNotPay through any web browser.
How much time can I save with DoNotPay in disputing Ann Arbor parking tickets?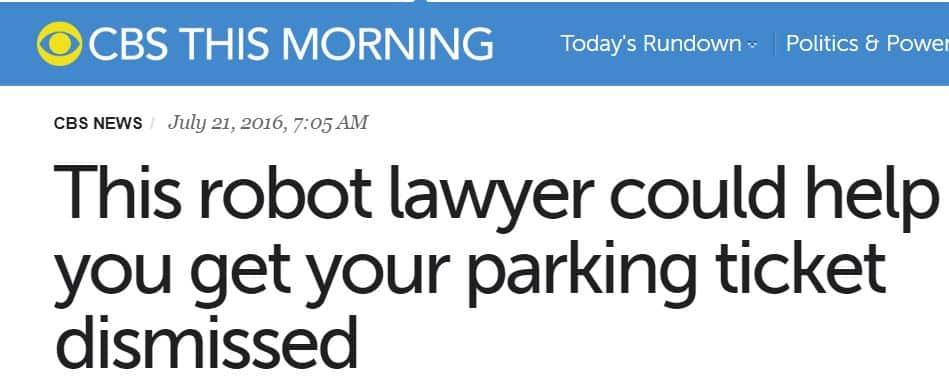 On average, appealing your Ann Arbor ticket can take up half a day's work. Ann Arbor allows you to appeal a parking ticket online, via mail, or in person. If you decide to do it by hand, you'd have to deal with the tedious task of gathering evidence, collecting witness statements, writing a formal letter, and mailing it all to the authorities. DoNotPay lets you save yourself all the hassle and bureaucracy.
Choose the easiest way to dispute your parking ticket and download DoNotPay now! Access DoNotPay through any web browser.
There are private parking companies in Ann Arbor. Will DoNotPay help me fight parking infractions from them too?
You can use DoNotPay's services for disputes with any private parking company, including:
ABM Parking Services

Ace Parking

Douglas Parking

Imperial Parking, aka Impark

Lanier Parking

Laz Parking

SP+, aka Standard Parking

Towne Park
Access DoNotPay through any web browser.
Should I get a lawyer to contest my infractions in Ann Arbor?

Technically, you don't need to hire a lawyer to appeal parking citations in Ann Arbor. You can get the same service from DoNotPay minus the considerable cost. Access DoNotPay through any web browser.
But should the need for a lawyer arises, do not just hire the first lawyer you see online! Look for these qualities:
Expertise in the field

Experience

a great success rate

Credentials
Finding a lawyer to dispute your parking ticket can be a bit tricky. Here's a guide that will help you find the right one:
Check your state bar association for each lawyer's background and contact details.

Ask for referrals.

Create a shortlist of lawyers you're eyeing.

Research their work experience.

Set up a consultation.

Agree on a fee upfront before signing a deal.
Are parking ticket lawyers expensive in Ann Arbor?

Ann Arbor is an expensive city in which to hire a lawyer. In the U.S., a lawyer's fee ranges from $200 to $1000 per parking ticket case. Expect to pay on the higher end of that range in Ann Arbor.
Ann Arbor parking tickets start at around $15. Though Ann Arbor's parking system is notorious for causing headaches among drivers, the city's parking fines are relatively low compared to other places, according to this Quora thread. Given how easy DoNotPay makes the dispute process, there is no reason to hire a lawyer. Access DoNotPay through any web browser.
I just want to pay for my ticket. How can I do that?

If your parking ticket dispute in Ann Arbor is not successful for whatever reason, then you will have little choice but to pay it. 
The City of Ann Arbor offers various methods for paying parking fines:
You can pay off an Ann Arbor parking ticket

online

. Prepare to shell out an additional $2.95 or three percent of your total fine for the service charge.

You can pay an Ann Arbor parking ticket by phone. Just dial 866-890-4982. The same service charge applies.

You can mail a check or money order to the City of Ann Arbor Processing Center, P.O. Box 2066, Tarrytown, NY 10591-9066.

Pay at the 24-hour drop boxes located just inside or across from Larcom City Hall.

You can pay in person from 7:30 a.m. to 5:30 p.m. on weekdays at the Customer Service Center.
You can save a few bucks by paying on the day of, or on the business day following, the issuance of your parking ticket. Ann Arbor details how to pay parking fines on this page.
Dispute or Pay?
| | | | | |
| --- | --- | --- | --- | --- |
| | Ease | Time it takes | Cost | Benefits |
| Dispute | With DoNotPay, Appealing your ticket can take little to no effort | You can appeal a parking ticket in less than two minutes | Completely free | May reduce or entirely cancel your parking ticket fines |
| Pay | Online payment takes more time than disputing with DoNotPay | Payments can take hours or even weeks depending on the payment method you choose | Price of the ticket + additional fee if you pay online or through credit card + transportation cost | Your wallet will be lighter |
Can my fine be reduced in Ann Arbor?

Ann Arbor is quite strict with its parking regulations but also allows vehicle owners to appeal any citation. There's a high chance of getting your ticket dismissed or reduced if you can provide the necessary evidence. 
Ann Arbor recently upped its parking meter fines, but it still gives you the chance to dispute your parking infractions. If you think that there could be any grounds to dispute your ticket, open DoNotPay and dispute it in only two minutes! Access DoNotPay through any web browser.
I'm pretty low on funds. What can happen to me if I don't pay my ticket in Ann Arbor?

Failure to pay parking tickets in Ann Arbor can have some severe consequences but won't ultimately result in imprisonment. Don't leave your parking tickets unpaid. Here are some of the effects of unpaid citations:
Doubling or tripling of the fines. A $15 ticket can triple to $45 if you leave it unpaid for more than 30 days in Ann Arbor.

Getting your vehicle booted or towed

Refusal to renew your vehicle's registration

Suspended driver's license

The city government has the right to intercept your state income tax refund.
Will these parking infractions go on my record?
Your driving record will not reflect your parking violations, but your financial record might! Infractions affect your credit score since unpaid citations usually go straight to a collection agency, which spells terrible news for your future loan applications.
Aside from having an impact on your financial records, having unpaid tickets lowers your chances of having your vehicle's registration renewed, and even risks the suspension of your driver's license.
Parking infractions can have some severe consequences. So, instead of trying to evade the law, a fool's errand, appeal your infractions with DoNotPay. Access DoNotPay through any web browser.
What if someone takes the ticket off my windshield?
Parking authorities make it a point to notify you of any violations you committed by mail, so it is inconsequential whether or not your parking ticket is missing or stolen.
However, if you have changed your address and have failed to inform the DMV, then you could have some problems. Make sure to notify local authorities about any changes in your basic information. The collections agency will be able to find you anyway.
Can my car insurance go up?
Infractions do not directly affect your insurance rates or coverage. Insurance companies like Geico don't have access to your parking fine records and won't notice if you decide not to pay them. However, these companies require you to have your car registered, which could be suspended or non-renewed if you have unpaid parking tickets.
How much does the City of Ann Arbor make from parking tickets?
Given how few parking tickets Ann Arbor issues, it does not collect as much as many comparable cities do in parking ticket revenue. In 2006, the City of Ann Arbor received more than $11 million in parking tickets and meter fees. Annual records show that the number of parking violations has dropped gradually from 2007's 167,102 to 117,221 in 2017.
Revenue from parking tickets is expected to shoot up this year after the city implemented increased parking ticket fines late in 2018.
I don't live in Ann Arbor. Do I still have to pay parking citations if I'm from another state?
The answer is a resounding, yes! You have to pay parking citations no matter where you're from. It doesn't matter if you are from another state, another city, or even another country, if you have been issued a fine, you are liable to pay it.
Cities and states have different parking laws and systems that all drivers are responsible for respecting. They are implemented to ensure smooth traffic flow in any given area.
The rules in an unfamiliar jurisdiction can be hard to keep track of, so if you receive an out-of-state parking ticket, you can easily dispute it using DoNotPay, which makes it easy to appeal infractions wherever you are! Access DoNotPay through any web browser.
I was driving a rental car in Ann Arbor. Do I still have to pay the fine?
Parking infractions you receive while in a rental car are your responsibility. Rental car companies like Sixt require you to pay the fines.
Rental car companies usually automatically charge your card when you receive infractions. Generally, you must provide credit card details whenever you rent a car. The company will also charge an additional administrative cost of not more than $30.
Is it possible to get a citation if I'm in the car?
Parking authorities can and will issue a parking citation even if you are behind the wheel. Some cities have idling or stopping regulations, and people tend to forget about these regulations when answering important calls, urgent emails, or text messages.
DoNotPay helps users fight and beat tickets in any city
DoNotPay helps users fight parking tickets in every city in the US and UK. Here are a few cities we've helped users dispute the most tickets in:
Besides disputing Ann Arbor Parking infractions, what else can DoNotPay do?
DoNotPay also offers free assistance with:
Disputing speeding tickets

Contesting traffic tickets

Help you get compensation for delayed and canceled flights
Appealing parking tickets is easy with the world's first robot lawyer. So, whenever you find a parking citation in your wind wiper, count on DoNotPay to help you beat it! Access DoNotPay through any web browser.
Summary of dealing with Ann Arbor parking tickets:
| | |
| --- | --- |
| Appealing your parking tickets can take little to no effort. | DoNotPay has helped overturn around 160,000 parking tickets since 2014. |
| Contesting a parking citation should not take more than 120 seconds. | DoNotPay allows you to appeal your infraction under two minutes. |
| DoNotPay can help you beat parking tickets issued by city authorities and private parking companies. | You can use DoNotPay's services wherever you are in the US. |
| Failure to pay your parking ticket won't send you to jail. | But it has a lot of other severe consequences. |
| Appealing a parking ticket is worth the hassle. | You can avoid any hassle of disputation if you choose to submit your dispute using DoNotPay, the world's first robot lawyer! |
| There are various ways to pay your infractions. Some cities allow you to pay online. | Appealing your ticket with DoNotPay increases your chance of having the fine canceled. |
| The success rate for parking ticket disputations with DoNotPay is very good. | Often, disputing your tickets alone can result in fees deduction. |
| Your parking tickets won't be reflected in your driving record. | But your credit rating may take a blow from unpaid parking tickets. |
| Not finding a ticket on your windshield is no excuse for not paying your infractions. | Parking authorities make it a point to notify you of any parking violations via mail. |
| Unpaid parking tickets won't increase your insurance rates. | But if your license gets suspended due to unpaid infractions, there is a chance that your insurance company will refuse to renew your coverage. |
| Bringing a citation to court is also an option. | Disputing without using DoNotPay can be a hassle. |
| You must pay any citations you obtained out of state. | Cities and states have different parking laws that all drivers are expected to adhere to. |
| Avoid parking tickets by being familiar with parking regulations. | However, when you're issued a ticket, know that you can dispute it. |
| You can get an infraction even when you're behind the wheel. | It is easy to park illegally by accident when responding to urgent calls or text messages. |
| You are responsible for any parking tickets received while renting a car. | Car rental companies also have the right to charge you additional administrative fees. |
| Ann Arbor recently upped their parking fines and meter fees. | The City takes in more than $11 million annually in parking fines. |
| DoNotPay can also assist you with other services, and all of them are free of charge! | Canceling free trials, setting an appointment with the DMV, and appealing speeding tickets are just a few of them. |